 SVB Failure Fallout: Which U.S. and European Companies Were Directly Affected?
SVB failure could have been avoided if its leaders had paid attention to an internal report
As the fallout continues, will Fed and ECB reconsider raising rates?
Here are the main stocks that had money deposited in SVB before it failed
It may surprise some, but the issue of bank failures is not something strange or isolated; on the contrary, it is much more common than one might initially think.
For example, the average number of failures between 2011 and 2020 was two per month. But what we are experiencing does have some peculiarities, two of them in particular are:
The size of the companies affected. After the collapse of Washington Mutual in 2008, these are the second and third-largest bankruptcies in U.S. history.
The time that has passed since the last bankruptcy in October 2020 (Almena State Bank).
Worst of all, SVB's failure could have been avoided. In the final stretch of 2020, the bank received an internal report with a specific recommendation: to buy shorter-term bonds. The aim was to minimize the risk of heavy losses if interest rates rose aggressively.
But the bank's leaders ignored the recommendation, citing the economic costs, and continued to invest in other assets, which resulted in good profits a year later.
Here is a list of US and European companies that had money in SVB:
United States:
Roblox (NYSE:)
Roku (NASDAQ:)
AcuityAds Holdings (NASDAQ:)
AppLovin (NASDAQ:)
Astra Space (NASDAQ:)
Cohu (NASDAQ:)
Rocket Lab USA (NASDAQ:)
Lantronix (NASDAQ:)
Alkami Technology (NASDAQ:)
Circle SpA (BIT:)
BlockFi
LendingClub (NYSE:)
Vir Biotechnology (NASDAQ:)
Sunrun (NASDAQ:)
Ginkgo Bioworks Holdings (NYSE:)
Alphatec Holdings (NASDAQ:)
Europe:
Trustpilot Group (LON:)
Diaceutics (LON:)
Dianomi (LON:)
Glantus Holdings (LON:)
Zealand Pharma (CSE:)
Pharming Group (AS:)
Kinnevik (ST:)
RWS Group (LON:)
PCI-PAL (LON:)
Yourgene Health (LON:)
Windward (LON:)
Technoprobe SpA (BIT:)
Alecta: The Swedish Pension Fund
The good news for these companies is that, on Sunday, US regulators outlined a strategy to provide a safety net for depositors with funds at Silicon Valley Bank or Signature Bank (NASDAQ:).
Furthermore, the Federal Reserve has revealed plans for a so-called Bank Term Funding Program, which will target the protection of financial institutions impacted by the market volatility resulting from the SVB's collapse.
While the measures should guarantee financial stability for these companies for now, risks remain in place as the pipeline for financing new projects appears to have dried out.
Remember Warren Buffett's Advice in the Annual Letter to Shareholders?
Warren Buffett released his annual letter to Berkshire Hathaway's (NYSE:) shareholders on February 25.
The letter does a good job of explaining that investing involves choosing good companies, not necessarily good stocks.
And he provided one of his keys to success: it is enough to get a few investments right for the portfolio to do very well. A few good winners over time will make up for the mistakes.
He discussed his own case. He explained that his good numbers were due to 12 very good buying decisions, an average of one every five years.
For example, he bought $1.3 billion worth of Coca-Cola (NYSE:) stock in 1994.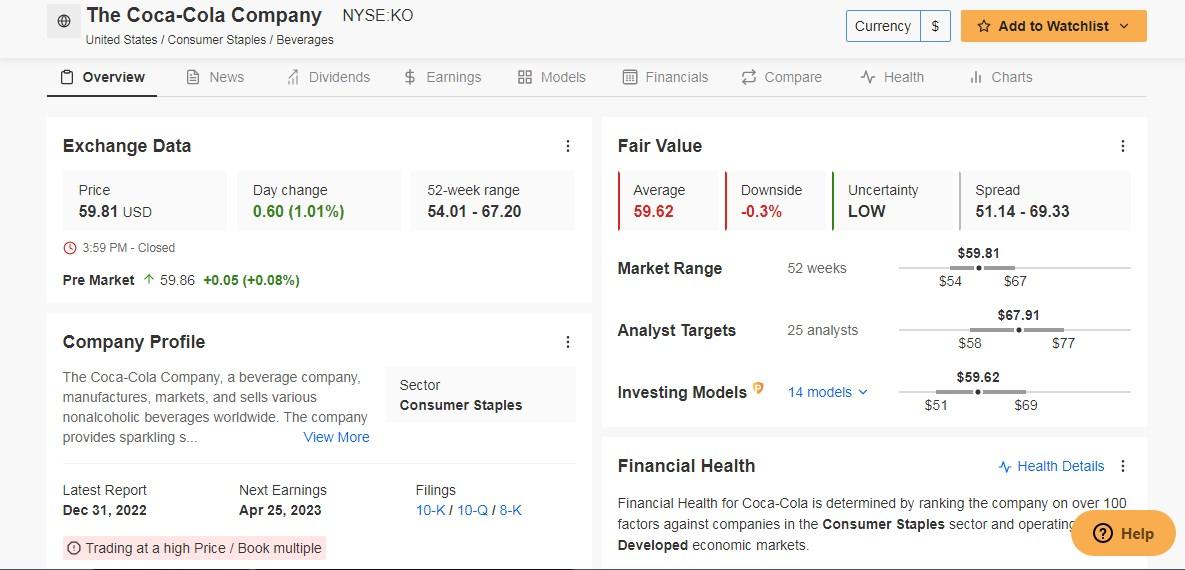 Source: Investing Pro
And in 1995, he bought $1.3 billion worth of American Express (NYSE:) stock. These two securities more than made up for the losses he incurred buying other stocks.
Source: Investing Pro
Michael Burry Doesn't Mince His Words
Michael Burry, a former U.S. neurologist and hedge fund manager who founded Scion Capital LLC and ran it from 2000 to 2008 before shutting it down to focus on his personal investments, defined it very well a few days ago on his Twitter account.
The man who predicted the subprime mortgage crisis and subsequent global economic recession and was one of the few investors to short the housing market in 2006 said,
"Hubris and greed are common themes, people take stupid risks and fail, and that's when policymakers print money to fix the situation,"
He later deleted the tweet for whatever reason, but he said it and got it off his chest. Now, investors expect the Fed to slow the rate hikes. They haven't ruled out not raising rates at the next meeting.
However, the bank suffered unrealized losses of about $16 billion on its bond holdings when 2022 arrived and the Federal Reserve began to raise interest rates sharply.
Will the Fed and the ECB Consider Changing Roadmap?
The ECB will decide on this Thursday. Until last Thursday, a rise of 50 basis points was taken for granted.
But now it is not so clear. Moreover, the interest rate futures give a 50% probability to this option and maintain a rate hike, which could be 25 basis points too.
What is clear is that the failure of the three banks will certainly change the ECB's roadmap. Interest rate futures no longer see the ceiling at 4.25% or higher. They now see it at 3.75%.
Federal Reserve: Yesterday's showed that prices eased to 6% in the month of February, four-tenths below January's figure. also lost some momentum, falling to the 0.4% range, while settled at 5.5% y/y, a tenth below the last benchmark.
are now bouncing between the possibility of a 25 basis point rate hike at the Fed's on Mar. 22 and the possibility that there will be no further tightening, at least for the time being.
Investors are now pricing in the possibility that rates could peak at 4.9% (a 15bp hike). Prior to the SVB, the forecast was that rates would peak at 5.5%.
***
Disclosure: The author does not own any of the securities mentioned.