 2 Stocks to Buy as Wall Street Prepares for Fed Pivot
The Nasdaq has been on a roll in 2023, outperforming the Dow and S&P 500 by a wide margin
Several tech stocks have come back in favor, thanks to easing inflation and rate hike fears
As such, I recommend buying Snowflake and MongoDB as easing inflation fears fuel hopes of a near-term Fed policy pivot
This week, we witnessed a violent repricing of Fed rate hike bets as investors digested the fallout from the SVB collapse as well as signs of easing .
After odds for a 50-basis-point rate increase spiked to as high as 80% on March 10, those bets evaporated in recent days, with traders now expecting a smaller 25bps hike at the Fed's March 21-22 policy meeting, according to the Investing.com .
The technology-heavy , the laggard in 2022, has been the best performer of the three major U.S. indices so far in 2023, as investors rotated back into the beaten down growth stocks of yesteryear amid easing macro concerns.
Taking that into account, I recommend buying shares of Snowflake (NYSE:) and MongoDB (NASDAQ:) amid receding worries over rising Fed interest rates and signs that inflation may have peaked. Both companies still offer further upside in my view and have plenty of room to grow their respective businesses, making them solid long-term investments.
Snowflake
Year-To-Date Performance: -2.6%
Market Cap: $44.97 Billion
With the Fed preparing to soon end its monetary tightening cycle, I personally believe that Snowflake is one of the best stocks to own, especially at current valuations. The Warren Buffett-backed tech company is well-positioned to achieve ongoing growth, in my opinion, thanks to robust demand for its data analytics and management tools.
Shares have shed 22.5% over the past 12 months, much worse than the 's roughly 7% decline over the same timeframe, as the U.S. central bank's aggressive rate hikes sparked a rout in many top-rated software companies.
At current levels, the cloud-based data warehousing software provider — which is about 67% away from its record peak of $429 touched in December 2020 — has a market cap of $44.97 billion.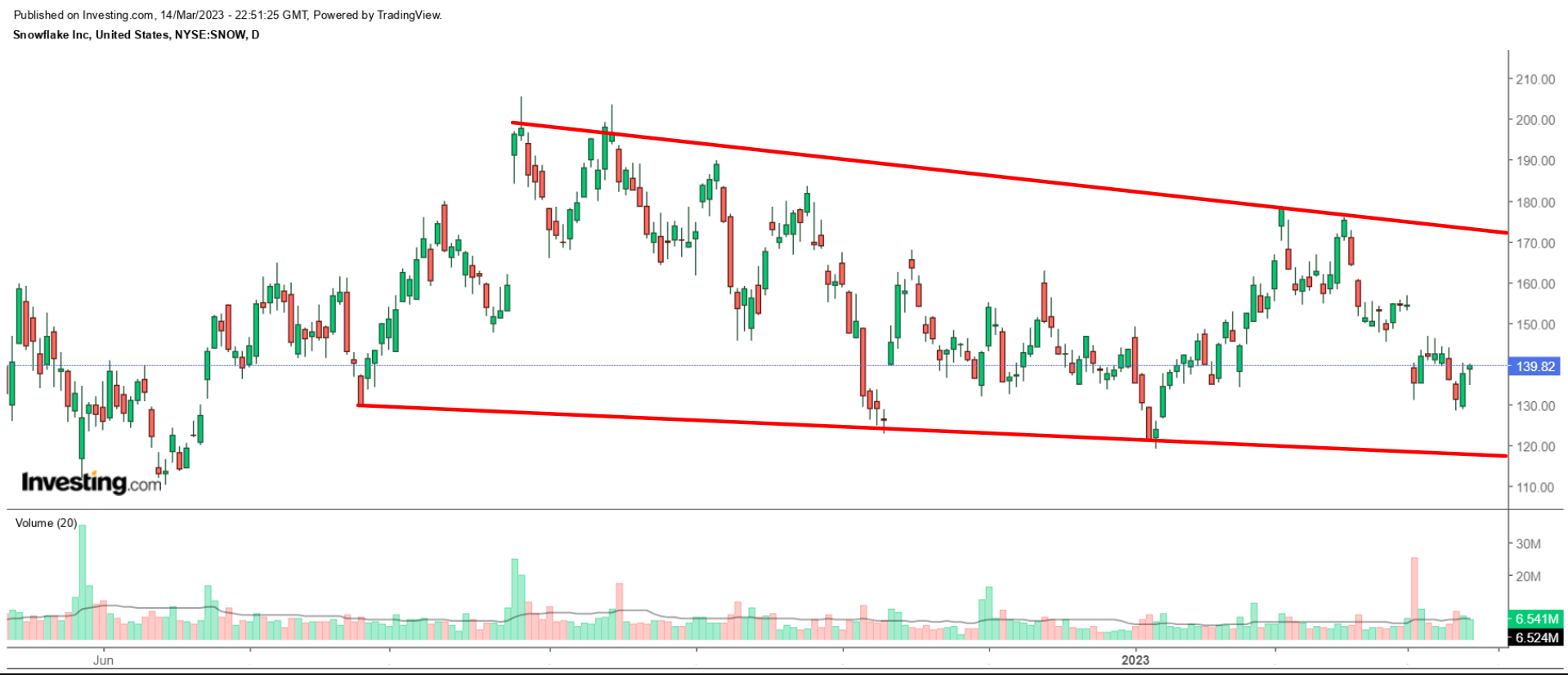 Despite recent volatility, I believe that Snowflake remains on track to become one of the fastest growing companies in the software sector. For that reason, I view the recent pullback in the stock as a great opportunity for investors to build a position in this high-quality name.
Snowflake — which counts nearly half of the Fortune 500 companies as clients — reported record and revenue which easily topped expectations on March 1. The data-as-a-service (DaaS) company has now beaten Wall Street's top and bottom line expectations for nine straight quarters dating back to Q3 2020, a testament to strong execution across the company.
Product revenue for the quarter was $555.3 million, representing 54% year-over-year growth amid increased spending from large enterprises on its cloud-based data storage and analytics service.
The data warehousing specialist said it had 7,828 customers as of Jan. 31, 2023, rising 31.2% from the year-ago period. Furthermore, clients with annual recurring revenue (ARR) of $1 million or more jumped by roughly 80% to 330.
"We are operating in a vast and growing market, prioritizing capabilities that support the core mission of the enterprise, and staying on track for our $10 billion product revenue goal in fiscal 2029," CEO Frank Slootman said in a statement.
In addition, Snowflake's board of directors announced a new $2 billion stock repurchase program, helping reinforce the company's positive long-term outlook. The share buybacks will be funded using Snowflake's working capital and will expire in March 2025.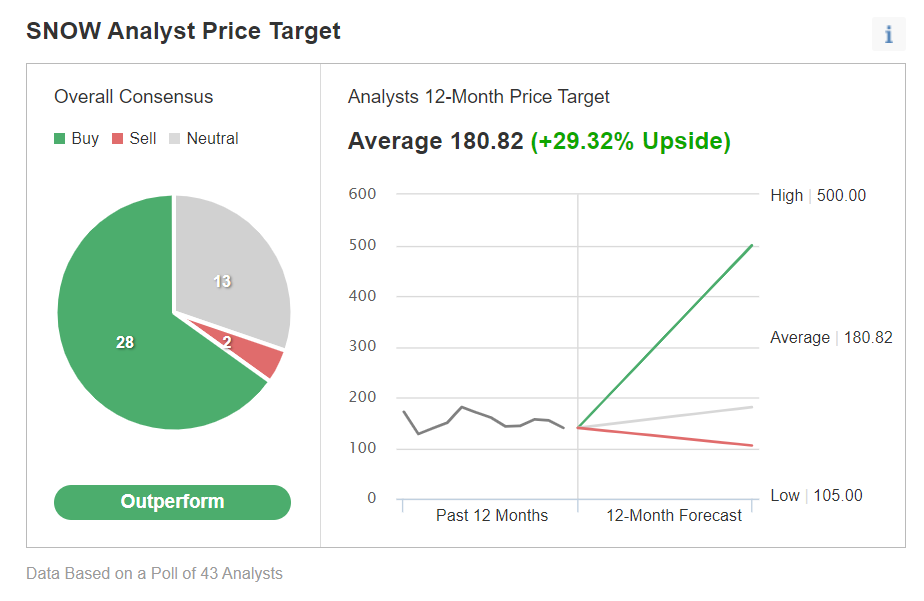 Source: Investing.com
Wall Street remains optimistic on SNOW, as per an Investing.com survey, which revealed that 41 out of 43 analysts covering the stock rated it as either a 'buy' or 'neutral'. Shares have an average price target of around $181, representing an upside of 29.3% from current levels.
MongoDB
Year-To-Date Performance: +4%
Market Cap: $14.3 Billion
MongoDB is a cloud database-as-a-service (DBaaS) company that provides an open-source database platform for businesses and developers. I believe that now could be an excellent time to take a position in MDB as interest rates begin to fall back down to Earth and the economy continues to undergo a sea change of digitization.
After rallying to an all-time high of $590, shares — which are down 35.3% over the past year — tumbled rapidly to a low of $135.15 on Nov. 9, 2022. MongoDB's stock has since clawed back some losses, ending at $204.68 on Tuesday, but they still stand roughly 65% below their all-time high.
At current levels, the New York City-based company has a market cap of $14.3 billion, a steep discount to its peak valuation of almost $37 billion reached in November 2021.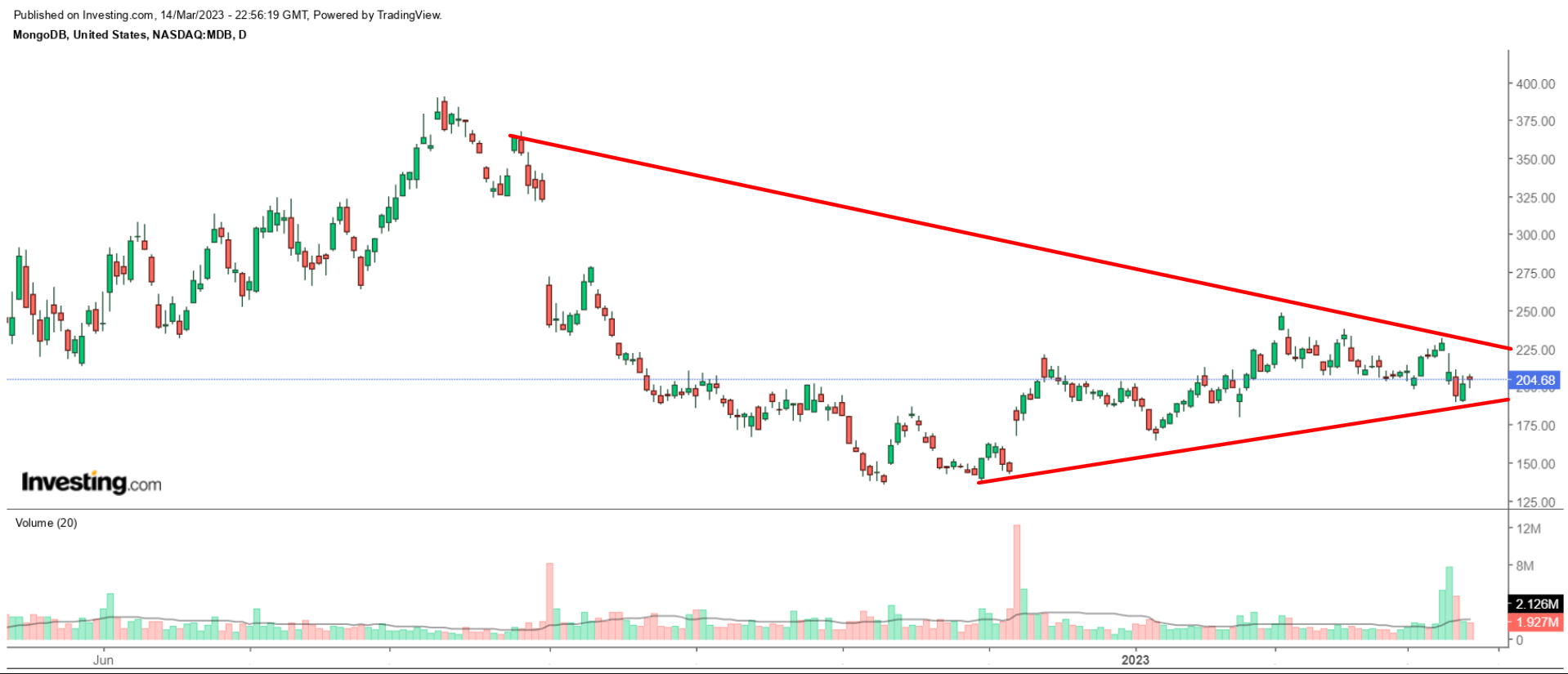 MongoDB's released on March 8 made it clear that the database platform provider is executing well and delivering solid growth regardless of the existing economic climate.
"We remain focused on acquiring new customers and workloads while driving greater efficiency across the business, which we are confident will enable us to further capitalize on our long-term opportunity when economic conditions normalize," Chief Executive Dev Ittycheria said in a statement.
The database software specialist earned an adjusted $0.57 per share, smashing expectations for EPS of $0.07/share. Revenue jumped 36% year-over-year to $361.3 million powered by strong enterprise demand for its 'Atlas' open-source database software platform.
Subscription sales rose 35% from the year-ago period to $348.2 million, while services revenue surged 59% to $13.1 million. MongoDB had more than 40,800 customers in over 100 countries as of Jan. 31.
"Our continued new business momentum is driven in part by an increasing number of enterprise customers looking to standardize on MongoDB's developer data platform to accelerate innovation while driving greater operational efficiency in their business," Ittycheria said.
Highlighting the strength and resilience of its underlying business, MongoDB has beaten Wall Street's profit and sales estimates in every quarter since going public in October 2017.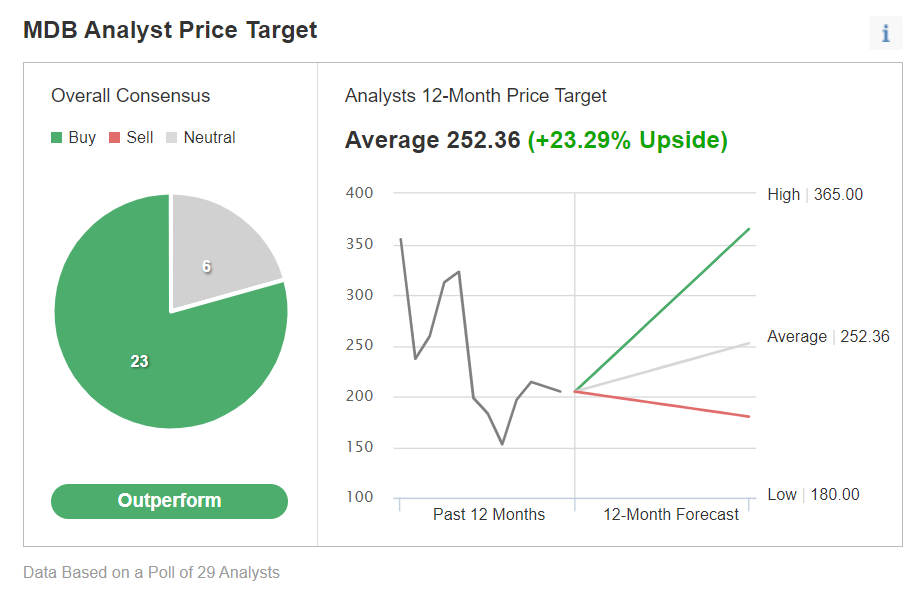 Source: Investing.com
Not surprisingly, MongoDB's stock remains a favorite on Wall Street, with all 29 analysts surveyed by Investing.com rating shares as either 'buy' or 'neutral'. Among those surveyed, shares had an upside potential of about 23.3% from Tuesday's closing price.
***
Disclosure: At the time of writing, I am long on the Dow Jones Industrial Average, the S&P 500, and the Nasdaq 100 via the SPDR Dow ETF (DIA), the SPDR S&P 500 ETF (SPY), and the Invesco QQQ Trust ETF (QQQ). I am also long on the Technology Select Sector SPDR ETF.
I regularly rebalance my portfolio of individual stocks and ETFs based on ongoing risk assessment of both the macroeconomic environment and companies' financials.
The views discussed in this article are solely the opinion of the author and should not be taken as investment advice.