 Price Reversals from Recent Highs in Stocks
What if the trading range top at 4200 we have been calling for in the turns out as—the top?
Certainly, we can make a case for it given higher yields, a strong dollar, geopolitical stress, debt issues, government spending, and no real proof we have beaten the battle of .
The table called Complete: Bear Reversal shows you a list of trades using some of our proprietary software.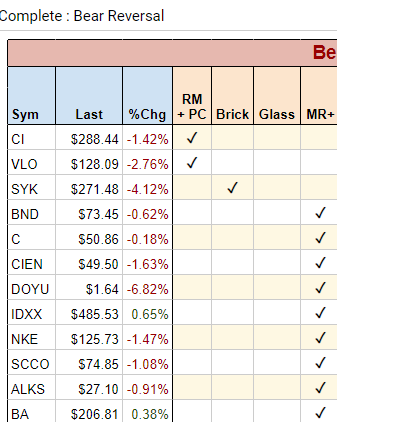 Bear Reversal
This list of stocks was updated after the close.
The list ranges from stocks well underperforming to stocks that are near but could not clear 52-week highs.
We show you 3 indicators. We walk you through 1 trade on the list.
Real Motion and Phase Change: This scanner looks for stocks that show declining momentum even if the price has yet to catch up.
Brick refers to a 2-day pattern. Stock makes a new 60+ day high and then reverses, closing near the lows.
Mean Reversion Plus finds short-term divergences between momentum (Real Motion) and price based on the mean-reverting tendencies of stocks.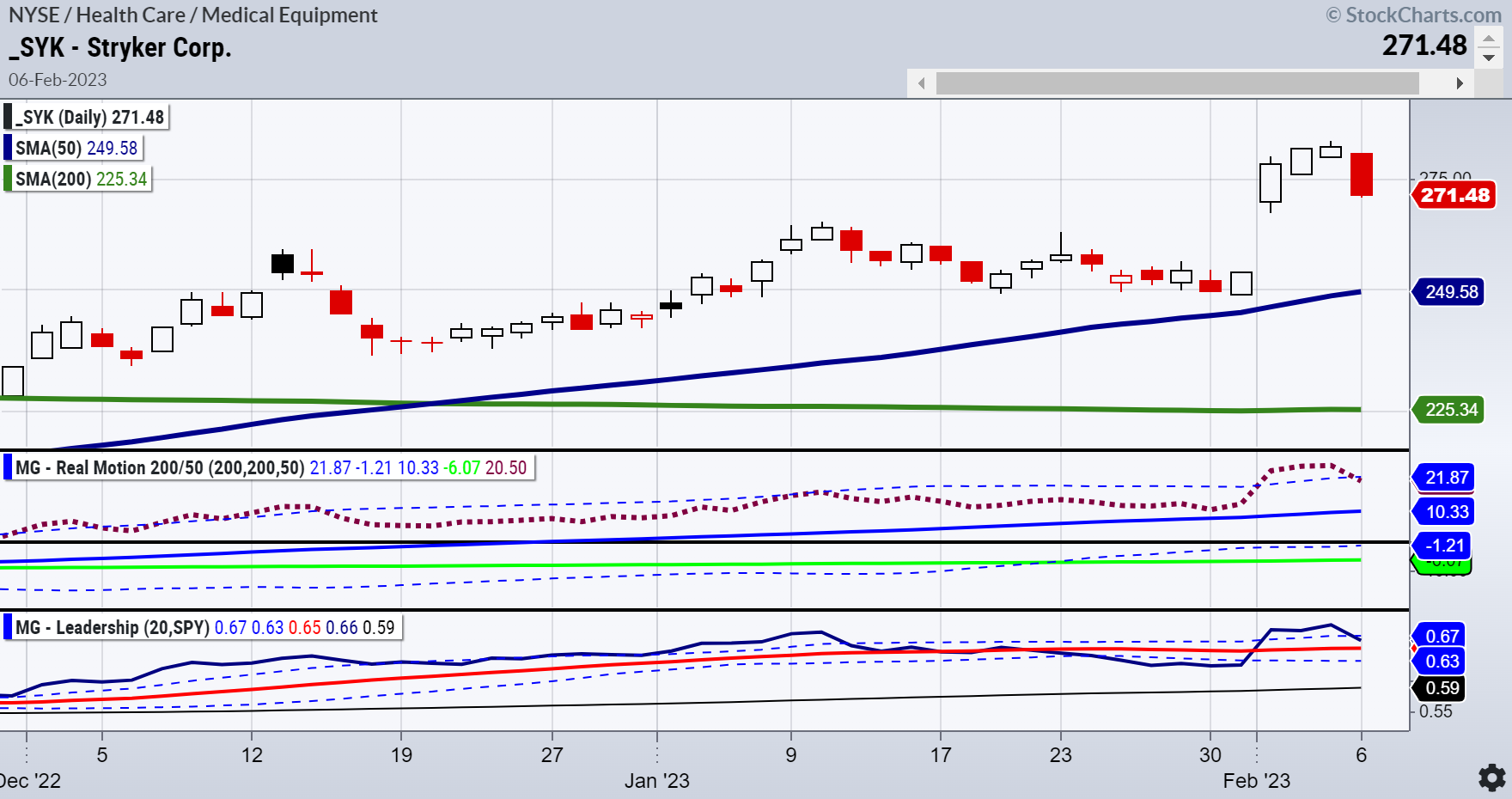 Stryker Corp (NYSE:) is in a bullish phase on both the daily and weekly charts. Since Friday, the stock had a brick pattern confirmed by Monday's action.
After a new 60+ day high, the week began by giving the bulls an opportunity to take some profit. It also allowed day traders to sell under the lows of Friday and make money.
Note that the Real Motion indicator shows the beginnings of a mean reversion. The red squares just crossed under the dotted line or Bollinger Band.
Moreover, if that stock has topped out, traders have a risk above the 60+ day high to possibly see a move closer to $250.
ETF Summary
S&P 500 (SPY) Targets 420 with 390-400 support
(iShares Russell 2000 ETF (NYSE:)) 190 now support and 202 major resistance
Dow (SPDR® ETF Trust (NYSE:)) 343.50 resistance and the 6-month calendar range high
Nasdaq (Invesco QQQ Trust (NASDAQ:)) 300 is now the pivotal area
Regional banks (SPDR® S&P Regional Banking ETF (NYSE:)) 65.00 resistance
Semiconductors (VanEck Semiconductor ETF (NASDAQ:)) 246 is the 23-month moving average-it failed it Monday on low volume
Transportation (iShares Transportation Average ETF (NYSE:)) The 23-month MA is 244-now resistance
Biotechnology (iShares Biotechnology ETF (NASDAQ:)) Sideways action
Retail (SPDR® S&P Retail ETF (NYSE:)) 78.00 the 23-month MA resistance and nearest support 68.00