 2 Tech Stocks to Buy as Fed Pivot Hopes Rise on Peak Inflation Bets
The Nasdaq has gotten off to a strong start in 2023, outperforming the Dow and S&P 500 by a wide margin.
High-growth tech stocks have come back in favor, thanks to easing inflation and rate hike fears.
As such, I recommend adding Okta and Workday to your portfolio amid their solid fundamentals and long-term growth outlook.
Stocks on Wall Street have gotten off to a strong start to 2023, with the technology-heavy notching its biggest January gain since 2001 as investors rotated back into the beaten-down growth stocks of yesteryear.
The Nasdaq is up 10.3% so far in the new year, compared to a 6.2% gain for the benchmark and a 2.6% increase for the blue-chip .
The recent rally has been fueled by growing signs that may have peaked, raising hopes the will become less aggressive on interest rate hikes in the months ahead.
That in turn has boosted shares of the mega-cap tech companies, with Tesla (NASDAQ:), Amazon (NASDAQ:), Netflix (NASDAQ:), Meta Platforms (NASDAQ:), Nvidia (NASDAQ:), Alphabet (NASDAQ:), and Apple (NASDAQ:), all posting double-digit year-to-date percentage increases thus far.
Taking that into account, I recommend buying shares of Okta (NASDAQ:) and Workday (NASDAQ:) as investors pile back into beaten-down tech growth names following last year's selloff amid receding worries over rising Fed interest rates, elevated inflation, and recessionary fears.
Okta
Year-To-Date Performance: +7.7%
Percentage From ATH: -75%
Okta, which helps businesses and organizations around the world manage and secure user authentication, is widely considered the leader in the fast-growing identity and access management space. As such, I believe shares of the security software maker are a smart buy amid the current geopolitical climate, especially at current valuations.
OKTA stock settled at $73.61 yesterday, its highest close since August 31, 2022. Shares have rebounded significantly since falling to a four-year low of $44.12 in early November, rising almost 67% in the past three months.
Nonetheless, OKTA remains a far cry from its record high of $294 touched in February 2021. At current valuations, the San Francisco, California-based tech firm has a market cap of $11.8 billion, a steep discount to its peak valuation of $42 billion.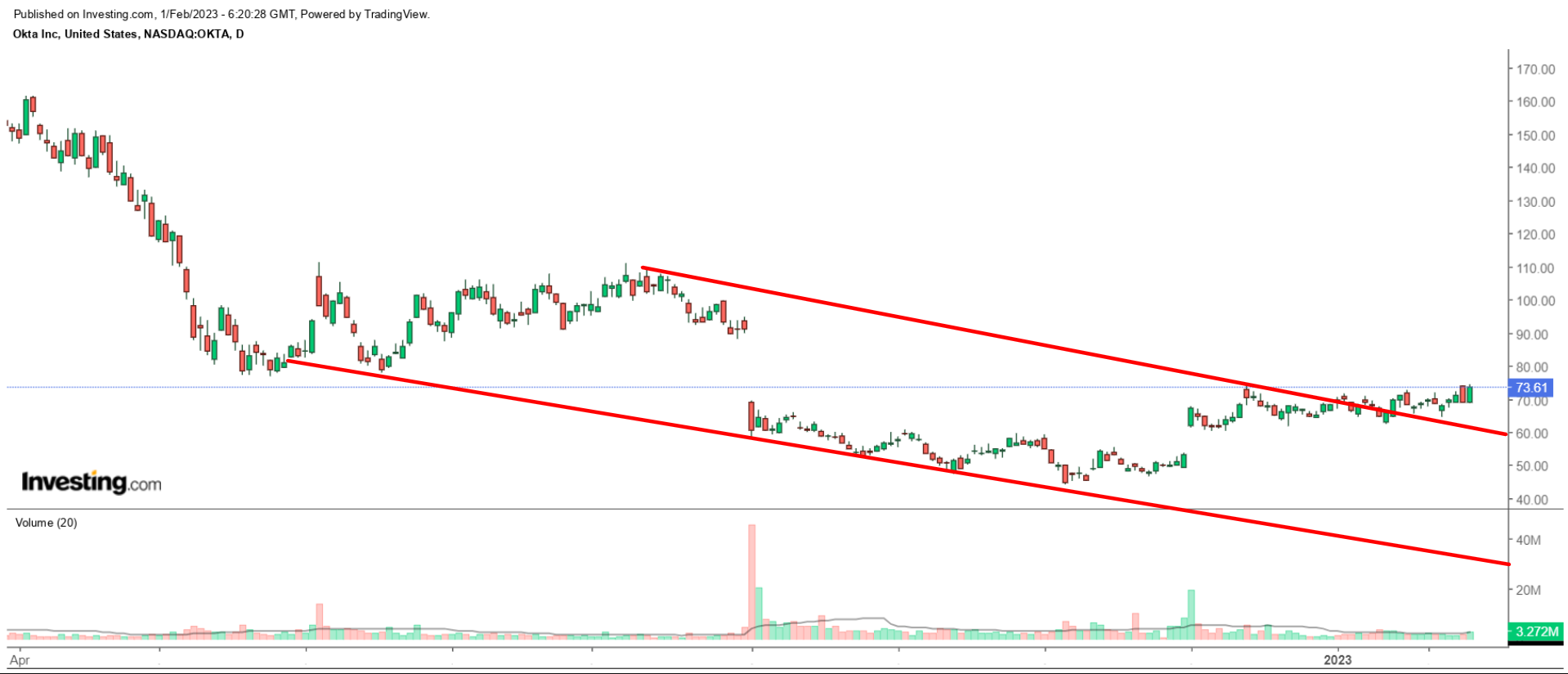 The identity and access management specialist remains well-placed to benefit from robust demand for its cloud-based cybersecurity offerings as the economy undergoes a sea change of digitization and enterprises spend more on cloud migration. Okta provides cloud software that helps companies manage and secure user authentication into applications, and for developers to build identity controls into applications, web services, and devices.
I anticipate Okta – which has beaten Wall Street's top and bottom line expectations for 24 straight quarters dating back to Q3 2017 – will deliver upbeat earnings when it releases its latest financial results on Thursday, March 2 after the closing bell.
Indeed, data from InvestingPro suggest that Wall Street analysts are extremely optimistic ahead of the report, with analysts increasing their EPS estimates 27 times in the last 90 days to reflect a gain of over 200% from their initial expectations.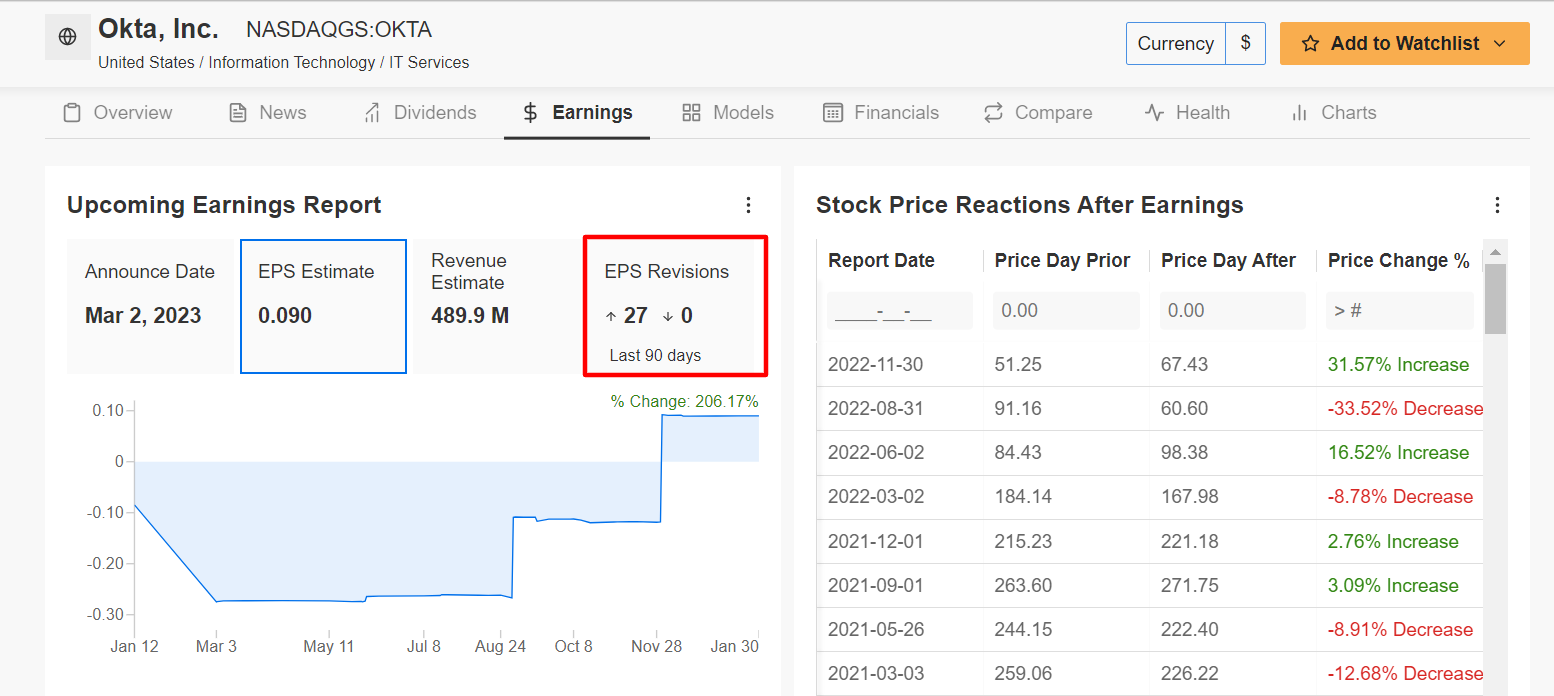 Source: InvestingPro
Consensus forecasts call for earnings per share of , swinging from a loss of -$0.18 in the year-ago period. If confirmed, it would mark the most profitable quarter in Okta's history since going public in April 2017.
Revenue is forecast to jump 27.9% y-o-y to an all-time high of $489.9 million, as the company benefits from strong demand from large enterprises for its cloud-based identity and access management software, which helps enterprises connect securely to their employees and customers.
In a promising sign, Okta counted more than 17,000 organizations around the world as customers as of the end of Q3, rising 22% from the year-ago period. Additionally, the cyber company said it had 3,740 clients generating $100,000 in annual revenue, up 32% from the same period last year.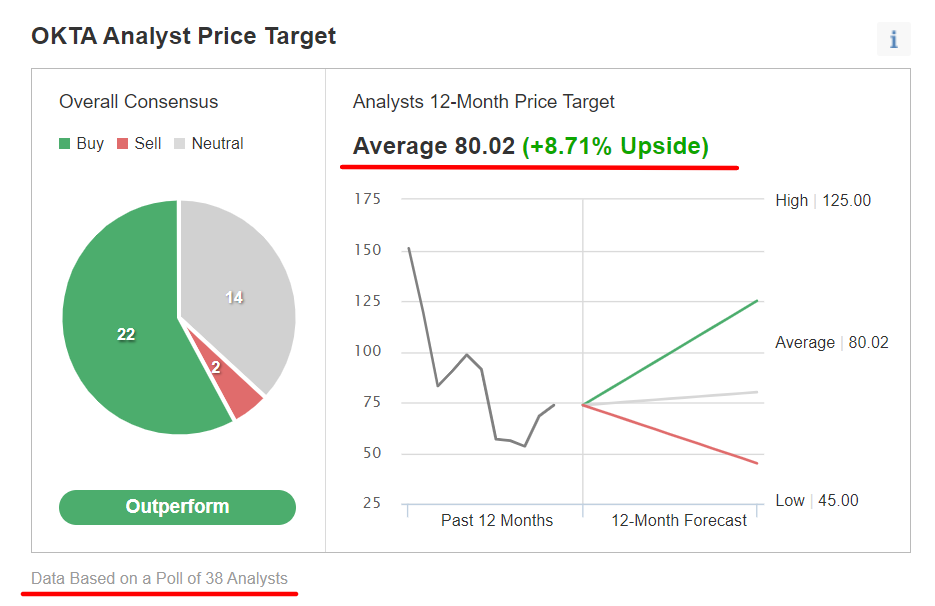 Source: Investing.com
As could be expected, 36 out of 38 analysts surveyed by Investing.com rate OKTA stock either as a 'buy' or 'hold', reflecting a bullish recommendation. Among those surveyed, shares had roughly 9% upside potential based on Tuesday's closing price. Similarly, the quantitative models in InvestingPro point to a gain of 22.7% in OKTA stock over the next 12 months, bringing shares closer to their average fair value of $90.34.
Workday
Year-To-Date Performance: +8.4%
Percentage From ATH: -41%
Workday — which offers enterprise-level software solutions for financial management and human resources, such as payroll tools — has enjoyed a powerful rebound since seeing its stock slump to a bear market low of around $128 in early November.
Shares of the human resources software maker have run about 41% higher in the past three months, far outpacing the comparable returns of major industry peers, such as Automatic Data Processing (NASDAQ:) (-4.7%), Paycom (NYSE:) (-1.8%), and Paylocity (NASDAQ:) (-1.7%), over the same timeframe.
Despite the recent rally, shares, which closed at $181.43 last night, remain 41% below their November 2021 all-time high of $307.81. At current levels, the Pleasanton, California-based company, which counts big names like Chevron (NYSE:), Netflix, Salesforce (NYSE:), and Morgan Stanley (NYSE:) as customers, has a market cap of $46.6 billion, compared to a valuation of roughly $75 billion at its peak.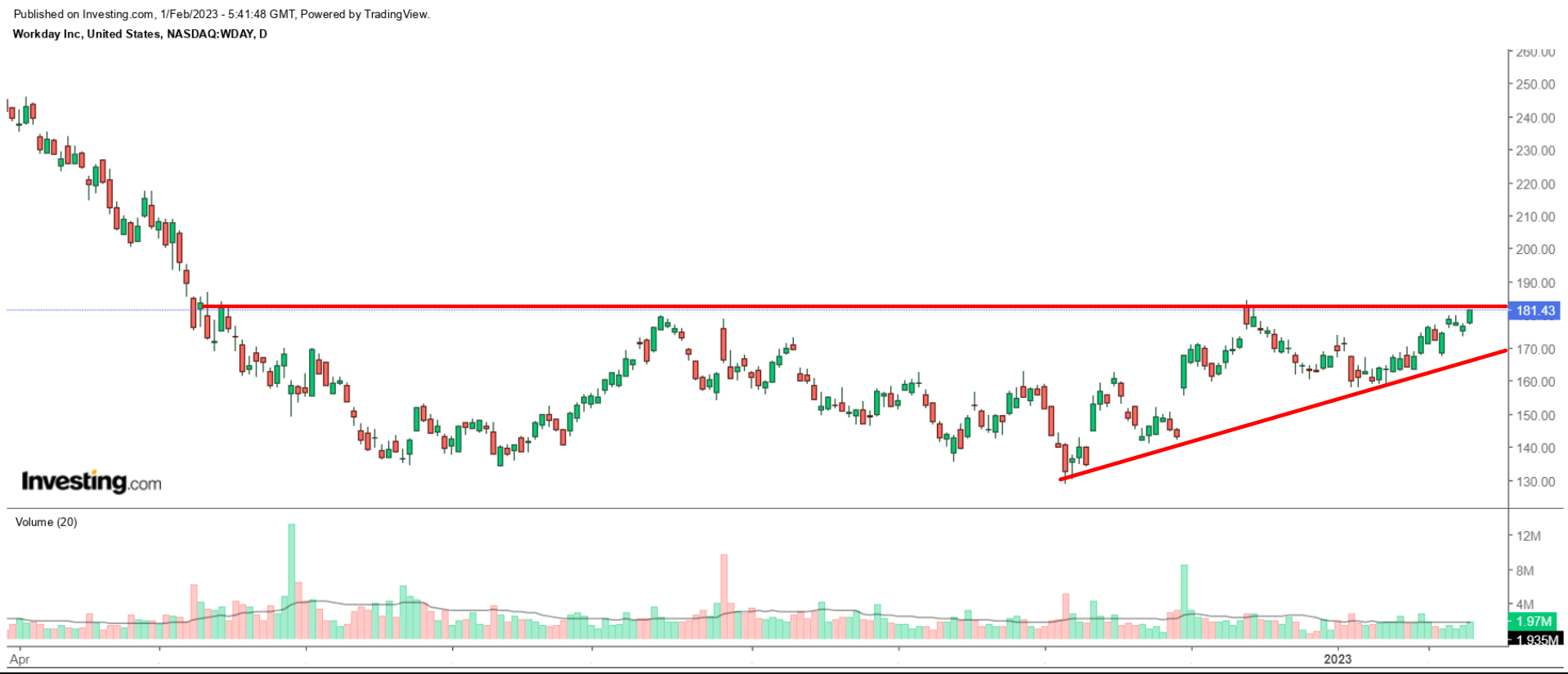 I believe Workday remains well-positioned to achieve ongoing long-term growth despite the challenging operating environment as it cements its status as the premier go-to name in the HR management industry.
The next major upside catalyst is expected to arrive when Workday reports fourth quarter financial results after the U.S. market closes on Monday, February 27.
The finance/HR software specialist has either matched or topped Wall Street's sales expectations in every quarter since going public in Q3 2012 while missing profit estimates only twice in that span, a testament to strong execution across the company over the years.
An InvestingPro survey of analyst earnings revisions points to growing optimism ahead of the earnings release, with analysts raising their EPS estimates 16 times in the last 90 days, compared to 13 downward revisions. The upward revisions follow a strong earnings result in late November that sent shares surging upward.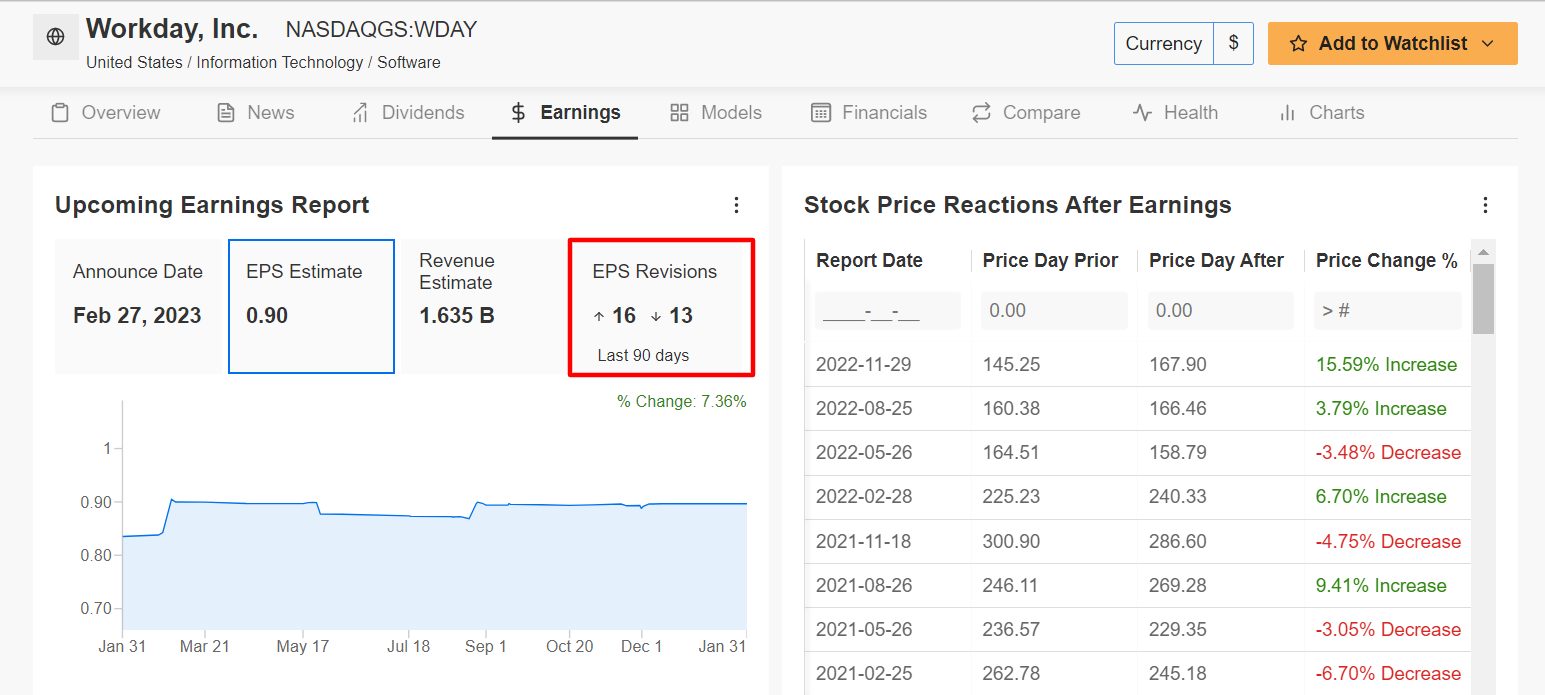 Source: InvestingPro
Consensus estimates call for the enterprise software company to post earnings per share of , according to Investing.com, improving 15.4% from EPS of $0.78 in the year-ago period due to the positive impact of ongoing operational restructuring actions and cost-cutting measures.
Q4 revenue is forecast to increase 18.1% year-over-year to $1.63 billion. If that is in fact the reality, it would mark the highest quarterly sales total in Workday's history, thanks to an expected boost in demand for its cloud-based human capital management and financial management software solutions.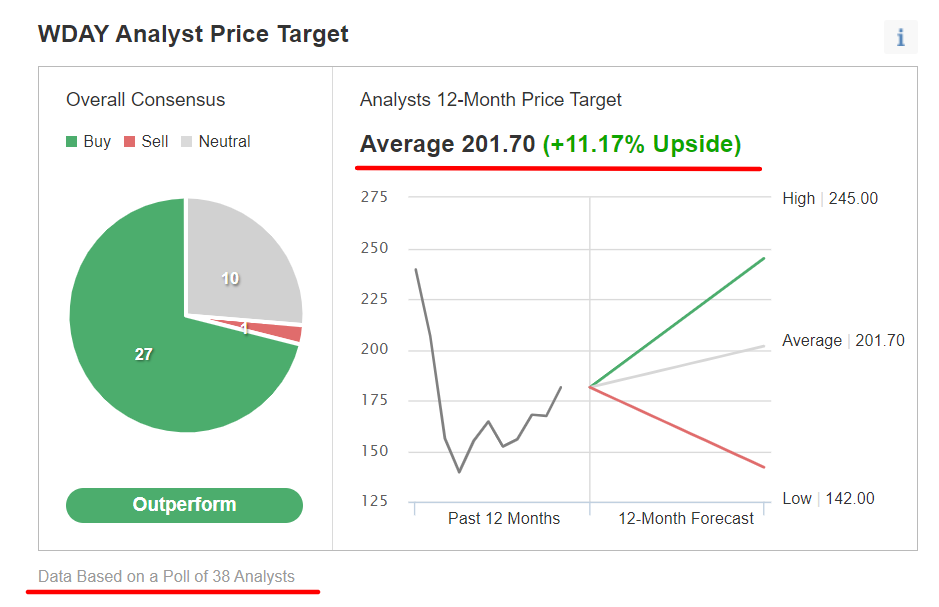 Source: Investing.com
Unsurprisingly, Wall Street has a long-term bullish view on WDAY stock, with 37 out of 38 analysts surveyed by Investing.com rating it as either 'buy' or 'hold'. Shares have an average analyst price target of around $202, representing an upside of roughly 11% from current levels. Likewise, the average fair value for Workday's stock on InvestingPro according to a number of valuation models — including P/E multiples — implies roughly 14% upside over the next 12 months.
***
Disclosure: At the time of writing, I am long on the S&P 500 and Nasdaq via the SPDR S&P 500 ETF (SPY) and Invesco QQQ ETF (QQQ). I am also long on the Technology Select Sector SPDR ETF. I regularly rebalance my portfolio of individual stocks and ETFs based on ongoing risk assessment of both the macroeconomic environment and companies' financials.
The views discussed in this article are solely the opinion of the author and should not be taken as investment advice.