 What's Next for the S&P 500 and Nasdaq?
Stocks kicked off the new year with signs of recovery, but don't be fooled—both $ and $ are now at pivotal, long-term resistance levels. Join us for a quick review of key support and resistance levels to watch in 2023.
Looking at the technical picture of the , , and , two of the three charts are still in a longer-term downtrend trading below a declining 200-day moving average.
$SPY: S&P 500 ETF Stalls at the Resistance of the Long-Term Downtrend Line
As it did in December, S&P 500 ETF ($SPY) once again stalled after running into major resistance of its year-long downtrend line and 200-day MA.
Below, notice how the recent $SPY rally attempt stalled after perfectly running into the resistance of its long-term downtrend line (from 2021 high). The 200-day moving average is also firm resistance: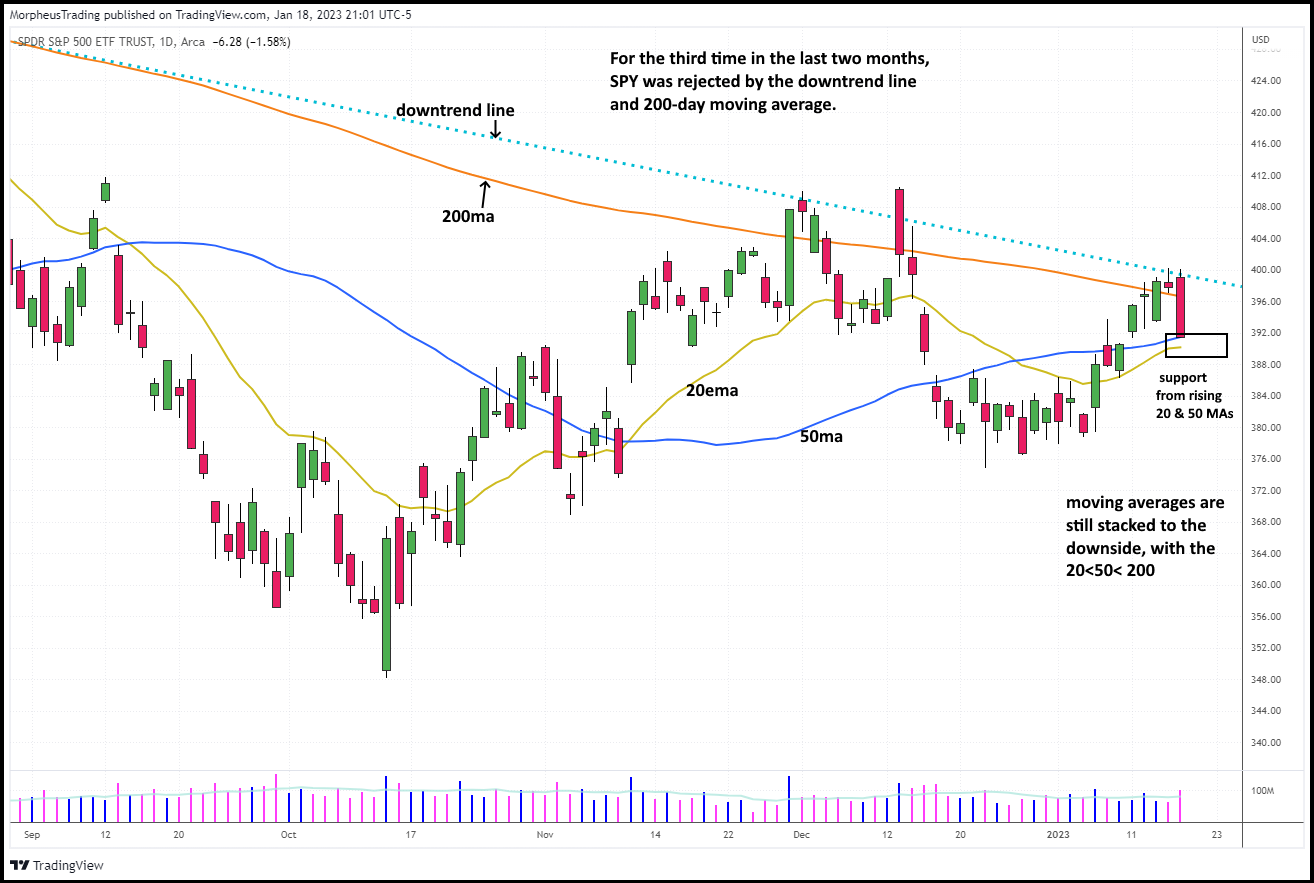 Wednesday's low already touched support from the rising 50-day MA with the 20-day EMA just below.
If the 20/50ma support level does not hold, then we'd look for $SPY to set a higher swing low above $380.
A break of the uptrend line would be cause for concern.
$QQQ: Nasdaq 100 ETF showing relative weakness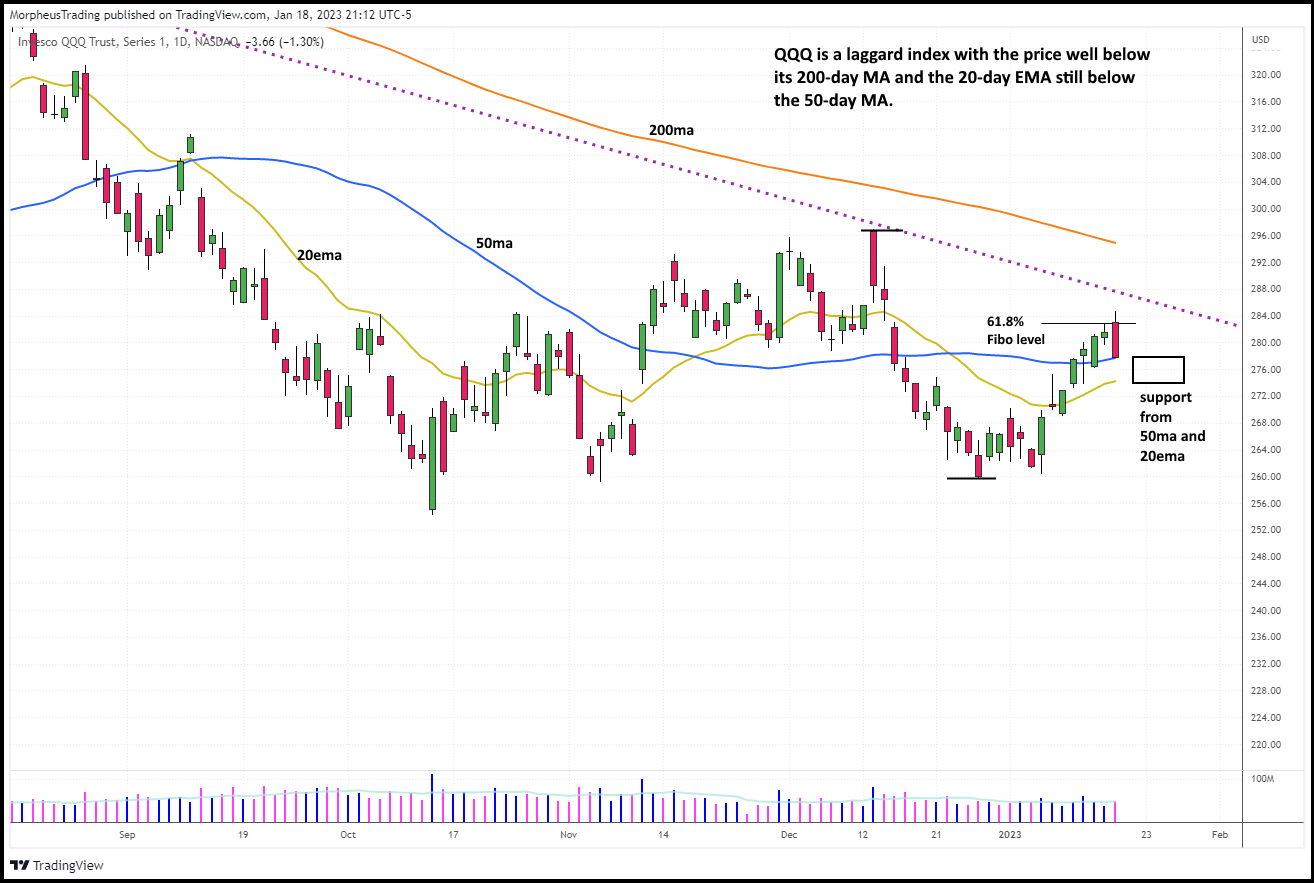 Nasdaq 100 ETF ($QQQ) remains a big laggard with the price not even touching its 200-day MA since last March.
Wednesday's selloff closed at the 50-day MA, with the 20-day EMA just below. The ugly candle is also a potential lower high.
If $QQQ is unable to hold the 20-day EMA, then we could see a test of the December low or possibly a lower low that confirms a change of trend to the downside.
While $SPY already tested its 200-day MA and downtrend line this week, notice that $QQQ is still below both major resistance levels (relative weakness).
$MDY: S&P Midcap 400 ETF leads the way with a glimmer of hope
Although both $SPY and $QQQ are below their downtrend lines and 200-day MAs, the SPDR S&P MIDCAP 400 ETF Trust (NYSE:) chart is more encouraging.
$MDY is showing relative strength, as it has been outperforming $SPY and $QQQ since bottoming out in October 2022.
$MDY is the only major index ETF currently trading above its 200-day moving average, with all moving averages stacked to the upside ( 8ema > 20ema > 50ma > 200ma):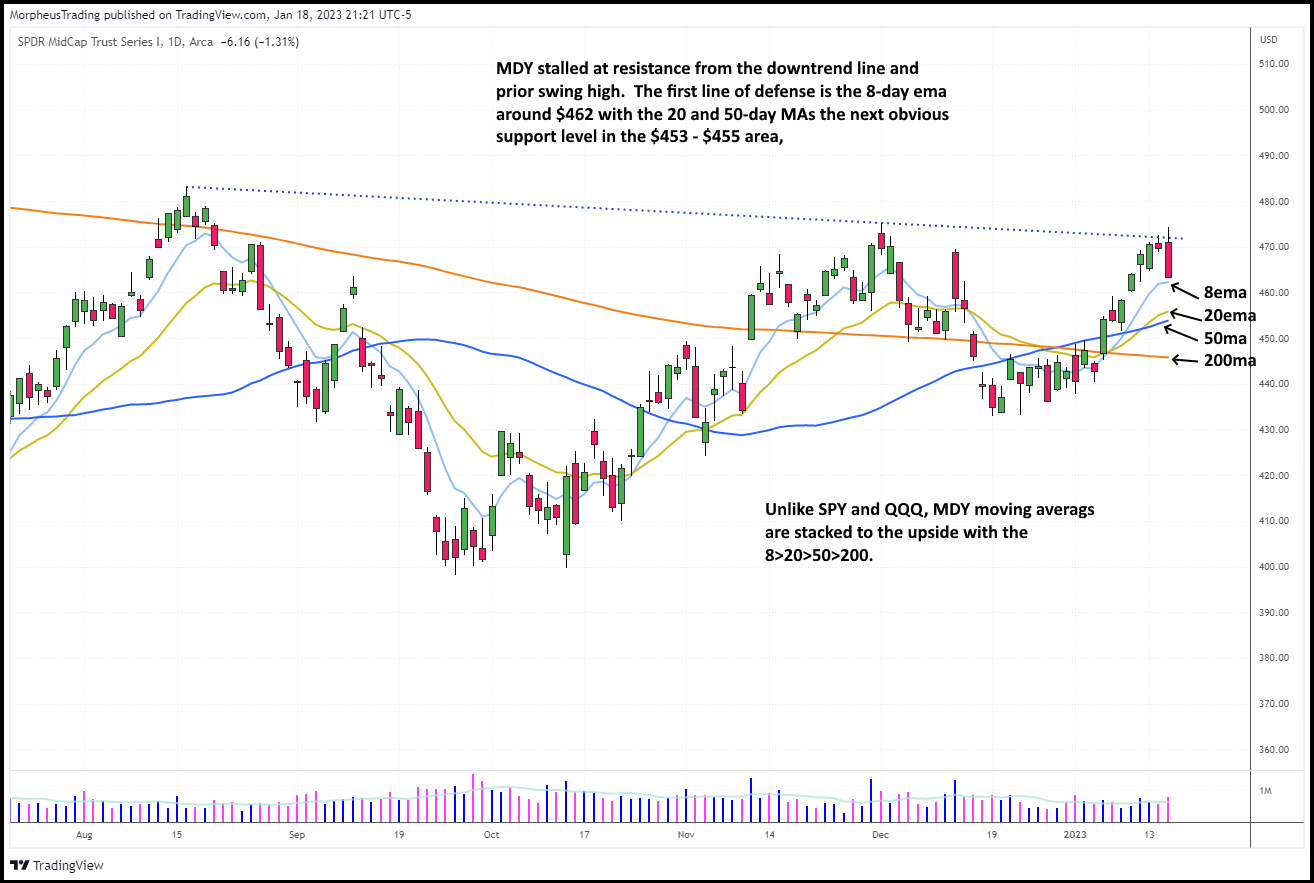 Wednesday's ugly rejection at the prior swing high will likely lead to sideways to lower price action during the next week.
Ideally, we'd love to see the price pull back in and chop around while holding the rising 20 and 50-day MAs.
A break of the 200-day MA and prior low would be cause for concern.
Wednesday's selling was a step in the wrong direction for the current rally attempt, but not the final nail in the coffin.
For more evidence to support the bull or bear case, let's see how leading stocks/industry groups react to weakness this week and next.
Conclusion
Understanding the current support and resistance levels of the $SPY and $QQQ is crucial for making informed investment decisions in 2023.
The stock market is showing signs of recovery, but these two major indexes are currently facing resistance at their long-term downtrend lines and 200-day moving averages.
It's important for investors to pay attention to these pivotal technical levels and consider how they may impact their investment strategies. We hope this post has helped you gain a better understanding of the current market landscape and wish you success in your investments in the coming year.