 My Advice? Sell These 2 Dividend Funds in 2023
There's a disconnect setting up in the energy market that's a flashing yellow light for investors—particularly if you've been playing high-flying oil stocks in 2022.
That would be the fact that oil stocks have become "unhooked" from the underlying oil price, as you can see below:
Oil Stocks Zig, Oil Prices Zag

USO-XLE Price Chart
The purple line is the United States Oil (NYSE:) ETF, which tracks the price of light, sweet crude delivered to the distribution hub at Cushing, Oklahoma.
The orange line is the Energy Select Sector SPDR ETF (NYSE:), a proxy for oil stocks, with big-cap names like ExxonMobil (NYSE:), Chevron (NYSE:) (CSX (NASDAQ:)) and Marathon Petroleum (NYSE:) among its holdings.
That's a clear sign that oil stocks (including high-yielding oil-investing options such as master limited partnerships—MLPs for short—and energy-focused closed-end funds, or CEFs) are likely to come under pressure in the new year, especially if we face a recession.
I'll name two specific oil CEFs to avoid below.
Of course, none of this probably comes as a surprise if you're an oil investor—you no doubt know that energy markets can turn on a dime, so you need to always keep a sharp eye on any energy holdings you may have.
You might remember, for example, the massive oil spike back in 2008, when oil soared some 46% by mid-year, only to finish deep in the red.
Oil Can Deliver Quick Short-Term Profits (and Faster Losses)

WTI-2008 Price Chart
So to be successful as an oil investor, you need to be able to nimbly move in and out. And as I mentioned off the top, the recent divergence in oil stocks is a good sign that now could be a good time to step to the side.
But what about the long term? Even then, I don't like energy as an investment, especially for conservative-income investors. Look at the chart below, showing the decade from 2008 to 2018.
The S&P 500, shown by the performance of the SPDR S&P 500 ETF Trust (SPY), in purple, handily outperformed the spot price of oil (in orange) in that time, with oil barely staying in the black, posting a total gain, over a decade, of 6.5%.
In the Long Run, Oil Loses Out to Stocks

Stocks Outperform
Energy's Long-Term Future Is Shifting
One of the biggest parts of the energy bull thesis is that the commodity will always be in rising demand as economies grow. But there's an interesting shift afoot.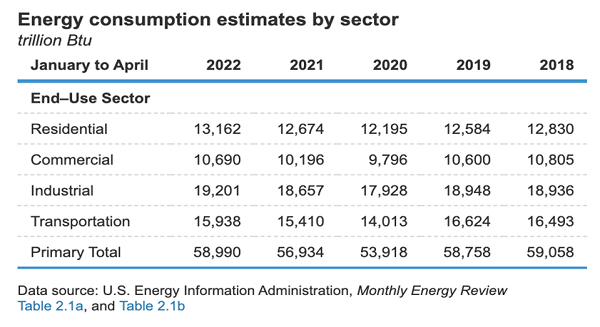 Energy Usuage Declines
It's a small change, to be sure, but as you can see above, Americans, despite the country's significant stores of energy, have been cutting down for a while. Although consumption fell much further during the pandemic, 2022 still saw a decline in overall usage, thanks to growing green-energy supplies and higher energy efficiency.
Delving deeper into the demand picture, we can see that the amount of energy used in commercial buildings in the US, including from , another energy commodity I see coming under pressure in the long and short run is also declining.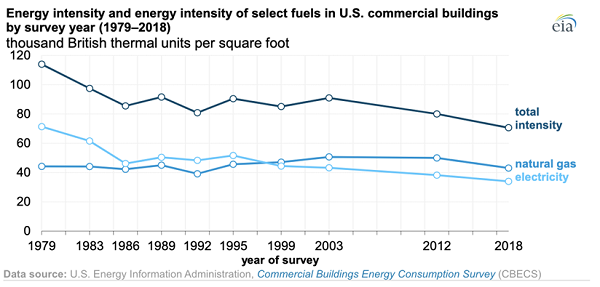 Commercial Energy Efficiencies
According to the EIA, energy consumption in commercial buildings fell 1.3% annually from 2003 to 2012 in America; from 2012 to 2018, that sped up to a 1.5% annual decline. And that was before the pandemic.
This trend will likely continue, putting downward pressure on the price of oil and gas—even if we do continue to see short-term price spikes from time to time.
In light of dimming prospects for oil and gas, I've avoided adding funds that hold energy companies in my CEF Insider service, which focuses on tapping CEFs funds for high, and often monthly, dividend payouts.
That means we stay away from CEFs like the First Trust Energy Income and Growth Fund (FEN), which might attract you with its 8.6% dividend yield and 7.3% discount to NAV. With a focus on pipeline-operating master limited partnerships such as Enterprise Products Partners (NYSE:), Energy Transfer LP (NYSE:) and TC Energy (NYSE:), this fund will be among the first to suffer from declining demand in a recession.
The similarly focused Tortoise Energy Infrastructure Corp (TYG), meanwhile, would also see a 9% yield imperiled by a dip in energy prices, making it a fund to sell now, or avoid if you don't own it.
4 Terrific CEF Buys to Start 2023 (9.5% Dividends, Paid Monthly)
While I see the oil as a sector to avoid in 2023, I also see lots of terrific buying opportunities in the high-yielding CEF space.
Disclosure: Brett Owens and Michael Foster are contrarian income investors who look for undervalued stocks/funds across the U.S. markets. Click here to learn how to profit from their strategies in the latest report, "7 Great Dividend Growth Stocks for a Secure Retirement."