 1 Stock to Buy, 1 Stock to Dump This Week: Li Auto, Walgreens
U.S. jobs report, Fed speakers highlight first trading week of 2023.
Li Auto shares are a buy after update on record monthly deliveries.
Walgreens stock is set to struggle amid shrinking profit, sales growth.
Stocks on Wall Street declined in the final session of 2022 on Friday, with the major indices wrapping up their worst year since 2008 amid ongoing concerns about further and a possible .
The benchmark tumbled 19.4%, while the lost 33.1%, largely driven by a rout in shares of high-growth technology companies that had led markets higher in previous years, such as Tesla (NASDAQ:), Amazon (NASDAQ:), Apple (NASDAQ:), Nvidia (NASDAQ:), and Netflix (NASDAQ:).
Meanwhile, the ended the year down 8.8%, thanks to its reliance on dividend-paying blue-chip companies, which are thriving in the current environment.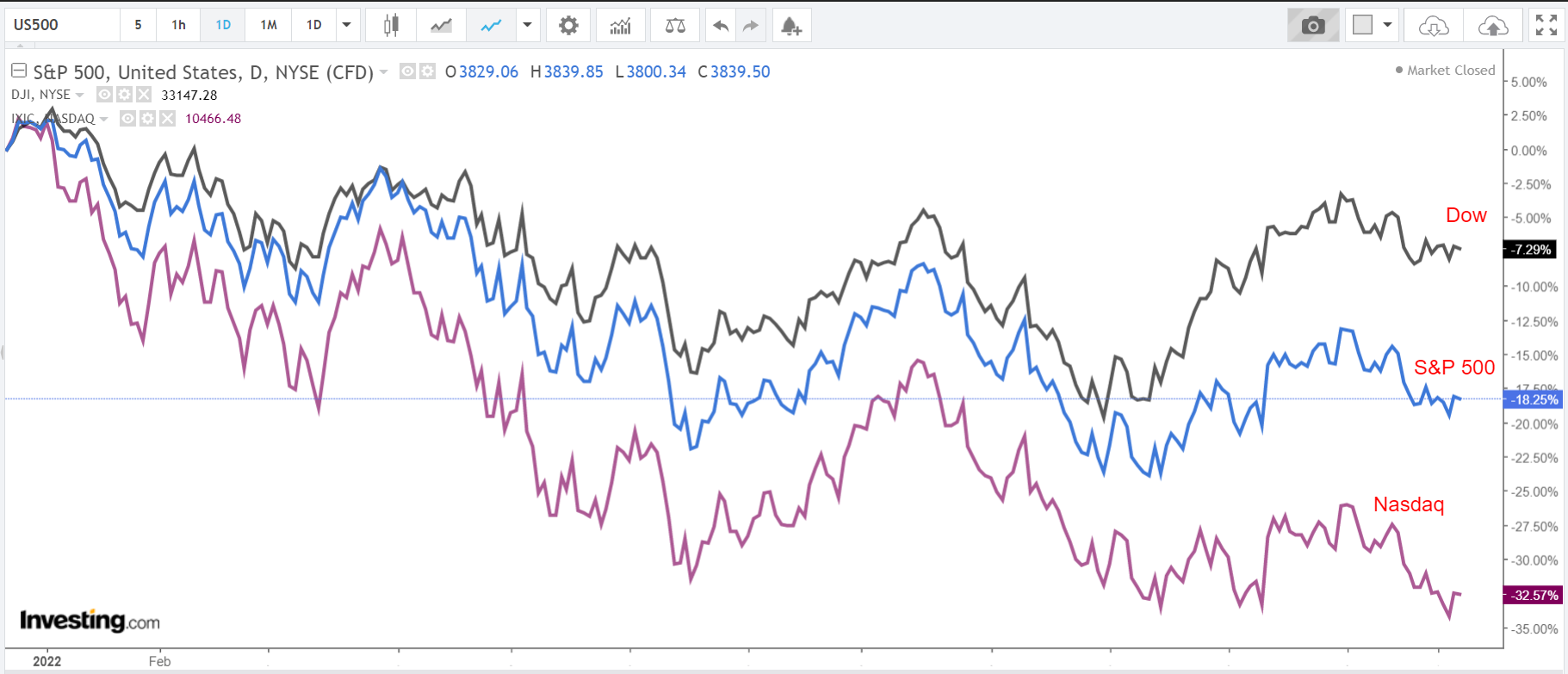 Source: Investing.com
With 2023 now upon us, Wall Street will have a shortened week of trading ahead. The stock market will remain closed on Monday in observance of the New Year's Day holiday.
There will, however, be a full slate of data releases on the agenda as investors continue to weigh the rate hike plans for the months ahead. Most important will be Friday's for December, which is forecast to show solid job gains but a slowing from November's growth.
In addition, several Fed officials have speeches scheduled for near the end of the week and that could also have some impact on the year's first trading week.
Regardless of which direction the market goes, below we highlight one stock likely to be in demand in the coming days and another that could see fresh losses.
Remember though, our time frame is just for the week ahead.
Stock to Buy: Li Auto
I expect shares of Li Auto (NASDAQ:) to see increased buying activity in the week ahead, as the Chinese electric vehicle maker announced record monthly delivery figures over the weekend, easing worries over the impact of the country's ongoing COVID outbreak.
The Beijing-based EV company said on Sunday that it delivered 21,233 vehicles in December, up 50.7% from the same period last year. The December figures represent a new monthly record for China's most valuable electric automaker. The previous high was notched in November when Li delivered 15,034 vehicles.
In comparison, China's second-biggest electric car company, Nio (NYSE:), delivered 15,815 EVs last month, while Xpeng (NYSE:), which is China's third largest EV manufacturer, sold 11,292 units.
"We set another monthly record in December and became the fastest emerging new energy automaker in China to surpass the 20,000 monthly delivery mark," the company said in a statement.
Also of note, Li revealed that shipments of both its L8 and L9 hybrid SUVs topped the 10,000 mark in the final month of 2022. The company says these models "have solidified our market position in the RMB 300,000 to RMB 500,000 [~$43,000-$72,000] price segment."
For the full year, Li Auto delivered 133,246 vehicles in 2022, jumping roughly 47% from 2021, despite COVID-related production challenges and ongoing supply chain constraints.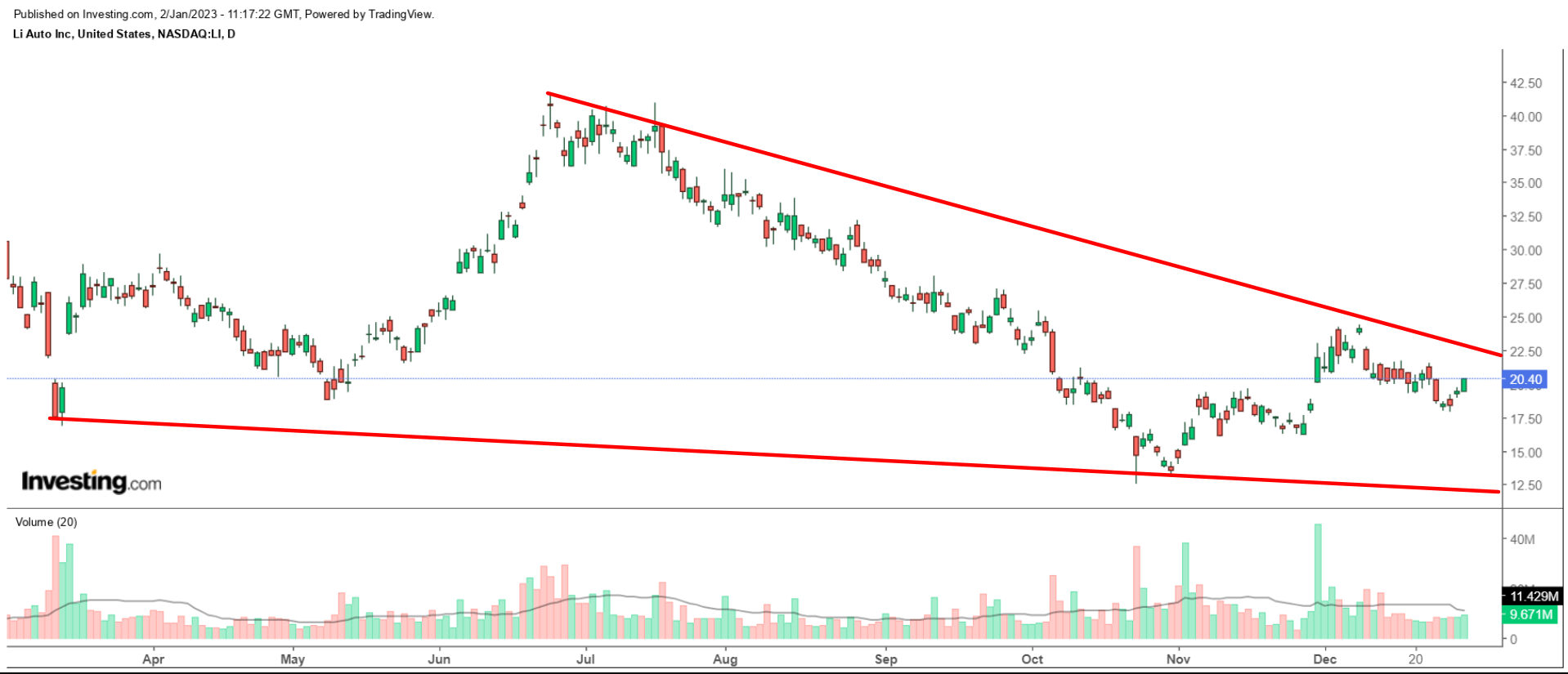 Source: Investing.com
LI stock ended Friday's session at $20.40, continuing its recovery after falling to an all-time low of $12.52 on Oct. 24. At current levels, Li Auto – which is still about 57% away from its record peak of $47.70 touched in November 2020 – has a market cap of $19.9 billion.
Shares ended 2022 with an annual decline of 36.4%, easily outperforming Nio's stock, which plunged 69.2%, and XPeng, which saw its shares plummet 79.7%. In comparison, Tesla – the biggest EV maker in the world – suffered a loss of 65% in 2022 amid an aggressive reset in valuations across the sector.
Stock to Dump: Walgreens Boots Alliance
I believe shares of Walgreens Boots Alliance (NASDAQ:) will underperform in the coming week, with a potential breakdown to new multi-month lows on the horizon, as the company is forecast to deliver disappointing financial results before the U.S. market opens on Thursday.
Unsurprisingly, an InvestingPro+ survey of analyst earnings revisions points to mounting pessimism ahead of the report, with analysts cutting their EPS estimates 11 times in the past 90 days to reflect a drop of -6% from their initial expectations.
As per moves in the options market, traders expect a sizable swing in WBA shares following the results, with a possible implied move of 5.7% in either direction.

Source: Investing.com
Consensus expectations call for the Deerfield, Illinois-based company to post first quarter of $1.12, according to Investing.com, falling 33.3% from EPS of $1.68 in the year-ago period. Meanwhile, revenue is forecast to dip 3.2% year-over-year to $32.8 billion due to the negative impact of numerous headwinds, including receding demand for COVID-19 tests and vaccines.
If those figures are confirmed, it will mark Walgreens' third consecutive quarter of declining earnings and revenue, underscoring the several challenges the company faces against the current backdrop.
Taking that into account, I believe there is a growing downside risk that Walgreens could cut its full-year profit and sales forecast as it continues to spend heavily on a transformation from a drugstore chain operator and pharmacy services provider into a full-service healthcare company.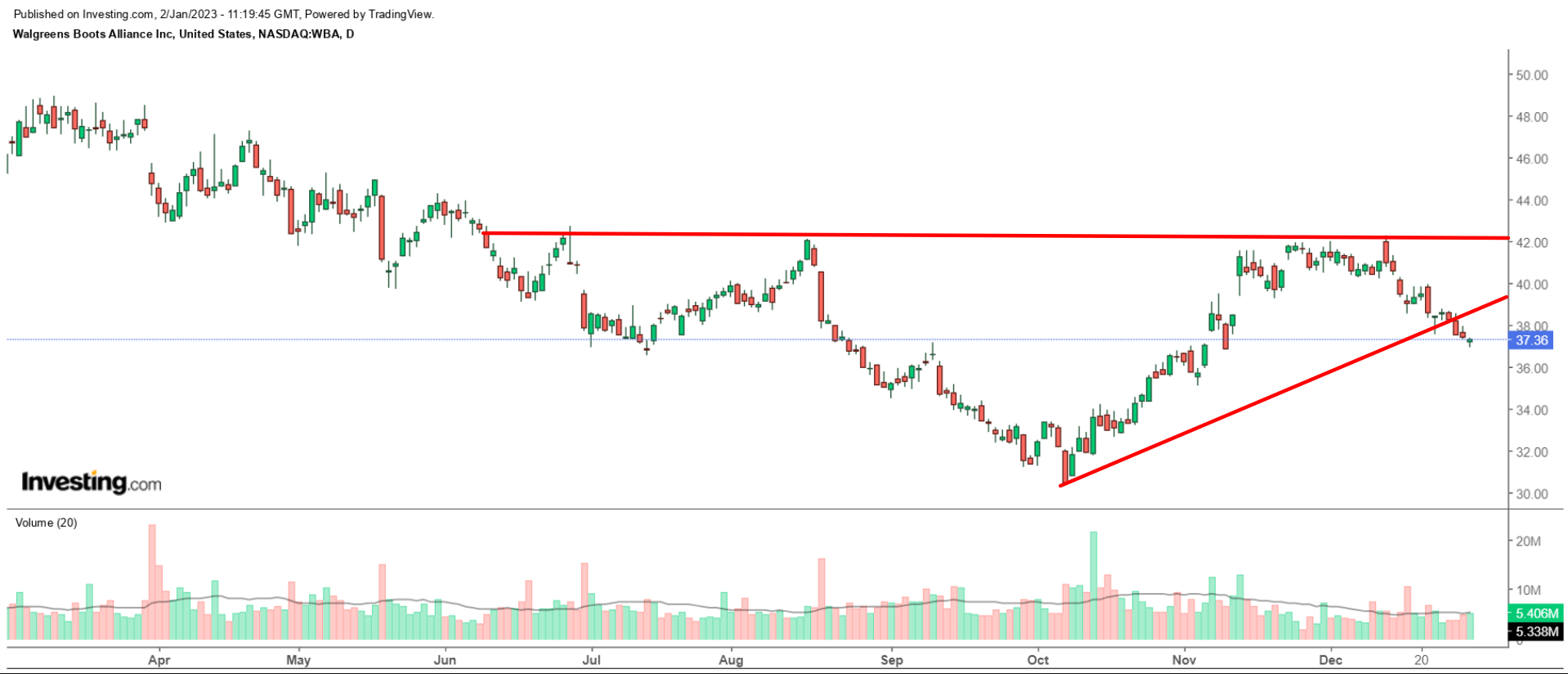 Source: Investing.com
WBA stock ended Friday's session at $37.36, the lowest level since Nov. 9, earning the Dow Jones component a market valuation of $32.2 billion. Shares lagged the annual performance of the blue-chip index in 2022, tumbling 28.3% in contrast to the Dow's 8.8% drop.
Disclosure: At the time of writing, I am short on the S&P 500 and Nasdaq 100 via the ProShares Short S&P 500 ETF and ProShares Short QQQ ETF. I am long on the Energy Select Sector SPDR ETF and the Health Care Select Sector SPDR ETF.
The views discussed in this article are solely the opinion of the author and should not be taken as investment advice.
***
Interested in finding your next great idea? InvestingPro+ gives you the chance to screen through 135K+ stocks to find the fastest growing or most undervalued stocks in the world, with professional data, tools, and insights. Learn More »