 The Mighty Amazon Has Fallen. Can it Recover?
In just over a year, the share price of Amazon (NASDAQ:), the e-commerce juggernaut, has fallen by over 50%. The crash from over $188 to under $85 a share erased over a trillion dollars from the company's market cap. Apparently, after extrapolating the pandemic-era revenue boost into the distant future, investors felt disappointed when things started returning to normal.
But in reality, is just as dominating in both e-commerce and the cloud now as before and during the pandemic. This means the sharp drop in the stock might be a blessing in disguise. 2022 sales are expected to rise ~9% to $511B and add another 10% in 2023. The company's earnings power suggests the stock might be a bargain already. Not to mention that the Elliott Wave chart below indicates that a bottom is near.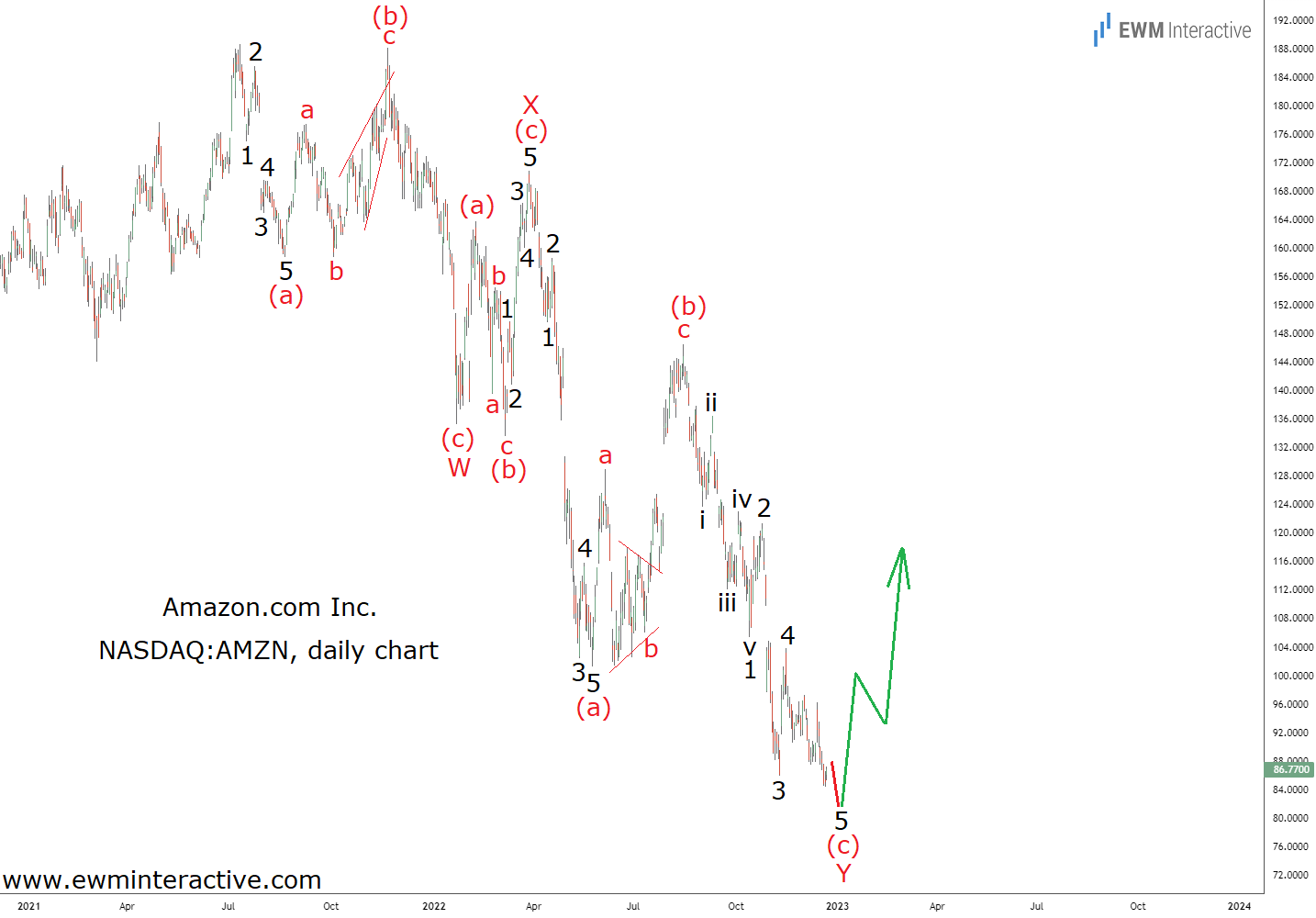 Amazon's daily chart reveals that the selloff from $188.65, which began in July 2021, is clearly corrective. It can be seen as a W-X-Y corrective combination between a flat correction in wave W and a simple zigzag in wave Y. Connecting the two is wave X, marked as an expanding flat retracement. The sub-waves of all three are labeled (a)-(b)-(c) each. The impulsive structure of (a) of W, (c) of X, and (a) and (c) of Y are visible, as well.
There's an Opportunity in Amazon's Crisis
If this count is correct, Amazon is searching for a bottom already. Perhaps due to the initial overvaluation, revenue growth failed to translate into investment returns over the past year and a half. That's likely to change soon as the Big Tech bear market finally closes. In the long run, the bulls should have no problems reaching targets above the $200 mark.