 1 Stock to Buy, 1 Stock to Dump This Week: Cal-Maine Foods, Tesla
Final trading week of 2022 is expected to be a quiet one.
Cal-Maine Foods stock is a buy with strong earnings on deck.
Tesla shares are set to extend losses amid more bad news.
Stocks on Wall Street inched up in a light trading day on Friday, but the major indices ended the week mostly lower as investors weighed the latest against ongoing and fears.
For the week, the benchmark and technology-heavy fell 0.2% and 1.9% respectively to record their third consecutive weekly losses. The blue-chip was the outperformer, posting a 0.9% gain for its first weekly increase in the past three weeks.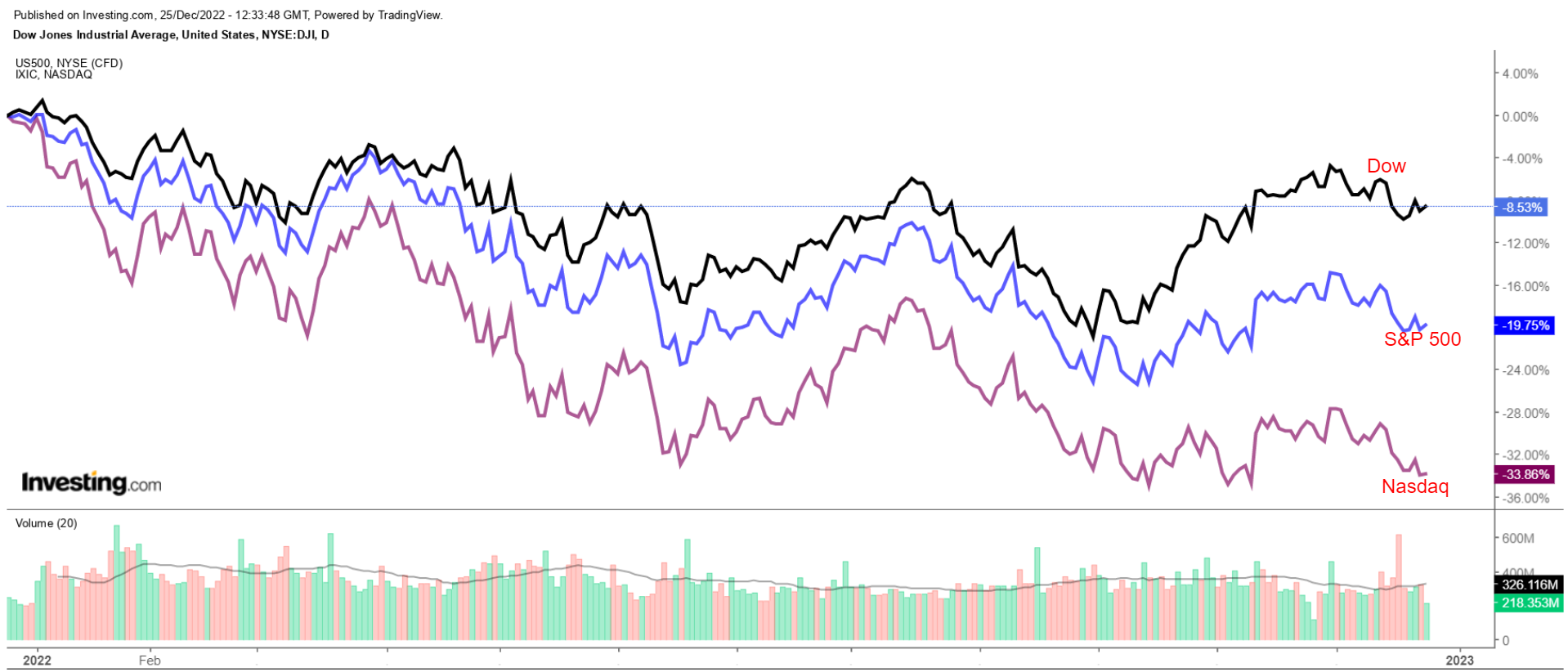 Source: Investing.com
The holiday-shortened week ahead is expected to be a relatively quiet one with no major economic data, Federal Reserve speeches, or notable earnings reports on the agenda as the calendar winds down for 2022.
Keep in mind that U.S. stock markets will be closed Monday in observance of the Christmas holiday.
Regardless of which direction the market goes, below we highlight one stock likely to be in demand and another that could see further downside.
Remember, though, our time frame is just for the upcoming week.
Stock To Buy: Cal-Maine Foods
After closing at a new record high on Friday, I expect shares of Cal-Maine Foods (NASDAQ:) to extend their rally in the week ahead as the thriving fresh egg producer and distributor is forecast to deliver strong profit and sales growth when it delivers its latest financial results on Wednesday, Dec. 28.
As per moves in the options market, traders are pricing in a significant swing of 8% in either direction for CALM stock following the earnings update.
An InvestingPro+ survey of analyst earnings revisions reveals growing optimism ahead of the report, with analysts raising their EPS estimates by almost 900% in the last 90 days.
Source: InvestingPro+
Consensus expectations call for the Jackson, Miss.-based company, which is the top U.S. shell egg producer and accounts for approximately a quarter of domestic egg consumption, to post earnings per share of $4.18 for its fiscal second quarter, up 20,800% from EPS of just $0.02 in the year-ago period.
Revenue growth is expected to accelerate for the sixth consecutive quarter, with analysts anticipating a 104.1% year-over-year surge to $797.8 million thanks in large part to rising egg prices, which are up 266% compared with the same quarter in 2021.
If confirmed, that would mark the highest quarterly profit and sales total since at least Q2 2013, as it benefits from a powerful combination of favorable consumer demand trends and robust pricing strength.
Looking ahead, I believe Cal-Maine's management will provide upbeat guidance as the company remains well placed to shine amid a difficult macro backdrop of rising interest rates, elevated inflation, and slowing economic growth.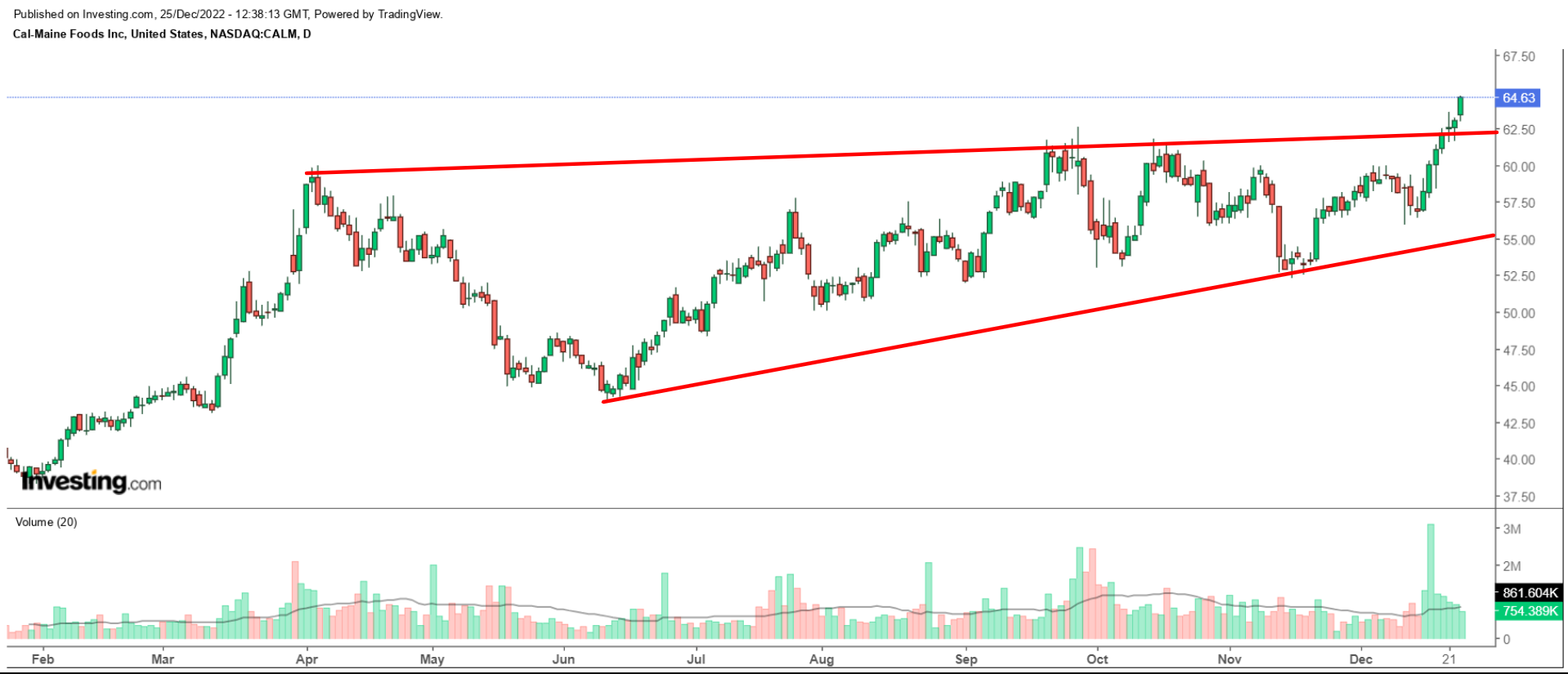 Source: Investing.com
CALM stock, which has outperformed the broader market by a wide margin this year, rose to $64.78 on Friday before ending at $64.63, above the prior record high close of $63.08 from a day earlier, as investors piled into defensive areas of the consumer staples sector amid the current market rout.
Year to date, shares have increased a whopping 74.7%, blowing past the gains made by industry peers Archer-Daniels-Midland (NYSE:) (+40%), Tyson Foods (NYSE:) (-29.6%), Bunge (NYSE:) (+6%), Pilgrims Pride (NASDAQ:) (-15.6%), and Vital Farms (NASDAQ:) (-14.3%) over the same time frame.
At current levels, Cal-Maine has a market cap of $3.2 billion.
Stock To Dump: Tesla
Fresh on the heels of its third weekly loss in a row, I anticipate Tesla's (NASDAQ:) stock will extend its downtrend to reach a new 52-week low in the days ahead as investors react to more negative developments plaguing the Elon Musk-led electric-vehicle maker.
Shares of the EV giant are down an astonishing 36.8% so far in December, putting the stock on track to suffer its , due to mounting fears about CEO Musk's preoccupation with Twitter as well as growing concern over weakening demand for its electric cars.
Sentiment on TSLA has also taken a hit as Musk sold almost $40 billion worth of his shares during the year and investors fear he could sell more to keep Twitter afloat following his $44 billion acquisition of the social media network.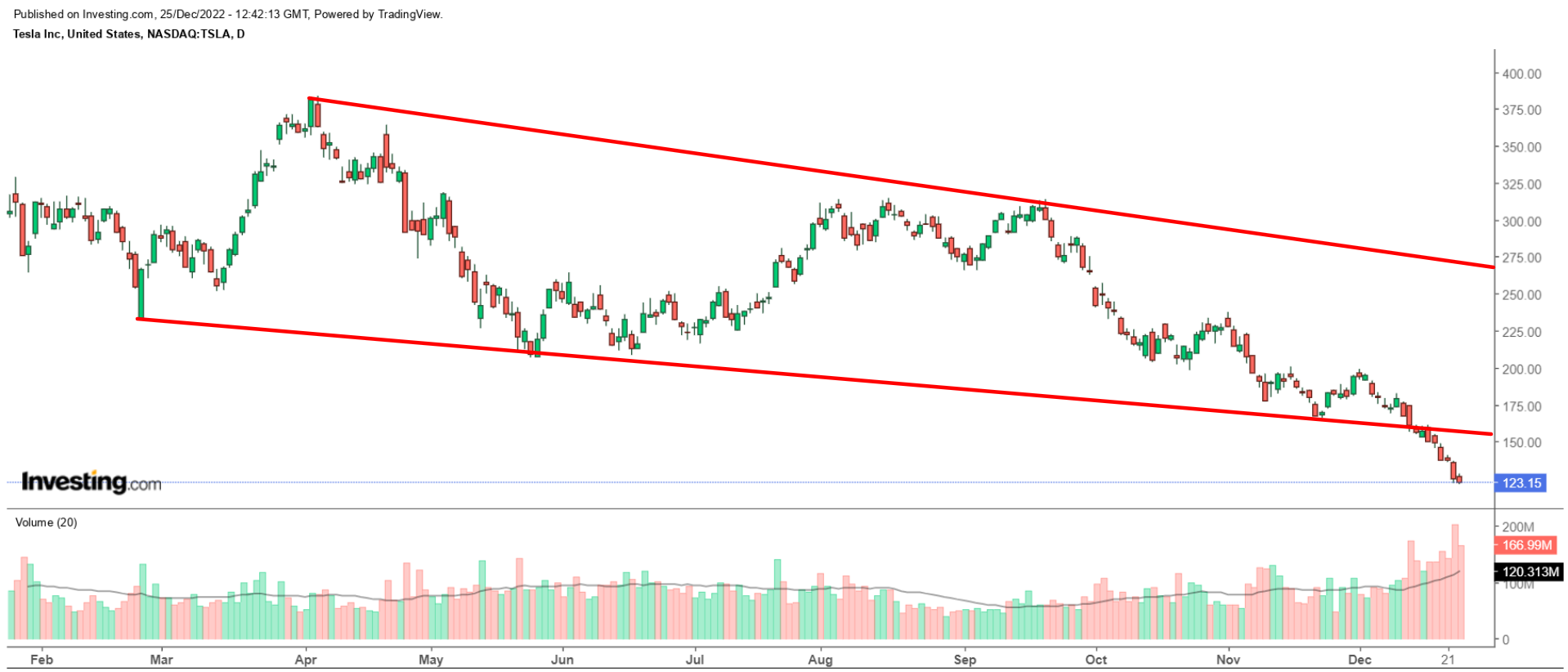 Source: Investing.com
The latest round of bad news came after Tesla at its Shanghai factory on Saturday, as per an internal notice, pausing most work at the plant through Jan. 1, 2023.
While the company did not indicate a specific reason for the year-end production halt, the suspension comes among a rising wave of local COVID-19 infections after China eased pandemic restrictions earlier this month.
In comparison, over the past several years the Shanghai manufacturing plant had kept normal business operations during the last week of December.
Despite recent price-cut announcements in and various year-end incentives to customers in Europe and China, the automaker has been struggling with demand concerns and elevated inventory levels amid the current environment.
TSLA declined on Friday to end at $123.15, the stock's lowest level since September 2020. That was its sixth straight daily loss, making for Tesla's longest losing streak since March 2020.
Tesla is down 65% year to date, making it one of the worst-performing stocks of 2022. Even more alarming, shares have now pulled back more than 70% since touching a record high of $414.50 in November 2021, amid an aggressive reset in valuations throughout the entire EV sector.
At current valuations, Tesla has a market cap of $388.9 billion, compared with $1.23 trillion at its peak.
From a technical standpoint, Tesla's stock has shown no signs of bottoming, as shares remain well below their 50-day, 100-day, and 200-day moving averages. This usually signals more selling in the near term.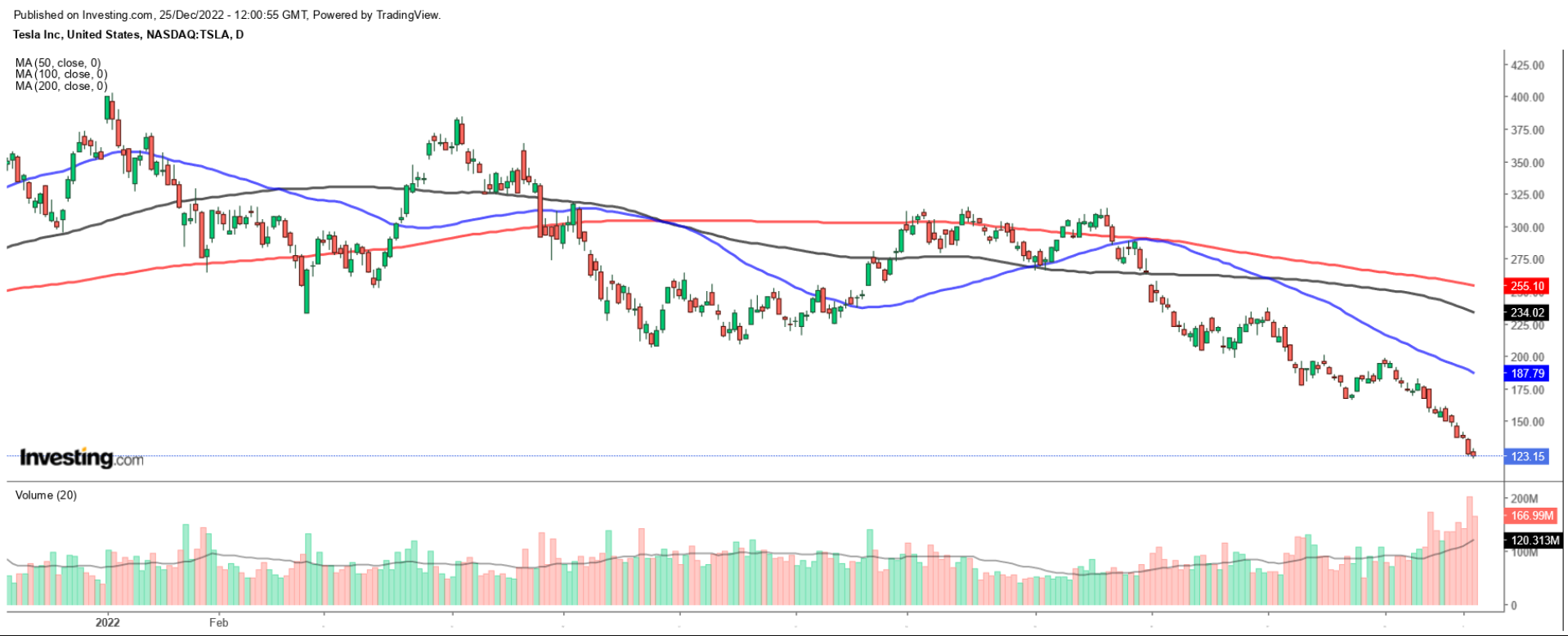 Source: Investing.com
Disclosure: I am short on the S&P 500 and via the ProShares Short S&P 500 ETF (NYSE:) and ProShares Short QQQ ETF (NYSE:) at the time of writing.
I remain long on the Energy Select Sector SPDR ETF (NYSE:) and the Health Care Select Sector SPDR ETF (NYSE:).
The views discussed in this article are solely the opinion of the author and should not be taken as investment advice.