 Chart of the Day: S&P 500 Rebounds to Test Key Level
Markets recover after big plunge on Thursday
Investors eye core PCE
Lower lows call for caution
The chart to watch is clearly the and other major U.S. indices following Thursday's big plunge that wiped out two days of gains.
Though the indices finished well off their lows and futures subsequently pushed higher during the Asian session yesterday, more evidence of a bottom is needed if we are to see a Santa rally.
Otherwise, traders must remain very nimble because there could be another rug pull, as we have come to experience this December.
Since faking out above the trend line and resistance around 4100 on Dec. 13, the have shown bearish characteristics again.
We have seen the breakdown of the bullish trend line as well as key support around 3915. The two-day rally we saw on Tuesday and Wednesday was wiped out within just a few hours on Thursday as the support around 3840 broke down.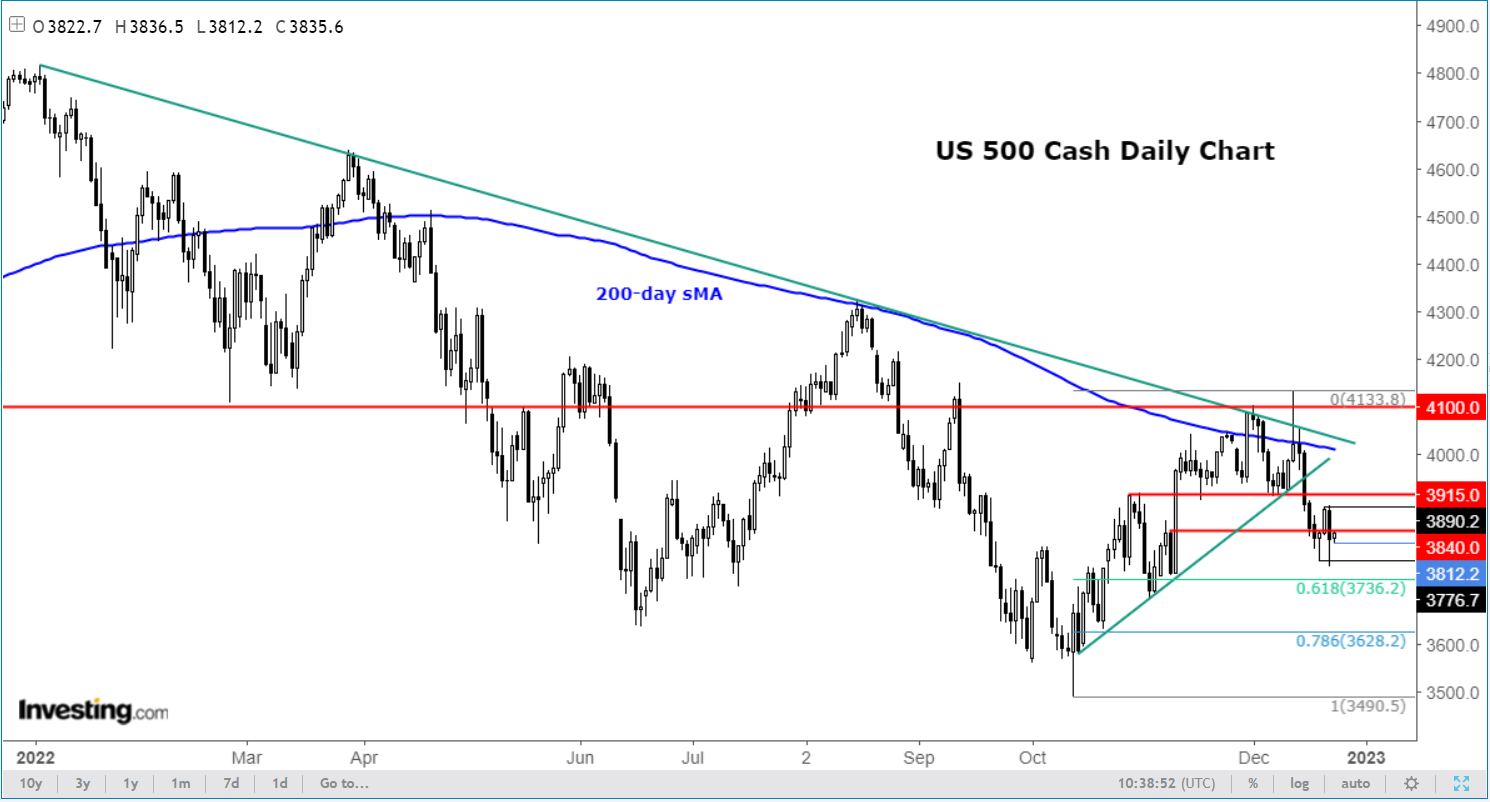 At the time of writing, the index traded near 3840, so let's see whether the sellers will step in and defend their ground here or step out of the way and let the bulls take charge.
If you are an active trader, it is worth zooming into a lower time frame to find your ideal trade entries around these levels. Given the larger bearish trend, I would look for signs of a bull trap to initiate a short position.
But the size of the recovery from Thursday's low has been impressive. So, watch out for a reversal pattern on the smaller time frame for confirmation that the index wants to go back down.
As far as today's macro data is concerned, there is always the possibility for a sharp recovery if the Fed's preferred inflation gauge, the comes in much weaker than expected.
The index fell to 5% in October from 5.2% in the prior month, in line with market forecasts. This time, it is expected to fall to an annual rate of 4.7%, with a reading expected to be +0.2 percent.
But if it comes in hotter than expected, the markets could plunge again. We will also have and data, , and revised data coming out today.
The economic calendar is very light next week because of the holidays before things pick up again in the first week of January.
Disclosure: The author does not own any of the securities mentioned in this article.