 Chewy Stock May Have Gone a Little Too Far
Solid earnings and a more optimistic market have led CHWY to nearly double from the lows

But after the rally, long-running valuation concerns return

The mid-term story still comes down to margins; the reward of betting on expansion at this point seems muted
At its core, the bull/bear debate over Chewy (NYSE:) comes down to two factors: valuation and profit margins. We know this is a strong business, at least in terms of revenue.
What we don't know is how profitable the business will be at maturity. That, in turn, informs the price investors are willing to pay for Chewy stock at the moment.
Clearly, of late, there's been some more optimism on that front: CHWY has gained almost 100% from late May lows. But after that short-term rally, the long-term margins being priced in look much higher — and maybe a little too high.
Margins Expand — Slowly
CHWY continues to price in significant growth in profit margin and profit dollars. At Monday's price of $43.9, the company has a market capitalization of more than $18.5 billion.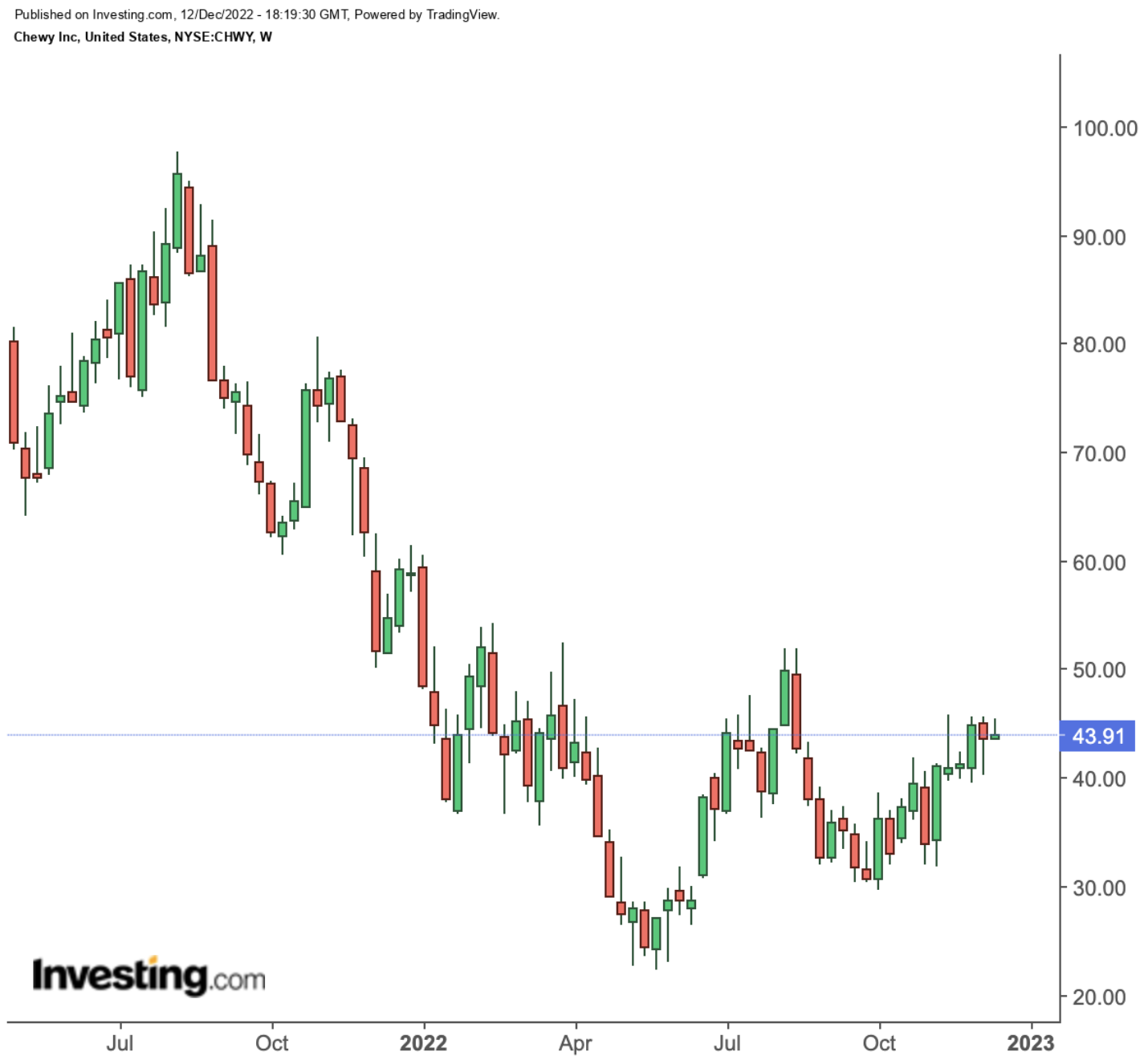 Yet the company is guiding for roughly $250 million in full-year Adjusted EBITDA (earnings before interest, taxes, depreciation, and amortization). That suggests that both net profit and free cash flow should be in the range of zero.
With a guided $10 billion in sales this year, and EBITDA margins of 2.3% to 2.4%, there is plenty of room for profit to turn positive and then grow quickly. But with revenue growing an expected 13% this year, it's profit margins that will need to do the heavy lifting.
The good news for CHWY is that those margins are expanding at a steady clip. In fiscal 2018 (ending January 2019), Adjusted EBITDA margins were negative 6.5%. Four years later, they're guided to come in roughly nine percentage points higher, including a 1.5-point expansion this year.
The expansion should continue. Chewy is automating a number of its distribution centers; the first three efforts should add 40 to 60 basis points (0.4 to 0.6 points) to margins over time. The expansion of the company's CarePlus offering, which includes insurance partnerships with Lemonade (NYSE:) and Trupanion (NASDAQ:), will add further help. And simple scale will help, particularly given how thin margins are at the time.
All told, margins are going to improve, which, in turn, creates a path toward potentially explosive profit growth. Looking out three years, Chewy potentially could hit $14 billion in revenue — about 12% annualized growth — and get EBITDA margins to the 5% to 6% range. That would imply EBITDA roughly tripling in just three years.
Is CHWY Too Expensive?
The potential for higher margins was a core reason why I was on CHWY near the May lows. But after the rally, there's a new concern here: that the market is pricing in more expansion than Chewy might be able to manage.
Based on our rough three-year model — which implies $750 million in EBITDA, and earnings per share a bit over $1 — CHWY looks questionably valued. Shares are trading at something like 24x EBITDA and 40x EPS — for fiscal 2025. Assume reasonable appreciation in the stock in the interim — think 10% annualized — and the multiples look more like 32x and 55x, respectively.
In other words, the current CHWY stock price implies reasonably significant profit growth post-2025. That's certainly possible. The company continues to expand its wallet share from pet owners. EBITDA margins, in theory, could, and probably should, move into the high single digits.
But they don't necessarily move much higher than that. Retail is a low-margin business. Even Walmart (NYSE:) posted EBITDA margins under 7% in fiscal 2022 (ending January).
The multiple currently assigned CHWY suggests the company will not only hit those margins (at least) but will find substantial profit beyond the core e-commerce business. That's certainly possible. End markets like pet insurance and veterinary telehealth offer real promise.
What seems concerning, however, is how much success seems to be priced in at this point.
The outlook for profit margins looks relatively the same as it did seven months ago; what is different is the valuation. And the change is significant enough to suggest it's probably time to take profits here.
Disclosure: As of this writing, Vince Martin has no positions in any securities mentioned.