 Chart of the Day: Trading Broadcom's Conflicting Trends According to Risk Aversion
Broadcom reports Q4 earnings today after market close
The stock has surged 20% from its October lows
However, since reaching the top of its falling channel earlier this month, AVGO has been correcting lower
Investors look forward to Broadcom (NASDAQ:) releasing earnings for the fiscal quarter ending Oct 2022 today after the bell. Analysts expect a $10.28 EPS, 25% higher than last year's corresponding quarter, and an $8.9 billion revenue, up from last year's $7.41 billion.
Will the company extend the ten straight quarters of meeting or beating estimates?
AVGO is in a bull market after surging over 20% from its Oct 10 low, paring the 37% drop from its Dec 28 all-time high to 23.5%. Was this a bottom?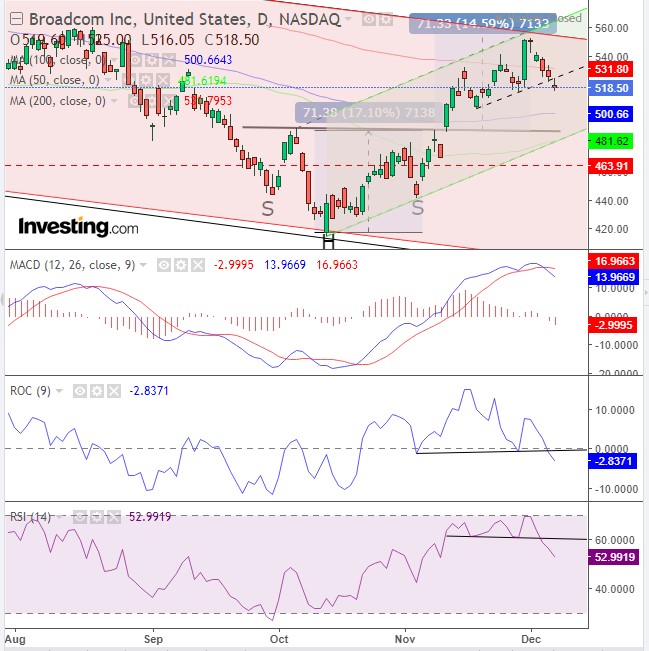 Broadcom Daily Chart
Trading developed a short-term H&S bottom that just about reached its implied target on Dec 1. However, once the price reached the top of its falling channel from the top, the price fell. Broadcom will retest its short-term rising channel (green). If it doesn't hold, the price will resume along the medium-term falling channel (red).
The popular indicators of both the price-based and momentum-based variety seem to favor a fall, at least to retest the short-term channel. The price found resistance by the 200 DMA and the medium-term channel, raising the odds for a continued downtrend.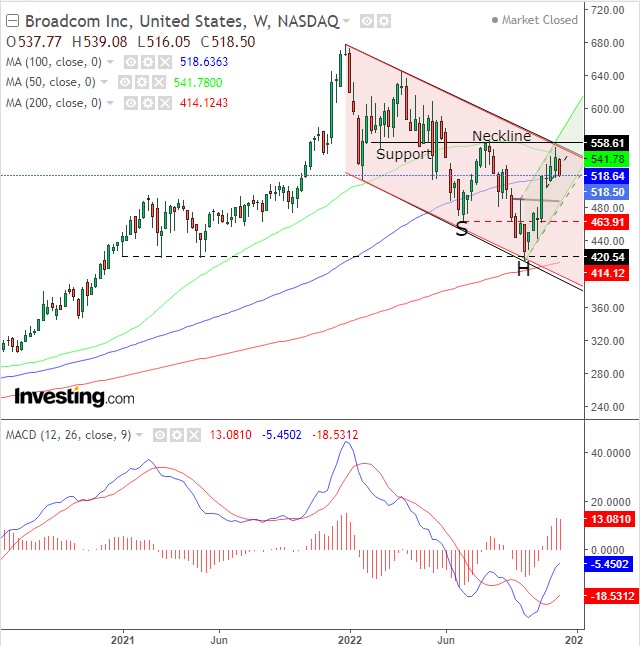 Broadcom Weekly Chart
Conversely, the price may be developing a big H&S bottom. Therefore, even if the price falls below the short-term rising channel, bulls driving this potential pattern may support the price at the upper $400 levels, where the left shoulder developed Jun-Jul, pushing the price back toward the neckline at the $560 area, previous support.
Like the 200 DMA resisted the short-term rally, the 200-week MA supported the medium-term decline at the support of the 2021 lows. As opposed to the daily, the weekly MACD is still within a bullish cross.
Trading Strategies
Conservative traders should wait for a resolution of the short-medium term conflict, with either the completion of the large H&S bottom or the price registering a new low, extending the medium downtrend.
Moderate traders will buy into the short-term uptrend if the green channel supports it.
Aggressive traders could short the short-term top, according to their strategy. Here is a generic example:
Trade Sample – Aggressive Short
Entry: $530
Stop-Loss: $540
Risk: $10
Target: $500
Reward: $30
Risk-Reward Ratio: 1:3
Disclosure: The author does not own any of the securities mentioned in this article.