 Costco's Stock Looks Vulnerable on Signs of Slowing Growth
The big-box retailer is scheduled to report its latest quarterly earnings on Wednesday amid signs that sales growth is slowing
The membership-only Costco has seen record growth over the past years, resulting from both the pandemic and rising inflation that forced customers to seek out value
Costco's main strength is its loyal customers. Despite the challenging economic conditions, there is no sign yet that they are shifting in that regard
Costco Wholesale's (NASDAQ:) forthcoming earnings, due out Wednesday, may not excite investors a great deal. The company's sales growth is slowing as consumers put the brakes on buying high-margin items, such as electronics and furniture.
While the Issaquah, Wash.-based retailer could benefit from shoppers seeking value amidst , consensus estimates show total same-store sales, excluding fuel, are expected to expand at their slowest pace in three years. Bottom-line growth could also lose steam, with the analyst consensus calling for the smallest gains in almost two years, according to Bloomberg data.
Last week's same-store sales results were the latest sign that these changing buying patterns are hurting Costco. The November numbers fell short of expectations, highlighting that the company's strong grocery sales aren't enough to make up for weakness in other areas.
Comparable sales were up 4.3% for the four weeks ended Nov. 27, while core sales, which exclude fluctuations in currency and fuel, were 5.3% higher. The company's U.S. locations recorded the weakest core growth, at 4.6%, while e-commerce sales were down 8.9% from the year-ago period.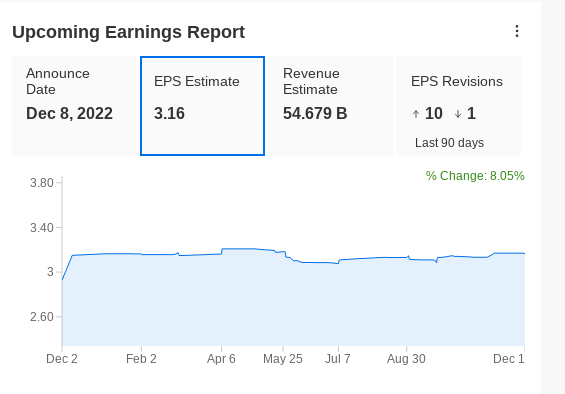 Costco Earnings Data per InvestingPro+
Source: InvestingPro+
The stock fell more than 6% after the report, highlighting investor nervousness about a retailer that has always carried a premium valuation compared with peers. Even after last week's weakness, Costco commands a price-to-earnings ratio about double that of the .
Costco shares are down about 13% this year, better than the 27% decline suffered by the SPDR S&P Retail ETF (NYSE:).
Costco's Loyal Customers
The membership-only retail chain has seen record growth in recent years due both to the pandemic and to rising inflation that forced customers to seek out value. But if the company fails to meet analysts' expectations next week, there is risk of some pullback in Costco stock as investors struggle to justify high valuation. If that happens, long-term investors should take it as a buying opportunity, in my view.
Costco's main strength is its club of millions of loyal customers. Despite the challenging economic conditions, there is no sign yet of a shift in that regard.
The company said in September that renewal rates for its membership card had reached all-time highs of 92.6% in the U.S. and Canada, and 90.4% worldwide, in the fiscal year's final quarter. The number of paid household members increased 6.5% year over year to 65.8 million.
This number clearly demonstrates why Costco's unique business model is best positioned to outperform as many retailers struggle to offload their excess inventories by offering massive discounts. Costco's operating margins last quarter were 3.5% – just a hair below the 3.6% seen a year earlier during a time when other retailers have faced significant margin pressure.
That's the reason Costco's stock has earned a great financial-health score in a model developed by InvestingPro+.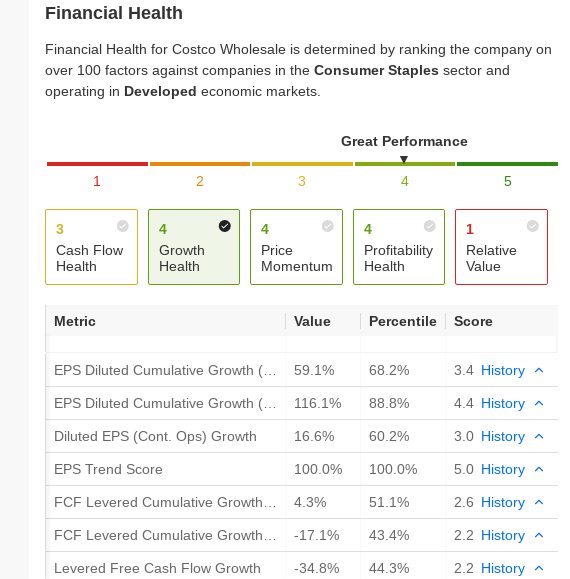 per InvestingPro+
Source: InvestingPro+
Another reason COST is a solid retail stock to buy is that Costco doesn't rely on too many offerings to fuel growth in its sales. Customers go to Costco to buy similar items again and again in bulk quantities. This robust warehousing model gives its employees a better handle on the company's inventories and more power to manage costs.
These built-in advantages have driven Costco to consistently produce superior earnings and have helped its stock beat retail rivals. The company has managed to increase its U.S. comparable-store sales (excluding the impacts of fuel prices and foreign exchange) by an average of 12.2% over the past nine quarters. No other big-box retailer has been able to grow so quickly and consistently.
The Bottom Line for Costco Stock
Costco's stock is looking vulnerable given the headwinds the company faces as consumers continue to avoid buying high-ticket items. This week's earnings report may reflect that trend and could push its stock lower. But Costco is a great retail stock to own, and any potential weakness should be taken as a buy opportunity.
Disclaimer: As of this writing, the author is long on Costco shares. The views expressed in this article are solely the author's opinion and should not be taken as investment advice.
***
Interested in finding your next great idea? InvestingPro+ gives you the chance to screen through 135K+ stocks to find the fastest growing or most undervalued stocks in the world, with professional data, tools, and insights. Learn More »