 Does CrowdStrike's 40% Plunge This Year Make It a Buy?
CrowdStrike plummeted after reporting slowing growth this week

Still, Cybersecurity is expected to remain the fastest-growing sector for enterprise spending

CrowdStrike's strong growth potential and relative defensive nature make its stock attractive in the long term
The market's reaction to Crowdstrike's (NASDAQ:) earlier this week may have been a little too harsh. Shares of the cybersecurity company plunged 21% on Wednesday after it gave a revenue outlook for the current period that missed analysts' estimates.
Although the stock recovered some of those losses in the past two days, CRWD is still down about 40% this year, contradicting a general perception that cybersecurity companies would remain immune to macroeconomic headwinds.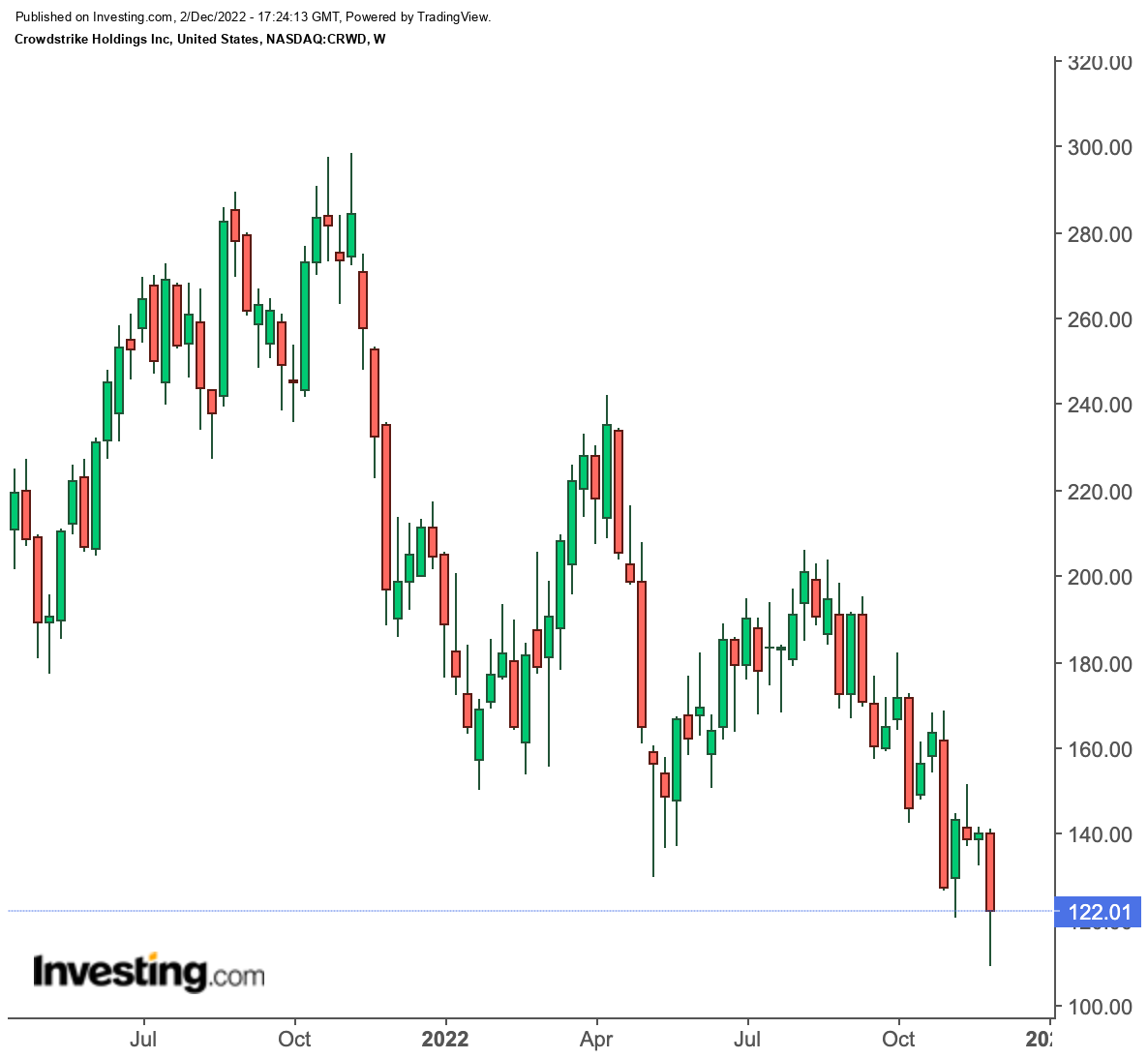 The earnings statement, which projected sales of as much as $628.2 million in the fourth quarter compared with the average analyst forecast of $634.8 million, said that the challenging macroeconomic environment is causing some customers to delay purchases.
CrowdStrike was one of the most-loved tech IPOs of the pandemic era. Its market cap reached about $65 billion in November last year from just over $8 billion after the June 2019 public listings. Founded in 2011 by former McAfee Inc. executives, CrowdStrike makes software to protect clients from cyberattacks, including predicting and detecting potential hacks.
CrowdStrike provides cloud-based security technology, aiming to do for security what other cloud-based companies have done for human resources, customer relationship management, and other sectors.
But like many tech companies which went public during the past two years, CrowdStrike is unprofitable on a GAAP basis, and investors aren't keen to pay for growth in an environment where interest rates are rising, and a potential recession is approaching.
The Fastest Growing Segment
That said, the big question going forward is whether CrowdStrike is a buy after shedding a considerable amount of froth in this market downturn. The major reason to feel excited about a cybersecurity company with a low-cost, cloud-based model is that the potential for growth is huge.
According to a recent survey of corporate technology executives by Morgan Stanley, cyber security is expected to remain the fastest-growing sector for enterprise spending, even though the near-term demand wanes.
"Security demand remains strong, and budgets continue to grow much faster than overall IT," wrote analyst Hamza Fodderwala in a note, who said customer and channel checks point to durable demand trends over the remainder of 2022.
And in an environment where organizations are looking to cut budgets, solutions that CrowdStrike provides will become more popular as they don't require to invest in expensive hardware, software, storage, or technical staff. They give businesses more IT security, speed, and scalability.
Source: InvestingPro
Keeping analysts' expectations aside, CrowdStrike numbers for the latest quarter are still quite impressive. Its Annual Recurring Revenue (ARR) jumped 54% year-over-year and grew to $2.34 billion as of October 31, 2022, of which $198.1 million was net new ARR added in the quarter. CrowdStrike's customer count expanded by 44% year over year, and 60% of customers are now using at least five of the company's modules.
The company's strong growth potential and relative defensive nature within the IT space are why many Wall Street analysts recommend staying long on CRWD stock. In an Investing.com poll of 40 analysts, 90% recommend buying the stock.
Source: Investing.com
In a note this week, Needham analysts said they remain a "convinced buyer" of CrowdStrike for the long term. They believe the company's slower guidance opened a "can of worms" about bear market concerns, but most of those concerns are "misplaced." Their note adds:
"We suspect CRWD will find itself in the penalty box into year-end despite its strong growth, operating leverage, and Cash Flow as investors worry about lengthening deal cycle time and potential for further deceleration."
Bottom Line
CrowdStrike stock is trading at a much more reasonable valuation than it was a year ago. With governments, organizations, and companies constantly investing to make their networks safer, CrowdStrike has many years of robust growth ahead.
Growth may slow in a recession, but temporary headwinds shouldn't change the long-term story. This scenario makes CRWD an attractive long-term buy after this year's pullback.
Disclosure: As of this writing, the author doesn't own shares of CrowdStrike.The views expressed in this article are solely the author's opinion and should not be taken as investment advice.