 Buckle Up: Market Volatility Likely To Increase
The prevailing theme among many notable macroeconomic experts is that the continued dislocation in the bond market (too many sellers of bonds and not enough buyers), which has resulted in rising yields as stocks fall, will result in a crisis. This is not far-fetched. And the canary in the coal mine could be what we just saw play out in the U.K.
Britain's Financial Disaster Is a Warning to the World
Luke Gromen, the founder of macroeconomic firm Forrest for the Trees, has been predicting that once this situation comes to a head (within the next five weeks), the Fed is going to be forced to pivot and go from being a net seller to a buyer of treasuries to shore up the U.S. Treasury market.
Here is a summary from a recent Twitter post.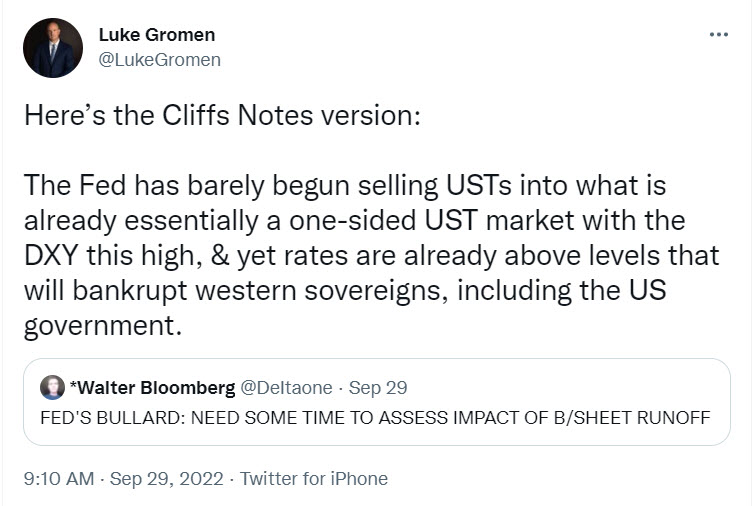 I have no way of knowing how this will all pan out. However, what I do know is market risk is high and that an opportunity awaits those who have the ability to minimize losses.
The key is to continue to monitor market technicals. So, let's get started and look at some charts.
Below is a chart of the Index. The blue lines are areas of past or present support.
In last month's newsletter, I wrote:
"Given that the majority of the technical and economic evidence is bearish, I feel the odds strongly favor more downside for stocks."
And that is exactly what has happened, in that the index has fallen below the first level of support and now sits at the next (June lows).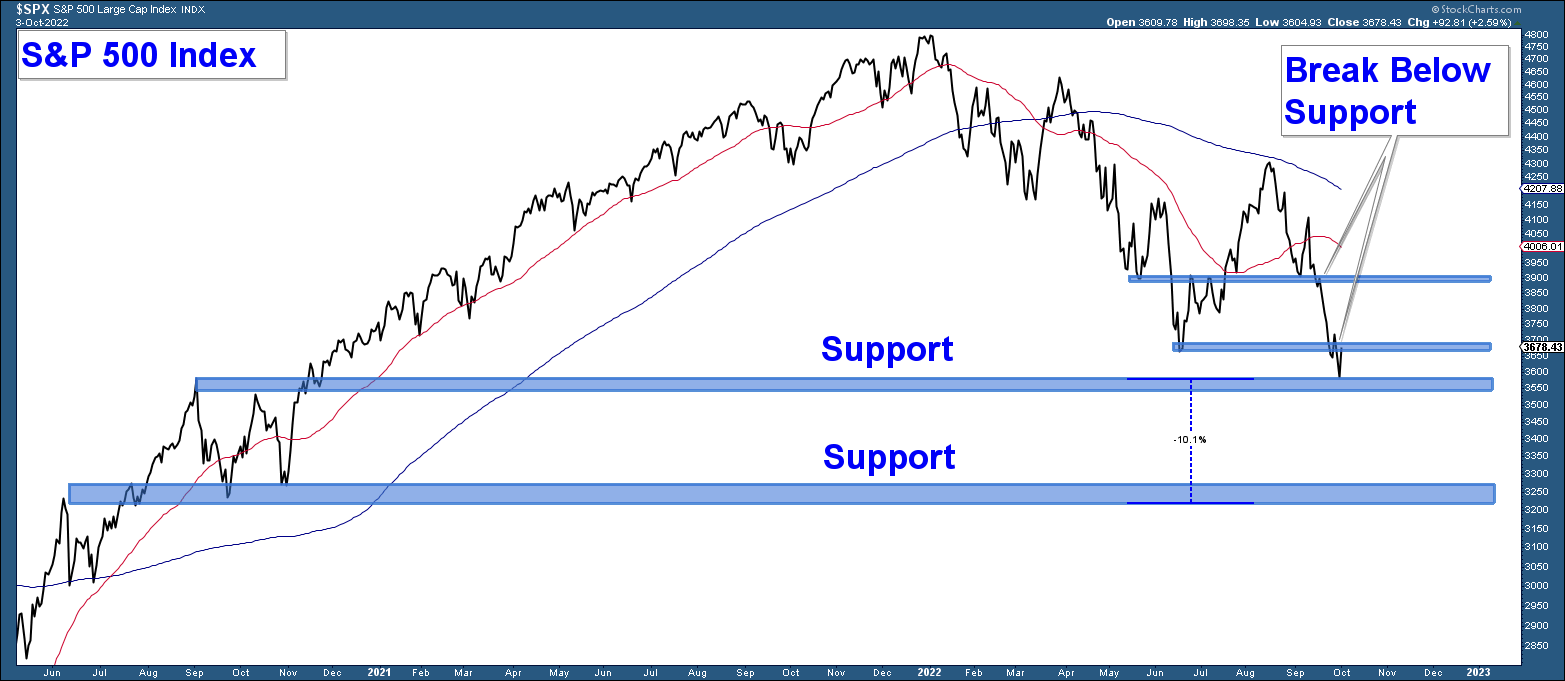 Below is the same chart that I presented in last month's newsletter. In the top panel is the S&P 500 Index, the in the middle, and the in the lowest panel.
The only safe haven in the current bear market is the U.S. dollar. As long as the dollar and yields are rising, stock market conditions are bearish.
If the Fed does pivot in the coming weeks to provide support to the bond market, it would have immediate bullish implications. You would see stocks advance, and the dollar and bond yields fall.
Keep in mind that this would not solve the long-term problems facing the financial markets; however. It would probably provide a tradable advance.