 3 Stocks To Watch This Week: Costco, Fedex, General Mills
Costco's latest earnings could provide insight into U.S. consumers' spending behavior
Shares of FedEx plunged 21% on Friday after the company warned earnings will be 33% below the average analyst estimate
General Mills is navigating supply-chain headwinds and passing on higher costs to consumers
U.S. equity markets are likely to remain under pressure this week as investors remain squarely focused on the and the central bank's latest view on inflation.
The Federal Open Market Committee will by 75 basis points for a third consecutive meeting when policymakers announce their decision at 2 p.m. on Wednesday, according to economists' consensus forecast.
Equity markets took an abrupt pivot lower this week after hotter-than-expected made it clear that the Fed has to hike rates further in order to reverse price increases. The was down 5% last week, the most since the week ended June 17. The dropped 5.8% in the five-day period for the worst week since January.
Aside from inflation and worries about growth, investors will also be watching some important earnings releases this week. Here are three we're following:
1. Costco Wholesale
One of the U.S.'s largest discount retailers, Costco Wholesale (NASDAQ:) is scheduled to report its fiscal 2022 fourth-quarter results on Thursday, Sept. 22 after the close. Analysts expect $4.17 a share in profit on sales of $71.976 billion.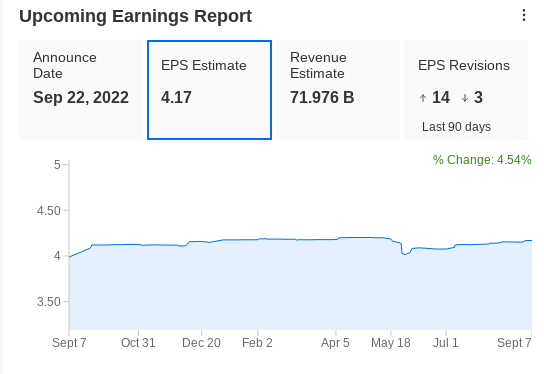 Costco Earnings History per InvestingPro+
Costco's latest earnings could provide the latest insight into U.S. consumers' spending behavior amid concerns about the general health of the economy and shrinking buying power as inflation runs close to a four-decade high.
Walmart (NYSE:) and Target (NYSE:), in their latest earnings reports last month, presented a mixed picture. While quarterly income plunged 90% due to aggressive markdowns to reduce inventories, an encouraging sales outlook, helped by rising sales of food items.
Costco stock has held up well in the current market downturn. Its shares, which closed on Friday at $504.14, have risen about 12% during the past three months.
2. FedEx
The world's largest parcel delivery service, FedEx (NYSE:), will hold its fiscal 2023 first-quarter earnings call after the market closes on Thursday, Sept. 22.
Shares of the global freight and logistics giant plunged on Friday after the company said on Thursday night that it expects , excluding some items, to be $3.44 per share, or roughly 33% below the average analyst estimate of $5.10. Sales during the period were $23.2 billion, according to the company's preliminary earnings data.
Source: Investing.com
In addition, FedEx withdrew its earnings forecast for 2023, saying macroeconomic trends have "significantly worsened," both internationally and in the U.S. The company added that these trends are likely to deteriorate further, dashing hopes of a sales recovery during the crucial holiday season.
FedEx shares closed on Friday at $161.02 after falling 21%. They are down 38% for the year.
3. General Mills
The maker of Cheerios cereal, Yoplait yogurt and Nature Valley granola bars, General Mills (NYSE:), will report fiscal 2023 Q1 on Wednesday, Sept. 21, before the market opens. Analysts expect $1 a share profit on sales of $4.72 billion.
Source: Investing.com
The company's earnings performance this year showed that General Mills is navigating supply-chain headwinds and passing on higher costs to consumers.
With the positive top- and bottom-line growth driven by strong results from its pet-food business, the Minneapolis-based GM is also benefiting from changes in consumer behavior during the pandemic, like working from home.
GIS stock closed on Friday at $75.25 after strengthening more than 11% this year.
Disclosure: The writer doesn't own shares of companies mentioned in this report.
***
Interested in finding your next great idea? InvestingPro+ gives you the chance to screen through 135K+ stocks to find the fastest growing or most undervalued stocks in the world, with professional data, tools, and insights. Learn More »