 T-Mobile Stock: More Gains Expected After 25% Surge This Year
T-Mobile stock has more room to run even after its powerful rally this year
T-Mobile is gaining market share at a time when rivals AT&T and Verizon face inflationary pressures
Analysts expect T-Mobile to more than double its profit next year, thanks to synergies from the Sprint combination, subscriber growth
T-Mobile (NASDAQ:) has emerged an unusual winner in this year's market downturn. The U.S. telecom operator is the best-performing technology stock in the , leaving other mega-cap players far behind.
The mobile-phone carrier is in a bullish zone at a time when technology and communications companies have seen their share values tank amid soaring interest rates and slowing economic growth. The stock has gained 26%, far outpacing the performance of broader markets. The NASDAQ 100 is down 25% so far this year, while the has weakened 17%. TMUS was trading at $144.36 at the time of writing.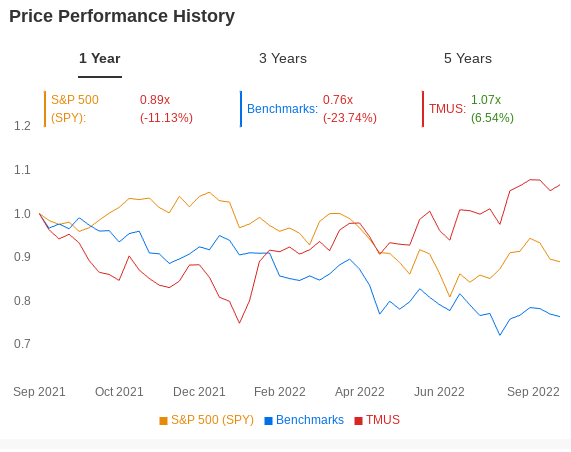 Price History
Source:InvestingPro
Even after this stunning performance, there are strong reasons to believe that the stock has more room to run. In its most recent , the Bellevue, Washington-based T-Mobile raised its subscriber growth forecast for the second straight quarter.
T-Mobile now expects to add 6 million to 6.3 million new subscribers this year, up from a prior view of 5.3 million to 5.8 million. 
The upbeat forecast shows T-Mobile is gaining market share at a time when rivals AT&T Inc (NYSE:) and Verizon (NYSE:) face inflationary pressures and are forced to hike rates on older plans. T-Mobile, on the other hand, has focused on lower prices and attractive promotions, helping the No. 2 U.S. wireless carrier to post growth without hurting its cash flows.
Zero Dividend Burden
Another reason that's making investors more comfortable in owning T-Mobile stock is that the carrier doesn't pay a dividend, freeing up more cash for its growth and gaining share in a tough operating environment. Analysts expect T-Mobile to more than double its profit next year to $6.44 per share thanks to synergies from the Sprint combination and subscriber growth. 
In an Investing.com poll of 29 analysts, 25 rate T-Mobile a buy with their 12-month consensus price target implying 16% upside.
Source: Investing.com
Within the wider technology, media and telecom industry, Credit Suisse analysts rate T-Mobile as their top pick for 2022, as they see the carrier gaining further share in rural and enterprise markets. Due to this positive momentum and a potential share buyback plan, Credit Suisse sees T-Mobile shares potentially jumping another 30% to $188 from Tuesday's level. 
Their note adds: 
"Overall, we continue to see T-Mobile share gain and merger synergy prospects, layered over a soon-to-start levered equity return strategy ($60B of stock buybacks through 2025, which we still expect to start as early as late 2022) as a compelling opportunity, even with a messy wireless/macro backdrop."
MoffettNathanson, while downgrading Verizon in a recent note, said that it favors T-Mobile, which is likely to benefit from higher margins and momentum in reducing churn and acquiring new customers. The firm has raised its price target for T-Mobile to $174 from $165.
T-Mobile is strengthening its position after its 2020 merger with Sprint, which allowed the new company to serve more customers with high-speed internet service on the go, putting pressure on AT&T and Verizon to match them as carriers upgrade to faster 5G standards.
In addition to this technical lead, T-Mobile has also been able to improve its credit rating after the merger. The company was raised to investment grade by S&P Global Ratings this month, winning a blue-chip rating from all three major credit graders. 
The ratings firm "believes the credit risk associated with the integration of Sprint continues to abate," as the company has outperformed expectations for integrating with Sprint and increased the amount of money it expects to save from combining the companies, boosting its credit profile.
Bottom Line
While other telecom operators deal with the economic pressures, T-Mobile is firing on all cylinders benefiting from its merger with Sprint and a better cash flow position. If this growth cycle continues, the company could soon announce a share buy-back program – a move that could fuel more gains in its stock price.     
Disclaimer: The writer doesn't own shares of T-Mobile.