 Is Intel Weakness a Buying Opportunity?
Intel stock is down 35% this year, massively underperforming its chip peers
Intel's poor earnings report and the bleak short-term outlook are hurting stock
Despite all the negative news, there is a case to be made for Intel's long-term appeal
It seems investors are losing faith in Intel Corporation's (NASDAQ:) turnaround. The shares of the largest U.S. chip-maker are now underperforming the benchmark by the widest margin during the past five years.
As the economy enters a rough patch, it's hard to stay positive on this sector, which is highly cyclical and whose fate is closely tied with the economy. 
But Intel's share performance clearly shows that investors are turning more bearish on the Santa Clara, California-based company. And perhaps they don't believe Chief Executive Officer Pat Gelsinger will succeed in his turnaround efforts. 
Intel Stock Price Performance History
Source: InvestingPro
After dominating the semiconductor industry for decades, Intel lost its competitive advantage in recent years as it failed to bring the latest chips to the market ahead of competitors like Taiwan Semiconductor Manufacturing (NYSE:). Gelsinger, who became the CEO last year, has pledged to restore the company's leadership in advanced production by spending tens of billions of dollars to build new factories in the U.S. and Europe and reform existing ones. 
In the short run, investors don't seem excited about the company's new direction. And there are good reasons for that. Intel sales , which ended on June 30, fell 22%, significantly below the average analyst estimate. Per-share profit excluding some items dropped to $0.29, less than half of what analysts had expected. 
Losing Market Share
While investors had anticipated that a PC slump would weigh on Intel's performance this year, an unexpected 16% drop in revenue from expensive server chips that power data centers shows that Intel continues to lose market share to its rivals including Taiwan Semiconductor Manufacturing and Samsung Electronics (OTC:). 
Second-quarter sales for Intel's data-center division — where the company generates an outsize portion of profit — slid to $4.6 billion, missing the average analyst estimate of $6.04 billion. The company expects its data-center business to grow more slowly than the overall server market this year.
Another setback that could keep Intel stock depressed is the company's shrinking margins. Intel's gross margins—the percentage of revenue remaining after deducting the cost of production—a key sign of health for a manufacturing company, is expected to be about 49% this year.
That figure would be pretty attractive for other industries, like automotive, but it's 10 percentage points below Intel's historical levels. It's also below those of some peers. Texas Instruments (NASDAQ:) is close to 70%, and Advanced Micro Devices (NASDAQ:)—not known for its fat margins in the past—expects to make 51% this year.
A Buying Opportunity?
Despite all the negativity reflected in Intel's beaten-down stock, there is a case to be made for Intel's long-term appeal. Due to U.S.-China rivalry, chip manufacturing has become a national security issue with bipartisan support to increase local production.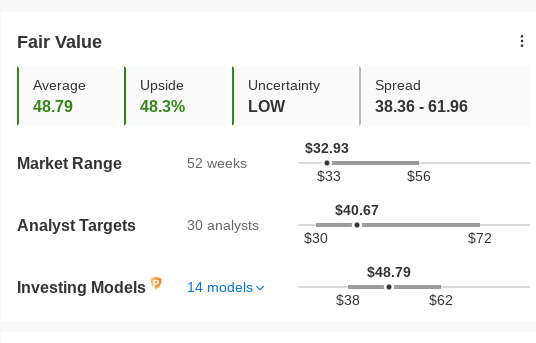 Intel Fair Market Valuation
Source: InvestingPro
President Joe Biden last month signed into law a broad competition bill that includes about $52 billion to boost domestic semiconductor research and development, calling it a "once-in-a-generation investment in America itself." The legislation should funnel substantial sums toward the construction of Intel factories in Ohio and Arizona.
In another positive development, Intel last week signed a $30-billion financing deal with Brookfield Asset Management Inc (TSX:) to help finance its factory expansions.
Under the deal, which company executives described as a first of its kind for the industry, Intel would fund 51% of the cost of building new chip-making facilities in Chandler, Ariz., and will have a controlling stake in the financing vehicle that would own the new factories. Brookfield will own the remainder of the equity and the companies will split the revenue that comes out of the factories.
This funding arrangement signals that large investors have faith in the company's turnaround efforts. The funding will also ease pressure on Intel to cut its $1.46-a-share annual dividend while its revenues shrink and the company undertakes massive expansion.
Needham analyst Quinn Bolton, while reiterating a buy rating on Intel, with a price target of $40, said in a recent note that the partnership will boost the company's free cash flows. His note said:
"The partnership enables a new capital source that costs approximately 6.5% (our est.) and protects Intel's cash/debt position for future investment and sustaining the dividend."
Bottom Line
Intel's weak stock performance clearly shows that investors aren't yet willing to bet that Gelsinger will be successful in his turnaround efforts. At the same time it's hard to imagine Intel as a complete basket case, given its size and importance for the U.S. economy. Initiating a small long position isn't a bad idea when sentiments are too bearish, in my view.  
Disclaimer: Haris Anwar does not own Intel shares.