 Market Is Oversold And Rally Is Ready To Roar Ahead
I can't remember a time in my life when there seemed to be such universal agreement that:
The market is really, really oversold;
It is going to rally mightily, and much farther than anyone dare imagines.
Even the most wild-eyed bears have fixated on 4,400 on the as their target, which is well more than 10% above current price levels. As I mentioned in my posts last night, even former perma-bear (and I do mean perma-bear, as in since its inception in February 2009) ZeroHedge has fully joined the buy-equities-now bandwagon.
As for me, as you might guess, I'm not quite in that party. To be sure, I don't feel like the kid in a candy store that I have at times earlier this year, but when I look at the , what I see is a market that can easily be argued to have burned off its oversold condition, even now: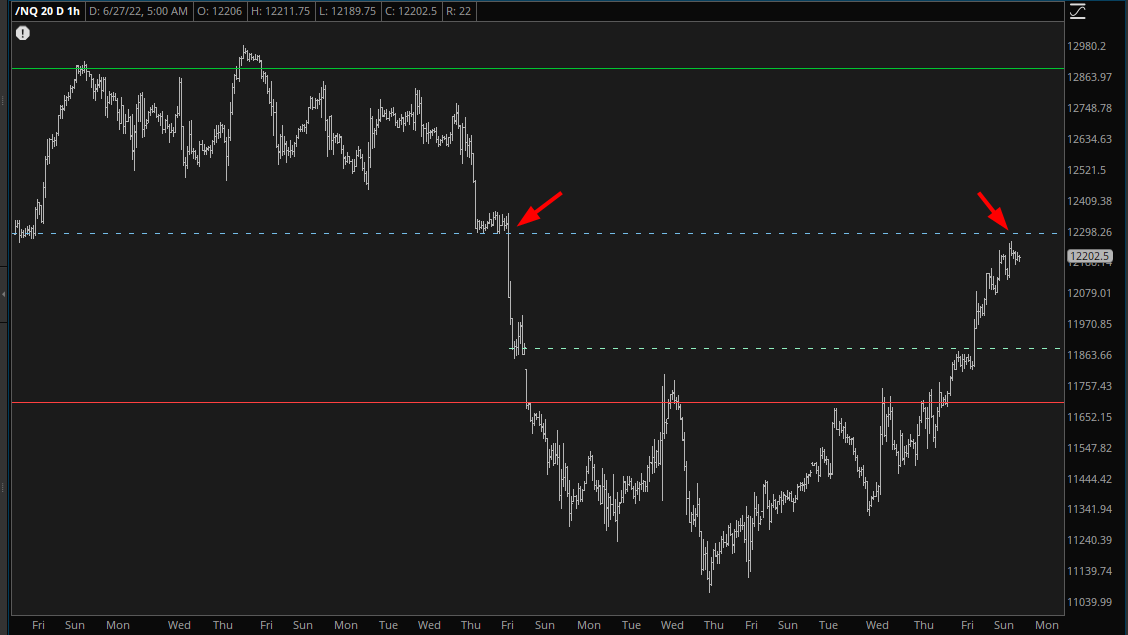 Those two dashed lines represent the important price gaps we saw this month (and, boy, were they glorious when they happened). The /NQ has been the most robust of the major equity futures markets, recovering to this levels the most swiftly and powerfully. In the wee hours of this morning, it almost perfectly sealed that second, higher gap.
This is in contrast to, for example, the small cap futures, which go nowhere close to sealing its own gap. As a matter of relative strength, perhaps means the market as a whole has higher to go (which means the /NQ will simply blow right past its gap while the / achieves its own) or maybe it means This Is All She Wrote, and once again, in 2022, this will have been a bull trap.
Given the wretched pounding I endured on Friday (having ascended to a lifetime portfolio peak on Thursday!) I am in no mood to be fearless. I am exceedingly light at right, with more than 50% cash (gack!) and will enter this week cautiously. Intuitively, I'm more comfortable waiting until June is in the bag before I get aggressive again, particularly since the fabled Tim Getting on a Plane signal takes place on Friday, and history tells us that can be a powerful market event.