 3 Stocks To Watch In The Coming Week: Salesforce.com, Chewy, CloudStrike
Salesforce.com (NYSE:) will be reporting its fiscal 2023, first-quarter earnings on Tuesday, May 31 after the market closes. The company, which sells enterprise software and cloud-based services to corporate clients, is forecast to report $7.38 billion in revenue and $0.94 of earnings per share.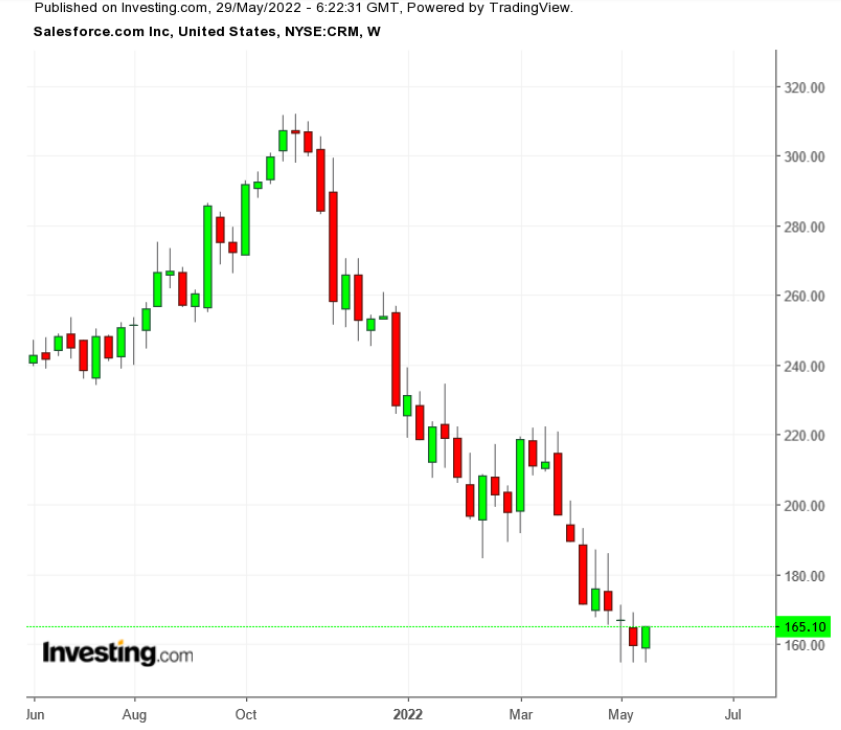 In March, the San Francisco-based company provided a strong forecast for and annual revenue as the leader in customer relations software further integrates Slack and expands its product line. Revenue for the full year will be as much as $32.1 billion, according to the company. 
Salesforce bought Slack, an instant messaging platform, for $27.7 billion last year as part of its push to increase the value and utility of its flagship software which lets businesses manage and interact with customers.
CRM shares, which closed on Friday at $165.10, have lost 35% of their value this year as investors rushed to sell high-growth players. 
2.  Chewy
The online pet-products retailer, Chewy (NYSE:), will report its latest quarterly earnings on Wednesday, June 1, before the market open. Analysts are predicting $0.10 a share loss on sales of $2.41 billion.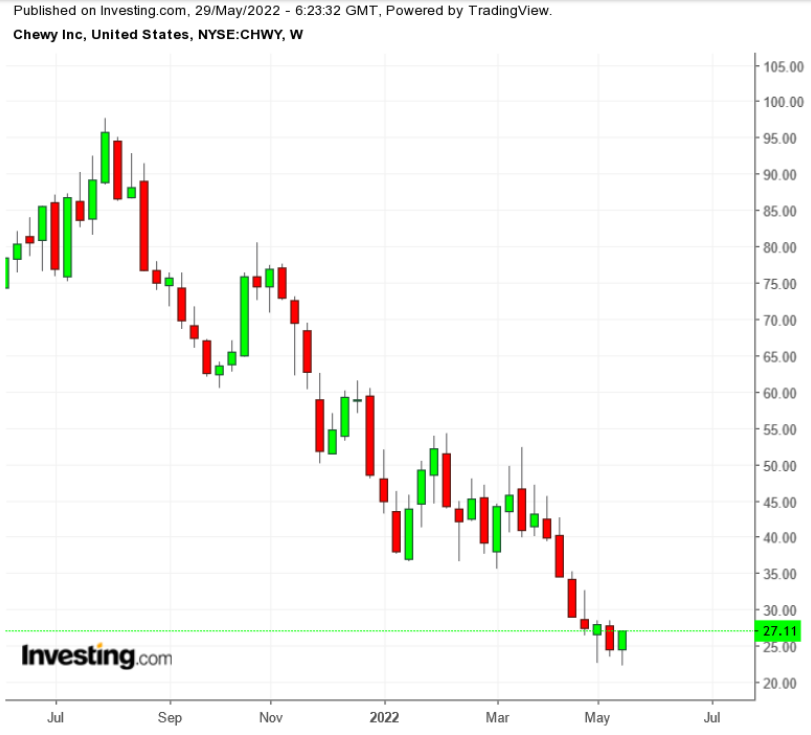 In the aftermath of the pandemic-driven boost to e-commerce sales—when customers sheltering in place on food and toys for pets—Chewy is facing a tough road ahead. The retailer gave a weaker revenue forecast in late March for the current year as it navigates through escalating costs and supply-chain disruptions that have led to more items being out of stock.
In a letter to shareholders, the company said: 
"We saw operating conditions in certain areas deteriorate as the quarter unfolded, particularly when Omicron's mid-quarter arrival further disrupted already weakened supply chains across our industry."
The stock has fallen 54% this year after more than doubling in the prior year. Shares closed on Friday at $27.11.
3. CrowdStrike Holdings
The cloud-based cybersecurity provider CrowdStrike Holdings (NASDAQ:) is scheduled to release its fiscal 2023, first quarter earnings on Thursday, June 2 after the market close. Analysts expect $0.23 a share profit on sales of $463.8 million.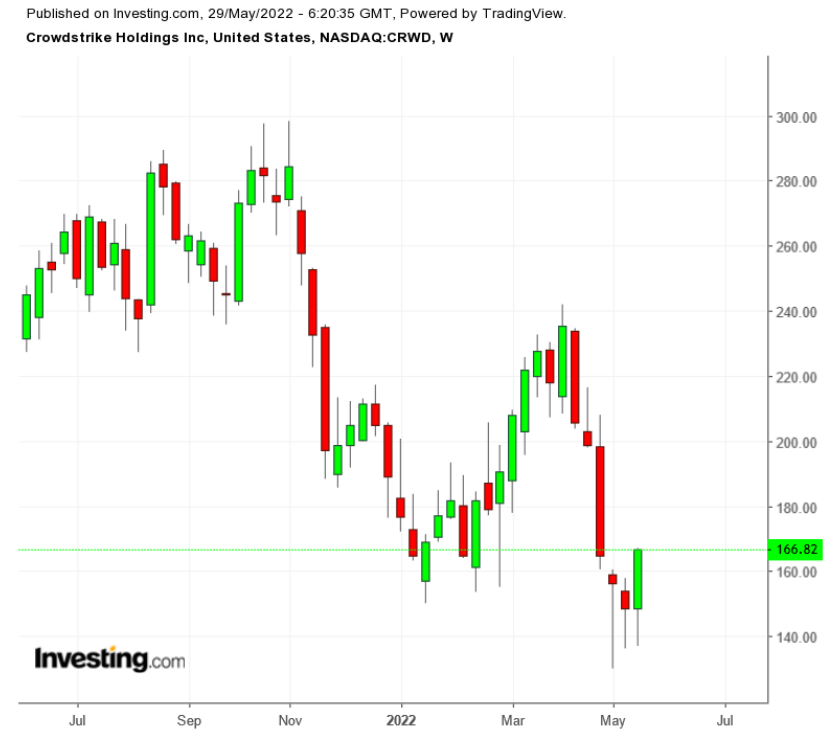 Austin, Texas-based CloudStrike provides cloud workload and endpoint security, advanced threat intelligence, and cyberattack response services to global clients. The tech company has been one of the major beneficiaries of a surge in spending by global companies and governments to make their networks secure from hackers and attacks by adversaries.
Relationships with partners such as Amazon Web Services (NASDAQ:) are helping CrowdStrike , which is poised to grow at three times the rate of the broader cybersecurity market through 2025, according to Bloomberg Intelligence. CRWD stock closed at $166.82 on Friday, after falling 18% this year.