 Is Tesla Stock An Even Riskier Bet After Elon Musk's Twitter Deal?
Tesla's market capitalization slumped after Elon Musk announced Twitter interest

To reduce risk, Musk has secured new financing

Some analysts think the deal could be a big distraction for Tesla's co-founder

For tools, data, and content to help you make better investing decisions, try InvestingPro+.
The world's largest electric-vehicle maker, Tesla (NASDAQ:), has lost more than $228 billion in market capitalization since its billionaire founder, Elon Musk, first his intention to buy the social media platform Twitter (NYSE:) on Apr. 4.
Those figures represent a near 20% loss to the company's $1.187 trillion market cap, recorded before Musk's announcement. TSLA closed Thursday at $873.28.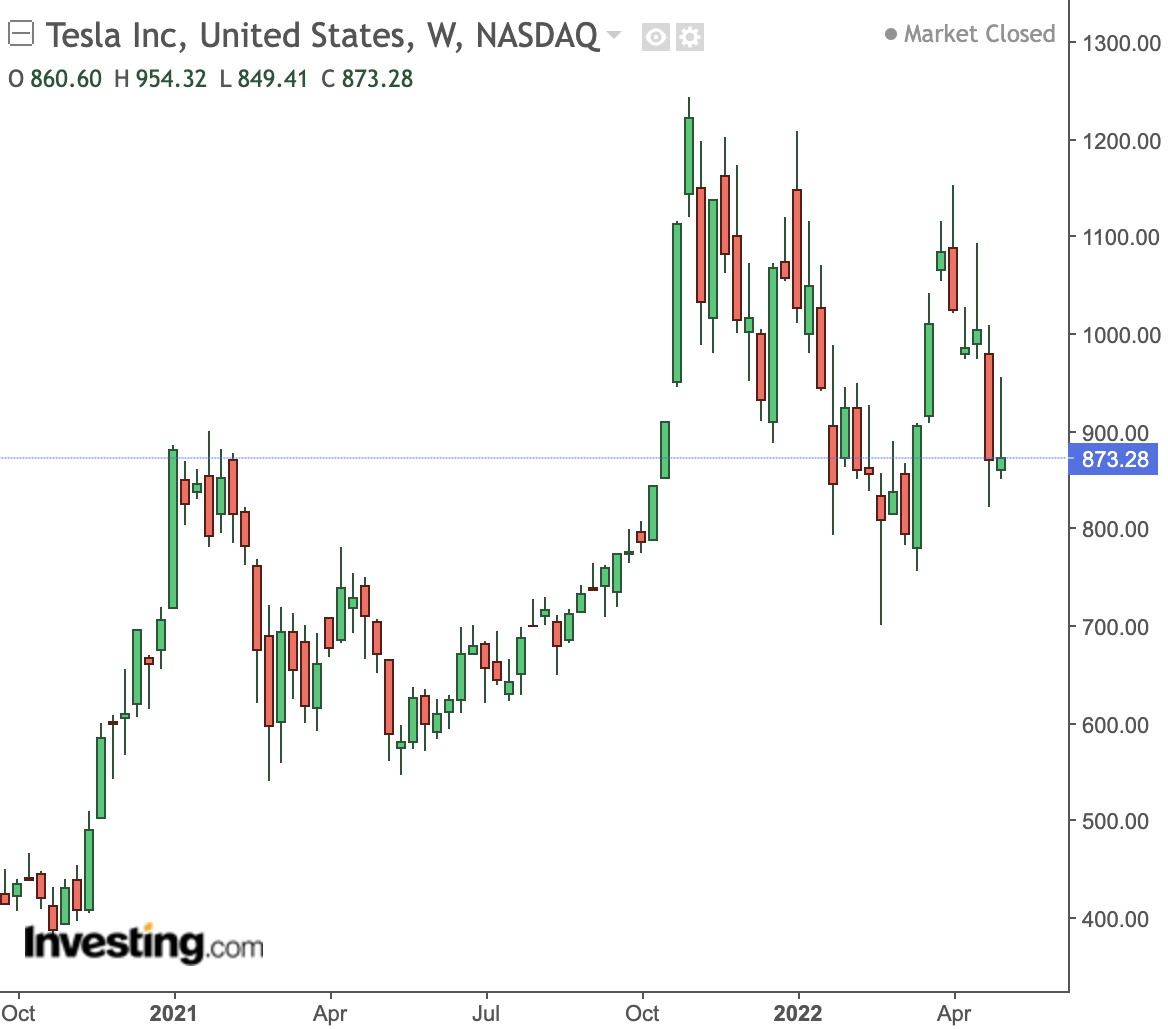 Although the broad market environment has contributed to the selloff, Musk's Twitter deal does play a significant role. Investors wonder if the billionaire will tap into his stake in Tesla to help fund the proposed $44 billion takeover.
Musk had lined up $13 billion in bank financing, $12.5 billion in margin loans backed by Tesla shares, and committed to another $21 billion himself to acquire the social media company.
However, in the latest development reported yesterday, Musk told the press he had secured about $7.1 billion of new financing commitments, including billionaire Larry Ellison, a Saudi Prince, and Sequoia Capital.
Those figures would allow him to cut by half the size of a margin loan to $6.25 billion, making the deal less risky for both Musk and his lenders. The new arrangement also slightly reduces the cash Musk needs to put up personally.
The billionaire recently completed a more than of Tesla shares, seen as likely related to the Twitter deal. Late last year, he also sold more than that would help him cover taxes on his vested options. Furthermore, in June 2021, Tesla reported that about half of Musk's stake in the company served as collateral for personal borrowing.
The Next Big Question
Assuming Musk will be able to close the Twitter deal by the end of this year, the next big question that still troubles many investors is whether the world's richest man could be spreading himself too thin taking on this new challenge?
These concerns are especially relevant if Musk assumes a full-time role in the newly acquired company. CNBC reported yesterday he plans to serve as a temporary CEO of Twitter for a few months after completing the transaction.
According to a recent analysis in the Wall Street Journal, more than half of Tesla's valuation relies on future projects heavily dependent on Musk. These include driverless robotaxis, which he hopes to start making in 2024, and its robot project Optimus, which he said would ultimately be worth more than the car business and the driverless-car operation.
The analysis adds:
"The company seems to have enough investors that take him at his word. The question is what they will think if he starts saying less about Tesla and more about Twitter.

His leadership of space-exploration company SpaceX shows his unusual capacity to multitask. But just how much vision does one man have, and in how many different directions can it be focused?"
Tesla bulls, however, continue to back Musk and his vision to unlock Twitter's value. Dan Ives, an analyst at Wedbush who has a $1,400 price target on Tesla, says in a note that today's financing announcement removes a considerable overhang. He adds:
"This was a smart financial and strategic move by Musk that will be well received across the board and shows the Twitter deal is now on a glide path to get done by the end of this year, which should close the arb spread in the name."
Bottom Line
Musk's involvement in Twitter is another distraction that Tesla's investors have to deal with, especially when the competition in the EV market is heating up.
Musk is undoubtedly taking a good deal of risk by using Tesla shares as collateral even after securing new commitments. If the electric carmaker's shares go through a deep slump, that could add to further uncertainty about the company's holdings.
Looking to get up to speed on your next idea? With InvestingPro+, you can find:
Any company's financials for the last 10 years
Financial health scores for profitability, growth, and more
A fair value calculated from dozens of financial models
Quick comparison to the company's peers
Fundamental and performance charts
And a lot more. Get all the key data fast, so you can make an informed decision, with InvestingPro+. Learn More »