 3 Stocks To Watch In The Coming Week: Meta Platforms, Apple, Amazon
With some of the largest, most followed US companies reporting their quarterly earnings in the upcoming week, investors will look for signs of strength amid the widespread equity selloff.
On Friday, as stocks fell across the board, the posted its worst one-day loss since the early days of the pandemic, on signs that rising interest rates and persistently high inflation will hurt the economy and weigh on corporate profitability.
During the five-day trading week ahead, the world's largest technology companies are scheduled to release their most recent earnings numbers along with their outlook forecasts for the remainder of this year. The roster includes such tech giants as Apple (NASDAQ:), Microsoft (NASDAQ:) and industrial names, such as aerospace giant Boeing (NYSE:).
Fed Chair Jerome Powell said at an International Monetary Fund panel on Thursday that the Fed couldn't be complacent with some estimates showing that inflation has peaked and noted that "front-end loading" tighter monetary policy may be appropriate. He said it was "absolutely essential" to achieve price stability.
During this crucial week for the Q1 2022 earnings season, below are three mega caps we will be closely monitoring:
1. Meta Platforms
Meta, the parent company of Facebook (NASDAQ:) will report its first quarter, 2022 earnings on Wednesday, Apr. 27, after the market close. Analysts expect the owner of the social media giant to show $28.32 billion in sales and $2.56 a share profit.
According to the Menlo Park, California-based Meta, the company is facing a as the number of daily users declines. This development has sapped investor confidence in one of the most-loved tech stocks of the past decade and sent its shares tumbling.
Meta is forecasting revenue growth to slow this year since users are spending less time on its more lucrative services, which along with Facebook include WhatsApp and Instagram. It also blamed surging which is crimping advertiser spending. 
Along with these headwinds, the company is unable to neutralize the impact of changes in Apple privacy settings which give users the choice of stopping apps from tracking their internet activities, denting profitability for companies that sell targeted advertising, one of Meta's biggest revenue sources. 
Meta shares, which closed on Friday at $184.11, are down more than 45% this year.
2. Apple 
Apple, the maker of the popular and iconic iPhone, as well as laptop and desktop computers and smart wearables, is scheduled to report its fiscal 2022, second quarter earnings on Thursday, Apr. 28 after the market close. Analysts, on average, project the company will post $1.43 a share profit on sales of $94.15 billion.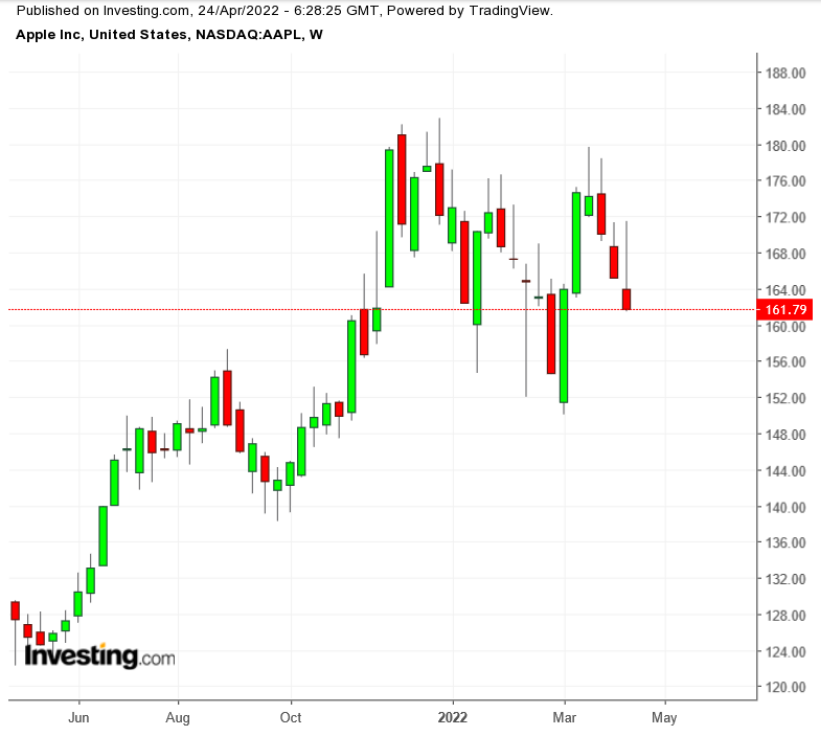 Investors will likely focus on the company's ability to meet strong demand for its products and overcome supply chain hurdles, especially in China where COVID-related restrictions are hampering output. 
Until the , the Cupertino, California-based company was successfully navigating supply-related challenges as it reported sales in January that climbed 11% to a record $123.9 billion. At that time, Apple predicted that sales would grow by a double-digit percentage in the March quarter.
Apple shares, which closed on Friday at $161.79, are down 9% this year pressured by rising interest rates and the uncertain environment for growth stocks.
3. Amazon
Online retail juggernaut Amazon (NASDAQ:) will also report Q1 earnings after the market closes on Thursday. The consensus is that the world's largest e-commerce company will deliver $116.46 billion in sales, producing per share profit of $8.37.
While the current environment doesn't look too favorable for Amazon's e-commerce business, there is powerful momentum via the company's other units, including its advertising segment and gains from Amazon Web Services (AWS), the company's cloud unit.
In the , this diversification in sales helped boost Amazon when the cloud-computing and advertising businesses combined more than compensated for the decline in online store sales. As a result, the Seattle-based tech giant posted a blockbuster earnings report.
Shares of Amazon, which closed on Friday at $2,887, have fallen 13% this year.