 Despite Recent Scandals, Ericsson Stock Is Still A Buy
The case for owning Ericsson (NASDAQ:) is not that difficult. The telecom equipment manufacturer occupies a key position in the rollout of 5G (fifth-generation) wireless globally. That alone suggests years of end market growth ahead.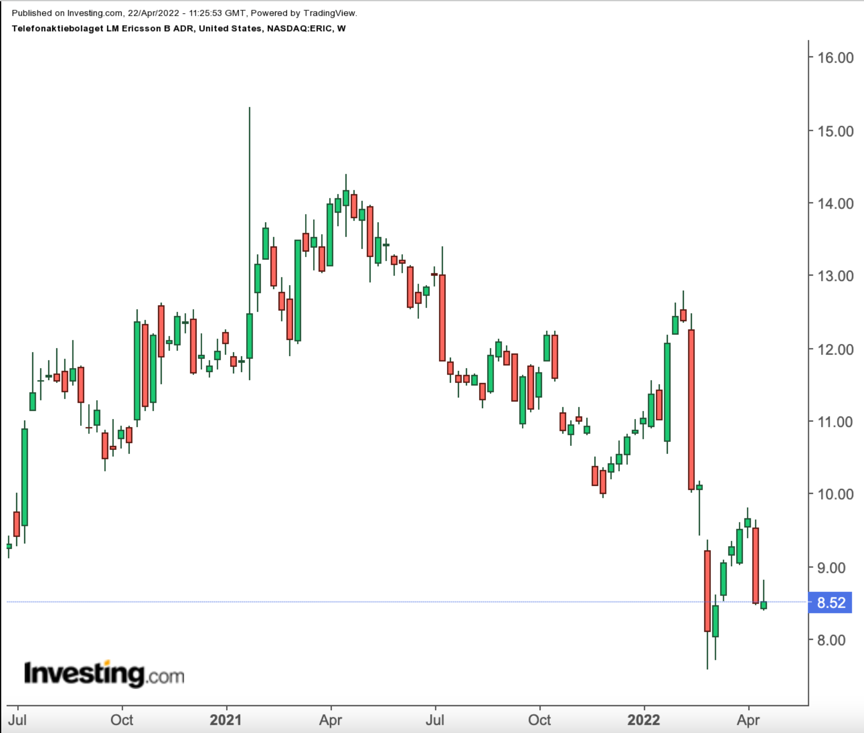 The Stockholm-headquartered mega-cap should also gain market share as political considerations have hamstrung one of its competitors, Huawei, and consistent subpar execution damaged another. Despite the seemingly sunny long-term outlook, ERIC stock has, for years, looked rather inexpensive. At 10x forward earnings, it still does.
However, this easy case ignores a significant, and troubling, risk. A risk that has contributed to a 30% slide in the shares price in a little over two months. That aside, the easy case might not be quite as easy as first appears.
Still, there does seem to be value in Ericsson shares from a long-term perspective, even if there will be some short-term volatility along the way.
The Corruption Scandal
Back in 2019, Ericsson to a $1.06 billion settlement with a pair of US regulatory agencies for violations of the Foreign Corrupt Practices Act. In the settlement, the Swedish company admitted to illegal activities in five countries, including bribery and falsifying accounts.
Ericsson already had taken action against corruption before the settlement, however. Former chief executive officer Hans Vestberg departed in 2016 amid internal investigations, and was replaced by Börje Ekholm. In 2018, the company fired some 50 people.
Ekholm's job was to turn the struggling business around—but also to reinforce a sense of ethics around the company. Only a few months ago, it seemed like the CEO had succeeded.
Including dividends, ERIC stock returned more than 100% in Ekholm's first five years on the job. And with the settlement in the rearview mirror, Ericsson's reputation was restored. So much so, in fact, that then-US Attorney General William Barr in early 2020 publicly mused about the federal government in the company.
But in the last few months, Ericsson's old reputation has returned. In February, ahead of a report from investigative journalists, Ericsson admitted that it had may have paid bribes to the terror group ISIS. Later that month, the report from the International Consortium of Investigative Journalists (ICIJ) landed. Using documents leaked from Ericsson itself, the report suggests that employees undertook illegal activity in countries not covered by the 2019 US settlement.
Ericsson Stock Tumbles
Ericsson shares tumbled on the disclosure of the bribes to ISIS, and kept falling to a nearly 2-year low by March. Even with a bounce since, the stock trades about where it did for most of 2019.
The market's reaction doesn't necessarily seem like an overreaction. Ericsson is a huge company, certainly, with a current market capitalization of over $28 billion. That said, the potential legal liabilities clearly run into the billions of dollars. The US can fine the company for not only newly unearthed activity, but for violating the original 2019 settlement. Other countries, including Sweden, are undertaking their own investigations.
There's the business aspect as well. Ericsson clearly benefited from the 2019 decision by the Trump Administration to Chinese rival Huawei Technologies. Many western governments and private wireless operators disengaged from Huawei, which to that point had leading market share. There's now a concern that Ericsson gets similar treatment, providing a boost to Finnish competitor Nokia (NYSE:).
Some shareholders may depart as well. It's obvious from the ERIC stock chart that many already have. Indeed, one Wall Street analyst called the stock "uninvestable" in the wake of the revelations.
But it's not just the scandal that has pressured the stock. First quarter last week disappointed, with adjusted operating profit coming in substantially below expectations. Adjusted operating margins fell to 8.7% from 10.7% the year before.
The Digital Services business (which helps wireless operators move to a cloud-based environment) posted a result that was "not satisfactory," as Ericsson's own press release put it. Free cash flow was negative, as Ericsson looked to build inventory amid supply challenges. ERIC stock dropped more than 9% the day the report was released.
The 'Hold Your Nose' Case For Ericsson Stock
All told, ERIC stock hasn't fallen 30% for no reason. That said, investors would be wise to take the long view here.
The activities in Iraq are abhorrent, certainly. And Ericsson's failure to disclose its knowledge of those activities to at least some extent is troubling. But that misconduct is not ongoing, and Ericsson argued in its Q1 release that it was precisely improved monitoring that allowed the company to discover the activity in the first place. Ericsson's behavior over the last decade perhaps was worse than we knew, but that alone shouldn't change the reputation of the company (or the stock) going forward.
As far as Q1, it is disappointing. But it's a single quarter in a volatile environment amid a multi-year stretch during which the company has performed exceptionally well. Per the company's 2021 review, at year-end Ericsson supplied 108 of the 200 live 5G networks worldwide. Profit margin targets released in 2018 were reached. The same was true for free cash flow margins.
Ericsson has grown its top line and improved its profitability. Its dividend has increased (and at the current price should approach a 3% yield this year). The company has taken share from Nokia, and even with the recent pullback ERIC has handily outperformed NOK over the past five years.
The forward-looking opportunity remains. Ericsson expects the number of customers served by 5G to more than double by 2027 (that projection comes from the 2021 annual review as well). There's a multi-year tailwind to revenue, and Ericsson expects further profit margin expansion going forward.
That combination means, at worst, high-single-digit earnings growth. Yet ERIC, at 10x 2023 analyst profit estimates, is priced as if it won't grow at all.
There will be some dips along the way. News around past corruption and potential fines could hit the stock. Supply pressures will hit free cash flow and margins. It may take some time for the attractive long-term case to again become clear.
But it's likely that will happen at some point. When it does, ERIC stock should resume the upward trajectory of the last few years.
Disclaimer: Vince Martin has no positions in any securities mentioned.