 1 Stock To Buy, 1 To Dump When Markets Open: Tesla, PayPal
Stocks on Wall Street plunged on Friday, with the suffering its worst one-day loss since October 2020 amid mounting fears over the Federal Reserve's plans to .
The coming week is expected to be another busy one amid more earnings from like Apple (NASDAQ:), Microsoft (NASDAQ:), Amazon (NASDAQ:), Google-parent Alphabet (NASDAQ:), Facebook-parent Meta Platforms (NASDAQ:), Twitter (NYSE:), Intel (NASDAQ:), Qualcomm (NASDAQ:), Spotify (NYSE:), Pinterest (NYSE:), and Robinhood (NASDAQ:).
The earnings agenda also consists of other high-profile companies, such as Exxon Mobil (NYSE:), Chevron (NYSE:), McDonald's (NYSE:), Boeing (NYSE:), Caterpillar (NYSE:), Ford Motor (NYSE:), General Motors (NYSE:), United Parcel Service (NYSE:), Coca-Cola (NYSE:), Visa (NYSE:), Mastercard (NYSE:), and General Electric (NYSE:).
Add to that key economic data on the agenda, including the latest report on (PCE) inflation, and we have quite a week ahead.
Regardless of which direction the market goes, below we highlight two hi-tech stocks: one likely to be in demand, the other losing its appeal.
Remember though, our timeframe is just for the upcoming week.
Stock To Buy: Tesla
With the stock market struggling, Tesla's (NASDAQ:) stock has been holding up reasonably well, especially when compared to other high-growth companies with sky-high valuations.
We expect that trend to continue in the days ahead as investors react to a number of developments surrounding the Elon Musk-led electric vehicle maker.
Tesla reported and profit growth when it posted its latest financial results last week, easily beating analyst estimates on both the top and bottom lines for Q1 2022.
For the period ending Mar. 31, Tesla said it earned $3.22 per share and revenue of $18.76 billion. Both figures were the highest in the EV company's history, reflecting a jump in vehicle deliveries, increased average selling price (ASP), and growth in other parts of the business.
Even more impressive, Tesla also registered record automotive margins of 32.9%, more than double that of legacy firms such as Ford (NYSE:) and General Motors (NYSE:).
On the company's earnings call, CEO Elon Musk said that Tesla remains confident that it can grow at least 50% over 2021 numbers.
Meanwhile, in another interesting development, Musk said on Twitter over the weekend that he confronted Microsoft co-founder Bill Gates about holding a $500 million short position against Tesla.
Musk Tweet
That could potentially spark a short squeeze on Gates and boost Tesla shares in the process.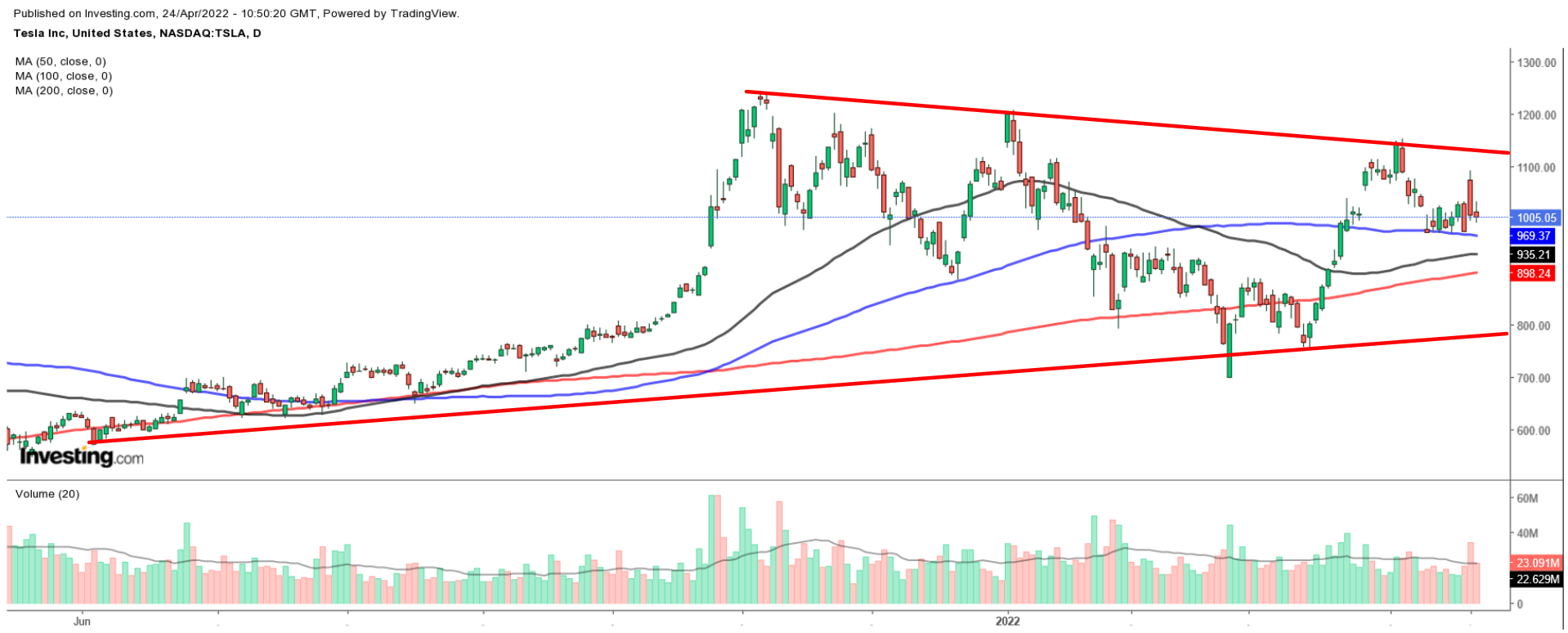 TSLA has been down just 4.9% year-to-date, ending Friday's session at $1,005.05. At current valuations, Tesla has a market cap of $1.04 trillion, making it the world's largest automaker, bigger than names such as Toyota (NYSE:), Daimler (OTC:), GM, Honda (NYSE:), and Ford.
Stock To Sell: PayPal
PayPal Holdings (NASDAQ:), which has seen its stock steadily collapse to fresh lows in recent sessions, is expected to suffer another volatile week as the market braces for disappointing financial results from the embattled digital payments provider.
Shares of the San Jose, California-based company have lost a whopping 54% so far this year amid a plethora of negative news, including worries over a slowdown in its core business, rising competition in the mobile payments processing industry, as well as an ongoing selloff in many top-rated technology stocks.
Sentiment on the beaten-down name—which shut its services in Russia in the first week of March—took another hit earlier this month after Chief Financial Officer John Rainey left the company to join Walmart (NYSE:).
PYPL closed at $86.03 on Friday, a level not seen since March 2020. At current valuations, PayPal, which is roughly 72% below its all-time peak of $310.16 reached in July 2021, has a market cap of $99.9 billion.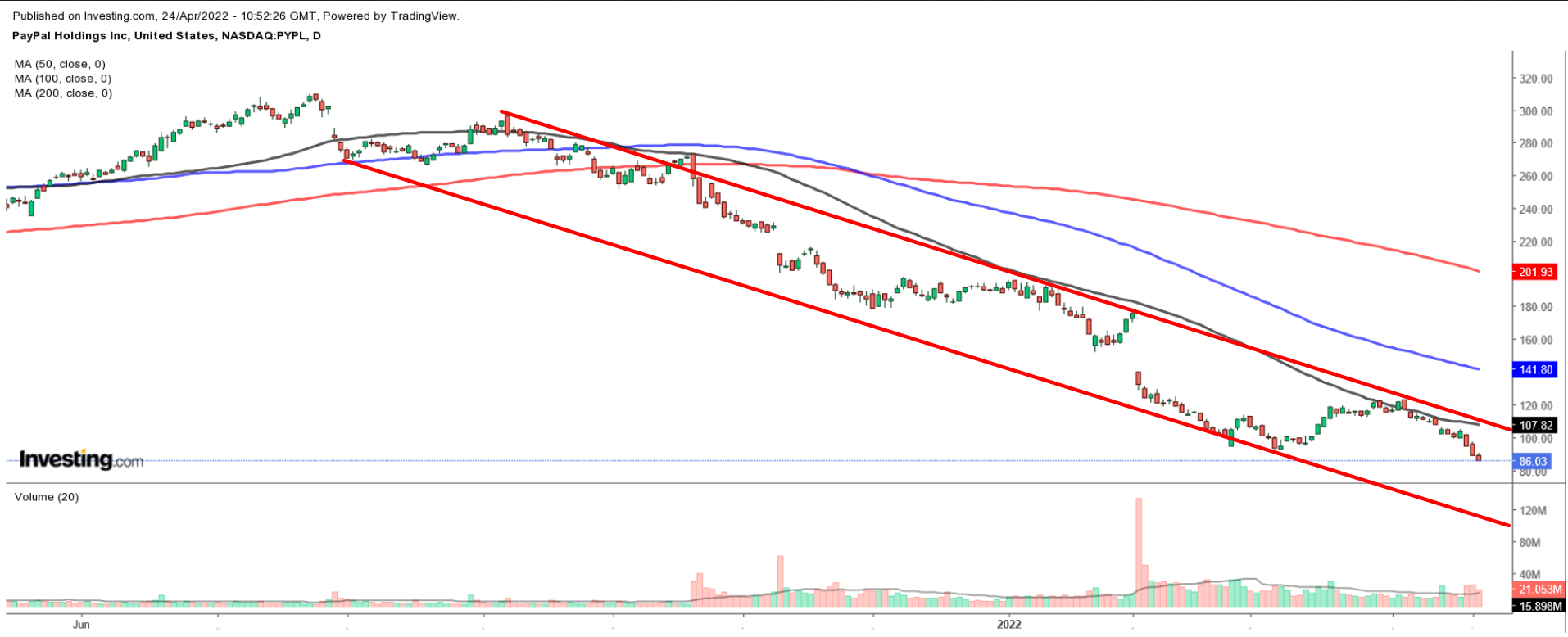 Earnings and sales growth, which have been decelerating dramatically at PayPal, are expected to slow again when the fintech giant reports Q1 numbers at 2pm PST on Wednesday, Apr. 27.
Consensus calls for earnings per share of $0.87, falling nearly 29% from EPS $1.22 in the year-ago period. Revenue is seen rising about 6% to $6.4 billion.
Beyond the top-and-bottom line numbers, investors will pay close attention to PayPal's active accounts additions and growth in total payments volume (TPV), or the value of all transactions processed on the e-commerce company's platform. Both key metrics missed targets in the last quarter.
Management's guidance for the current quarter and beyond will also be in focus. We believe that PayPal is likely to cut its profit and sales growth outlook for the months ahead as it continues to struggle with unfavorable consumer spending and customer demand trends amid the current environment.