 Netflix: Is There More Downside After Stock's 37% Post-Earnings Plunge?
Netflix's slide shows that the streaming giant has lost momentum

Now worth less than $100 billion, down from $308 billion in November

Wall Street analysts have downgraded NFLX stock, citing uncertainty
Netflix's (NASDAQ:) massive miss earlier this week showed investors that the pandemic-driven surge in subscriber growth was just an illusion, as reality in the crowded streaming world is getting grimmer.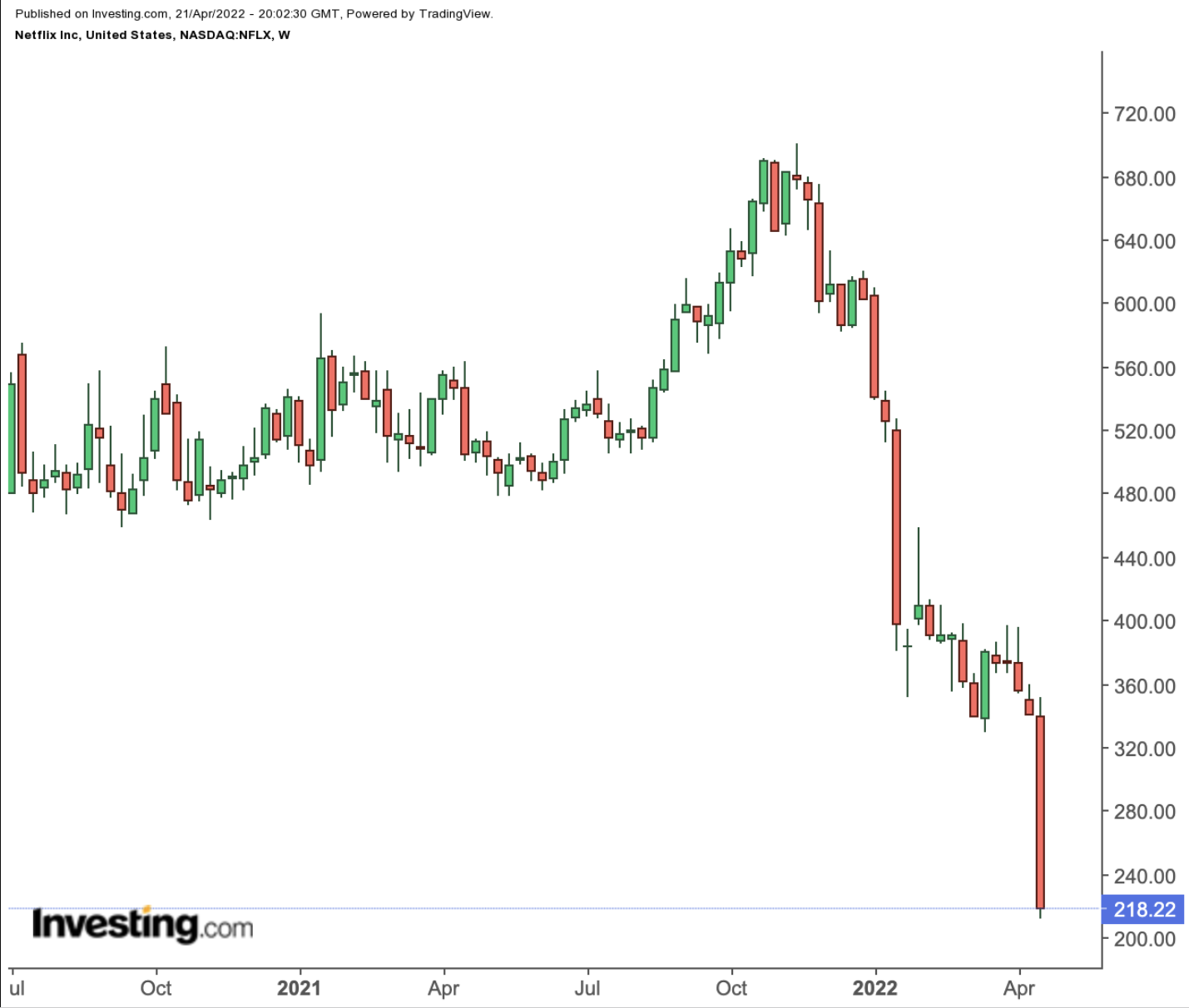 The Los Gatos, California-based company told investors Tuesday that its business lost momentum in the first quarter of 2022, with a in total customers.
And the future doesn't look very bright either. Netflix expects to lose another 2 million subscribers this quarter, a forecast that helped propel a daily 35% plunge in its stock—its most significant one-day loss since 2004.
The descent has been so fast and furious that Netflix is now worth less than $100 billion, down from its $308 billion market cap in November.
This debacle came after two years of unprecedented growth, primarily due to the stay-at-home environment and the worldwide COVID-driven closing of movie theaters. Netflix picked up more than 36 million customers in 2020 and 18.2 million in 2021.
After this week's decline, Netflix is now the worst-performing stock of the year on both the benchmark and indexes.
Losing Ground
The post-pandemic environment is among the many headwinds that high-growth companies face these days. But in the case of Netflix, the reasons for this downfall are more company-specific.
Netflix pointed to the prevalence of password sharing and growing competition as two leading factors contributing to the fall in subscriber growth. The company cited that more than 100 million households use its service and don't pay for it.
Netflix is also losing ground to other streaming companies. Yesterday, HBO and HBO Max reported having 76.8 million subscribers at the end of the first quarter of 2022. That means a 3 million subscriber increase from the previous quarter and a 12.8 million year-over-year jump.
Where Will Netflix Go From Here?
In the short run, it seems no one has a clear idea. However, analysts have been downgrading the stock in the aftermath of its disastrous earnings report.
At least, ten different Wall Street firms cut their ratings on the stock this week, according to CNBC.com, including two that issued rare double downgrades.
Bank of America's Nat Schindler moved the stock to underperform from buy, telling clients that it would take time for Netflix to prove itself as a good investment again. Its note adds:
"The Street now knows that the low guide last quarter was not an aberration, and we expect it will take a while for investors to believe NFLX can return to growth."
Analysts were also not sure how long it would take for Netflix to succeed in its plans to limit password sharing and introduce a service that carries advertisements.
While downgrading the stock to neutral from overweight, Piper Sandler said the hit for the next two years would be substantial. The note said:
"While password sharing is being addressed and a new ad-supported tier sounds viable, we substantially lowered sub adds forecasts for' 22/'23. It's lower growth, lower visibility model, prompting us to move to the sidelines."
Billionaire investor William Ackman sold the entire stake that his hedge fund accumulated in Netflix after the January sell-off yesterday. His exit implied a loss of about $400 million to his fund. Ackman said his fund Pershing Square had:
"lost confidence in our ability to predict the company's future prospects."
Bottom Line
Netflix has lost momentum after producing remarkable growth during the past decade. There is considerable uncertainty about the success of its future plans and the competitive environment is still evolving so buying on the dip can be a risky strategy.