 Netflix's Initial Decline Runs Its Course: Time To Look For Higher Prices?
With today's earnings after hours, it is time to assess if there's more pain stored for Netflix (NASDAQ:).
Using the Elliott Wave Principle (EWP), I found in January (see ):
"I anticipate NFLX to decline and stall out around $330+/-30 for (blue) Primary wave-A. This decline will mean a complete retrace of the rally since the COVID-19 low (March 2020). From there, I anticipated the B-wave (B for Bounce) to materialize and target the prior "congestion zone," i.e., around where NFLX bottomed for (black) major wave-4 May last year."
The reaction to earnings today may well be the catalyst to get things going. Over the past month, NFLX has bottomed twice at around $330 and inside the ideal (black) target zone. Bingo!
Besides, using the daily chart (See Figure 1 below), the EWP count shows the share price of NFLX has done enough waves (five) down to suggest the anticipated blue Primary wave-A has bottomed and wave-B should soon be underway.
The blue arrows show the expected ideal path for wave-B, but please remember that B-waves are often overlapping, tricky patterns as they comprise three waves: a-b-c.
Figure 1 NETFLIX (NFLX) daily candlestick chart with detailed EWP count and technical indicators.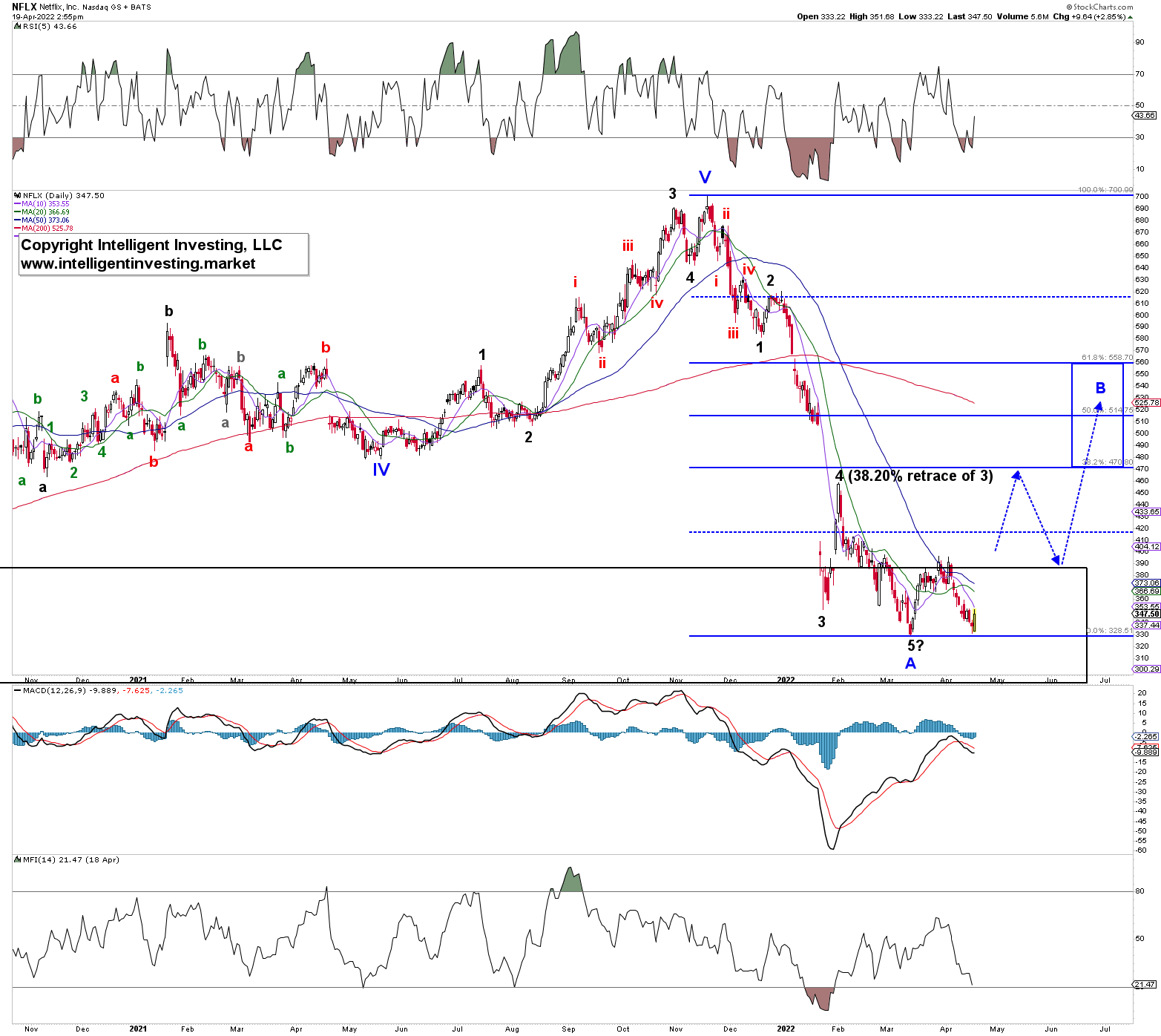 A breakout above the late March highs (~$390) would be an excellent sign the larger dead cat bounce is underway to ideally around $470-560. Why the range? It is at this stage impossible to know how much this B-wave will retrace wave-A. It could even target the 23.60% or 76.40% levels ($420, $630, respectively). But we start with a nice typical in the middle level. The anticipate.
Then we monitor the price action to see what retrace level will be the most likely target and adjust, if necessary.
For now, the most likely path is higher, i.e., I, therefore, expect minimal downside risk vs. upside reward. But please remember:
"In bear markets, downside surprises and upside disappoints."
Why? Because selling pressure dominates.
However, as said in January, once wave-B tops, wave-C (C is for Crash) must take hold and bring Netflix's share price down to around $175-200.
But NFLX can revisit the double digits before Cycle wave-2 is done and dusted. However, from my January update, we knew from the EWP to expect three waves (A, B, C). And how in general, each of these waves should behave and relate to each other. With enough sub-waves complete for wave-A, it is now necessary to anticipate wave B in more detail.