 3 Stocks To Watch In The Coming Week: Netflix, Tesla, Procter & Gamble
Earnings will likely take center stage next week when some of the largest US companies begin reporting their latest quarterly numbers amid higher commodity prices and an ongoing geopolitical crisis plus persistent supply-chain shortages.
Recent analyst revisions and trends in company guidance suggest the pandemic-era beat rates and earnings season returns were outside of normal parameters and may be coming to an end, according to Bloomberg.
In contrast to the pattern of analysts raising their estimates ahead of upcoming earnings seasons during the pandemic, analysts have spent the better part of the run-up to the first quarter 2022 earnings season lowering their expectations.
Analysts, however, still expect some companies to report higher profits, especially the ones that continue to retain pricing power. Earnings for the are expected to grow by 6.1% in the first quarter, down from 8.9% in the fourth quarter, according to I/B/E/S data from Refinitiv.
Below, we've short-listed three stocks from different sectors we're monitoring as first-quarter earnings season ramps into full swing:
1. Netflix
Streaming entertainment giant Netflix (NASDAQ:) is scheduled to report Q1 2022 earnings on Tuesday, Apr. 19, after the market close. Analysts are expecting $2.95 a share profit on sales of $7.94 billion.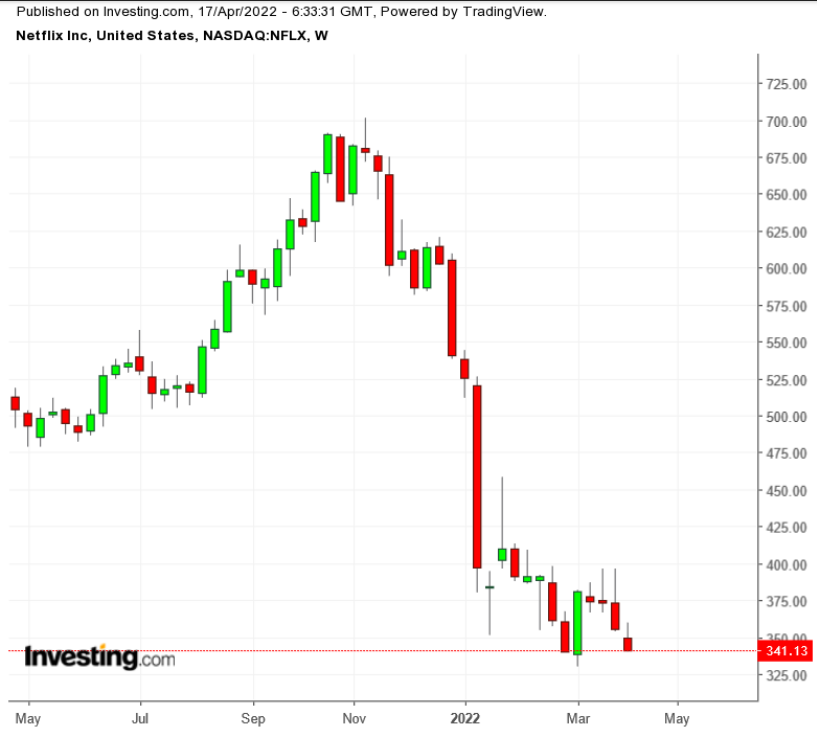 Netflix stock has been under severe pressure, ever since shares reached a record high on Nov. 11. Investors are concerned that increasing competition and low subscriber growth will continue to depress sales and margins. Pressured by these headwinds, the stock of Los Gatos-based Netflix has lost more than 40% of its value so far this year. It closed on Thursday at $341.13.
Netflix's plunge accelerated after the company released its last in January, showing that subscriber growth isn't coming back as quickly as analysts had anticipated. Compared with four million added a year earlier, the company is likely to add just 2.5 million subscribers in Q1.
2. Tesla
Electric vehicle maker Tesla Inc (NASDAQ:) will report first quarter earnings on Wednesday, Apr. 20 after the market close. Analysts are expecting $2.24 a share profit on sales of $17.63 billion.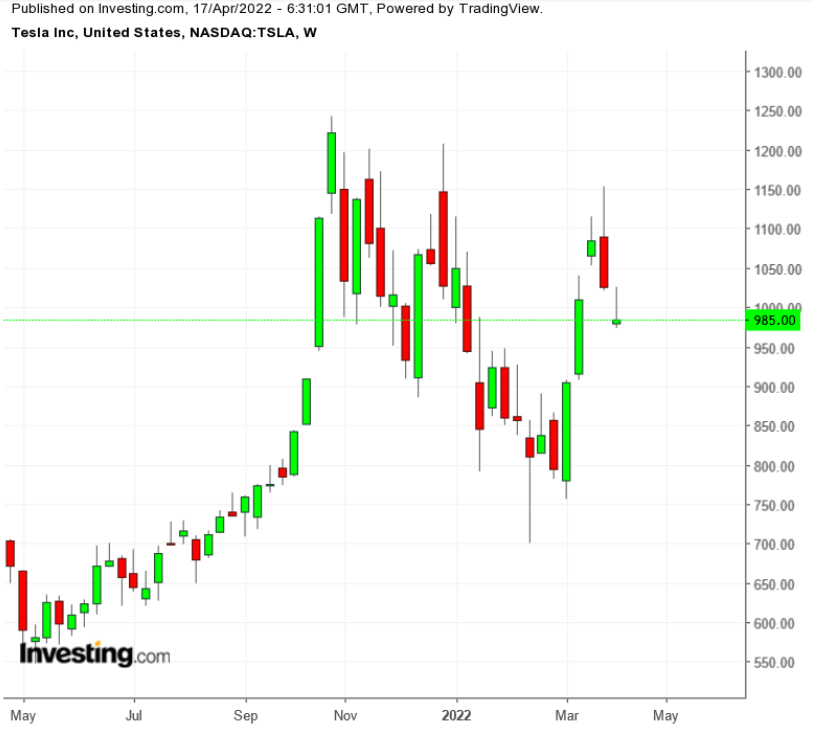 The Austin, Texas-based EV manufacturer reported this month that it delivered 310,048 cars worldwide in what Elon Musk said was an "exceptionally" difficult first quarter, due to ongoing supply chain disruptions. The number was slightly ahead of analysts' expectations.
Still, that performance showed the company was able to handle existing supply chain issues much better than traditional automakers who had to idle factories and cut production.
The company's for the remainder of 2022, and the demand situation in China where COVID lockdowns are threatening to hurt production, will be important details that investors are waiting for information about.
Tesla shares, after falling about 7% this year, closed on Thursday at $985.
3. Procter & Gamble
Consumer staples giant Procter & Gamble (NYSE:) will report its fiscal 2022 third quarter before the market opens on Wednesday. Consensus expectations are for earnings per share of $1.3 on sales of $18.7 billion.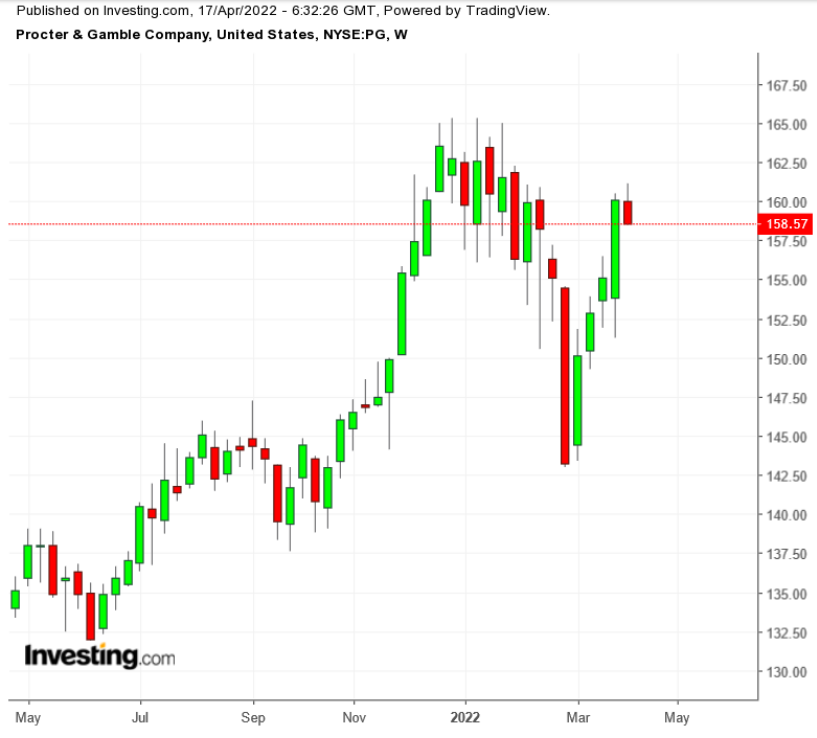 The maker of Downy fabric softener, Puffs facial tissues, and Luvs diapers is among those companies which are being negatively affected by higher inflation and supply shortages. The Cincinnati, Ohio-based company, however, is trying to counter these pressures by raising prices.
It told investors in January that it now expects full-year of 4% to 5%, compared with an earlier projection of 2% to 4% growth, as consumers were in a better position to absorb higher prices, helping P&G cope with rising costs related to commodities, freight and foreign currency exchange.
P&G shares closed on Thursday at $158.57, down 3% so far this year. The stock gained about 19% in 2021, benefiting from elevated demand for household essentials during the pandemic.