 Starbucks: Is The Coffee Chain's Stock A Buy After This Year's 30% Plunge?
Global coffee chain faces growing challenges at home and abroad, risking near-term growth

Management change, inflationary pressures, uncertainties about a new direction prompted some analysts to downgrade SBUX stock.

These headwinds are likely to persist in the short term, keeping SBUX under pressure
There seems to be no end in sight for Starbucks' (NASDAQ:) current market rout. The global coffee chain has been among the worst-performing multinational restaurant operators this year on Wall Street, underscoring its many short- and long-term challenges.
Shares of the Seattle-based giant closed Wednesday at $80.92, continuing a sharp reversal from the stock's summer peak when it hit a record high of $126.32. Year-to-date, the company has lost 30% of its market value.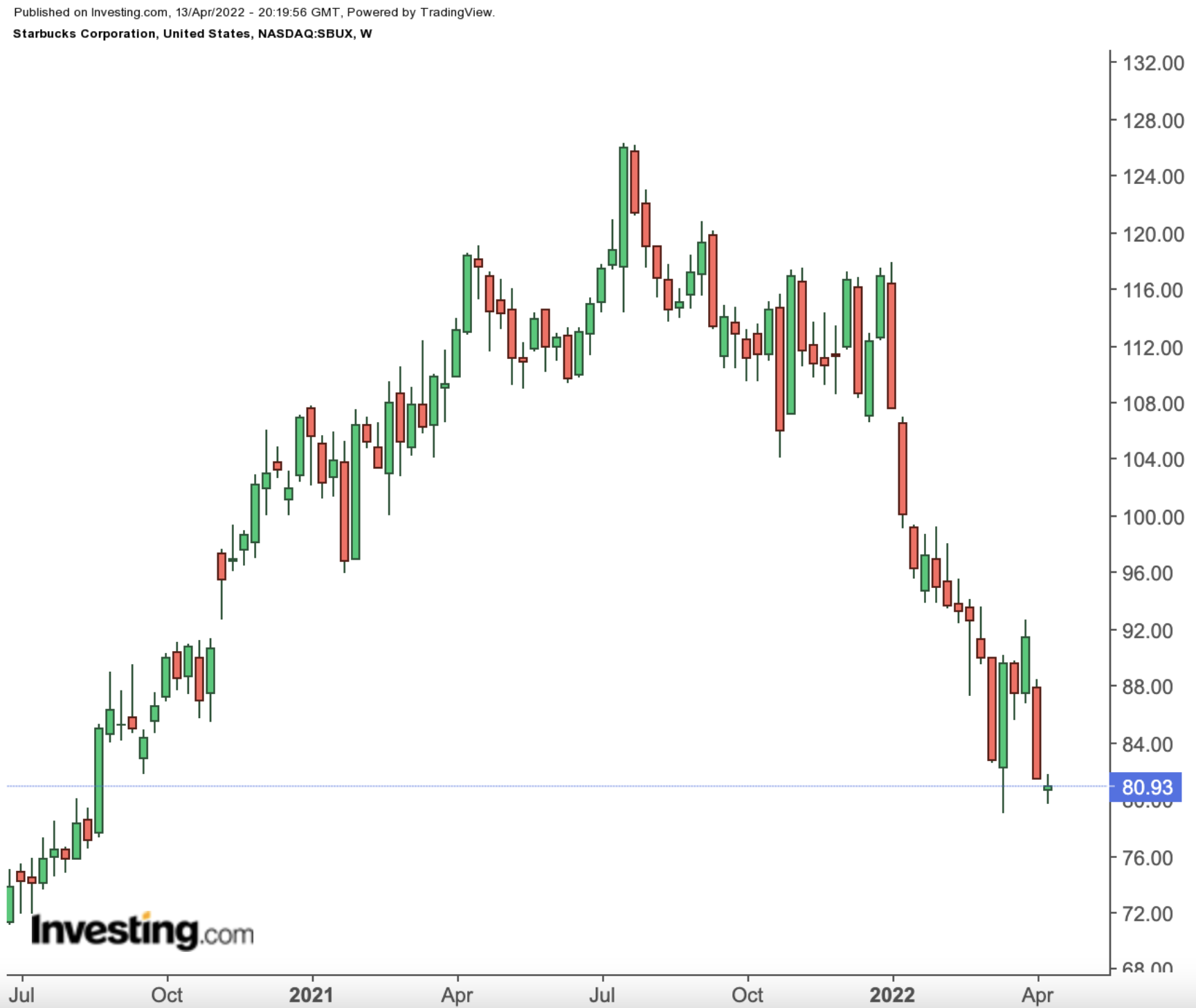 The latest round of selling came after the company's founder Howard Schultz suspended a share-buyback plan early this month, arguing that he needed the cash to spend on stores and employees.
Schultz—who announced his return to the coffee-market giant last month—faces a growing unionization effort at stores across the US and a resurgent COVID-19 virus in China, the company's second-largest market.
These challenges add to the already-hostile macro environment. With the highest rate in four decades at home along with the war in Ukraine, food and prices are escalating, cutting back Starbucks' profit margins.
Furthermore, in February, the chain saw a surge in costs for isolation pay and worker training, along with supply-chain hiccups related to the pandemic.
These headwinds appeared in the company's latest when Starbucks significantly missed analysts' estimates.
Too Much Uncertainty
The company now sees earnings per share falling 4% to 6% in its current fiscal year, versus a prior view that it would decline 4% or less. Estimates compiled by Bloomberg project operating margin will narrow to 16.3% this fiscal year, down from 16.8% last year.
In China, government restrictions and virus resurgences are also hurting growth. In the company's fiscal first quarter, comparable sales in that region declined 14%, compared to an expected 9.3% drop.
The management change, inflationary pressures, and uncertainties about the company's new direction are some of the factors prompting some analysts to downgrade SBUX stock in recent days.
In an Investing.com poll of 35 analysts, 17 don't recommend buying the stock.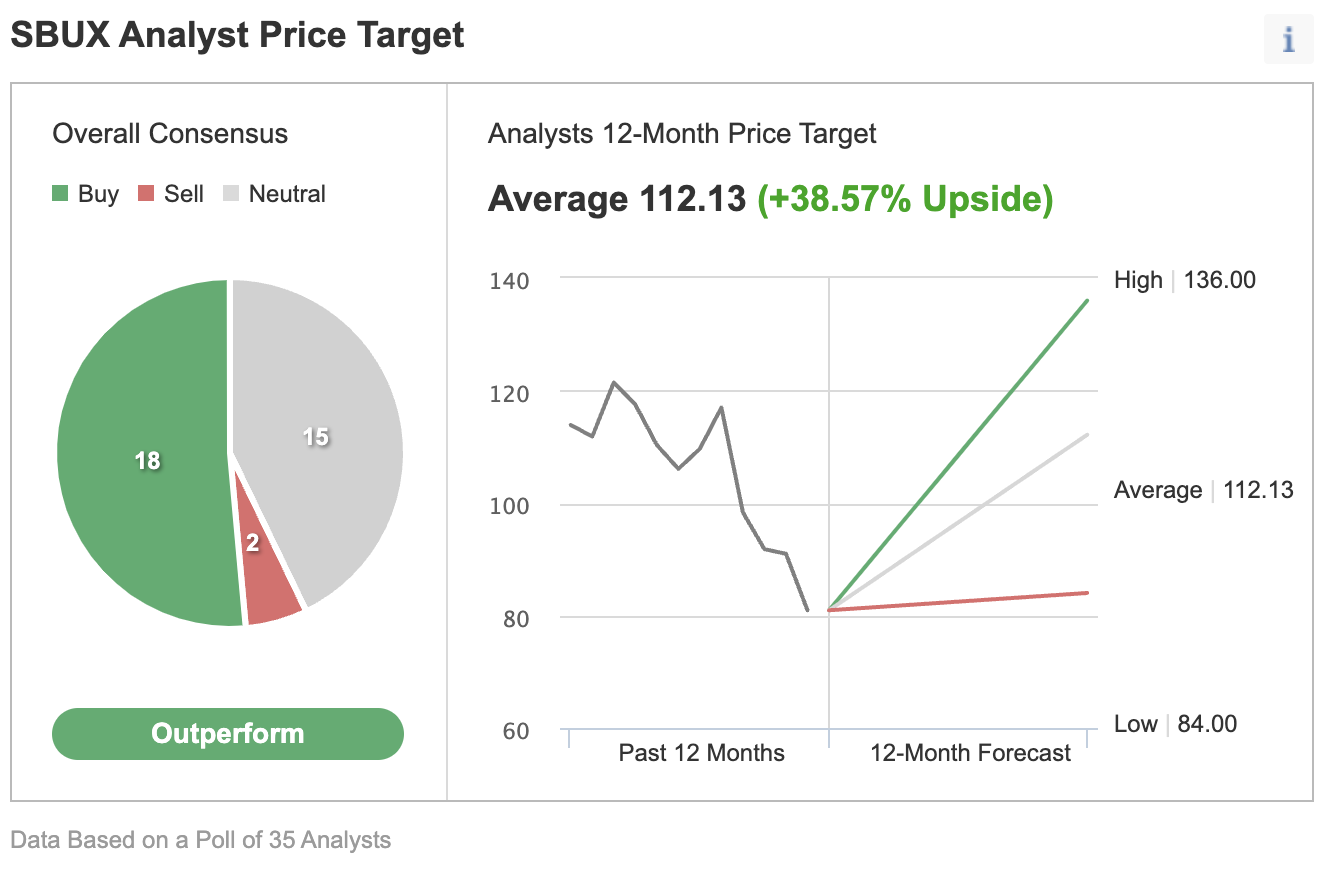 Source: Investing.com
In a note yesterday, Citi downgraded SBUX to neutral, saying there is too much uncertainty around the company to make a big bet on the stock. The note adds:
"In addition to broader inflation pressures/risks, management changes/unionization pushes could be tied to additional partner investments and new ESG initiatives on the horizon present additional unknowns for forwarding estimates. Omicron and China lockdowns are likely to limit NT positive surprises, and it feels appropriate for shares to be trading near lows relative to the ."
Wedbush also downgraded shares of Starbucks in a recent note, citing a lack of new developments that could push the stock higher. Its note said:
"While we believe the risks are incorporated in valuation, we also now see little in the way of catalysts for the foreseeable future until Howard Shultz finishes charting what appears to be a more meaningfully new direction for SBUX than we previously anticipated and communicates the new course to shareholders."
Bottom Line
Starbucks continues to face uncertainty as costs escalate and its margins come under pressure. These pressures are likely to persist this fiscal year, depriving the stock of any meaningful upside in the near term.