 1 Stock To Buy, 1 To Dump When Markets Open: Alibaba, Citigroup
Despite the continuation of the Ukraine/Russia crisis, on Wall Street ended modestly higher on Friday, as the release of solid U.S. underlined for tighter Fed policy in the months ahead.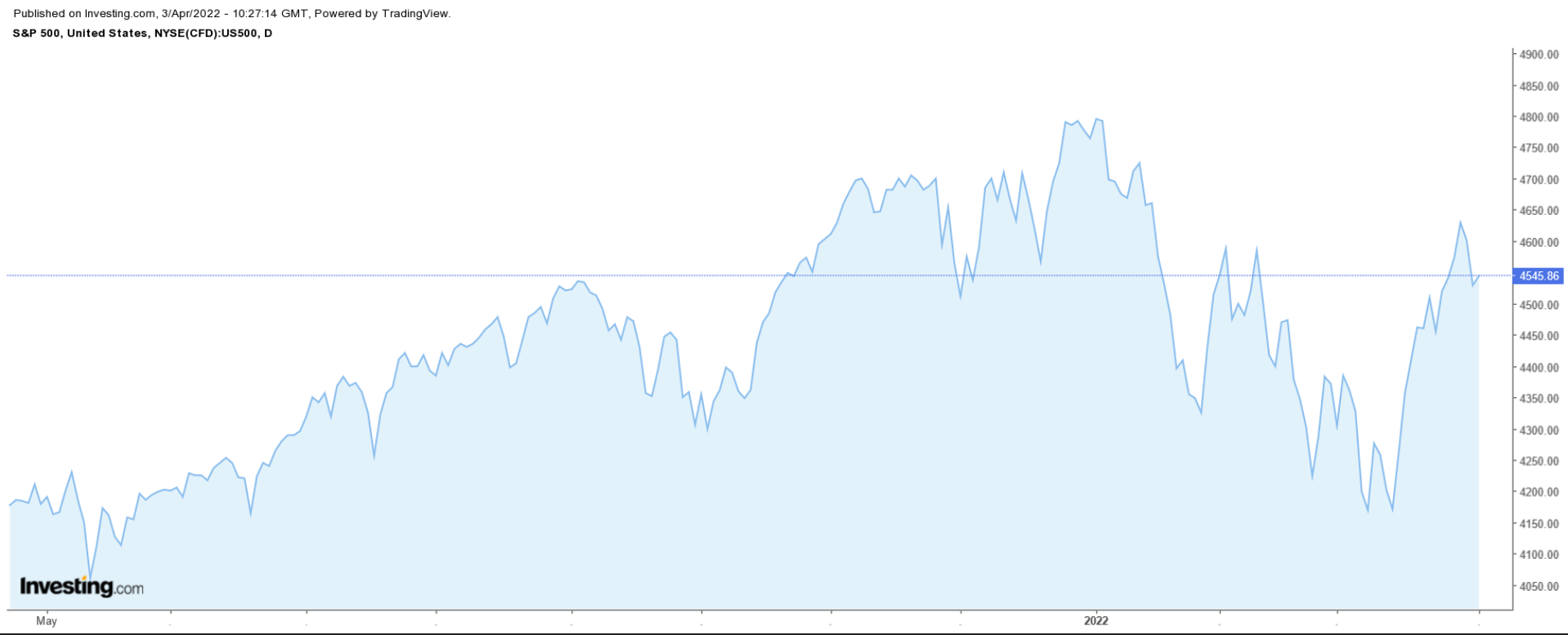 The upbeat report in U.S. government bond yields, causing a closely watched part of the yield curve to for the first time since 2019.  Treasury yields jumped to 2.46% on Friday, surpassing benchmark U.S. Treasury yields, which rose to around 2.39%. The inversion now raises the specter of a possible recession to come, as historically, such inversions have been known to precede recessions—however, this is .

The week ahead is expected to be another busy one with all eyes on the from the Federal Reserve's most recent policy meeting, due for release on Wednesday. Earnings from like Constellation Brands (NYSE:), Tilray (NASDAQ:), and Levi Strauss & Co (NYSE:) are also on the agenda.
Regardless of which direction the market goes, below we highlight one stock likely to be in demand and another which could see further downside.
Remember though, our timeframe is just for the upcoming week.
Stock To Buy: Alibaba 
Alibaba Group Holdings (NYSE:), whose shares have managed to stage a mild recovery since falling to their lowest level since 2016 last month, could see increased buying activity in the days ahead amid easing fears that China's most valuable technology company will delist from the U.S. stock market.
China's securities watchdog on Saturday revising a key confidentiality rule involving offshore listings in order to satisfy the demands of U.S. regulators, marking Beijing's latest attempt to resolve a long-standing audit dispute with Washington.
The new proposal could open the door to on-site inspections by U.S. regulators, who demand complete access to such firms' audit working papers, which are stored in China. The previous draft stated that on-site inspection of overseas-listed Chinese companies be conducted mainly by Chinese regulators.
The changes will facilitate "cross-border regulatory cooperation, including joint inspections, which will help safeguard interest of global investors," the China Securities Regulatory Commission (CSRC) said in a statement on its website.
The CSRC said that Chinese and U.S. regulators had recently held multiple rounds of meetings and both sides had a willingness to solve their audit dispute so that Chinese firms can remain listed in New York.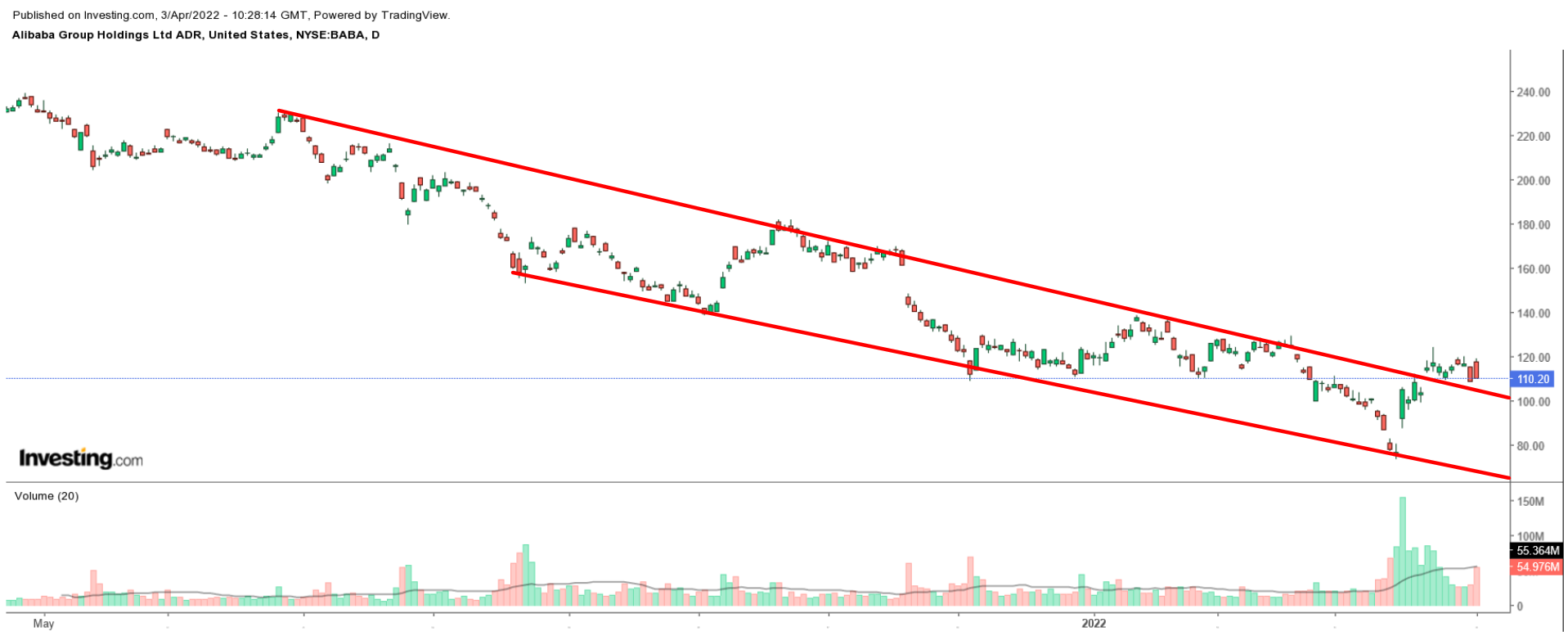 BABA—which has climbed roughly 50% since falling to a six-year trough of $73.28 on Mar. 15—ended Friday's session at $110.20. At current levels, the Hangzhou, China-based tech giant has a market cap of $313.3 billion.
Despite the recent bounce, Alibaba shares are still down about 7% year-to-date and are approximately 65% below their record peak of $319.32 reached in October 2020.
Alibaba shares collapsed throughout most of 2021, losing more than half their value amid Beijing's antitrust crackdown aimed at strengthening regulations for companies with consumer-facing platforms and improving data privacy.
Stock To Dump: Citigroup
Citigroup (NYSE:) saw its shares close at their weakest level since November 2020 on Friday. C could break down to new lows in the coming week as investors monitor distressing moves in the U.S. Treasury market after a key part of the yield curve inverted.
Bank stocks have historically performed poorly during times of inverted yield curves as they typically profit by borrowing money in the short term and lending it in the long term. As such an inverted yield curve, which, as mentioned earlier, is usually viewed as a reliable recession indicator, is likely to pressure bank margins and profitability.
Investors are also bracing for a disappointing earnings report from the fourth biggest U.S. banking institution, due on Thursday, Apr. 14 ahead of the opening bell. Consensus calls for Q1 earnings of $1.66 per share, plunging 54% from EPS of $3.62 in the year-ago period amid a jump in operating expenses. Revenue expectations are equally concerning, with sales growth predicted to slip about 5% to $18.4 billion due to a sharp slowdown in its consumer banking business.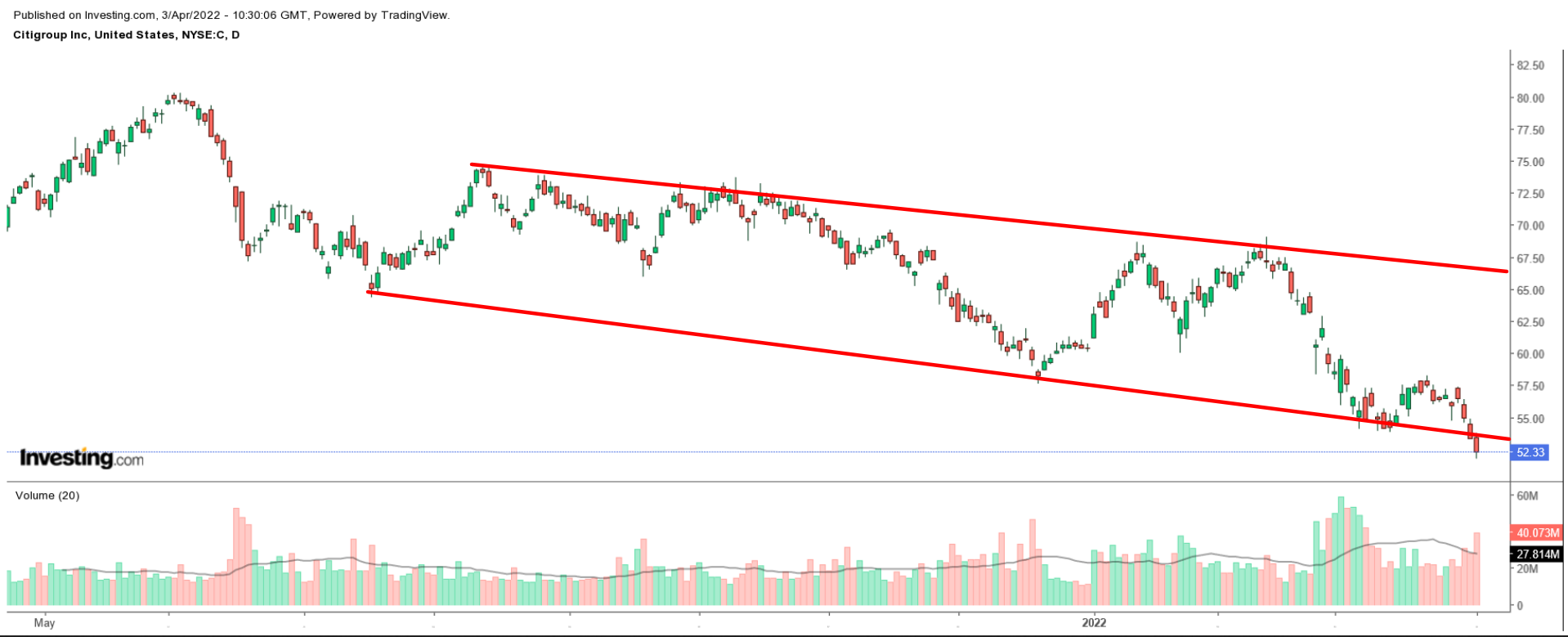 C fell to a fresh 17-month low of $51.76 on Friday, before closing at $52.33, earning the New York City, New York-based megabank a market cap of $103.2 billion.
Citigroup shares have underperformed those of the other big banks this year, losing 13.3% in 2022. In comparison, the financial sector's main ETF—Financial Select Sector SPDR® Fund (NYSE:)—is down just 2.1% year-to-date. The S&P 500, for its part, is off by 4.6% over the same timeframe.