 Chart Of The Day: Russell Provides Tentative Bear Signal 
This article was written exclusively for Investing.com
Amid all the geopolitical uncertainty, yield inversion and recession talk, the markets have been all over the place in the last couple of weeks. But have we just seen a genuine bearish reversal again for the major indices, and in particular the already-underperforming ?
After a big rebound from bear territory, the month of March and first quarter ended with stocks falling in the past two days. 
Was that mini sell-off due to quarter-end position covering, or the start of a new downtrend?
And will the start of the new month and quarter today see funds flow back into stocks and trigger a fresh rally?
Or are we going to see a repeat of the slump we witnessed at the start of Q1? 
Judging by price action on the Russell and a couple of other major indices, there is reason to be bearish again.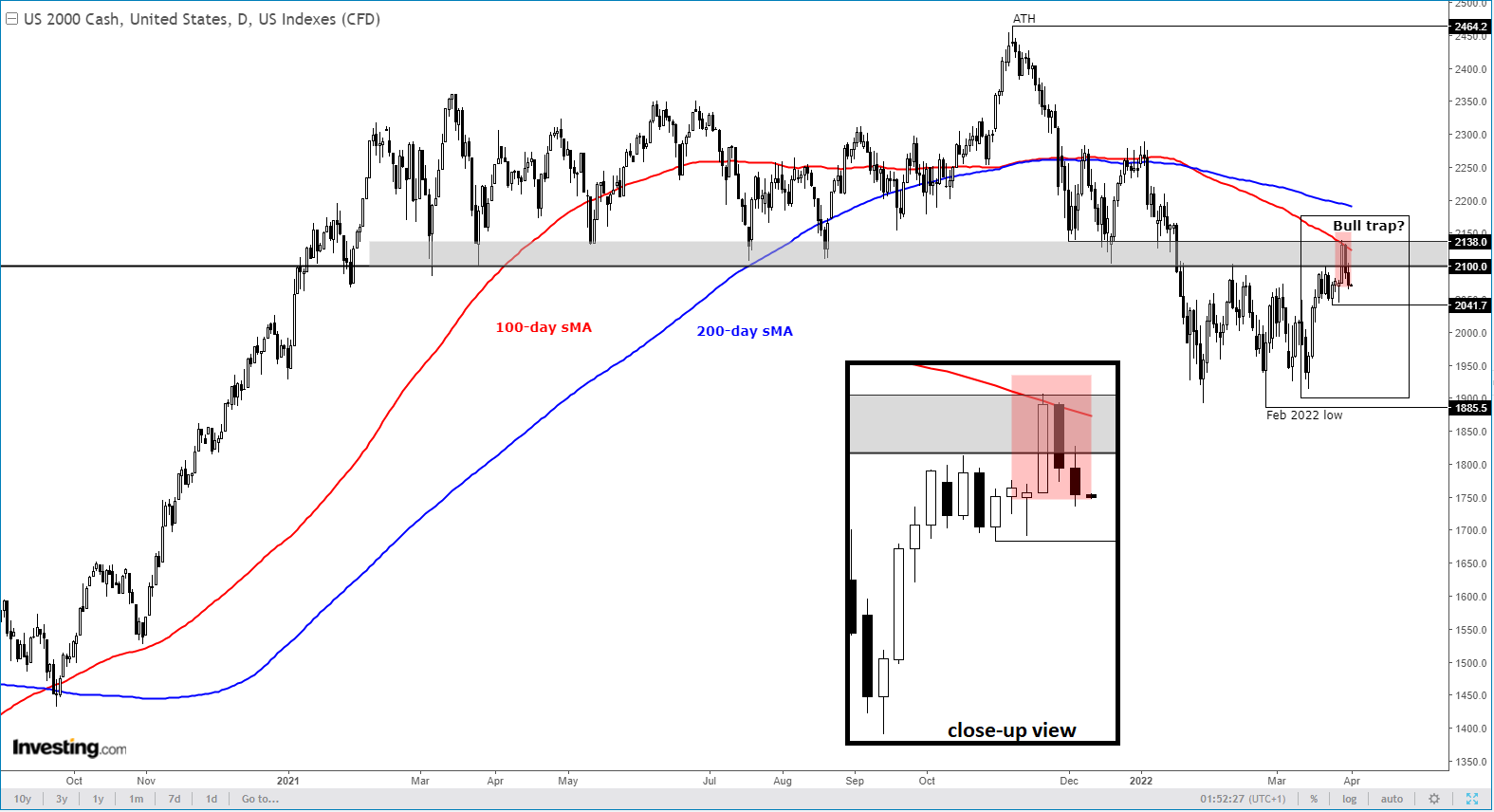 Russell 2000 Daily
The US small-cap index broke a massive level a few days ago around 2100, which then led to follow-up technical buying. But the fact that the index has now fallen back below this level suggests the move higher earlier in the week may have been a bull trap. 
As per the chart, the area around 2100 saw significant support in the past. But after the breakdown at the start of this year, we have seen noticeable selling activity at or around this hurdle. The fact that we saw a failed breakout attempt above 2100 this week further reinforces the bearish case. 
Still, as John Marley, an experienced market commentator, put it nicely in a post…
"While it is the early bird that gets the worm… it's always the SECOND mouse that gets the cheese."
…. We now need to see some confirmation before going full-on bearish, given all the macro uncertainties out there. A break below 2041 would create a lower low and thus a clear bearish signal. 
However, all bearish bets would be off should the Russell clear the 2100-2138 resistance area (shaded) a bit more decisively in the coming days. 
Fundamentally, not a lot has changed in the last few weeks. If anything, hopes over a ceasefire in Ukraine have been repeatedly dashed and there is a good chance for that trend to repeat again in the latest round of talks between the two sides. 
If traders were feeling bearish towards equities then, well now the markets are noticeably higher and therefore at even more attractive levels for the bears to step back in. The ball is in their court.