 1 Stock To Buy, 1 To Dump When Markets Open: ConocoPhillips, KB Home
Stocks on Wall Street ended mostly higher on Friday, with the benchmark scoring its second straight weekly gain as investors seemed to have "shrugged off" worries about the Fed's  at several points this year, while continuing to weigh the potential economic impact of Russia's war in Ukraine.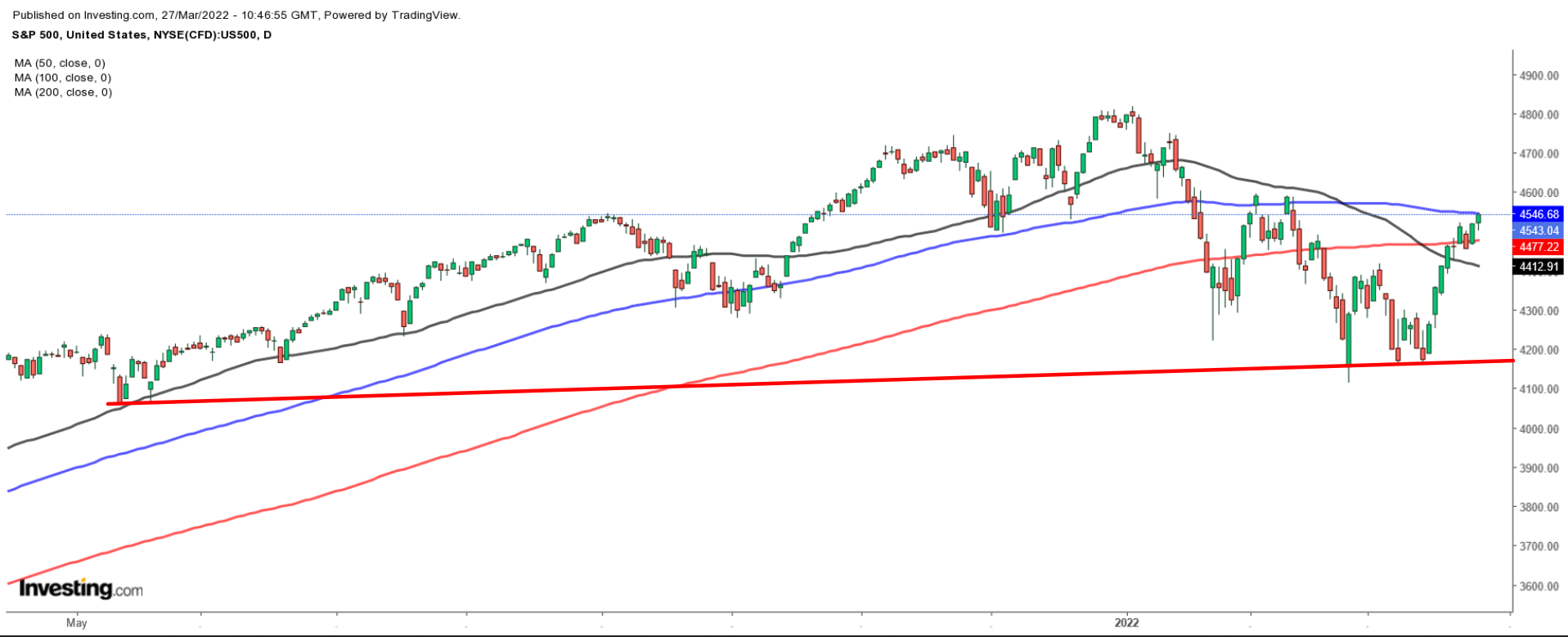 The coming week will see important economic data, including reports on , , and the latest surveys, as well as expected earnings from several notable companies, such as, Micron (NASDAQ:),  (NASDAQ:), Lululemon Athletica (NASDAQ:), and Chewy (NYSE:).
Given the current uncertainty and volatility impacting the market, let's take a closer look at two stocks—one which is likely to be in demand, and one which could see further downside. 
Remember though, our timeframe is just for the upcoming week.
Stock To Buy: ConocoPhillips 
Oil and gas major ConocoPhillips (NYSE:)—which saw its shares surge to a fresh record high on Friday—could see further gains in the week ahead as investors continue to pile into the booming energy sector amid the ongoing rally in U.S.  and prices resulting from geopolitical tensions in Russia and Saudi Arabia.
The company's core business operations involve exploring and producing petroleum, natural gas, liquified natural gas, and related products and its shares have gotten off to one of their best starts ever to a year, gaining 48.9% so far in 2022, thanks to improving energy market fundamentals.
COP ended Friday's session at a new all-time peak of $107.50. At current levels, the U.S. energy giant—which has outperformed other notable names in the thriving sector, such as ExxonMobil (NYSE:), Chevron (NYSE:), EOG Resources (NYSE:), Pioneer Natural Resources (NYSE:), and Devon Energy (NYSE:)—has a market cap of $139.7 billion, making it the world's sixth most valuable energy company.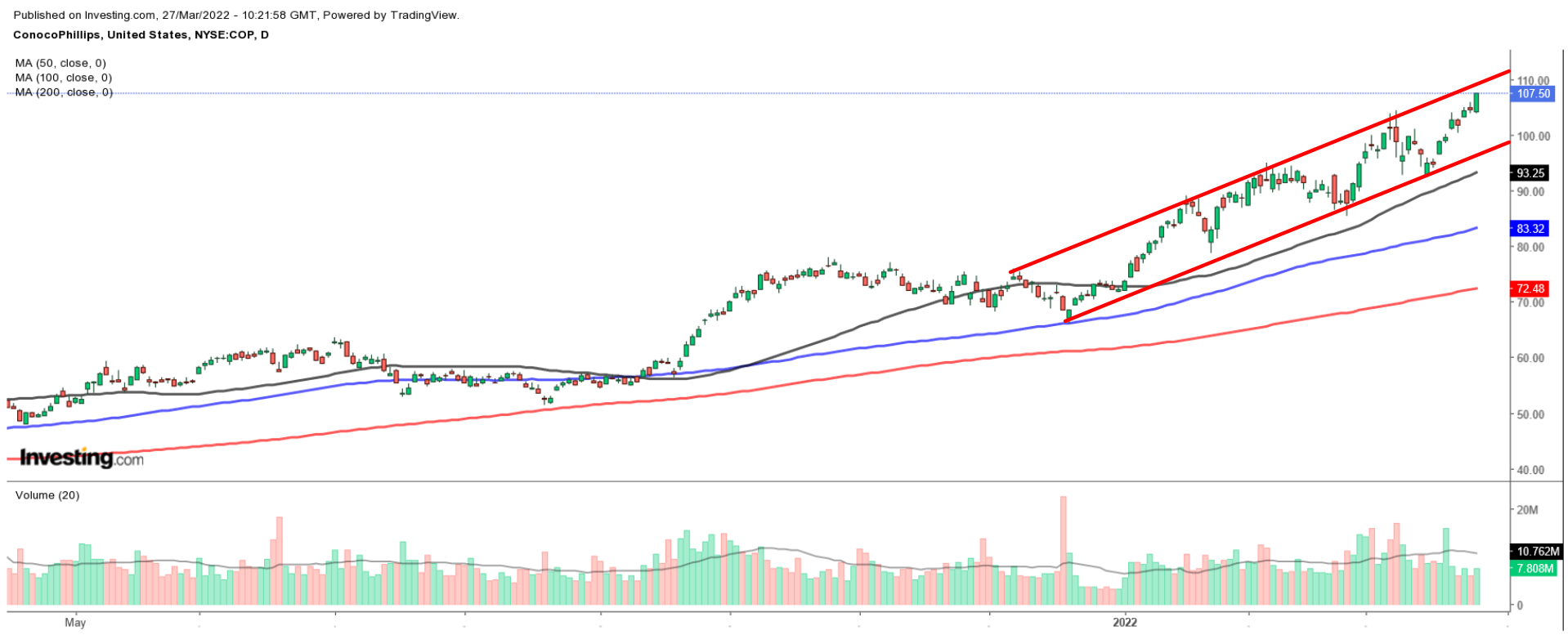 ConocoPhillips is expected to deliver explosive earnings and revenue growth when it next reports financial results on Thursday, May 5, as it benefits from higher commodity prices, improving global demand, and streamlined operations.
Consensus expectations call for the Houston, Texas-based energy producer, which has either matched or beaten Wall Street estimates for , to post Q1 earnings per share of $2.74, soaring a whopping 297% from EPS of $0.69 in the challenging year-ago period.
Meanwhile, revenue is forecast to jump nearly 51% year-over-year to roughly $16.0 billion, reaping the benefits of soaring crude oil and natural gas prices. If confirmed, it would mark the highest quarterly sales total since Q1 2014.
Stock To Dump: KB Home 
After plummeting to a nearly 14-month low last week, shares of KB Home (NYSE:) are expected to suffer another dismal week as investors react to a plethora of negative developments plaguing one of America's largest homebuilding companies.
KBH is down 24.7% year-to-date compared to the S&P 500's 4.7% decline, closing Friday's session at $33.69, its lowest level since January 2021. At current levels, the Los Angeles, California-based home builder has a market cap of $2.97 billion.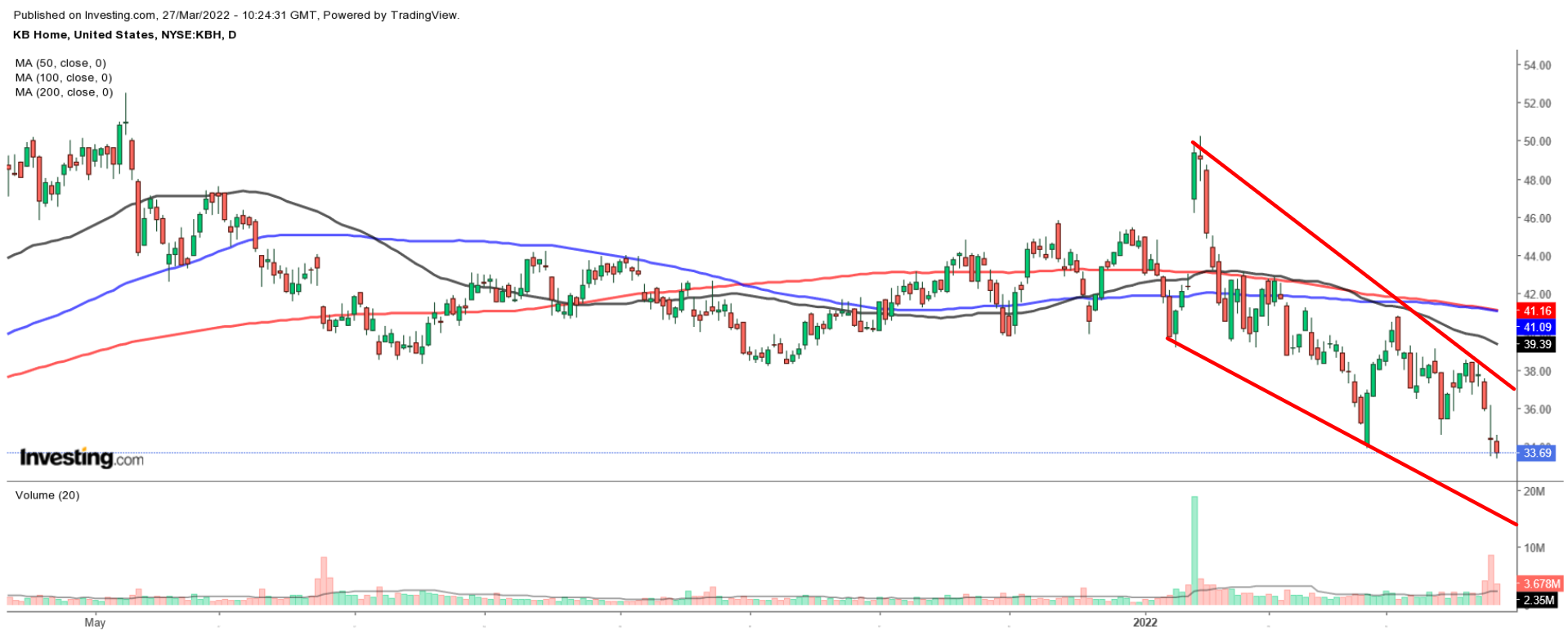 Sentiment on the out-of-favor name took a big hit last week when KB Home reported which saw both earnings and revenue expectations for its fiscal first quarter amid the current environment.
The company, which primarily builds single-family homes for first-time buyers, said it was dealing with intensifying supply chain issues and labor shortages that hindered its ability to complete home construction.
KB Home delivered 2,868 homes for the three-month period ending in February, roughly even with the year before, and below estimates for deliveries of 3,180 homes. Housing-related stocks are also likely to face increasing headwinds from fast-rising mortgage rates, which recently climbed to their highest levels in almost three years at 4.95%. The average rate on the 30-year fixed mortgage is now roughly 65% higher than it was one year ago, making it harder for first-time buyers to finance a home purchase.
Indeed, official data released last week showed that U.S. fell for the second month in a row in February, while sank for the fourth straight month, setting a grim tone as the housing market enters the busy Spring season.