 3 Stocks To Watch In The Coming Week: Micron, Walgreens Boots Alliance, Uber
Investors seem to have moved past the Fed's new, more hawkish stance, and seem unfazed by stagflation concerns as they pursue value in an array of beaten-down stocks. 
That appeared to be the theme last week when all three major averages notched their second consecutive winning weeks. The rose 0.3% for the week; the gained 1.8%, and the rallied nearly 2% over the same period.
The S&P 500 is currently up about 3.9% in March, more than erasing its losses since Russia invaded Ukraine in late February. The rebound in equities is accelerating notwithstanding there's no end in sight for the Ukraine incursion. In addition, interest rates are likely headed higher with the Federal Reserve expected to several additional rate hikes this year.
Even as this geopolitical and interest rate uncertainty continues, investors will also be getting the latest quarterly reports from some of the largest US companies which could provide additional insight into consumer demand and the impact of supply-chain disruptions.
Below are three important stocks we'll be focusing on during the upcoming week:
1. Micron Technology
Semiconductor giant Micron Technology (NASDAQ:) will report fiscal Q2 2022 earnings on Tuesday, Mar. 29, after the close. The memory and storage chip manufacturer is estimated to show $1.98 in profit per share on $7.53 billion in revenues.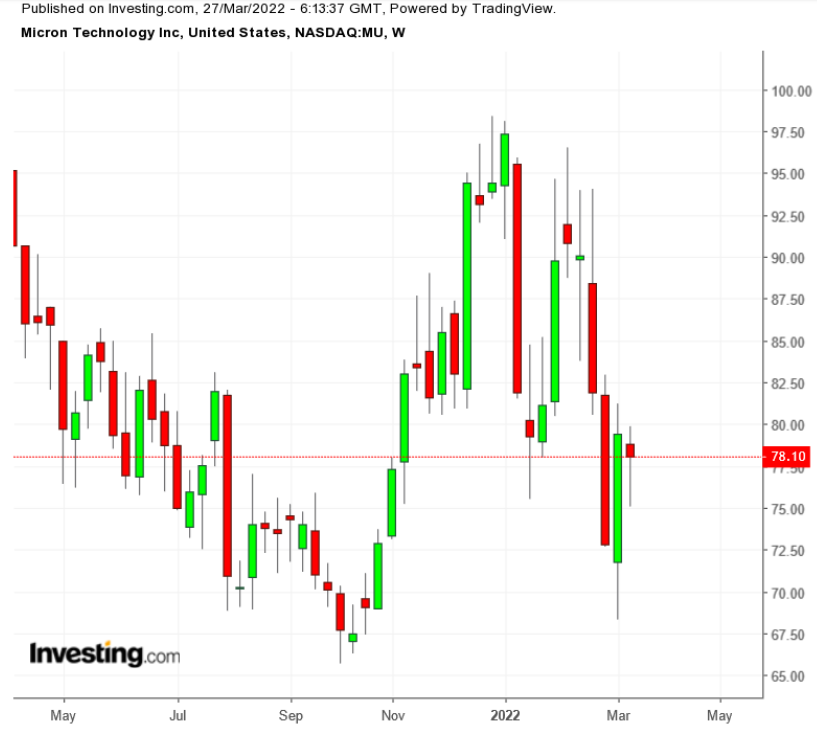 The largest US maker of memory chips provided an upbeat forecast in December for its , helped by demand from networking, data center and automotive customers.
Under Chief Executive Officer Sanjay Mehrotra, Micron is benefiting from the use of memory chips in a wider range of products—from cars to home appliances. That's made the Boise, Idaho-based company less dependent on the personal computer and smartphone market for revenue. 
Micron stock closed at $78.10 on Friday, down 16% for the year, underperforming the benchmark Philadelphia Semiconductor Index (), which surged more than 100% over the same period.
2. Walgreens Boots Alliance
Walgreens Boots Alliance (NASDAQ:), the second-largest pharmacy operator in the US, will report fiscal year 2022, second quarter earnings on Thursday, Mar. 31 before the market opens. Analysts expect an EPS of $1.37 a share in the quarter on revenues of $33.18 billion.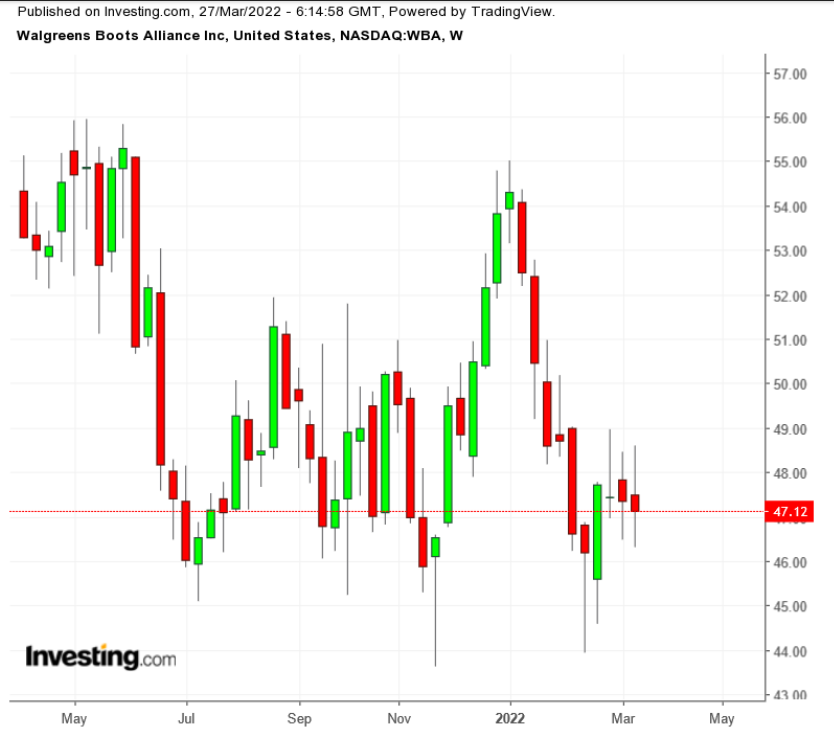 The Deerfield, Illinois-based company is facing threats from widespread theft by organized gangs, as well as free government-mandated COVID-19 tests, all of which are casting doubt on its rosy outlook for the coming year.  
The drug-store chain in January raised its full-year adjusted earnings outlook to low-single-digit growth from flat following a that crushed Wall Street analysts' expectations.
The company benefited from the pandemic as it administered millions of vaccines to Americans who tended to spend on other items as well when they visited the pharmacies. Walgreens shares closed on Friday at $47.12 after falling more than 10% in 2022.
3. Uber Technologies 
Uber Technologies (NYSE:) a 30-month license to continue operating in London, ending an extended battle with city regulators over whether the ride-hailing app was "fit and proper."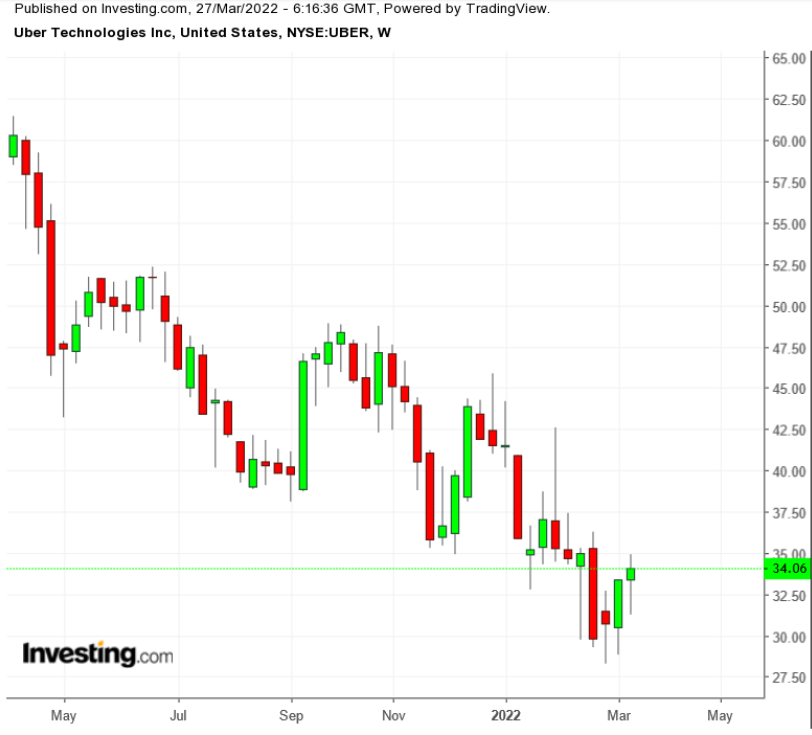 A Transport for London spokesperson said to Reuters in a statement Saturday: 
"Uber has been granted a London private hire vehicle operator's license for a period of two and a half years." 
The move ends a years-long dispute with the agency—after the company got its license revoked twice in the English capital city, once in 2017 and a second time in 2019. London is one of the San Francisco-based ride-hailing company's most lucrative markets.  Authorities were concerned about the company's ability to keep passengers safe. 
Early this month, Uber raised its forecast for earnings for the current quarter. Adjusted earnings before interest, tax, depreciation and amortization (EBITDA) are expected to come in at between $130 million to $150 million. That's higher than the $100 million to $130 million Uber projected when it announced last month and more than the $120.4 million analysts were projecting, according to data compiled by Bloomberg. 
Uber shares closed on Friday at $34.06, down 19% this year.