 As Chewy Stock Searches For A Bottom, Long-Term Investors Could Add It On The Dips
This article was written exclusively for Investing.com
CHWY: Elevator up, elevator down
Pandemic bullish for CHWY
Earnings soured
Analysts still love the stock
Bottom fishing CHWY for the future
Americans love their pets and spend lots of money to feed, entertain and keep them healthy. Chewy (NYSE:), the pure-play e-commerce business allows pet-loving consumers to purchase pet food and treats, supplies, medications and other pet products for their furry friends online. CHWY offers its customers approximately 70,000 products from 2,500 partner brands. Headquartered in Dania Beach, Florida, Chewy has been in operation for a dozen years.
As a pet owner, I can attest that the company's customer service is nothing short of incredible. From its customer service phone team to its emails and deliveries, CHWY's staff goes the extra mile to demonstrate they care about the pets as much as their owners.
CHWY: Elevator Up, Elevator Down
Chewy began trading on the NYSE in June 2019. The stock opened at $37.60 per share.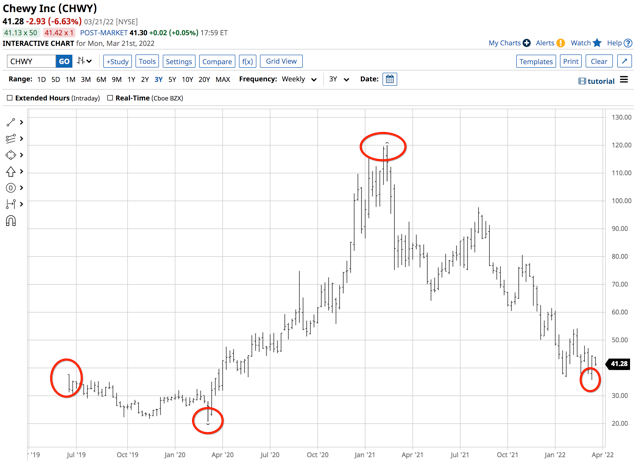 Chewy Weekly Chart.
Source: Barchart
The chart highlights that CHWY shares fell to a low of $20.62 in March 2020, when the global pandemic gripped markets across all asset classes. The stock then exploded higher as the e-commerce company saw the demand for pet product delivery soar during COVID lockdowns.
Chewy shares reached a high of $120 in February 2021, when they imploded. After making lower highs and lower lows over the past 13 months, CHWY fell to its most recent low of $35.59 last week, below its opening price from June 2019. However, it closed on Tuesday at $45.42. Still, should it reverse below the $42 level, CHWY would return to a bearish trend.
Pandemic Bullish For CHWY
CHWY was one of a group of companies that experienced explosive share price action during the height of the global pandemic. Zoom Video Communications (NASDAQ:), Teladoc (NYSE:) and other stocks became pandemic darlings.
However, as vaccines and treatments helped return life and business to pre-COVID-19 conditions and lockdowns ended, the pandemic stocks, including CHWY, imploded, giving up all their gains.
Earnings Soured
Over the , CHWY's profits have shifted from feast to famine.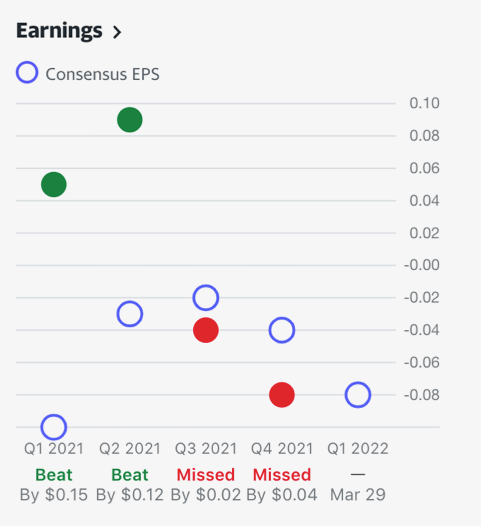 Earnings Performance Chart.
Source: Yahoo Finance
Earnings of 5.0 cents and 9.0 cents per share in Q1 and Q2 2021 turned to losses of 4.0 cents and 8.0 cents in Q3 and Q4 2021. Moreover, after beating consensus estimates in the first half of 2021, the company underperformed the forecasts in the second half of last year.
The underperformance caused market sentiment to reverse, putting additional pressure on CHWY shares.
Analysts Still Love The Stock
The annual revenues for CHWY show that the business continues to grow.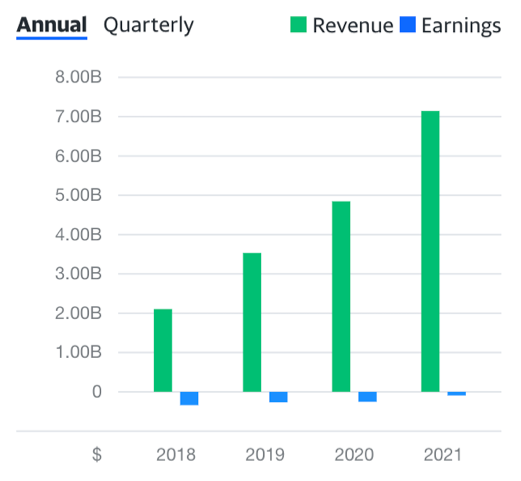 Chewy Revenue And Earnings Graph.
Source: Yahoo Finance
From 2018 through 2021, revenues steadily increased while losses declined.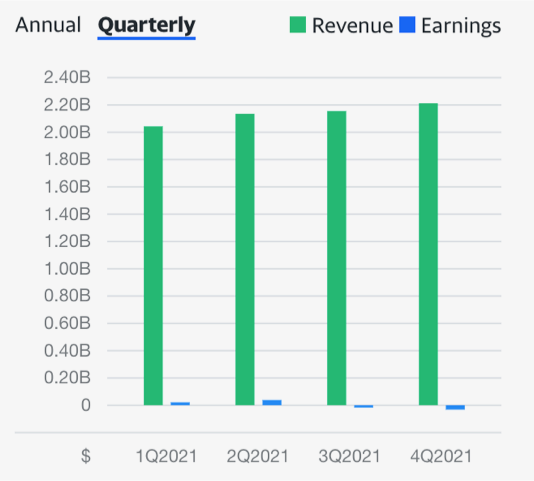 Chewy Revenues And Earnings In Last Four Quarters.
Source: Yahoo Finance
Over the past four quarters, the revenue increases have been marginal, and the losses have increased.
Like with all companies, rising inflation pushes CHWY's costs higher, while consumers are price sensitive in the pet supplies market. Customers may love their pets, but cutting corners is critical in the current economic environment with all prices rising.
Meanwhile, analysts continue to favor the upside for CHWY shares. A survey of 22 analysts by Investing.com has an average price target of $72.46 per share, with forecasts ranging from $43 to $133.
Source: Investing.com
The stock is currently hovering near the band's bottom end, though as of its most recent close, trading above $43 per share.
Bottom Fishing CHWY For The Future
With CHWY still near its opening IPO price of June 2019, the stock offers value. CHWY soared with a group of pandemic stocks, then sank along with them.
I am a CHWY patron and have found the company's customer service is nothing short of amazing. I believe that we will look back at these low share prices and consider them a bargain in retrospect. CHWY could be a portfolio's best friend in the coming years, much like the pets they service.
It is impossible to pick tops or bottoms in any market. Bullish and bearish trends can take prices to illogical, unreasonable and irrational levels on the up- and the down-side. I favor a scale-down approach to CHWY, leaving room to add shares on any further declines.