 Ford: Time To Take Advantage Of The Automaker Stock's Current Slump?
Shares of Ford Motor (NYSE:) are in deep bearish territory. Since mid-January, the Dearborn, Michigan-based automobile company has lost more than a third of its market value, massively underperforming the benchmark indices.
Ford closed on Monday at $16.48, 34% lower from its Jan. 14 high when its market cap hit over $100-billion for the first time. A disappointing in February helped deepen the sell-off.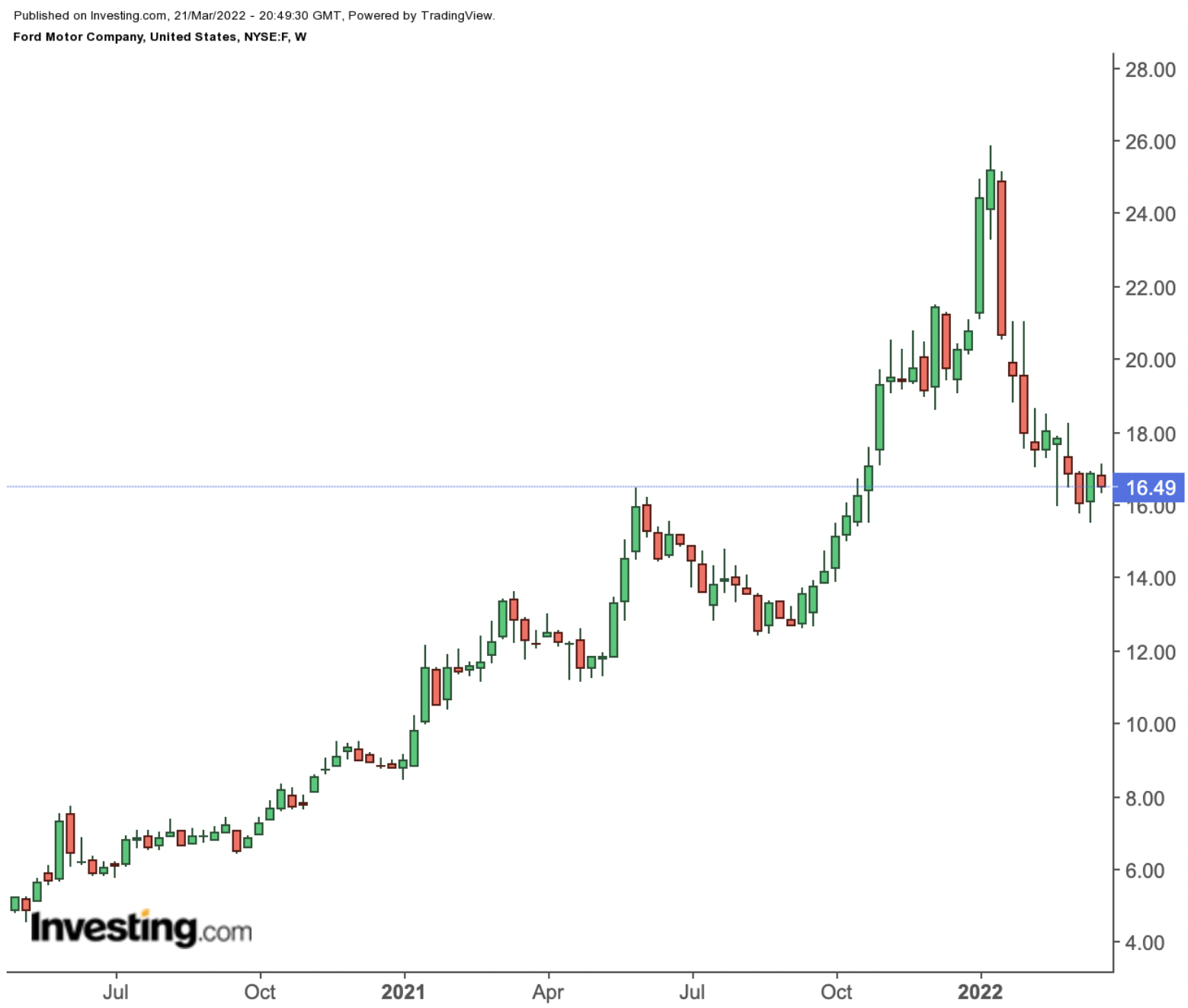 However, this steep decline now has investors wondering: is weakness in the world's fourth-largest car producer a buying opportunity?
There is no doubt that Ford has successfully created some excitement around its turnaround plans during the past year. After many years of missteps, its CEO Jim Farley has been able to craft clear messaging on the company's ambitions in the fast-growing electric vehicle market.
CEO Farley said in a statement:
"We are going all in, creating separate but complementary businesses that give us startup speed and unbridled innovation."
In its latest move, announced early this month, Farley will separate Ford's EV operations from its legacy combustion engine business, creating two units: the Model e unit and Ford Blue. The former will scale up the automaker's EV offerings and develop software and connected-vehicle technology and services for all of the company; the latter will focus on combustion vehicles, cutting costs, and simplifying operations.
A Long-Term Bet
As that historic transformation picks up steam, Ford also plans to spend $50 billion to scale its EV production in the next four years. This massive diversion of resources aims to drive Ford's production capability up to 2 million electric vehicles annually by 2026. The automaker has already tripled the output of its electric Mustang Mach-E in Mexico and doubled production of the F-150 Lightning going on sale this spring.
Assuming these plans take shape as the company envisions, Ford's current slump offers a good entry point to long-term investors who have at least a five-year investment horizon.
However, in the short run, things don't look that promising. Lingering supply-chain disruptions, chip shortages, and higher commodity prices weigh on vehicle deliveries to dealers. Ford last month missed estimates for quarterly earnings and cautioned it might get off to a slow start to the year due to supply chain issues.
In addition to industry-wide supply challenges, the macroeconomic outlook worsens with inflation accelerating and interest rates going up.
Jefferies last week cut Ford's price target to $18 per share from $20, saying the company's exposure to Europe could be a pressure point for the stock. In a note to clients, it said:
"While still flying blind, we also start adjusting estimates to a stagflationary environment of higher input costs, continued supply constraints no longer improving mix/price and potential demand destruction."
These concerns also appeared in an Investing.com poll of 21 analysts.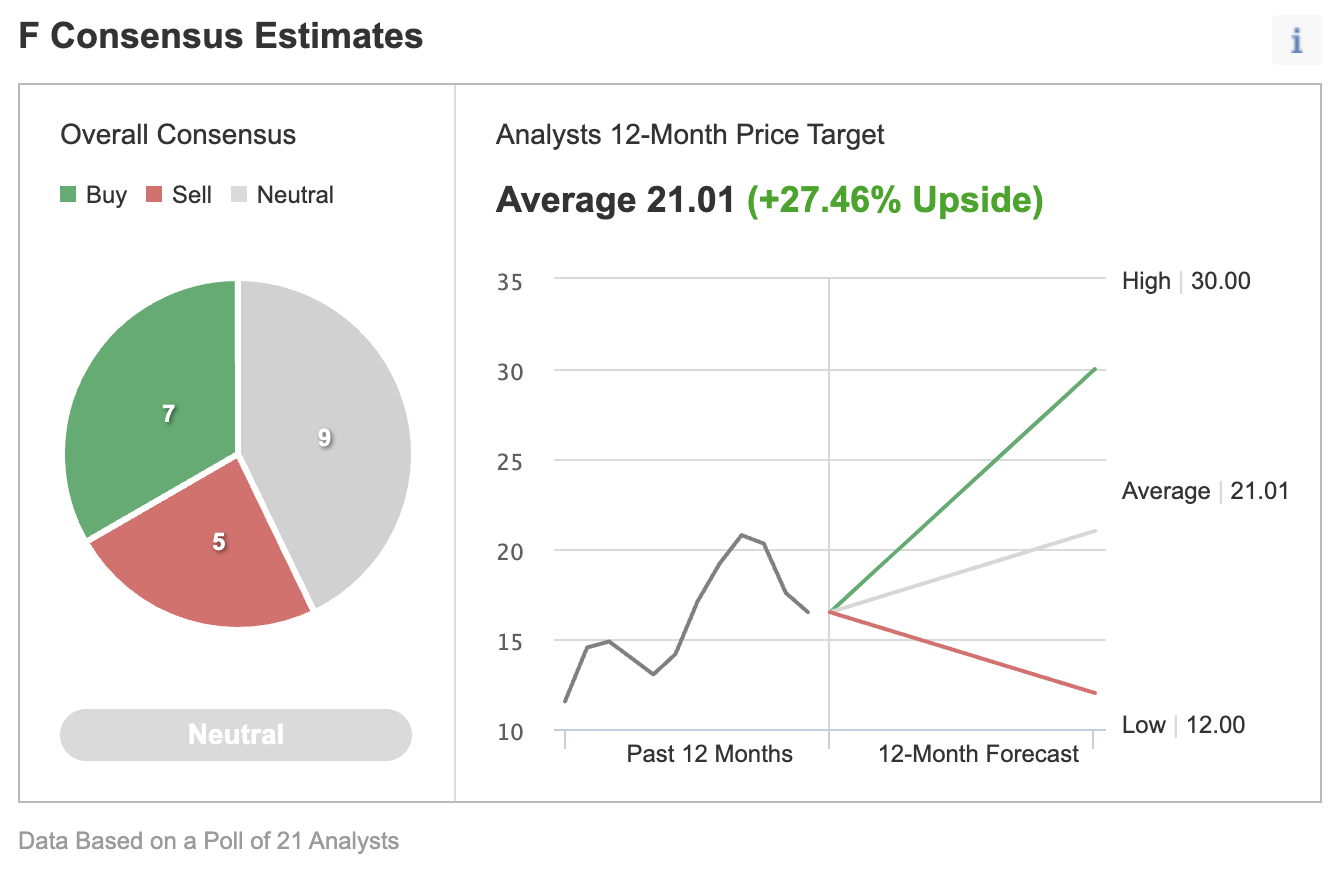 Source: Investing.com
Nine analysts rate the stock neutral, while five consider it a sell.
Bottom Line
Ford is a solid long-term bet for investors looking to benefit from its transformation into an EV maker among the legacy car companies. After the recent sell-off, the stock's current price offers a good entry point for a company generating strong cash flows from its combustion operations which the automaker can deploy to expand into the EV market.