 Convinced Airbnb Shares Are Recovering? 2 Possible Trades Plus A Bull Call Spread
Home-share rental leader Airbnb stock price is flat year-to-date
Demand in Europe is a concern while the Ukraine-Russia conflict continues
Long-term investors could consider buying ABNB shares at current levels
Accommodation and experiences platform Airbnb (NASDAQ:) stock is up just 0.3% since the start of 2022. Also, the shares have lost 14.1% in the past 12 months. By comparison, the Index is up 10.9% in the past 52 weeks.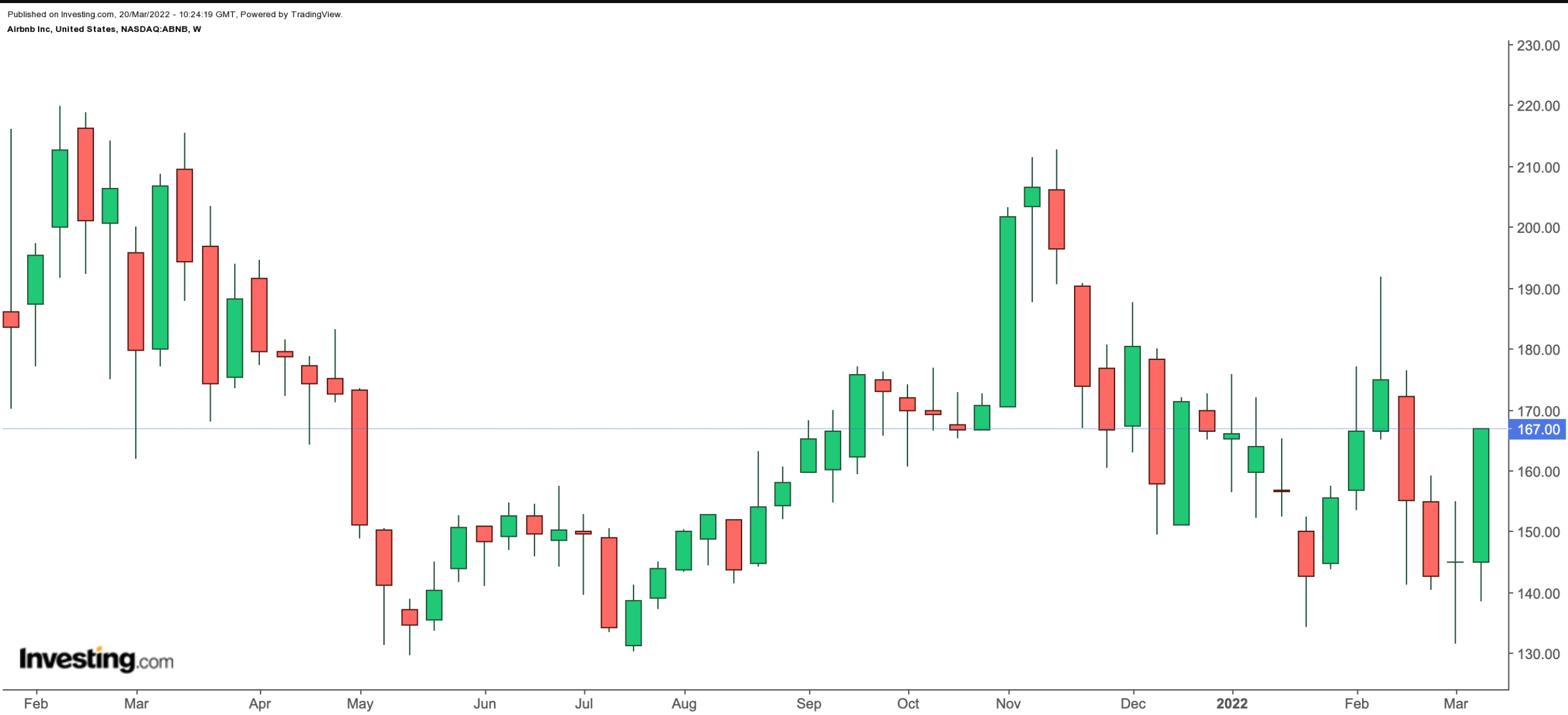 On Nov. 17, 2021, shares in the San Francisco-headquartered, travel website pushed past $212 to hit a record high. The stock's 52-week range has been $129.71-$212.58, while the market capitalization (cap) stands at $107.4 billion.
Recent metrics suggest that short-term rental listings on Airbnb comprise around a fifth of the lodging offerings in the US. In the last month, its website got 78.4 million visits, where the average visit lasted close to 9 minutes.
In mid-February, the company issued its Q4 and full year financials. totaled $1.5 billion, up 78% year-over-year (YoY), and surpassed Q4 2019 levels by 38%. Net income was $55 million, the strongest fourth quarter ever and the gross booking value of $11.3 billion beat the Street's estimates.
During Q1, Airbnb expects to generate $1.41-1.48 billion in revenue. In its shareholder letter, management expressed optimism for future months and noted:
"For the first time since the pandemic began, we expect Q1 2022 Nights and Experiences Booked to significantly exceed Q1 2019 levels, which we believe will result in our strongest quarterly Nights and Experiences Booked on record."
Prior to the release of the Q4 results, Airbnb stock was around $180 and as of Friday close, it stands at $167 which is a 7% slide since the earnings announcement.
What To Expect From Airbnb Stock
Among 39 analysts polled via Investing.com, ABNB stock has a "neutral" rating.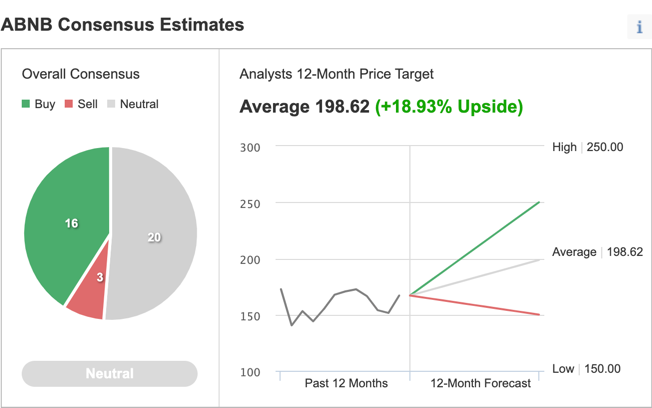 Chart: Investing.com
Wall Street also has a 12-month median price target of $198.62 for the stock, implying an increase of more than 18% from current levels. The 12-month price range currently stands between $150 and $250.
However, according to a number of valuation models, including P/E or P/S multiples or terminal values, the average fair value for Airbnb stock on InvestingPro stands at $145.66.
In other words, fundamental valuation suggests shares of the travel facilitator could decrease close to 13%.
We can also look at Airbnb's financial health as determined by ranking more than 100 factors against peers in the consumer discretionary sector.
For instance, in terms of cash flow and growth, it scores 4 out of 5. Its overall score of 3 points is a good performance ranking.
At present, ABNB's P/B and P/S ratios are 22.2x and 17.7x. Comparable metrics for peers stand at 2.1x and 8.6x, respectively. These numbers show that despite the recent decline in price, the fundamental valuation for ABNB stock is still on the rich side.
Our expectation is for Airbnb stock to build a base between $150 and $175 in the coming weeks. Afterwards, shares could potentially start a new leg up.
Adding ABNB To Portfolios
Airbnb bulls who are not concerned about short-term volatility could consider investing now. Their target price would be $198.62, the analysts' forecast.
Alternatively, investors could consider buying an exchange-traded fund (ETF) that has ABNB stock as a holding. Examples include:
First Trust US Equity Opportunities ETF (NYSE:)
ETFMG Travel Tech ETF (NYSE:)
AdvisorShares Hotel ETF (NYSE:)
SoFi Gig Economy ETF (NASDAQ:)
Finally, investors who expect ABNB stock to bounce back in the weeks ahead could consider setting up a bull call spread.
Most option strategies are not suitable for retail investors. Therefore, the following discussion of ABNB stock is offered for educational purposes and not as an actual strategy to be followed by the average retail investor.
Bull Call Spread On Airbnb Stock
Price At Time Of Writing: $167
In a bull call spread, a trader has a long call with a lower strike price and a short call with a higher strike price. Both legs of the trade have the same underlying stock (i.e., Airbnb) and the same expiration date.
The trader wants ABNB stock to increase in price. In a bull call spread, both the potential profit and the potential loss levels are limited. The trade is established for a net cost (or net debit), which represents the maximum loss.
Today's bull call spread trade involves buying the June 17 expiry 170 strike call for $16.10 and selling the 180 strike call for $11.85.
Buying this call spread costs the investor around $4.25, or $425 per contract, which is also the maximum risk for this trade.
We should note that the trader could easily lose this amount if the position is held to expiry and both legs expire worthless, i.e., if the ABNB stock price at expiration is below the strike price of the long call (or $170 in our example).
To calculate the maximum potential gain, we can subtract the premium paid from the spread between the two strikes, and multiply the result by 100. In other words: ($10 – $4.25) x 100 = $575.
The trader will realize this maximum profit if the Airbnb stock price is at or above the strike price of the short call (higher strike) at expiration (or $180 in our example).
Bottom Line
In recent months, Airbnb stock has come under significant pressure and the share price decline has improved the margin of safety for buy-and-hold investors who could consider investing soon.
Alternatively, experienced traders could also set up an options trade to benefit from a potential run-up in the price of Airbnb stock.