 1 Stock To Buy, 1 To Dump When Markets Open: DraftKings, FedEx
Stocks on Wall Street ended sharply lower on Friday, with the benchmark suffering its second straight weekly loss, as investors remain cautious about the .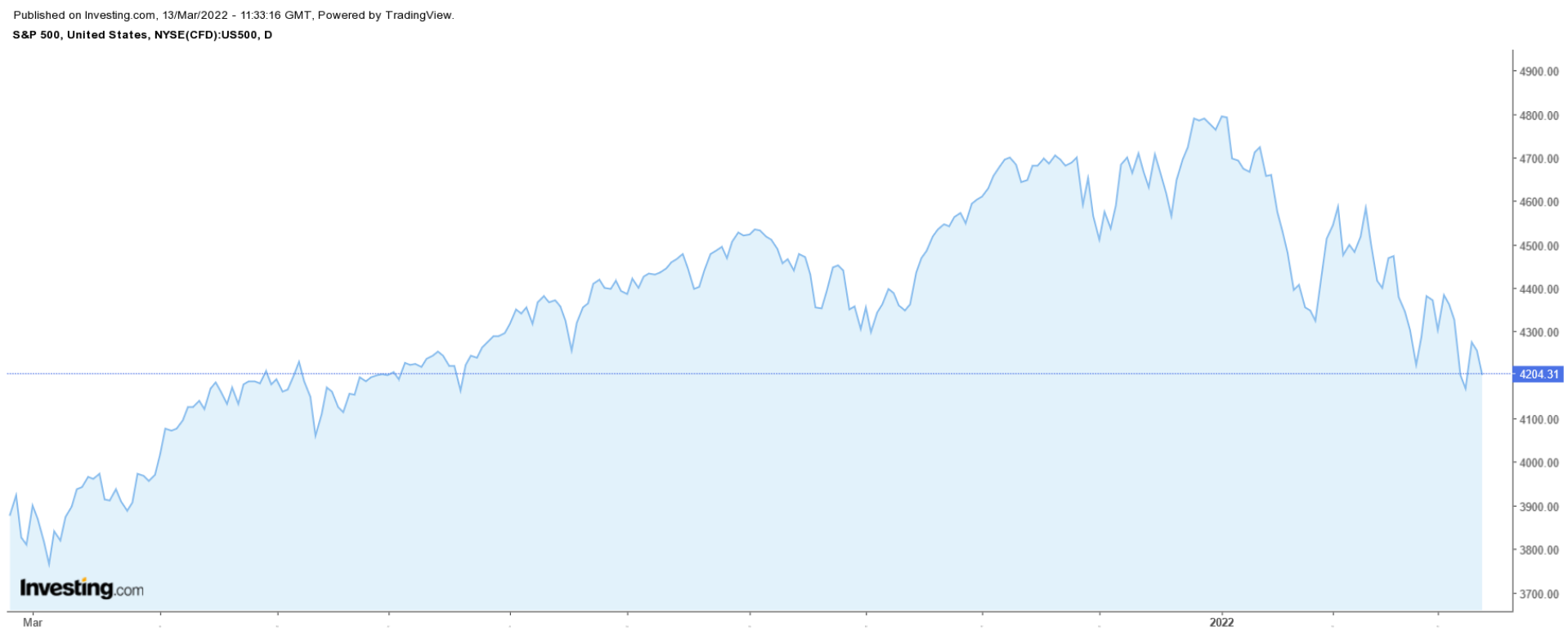 The week ahead is expected to be another eventful one as the Federal Reserve is to for the first time since December 2018 at the conclusion of its widely anticipated policy meeting on Wednesday.
In addition to the Fed, this week's agenda also consists of important and data. Meanwhile, investors will continue to monitor smoldering geopolitical tensions between Russia, Ukraine, and Western powers.
Regardless of which direction the market goes, below we highlight one stock likely to be in demand and another which could see further downside.
Remember though, our timeframe is just for the upcoming week.
Stock To Buy: DraftKings
The 2022 NCAA Basketball Tournament, also known as 'March Madness,' or the 'Big Dance,' is set to kick off this week. The wildly popular college basketball extravaganza—a 67-game slate played over 20 days across multiple venues across the country—starts on Tuesday, Mar. 15, with the championship game to be played in New Orleans on Monday, Apr. 4.
Last year saw the NCAA tournament severely impacted by restrictions related to the COVID-19 pandemic, including playing all tourney games exclusively in Indiana. It was the first time in the history of the tournament that a single state had hosted the event in its entirety. As such, the 2022 edition of March Madness could potentially be more popular than ever, given pent-up demand for the competition.
With sports betting now legal in 30 states, this year's college basketball tournament is expected to be the most wagered-on sporting event in history. According to projections from industry group PlayUSA, legal gambling on the 2022 NCAA tourney could jump to as much as $3 billion at regulated U.S. sportsbooks, easily topping the 2021 NCAA Tournament as the most bet-on sporting event in U.S. history.
As opposed to other popular sports betting events like football's Super Bowl or soccer's World Cup final, the NCAA tournament benefits from having several games to wager on. That should bode well for DraftKings (NASDAQ:), which is widely considered the leader in the online sports gambling industry.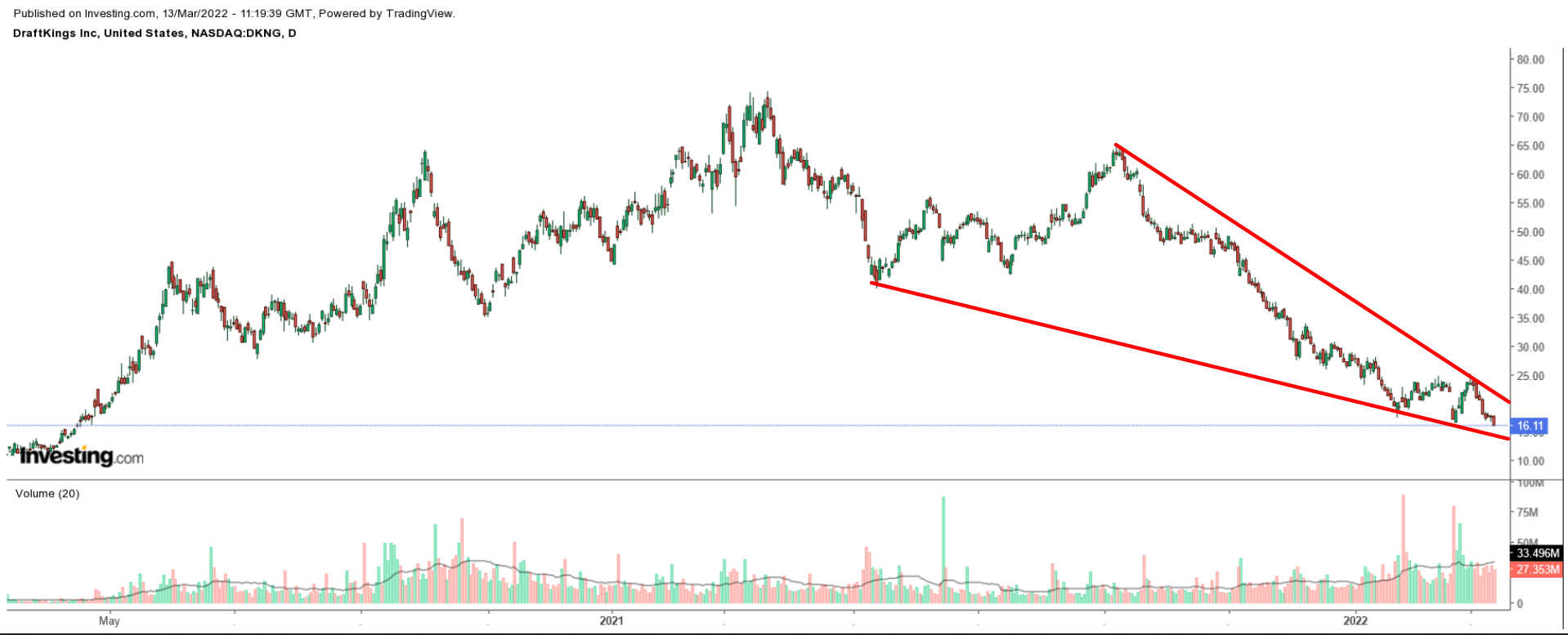 DKNG ended Friday's Wall Street session at a two-year low of $16.11, earning the Boston, Massachusetts-based sportsbook operator a valuation of $6.5 billion. The online gambling specialist—which went public through a special purpose acquisition company (SPAC) in April 2020—has seen its shares underperform the broader market this year as Americans headed back to brick-and-mortar casinos in greater numbers amid the reopening economy.
Year-to-date, DraftKings is down 41%, compared to the S&P 500's 11.5% drop over the same timeframe. Shares are now more than 78% below their record high of $74.32 touched in March 2021.
Stock To Dump: FedEx
FedEx (NYSE:), which has seen its shares collapse to a 19-month low in recent sessions, is forecast to suffer another volatile week as investors brace for disappointing financial results from the shipping giant, widely viewed as a barometer of the global economy.
The package delivery company's financial results for its fiscal third quarter ending in February are due after the U.S. market closes on Thursday, Mar. 17. Consensus calls for earnings per share of $4.68, improving nearly 35% from EPS $3.47 in the year-ago period. Revenue, meanwhile, is forecast to rise less than 9% to $23.4 billion. If confirmed, that would mark the slowest pace of sales growth since Q3 2020.
Beyond the top-and-bottom numbers, market players will focus on FedEx's guidance for profit and sales for the coming year amid the current inflationary environment. We believe that FedEx is likely to suffer a further slowdown in growth in the months ahead due to the negative impact of surging and fuel prices on its core business.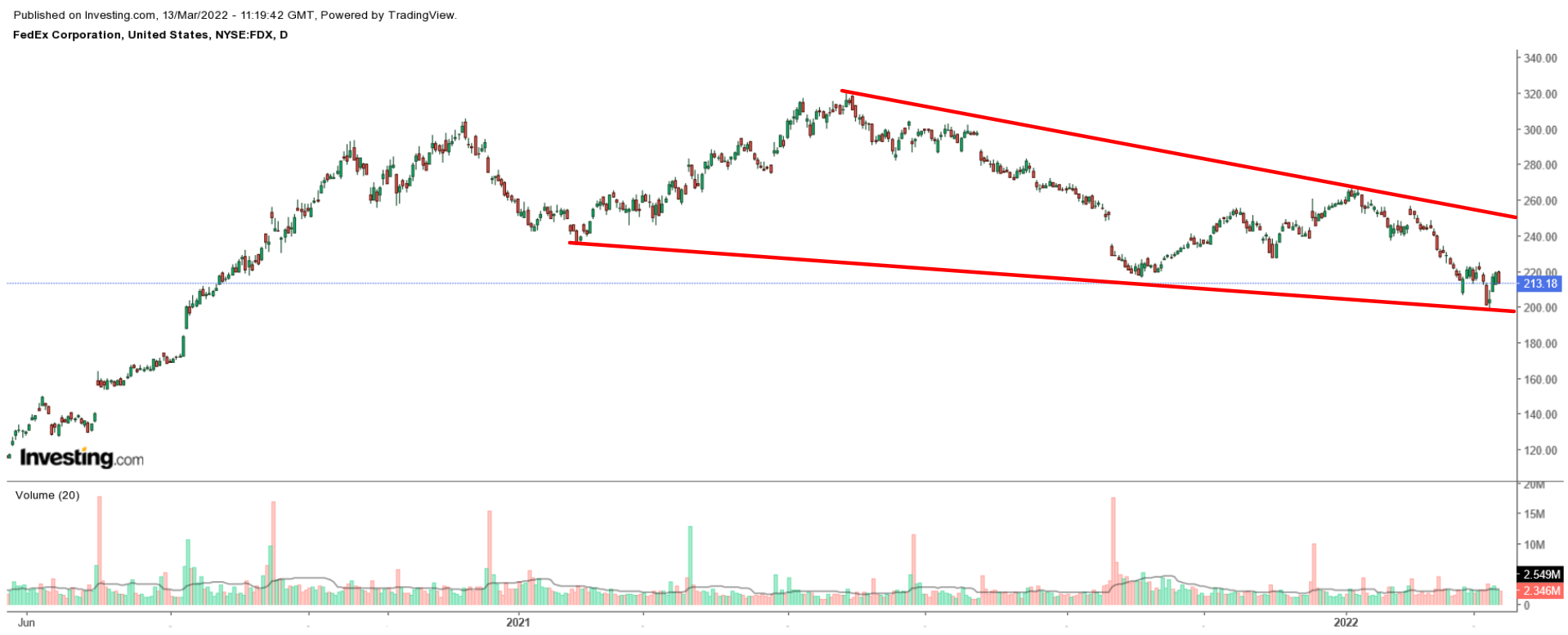 Wednesday saw FDX shares sink to their lowest level since August 2020 at $199.03, before rebounding slightly to close at $213.18 on Friday. At current levels, the Memphis, Tennessee-based shipping giant—which is down 17.6% year-to-date and about 33% away from a record peak of $319.90 reached in May 2021—has a market cap of around $56.5 billion.
From a technical standpoint, FedEx stock has fallen below key price levels in recent sessions, including its 50-day, 100-day, and 200-day moving averages, which usually signals more losses ahead as sellers are in control.