 1 Stock To Buy, 1 To Dump When Markets Open: Exxon Mobil, Visa
Stocks on Wall Street ended sharply lower on Friday, with the notching its fourth losing week in a row, amid escalating tensions related to the Russia-Ukraine crisis.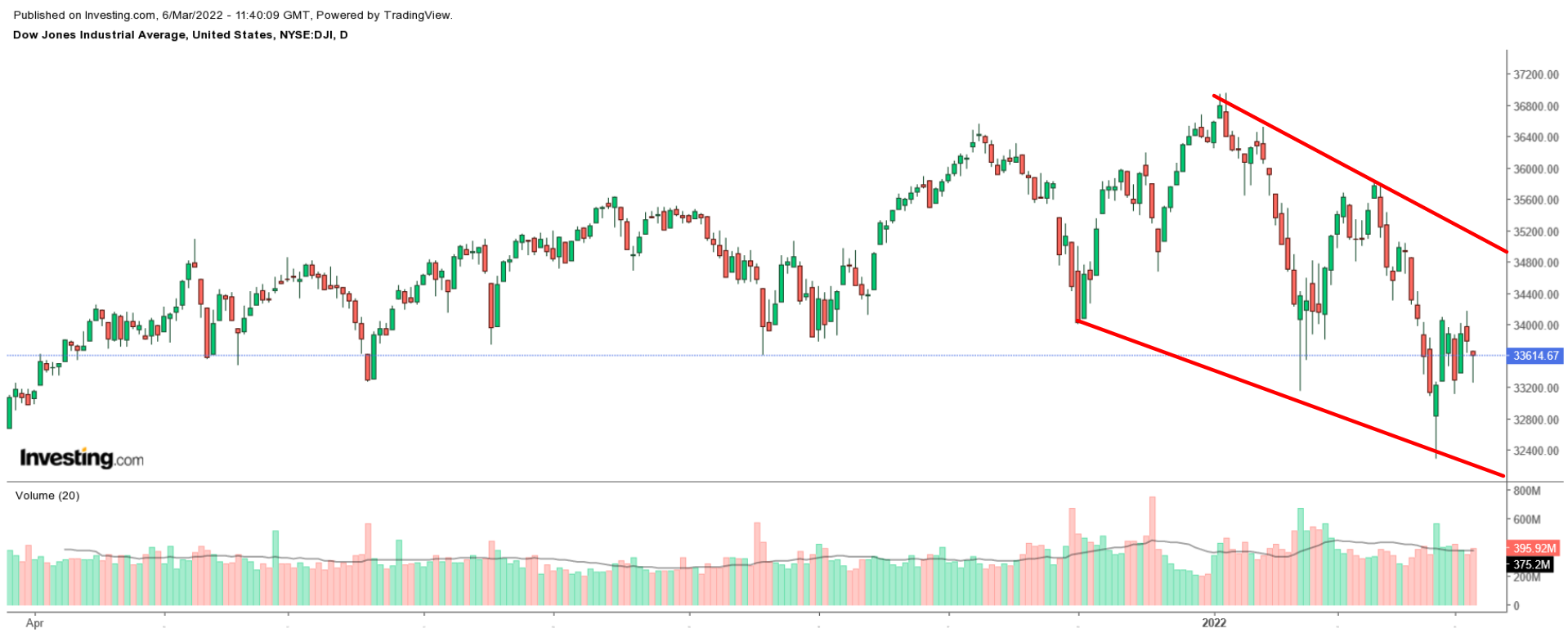 The week ahead is expected to be another busy one as investors continue to monitor geopolitical developments between Russia, Ukraine, and Western powers.
In addition, important economic data, including the latest report on inflation for February will be released, which could show the highest reading since 1981.
will also be presenting their latest quarterly earnings, including DocuSign (NASDAQ:), CrowdStrike (NASDAQ:), Oracle (NYSE:), Rivian Automotive (NASDAQ:), and Campbell Soup (NYSE:).
Regardless of which direction the market goes, below we highlight one stock likely to be in demand and another which could see further downside.
Remember though, our timeframe is just for the upcoming week.
Stock To Buy: Exxon Mobil 
Exxon Mobil (NYSE:)—which saw its shares spike to their highest level in almost four years on Friday—could see further gains in the coming week as investors continue to pile into the booming energy space amid the furious rally in oil prices.
XOM has gotten off to one of its best starts to a year in history, ending Friday's session at $84.09, the highest since October 2018. At current levels, the Irving, Texas-based oil-and-gas giant has a market cap of $356 billion.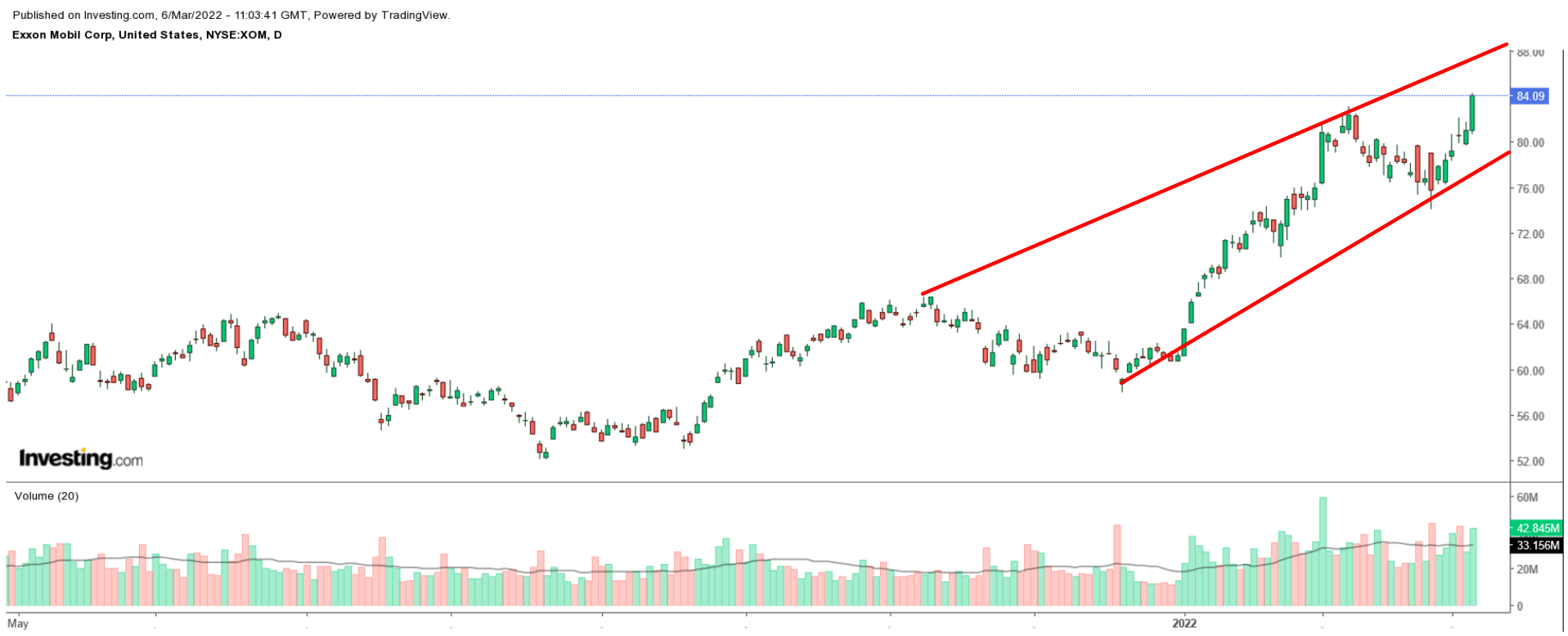 Year-to-date, Exxon shares have climbed 37.4%, easily outperforming the 's 9% decline over the same timeframe, as the energy major from higher commodity prices, improving global demand, and streamlined operations.
Crude futures enjoyed their  since mid-2020 last week, with U.S. and , the global benchmark, soaring 26% and 21%, respectively, to levels not seen since 2008.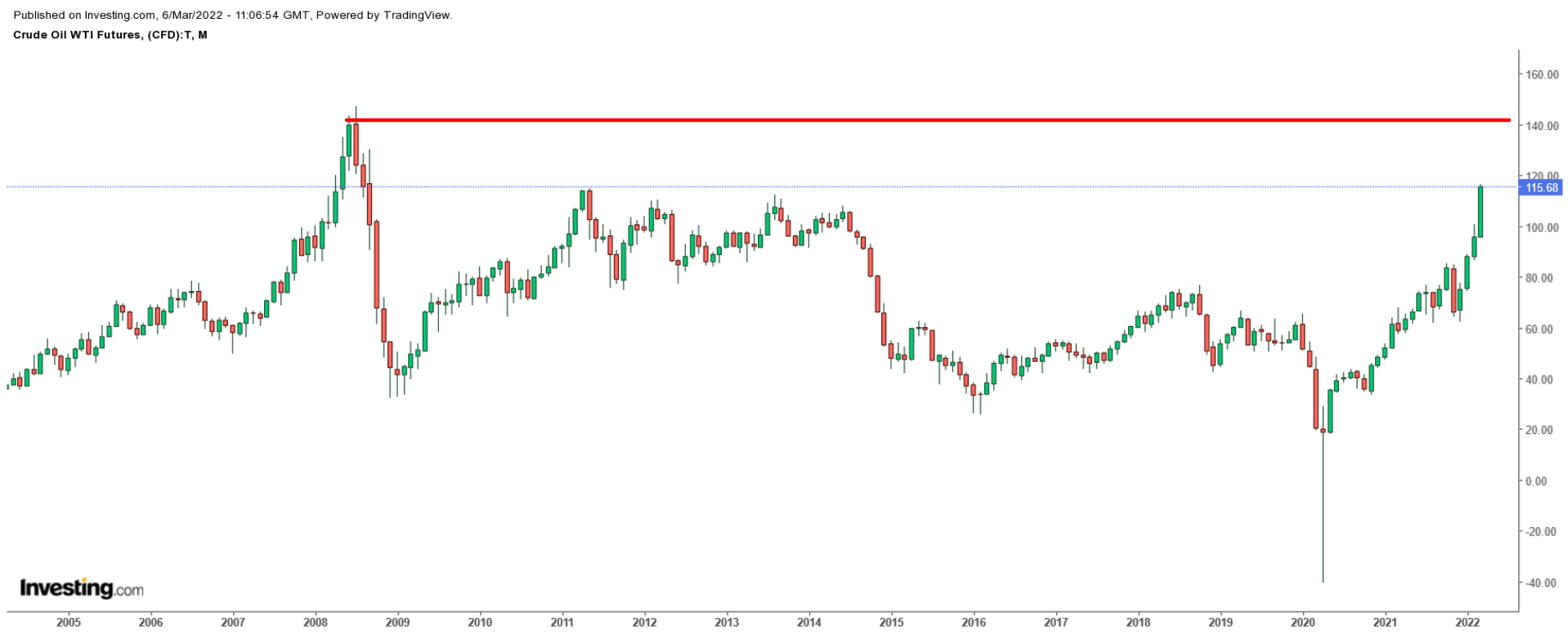 Despite sizable gains, we believe there is still room to march higher due to mounting fears that the U.S. and its allies will slap fresh sanctions on Russia's energy sector, resulting in a severe disruption to global supplies.
If the West does in fact ban Russian oil, crude prices could skyrocket to record highs above $150 per barrel, according to industry experts and analysts.
The White House warned on Friday that President Joe Biden is cutting U.S. imports of Russian oil, as lawmakers fast-track a bill that would ban Russian energy imports entirely.
Russia exports roughly 5 million barrels of oil per day, making it the world's second-largest crude exporter after Saudi Arabia.
Stock To Dump: Visa 
Coming off its biggest weekly decline since March 2020, Visa's (NYSE:) stock looks set to suffer another difficult week as investors fret about the negative impact of recent developments hobbling one of the world's largest payment processing firms.
In a worrying turn of events, Visa on Saturday that it was suspending its operations in Russia due to Moscow's ongoing invasion of Ukraine.
The U.S. payments firm said all transactions initiated with Visa credit and debit cards issued in Russia will no longer work outside the country. It also added that any Visa cards issued outside of Russia will no longer work within Russian borders as well.
"We regret the impact this will have on our valued colleagues, and on the clients, partners, merchants and cardholders we serve in Russia," Al Kelly, chief executive officer of Visa, said in a statement.
In response, several Russian banks, including Sberbank (OTC:)—which is Russia's biggest lender—said they would soon start issuing cards using the  card operator's system coupled with Russia's own Mir network.
That does not bode well for Visa, which had a significant presence in Russia in 2021. Nearly $1.2 billion, or about 4%, of Visa's total net last year was derived from business conducted within, into, and out of Russia.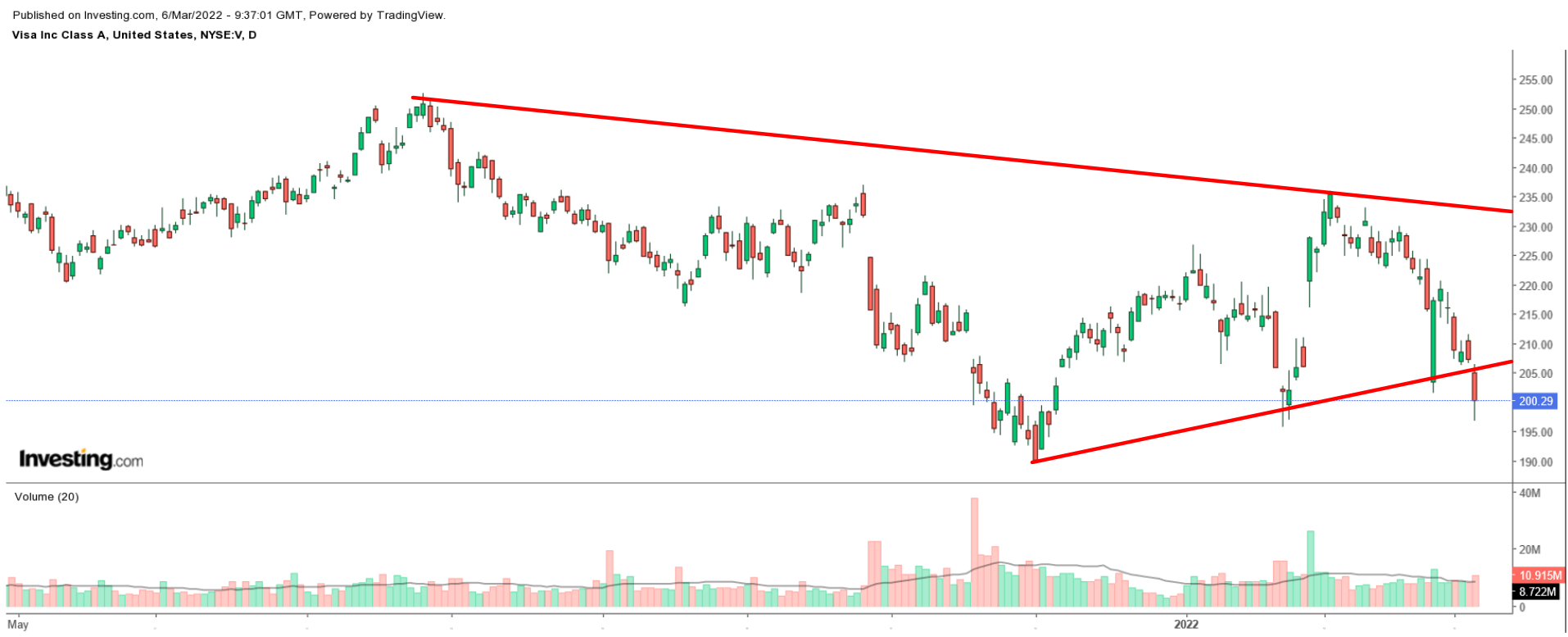 Shares of Visa plunged 8.7% last week, closing Friday's session at a more than one-month low of $200.29, earning the Foster City, California-based corporation a valuation of $420.2 billion. At current levels, Visa is now just 5% away from reaching a new 52-week low.
Another headwind currently plaguing the financial services provider are worries over slowing growth at its payments network as consumers both domestically and internationally cut back on credit-card usage and spending amid soaring inflation.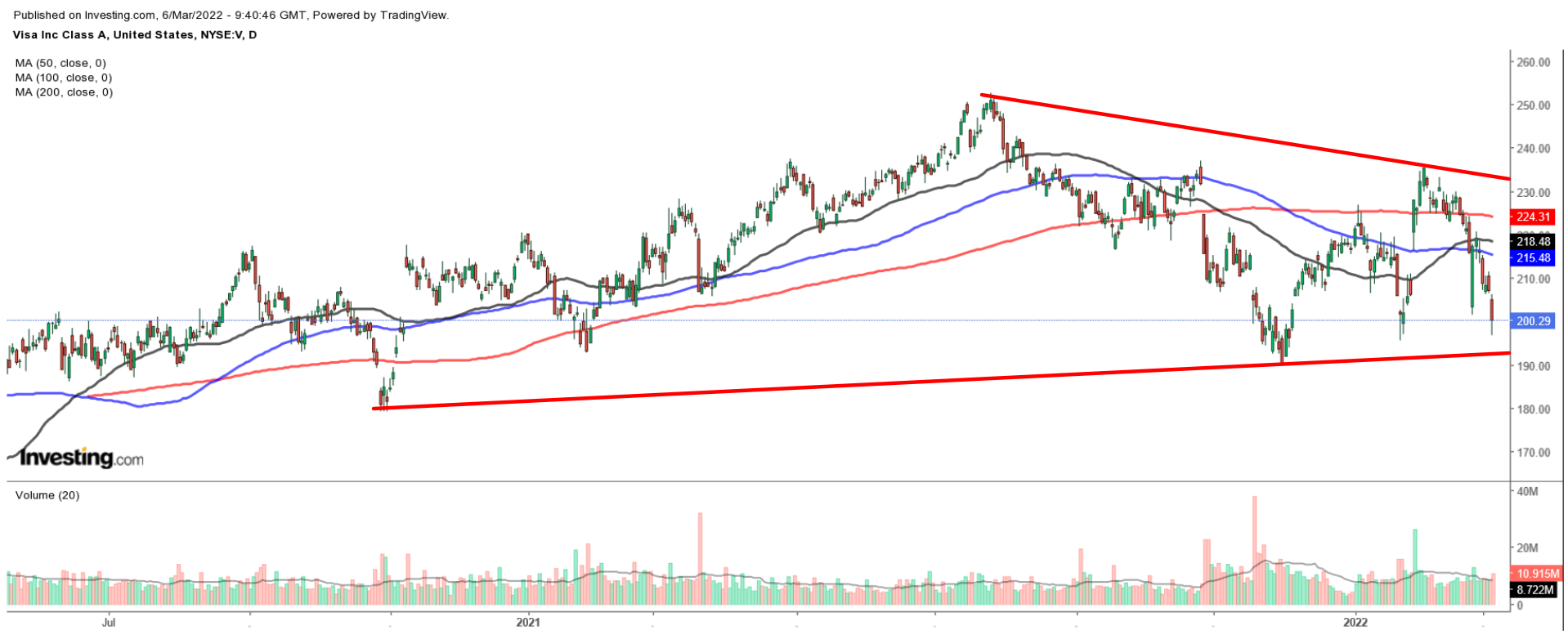 From a technical standpoint, Visa stock has fallen below key levels in recent sessions—including its 50-day, 100-day, and 200-day moving averages—signaling more selling pressure ahead.