 Salesforce Earnings Indicate Solid Rally Ahead
Timing looks opportune for a fresh bet on Salesforce.com (NYSE:) stock.
The world's largest provider of cloud-based customer relations software has seen its market value drop 33% from its November high amid concerns about its future growth and a broad-based sell-off in technology stocks. CRM closed at $204.75 on Thursday.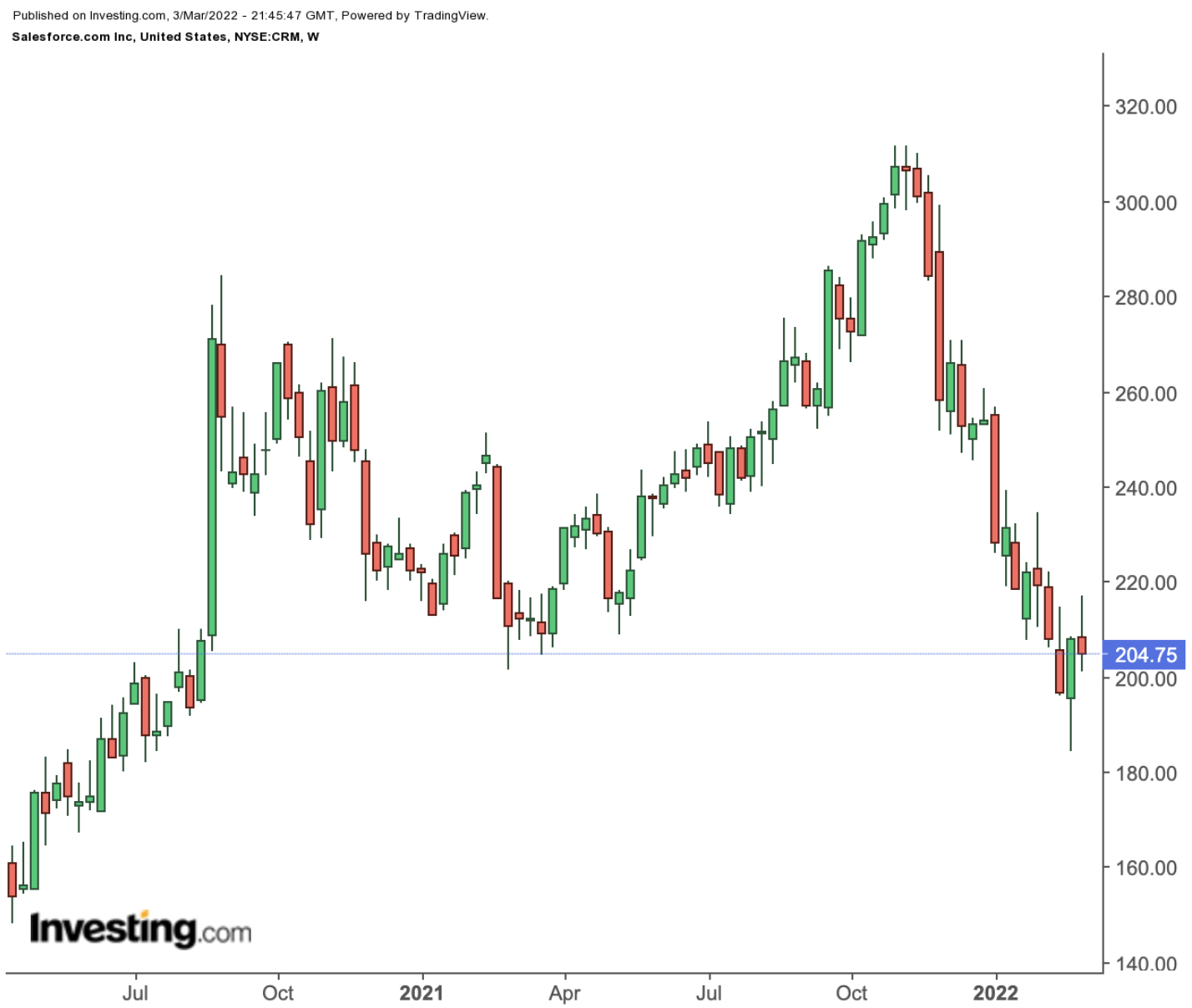 However, the company's latest release revealed that investors might have dumped the stock a little too fast. Salesforce reported revenue increased 26% in the fiscal fourth quarter, topping Wall Street's average projection. The San Francisco-based tech giant also provided quarterly and annual revenue forecasts that exceeded analysts' estimates.
The improved outlook comes after a quarter that stoked concerns that the pandemic-driven boom in technology spending is cooling at a time when Salesforce is facing intensified competition from large competitors, including Microsoft (NASDAQ:) and smaller players like ZoomInfo Technologies (NASDAQ:).
Furthermore, the company is succeeding in expanding its product line and integrating its recent acquisitions—including data analytics firm Tableau, integration software provider MuleSoft, and chat app Slack—into its offerings.
Salesforce has been working to integrate Slack after its $27.7 billion purchase of the instant messaging platform last year. The company is also adding more tools to its products to entice existing customers who have more choices in the market.
Best Quarter Ever
Even without that expansion, analysts see a lot of room to increase sales of the company's flagship software, CRM, that lets businesses manage and interact with customers.
In an interview this week, Salesforce CEO Marc Benioff told CNBC that growth continues to be propelled by the digital transformation and its customers needing a broad range of tools to support their own clients. He added:
"This was an extraordinary quarter, maybe the best quarter we've ever had, and you can see it not just in the quarterly guidance, but where we're looking for next fiscal year."
Benioff also added that Salesforce expects revenues between $32 billion and $32.1 billion in fiscal 2023. That's above the $31.78 billion that analysts surveyed by Refinitiv had projected. Analysts generally agree with this bullish view on Salesforce's growth momentum.
In an Investing.com poll of 50 analysts, 42 rate the stock "outperform" with a consensus price target of $313.65, implying about 53.1% upside potential from the current market price.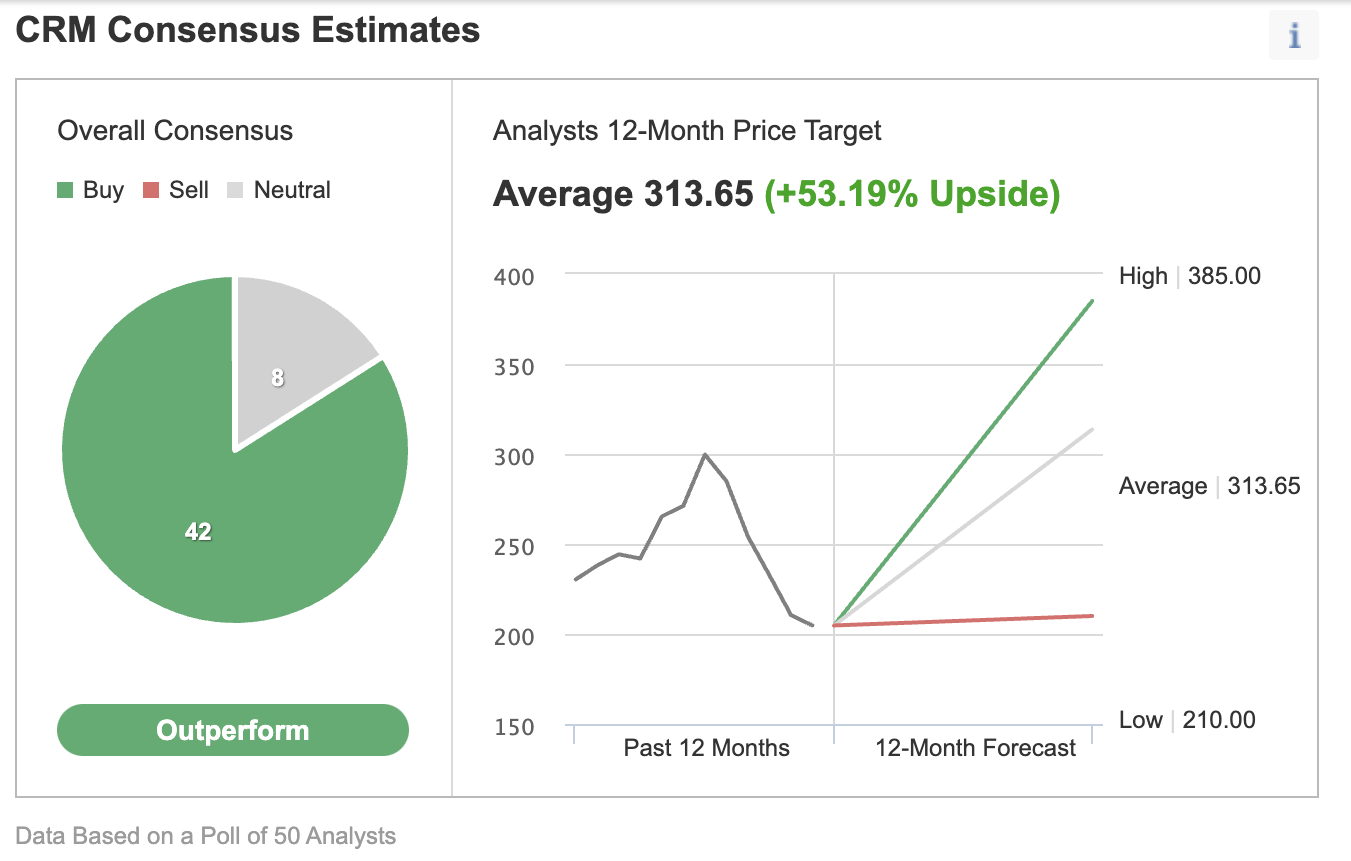 Source: Investing.com
Bank of America reiterated Salesforce as a top pick in a note this week, saying the quarterly results should "alleviate demand concerns."
While reiterating Salesforce as overweight, Morgan Stanley said execution toward both growth and margin expansion is key to narrowing the discount vs. peers.
JPMorgan, which put CRM in its list of most favored stocks for March, said in a note:
"We remind investors that salesforce.com offers high overall visibility into future revenue, and FCF has given its moat in the CRM space and strong competitive positioning as a modern technology leader."
Bottom Line
The market for software that supports companies' sales efforts remains in solid growth momentum, and Salesforce is well-positioned to capture that growth after making many value-added acquisitions. This favorable backdrop makes its stock worth buying after its recent weakness.