 1 Stock To Buy, 1 To Dump When Markets Open: Occidental Petroleum, FuboTV
Stocks on Wall Street ended lower on Friday, with the benchmark suffering its second straight weekly loss as mounting Russia-Ukraine tensions sapped investor confidence.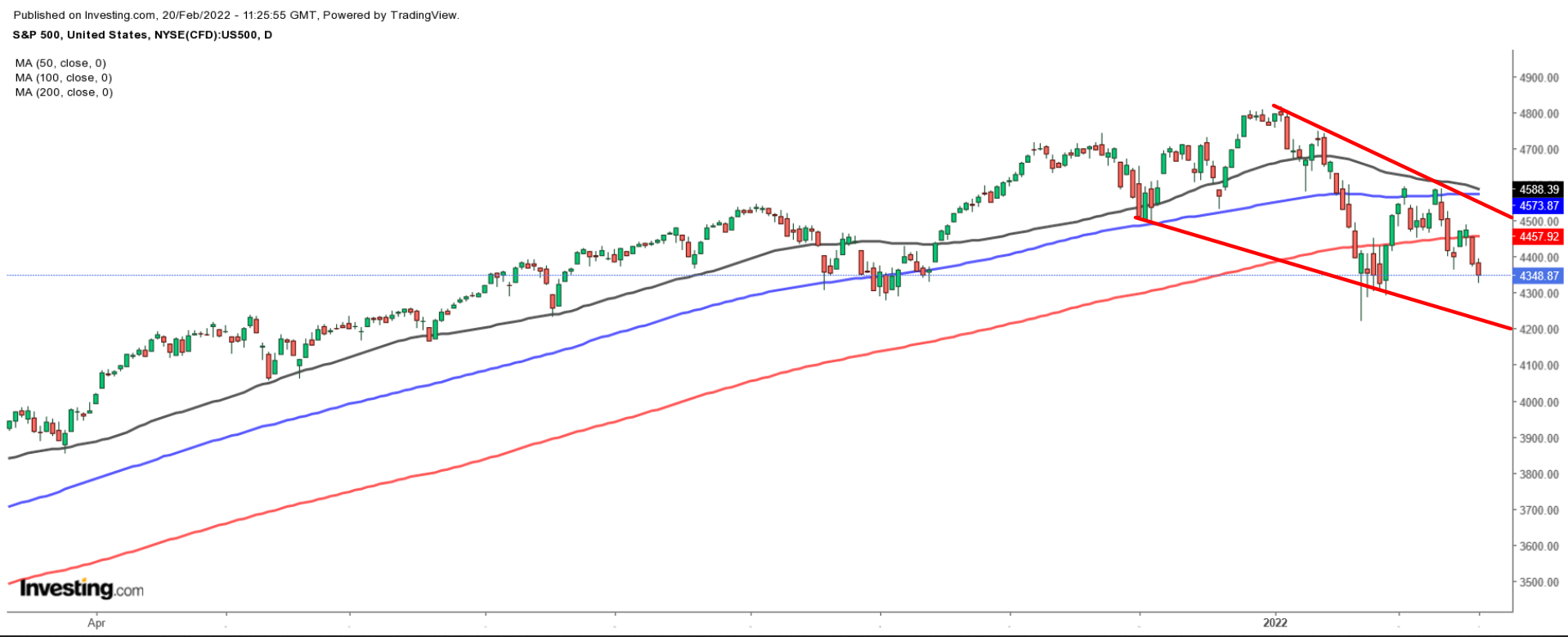 Investors should expect more in the holiday-shortened week ahead as they monitor fresh geopolitical developments. U.S. stock markets will be closed on Monday for the Presidents' Day holiday.
This week we'll see key economic data come through, including the latest report on personal consumption expenditures () inflation, as well as , such as Home Depot (NYSE:), Macy's (NYSE:), Moderna (NASDAQ:), and Alibaba (NYSE:).
Regardless of which direction the market goes, below we highlight one stock likely to be in demand and another which could see further downside.
Remember though, our timeframe is just for the upcoming week.
Stock To Buy: Occidental Petroleum
Shares of Occidental Petroleum (NYSE:)—which have gotten off to one of the company's best starts ever to a year—could see increased buying activity in the coming week, as one of the largest U.S. oil-and-gas producers gets set to report another period of explosive profit and sales growth when it releases its latest financial results after the closing bell on Thursday, Feb. 24.
Consensus expectations call for the Houston, Texas-based energy company, which has topped Wall Street estimates for , to post Q4 earnings per share of $1.10, improving substantially from a loss of $0.78 in the challenging year-ago period.
Meanwhile, revenue is forecast to jump nearly 73% year-over-year to $7.17 billion, reaping the benefits of soaring and prices, which have both recently touched their strongest levels in years.
If confirmed, Occidental's quarterly profit and sales total would mark the highest since Q4 2018 and Q2 2014, respectively, thanks to improving energy market fundamentals.
As such, market players are hoping Occidental's management will boost full-year fiscal 2022 guidance to reflect the positive impact of skyrocketing energy prices on its business. Additionally, investors will be eager to hear if the thriving oil-and-gas producer plans to return more cash to shareholders in the form of higher stock buybacks.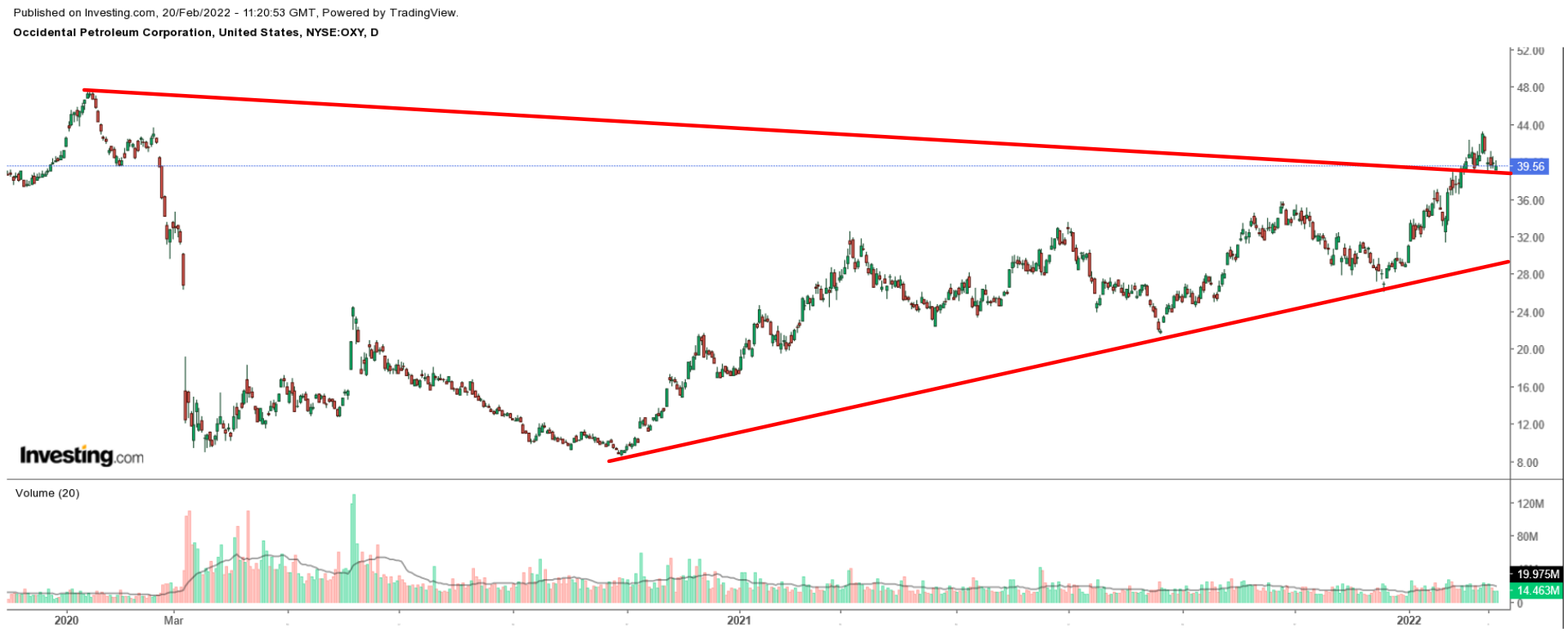 OXY hit a two-year peak of $43.15 on Feb. 11; it ended Friday's session at $39.56, earning the energy producer a valuation of $36.9 billion. The company saw its shares plunge to record lows in 2020 amid the negative impact of the COVID-19 health crisis. In contrast, Occidental has flourished in recent months as it benefits from its stellar operations in the Permian Basin, while taking advantage of strong crude prices.
Year-to-date, Oxy stock has climbed 36.5%, easily outperforming the S&P 500's 8.7% decline over the same timeframe.
Yes, despite strong gains, OXY could see an additional increase of 41% in the next 12 months, according to the InvestingPro model, bringing it closer to its fair value of $55.76 per share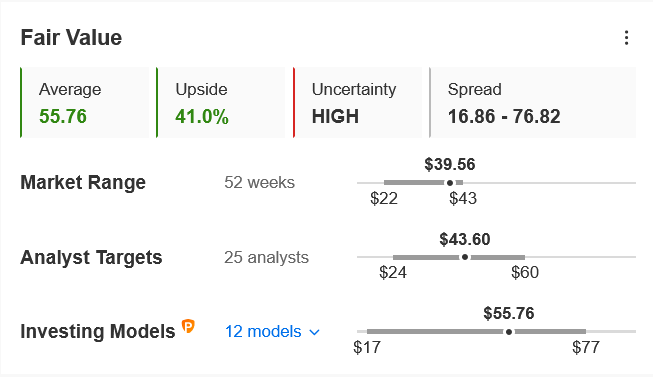 Source: InvestingPro
Stock To Dump: fuboTV
Shares of fuboTV (NYSE:) are expected to suffer another challenging week, with a potential drop to new multi-year lows on the horizon, as investors continue to worry over the negative impact of various factors plaguing the embattled sports-focused streaming service.
Year-to-date, FUBO shares have lost a whopping 45.9% through the first seven weeks of 2022, significantly underperforming the broader market. The growth stock fell victim to investor flight from unprofitable technology companies with expensive valuations following the Federal Reserve's announcement in January that it plans to raise interest rates.
Higher yields and expectations of tighter Fed policy tend to weigh heavily on high-growth tech stocks as they threaten to erode the value of their longer-term cash flows.
FUBO ended at $8.40 on Friday, its lowest close since September 2020. The New York-based streaming platform, which has a market cap of approximately $1.3 billion, is down 86.5% since climbing to a record high of $62.08 in December 2020.
Another negative catalyst is expected to arrive when fuboTV reports fourth quarter results after the U.S. market close on Wednesday, Feb. 23. Based on moves in the options market, traders are pricing in a sizable swing for FUBO shares following the report, with a possible implied move of about 18.5% in either direction.
The money-losing, live-sports TV streaming company recently said that Q4 revenue is expected to be between $215 and $220 million, representing between 105% and 109%. It also forecast paid subscribers would surpass 1.1 million as of the end of 2021.
Perhaps of greater importance, market participants will focus on the company's outlook for the months ahead, amid worries over its high cash burn related to spending on live sports content as well as the recent launch of its online sports-betting service, 'Fubo Sportsbook.'
With the company currently sitting on just $375 million in liquidity, there is legitimate fear that fuboTV could run out of cash by the end of next year.