 Is It Too Late To Buy Oil Stocks As Commodity Approaches $100?
After producing some of the best returns in the last year, stocks are again off to a great start. crossed $95 a barrel last week, its highest level since 2014, before giving back some of its gains on the news that Iran could soon resume supplying as it agrees to a nuclear pact. The commodity traded Thursday at $92.85 per barrel in London, a 46.4% jump year-on-year.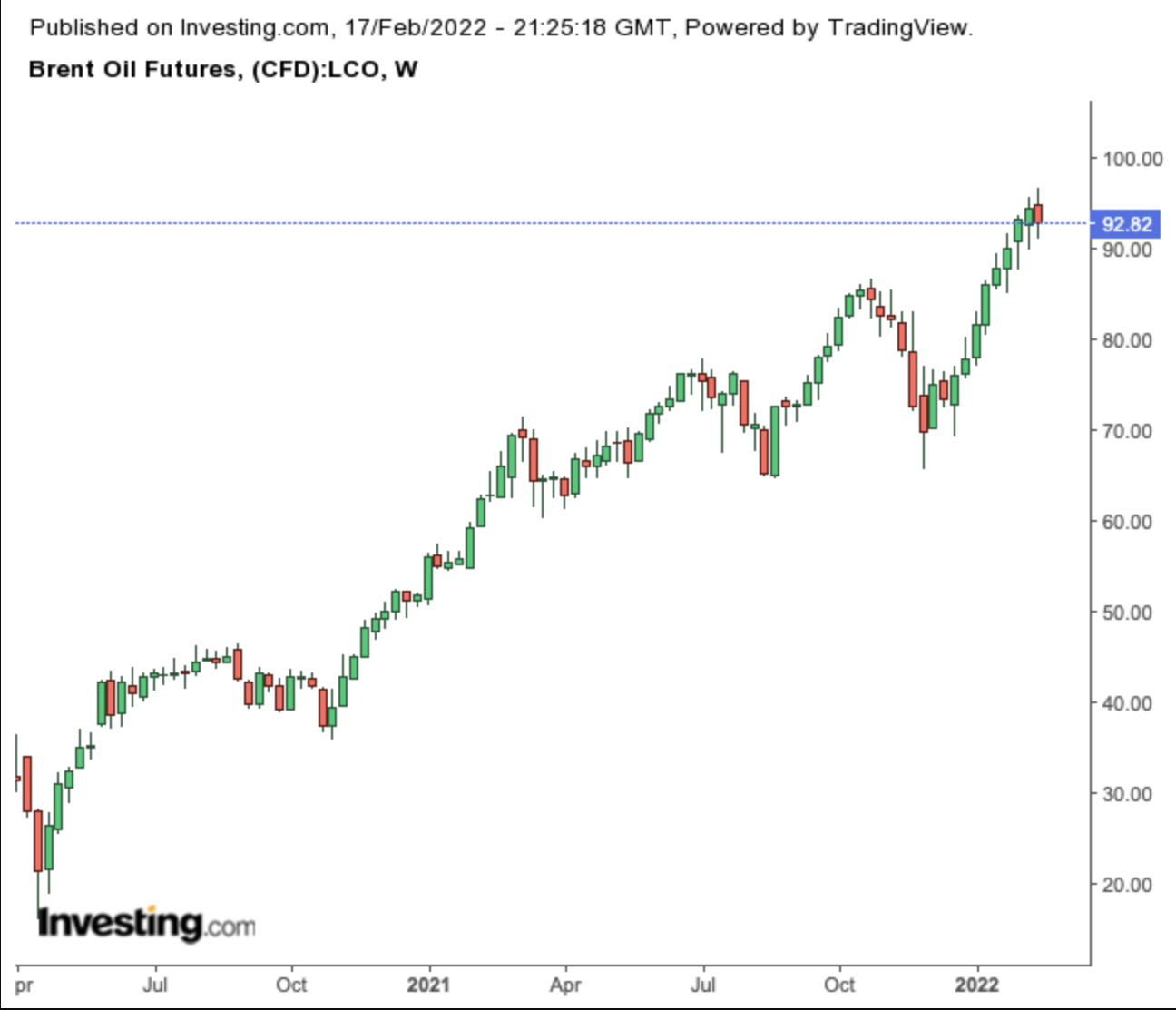 Likewise, the Vanguard Energy Index Fund ETF Shares (NYSE:)—whose top 10 holdings include Exxon (NYSE:) and Chevron (NYSE:)— is up 21.7% this year, massively outperforming the benchmark S&P 500 Index, which has dropped more than 8% during the same period. The ETF gained about 48.1% during the past year, and closed Thursday at $94.50.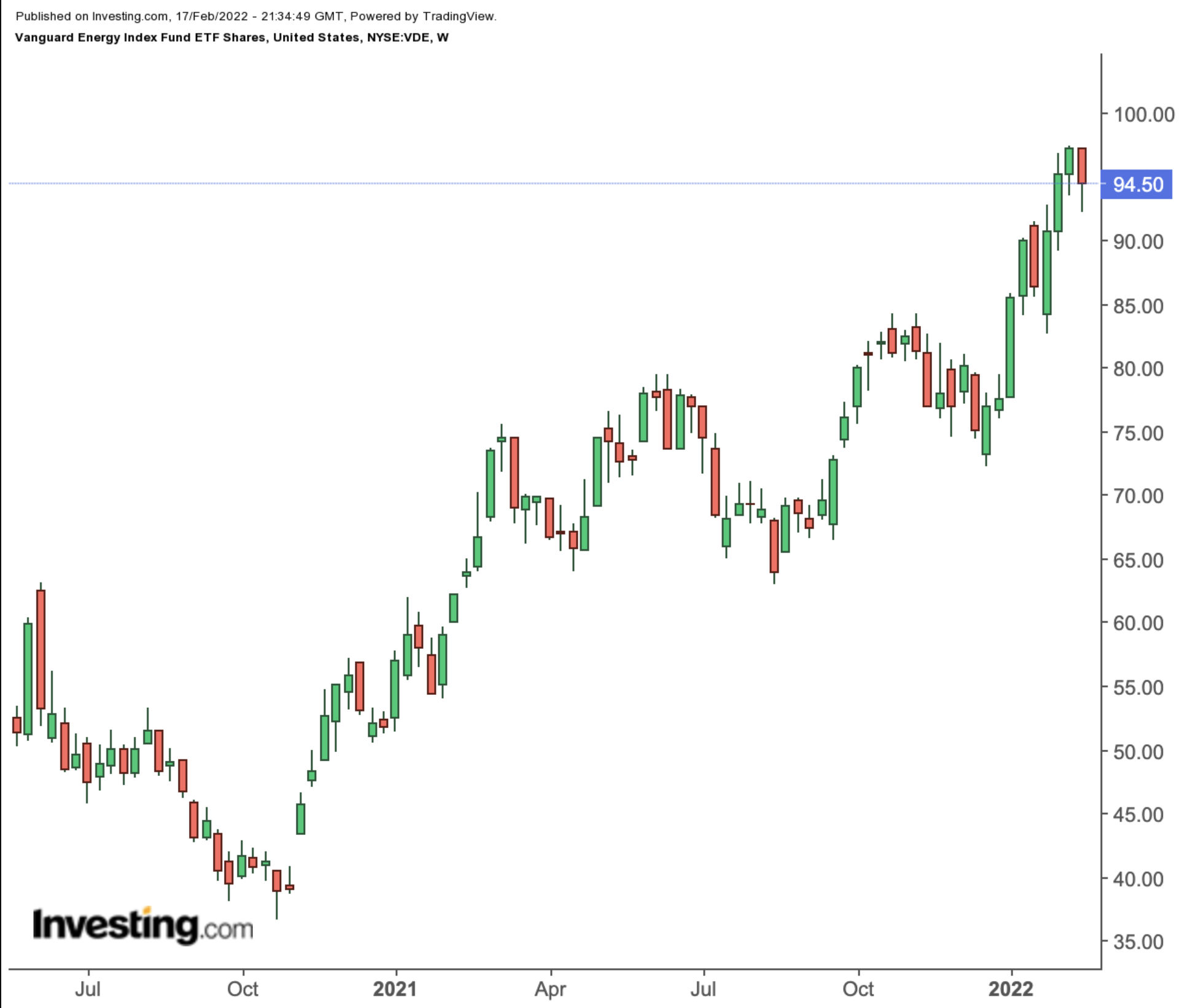 What's fuelling this powerful run in the shares of energy giants is the extremely bullish outlook in energy markets, propelled by a combination of supply concerns, rising , and geopolitical tensions.
And it seems that the rally in oil stocks is far from over. According to many analysts, Brent surpassing $100 a barrel is almost a done deal, with some now predicting the commodity crossing $125 a barrel.
JP Morgan forecasted oil as "likely to overshoot to $125" per barrel due to strained capacity and less investment going into new resources. Its recent note said:
"This underperformance comes at a critical juncture – and in our view, as other global producers falter, the combination of underinvestment within OPEC+ nations and post-pandemic rising oil demand (as highlighted by Kolanovic et. al. here) will dovetail to a potential point of energy crisis."
Big Oil Rolling in Cash
The result of this surprising change in outlook after the demand destruction during the peak of the COVID-19 pandemic is that the world's largest oil companies are rolling in cash. Exxon that it made $23 billion in profit last year, its highest total since 2014. Chevron also  its most profitable year since 2014, earning $15.6 billion in net income in 2021.
Investors should not forget that commodity markets are extremely volatile and have short memories. In 2020, the energy sector was the worst-performing sector in the S&P 500. With the COVID-19 pandemic crushing energy demand and sending prices reeling, energy declined by 37%.
One stark difference in the current oil boom is that the US producers don't plan to expand their capacity. Instead, they plan to return most of the extra cash to shareholders regarding dividends and share buybacks.
Chevron this month hiked its dividend by 6%, saying it plans to buy back as much as $5 billion of its stock this year. Exxon, which generated $48 billion in cash flow from operations in 2021, is expected to raise its dividend later this year. The Texas-based giant has said it could buy back as much as $10 billion in shares over the next 12 to 24 months.
Argus Research, while upgrading Exxon to buy, said in a recent note that investors should expect more cash return from the energy giant. Its note said:
"We expect Exxon to benefit from strong energy market fundamentals, as well as from its improving balance sheet, reduced capital spending, and higher free cash flow. We also see the potential for dividend hikes, share repurchases, and further debt repayment this year."
Exxon closed on Thursday at $78.23 after surging 27.8% this year. Chevron closed at $133.61 and is up 13.8%. While reiterating Exxon as a buy, Goldman Sachs said it likes the US's largest oil producer more than CVX.
"We continue to see more upside to XOM vs. CVX from a valuation standpoint. We see value in Guyana, Global LNG, Chemicals and the ongoing corporate governance transition as underappreciated in the current share price."
Bottom Line
Energy stocks, including XOM and CVX, are in a comfortable position to return more cash to investors after cutting back on their spending and vowing to maintain that discipline even as oil prices continue their upward move.
If the combination of higher oil prices and tight supply lingers, investors should see more gains in the shares of these giants.