 3 Stocks To Watch In The Coming Week: NVIDIA, Cisco Systems, Airbnb
During the past few weeks, after some of the largest US companies released strong earnings results, investors will be turning their focus to the volatile macroeconomic environment where potential geopolitical threats and inflation have emerged as the biggest concerns.
Markets went through another bout of selling pressure late last week after the January showed the consumer price index rose at the highest pace since February 1982, sparking fears of more aggressive monetary tightening by the Fed.
With prices escalating, the geopolitical situation in Eastern Europe also spooked investors after the White House warned that Russia could shortly invade Ukraine. Both the US and UK have called for their citizens to leave Ukraine as soon as possible. 
Amid this volatile environment for stocks, we're also keeping an eye on three significant earnings announcements, scheduled for the week ahead, that could provide some insight into how companies foresee the coming months, especially when the Omicron wave is slowing.
1. NVIDIA
Semiconductor giant NVIDIA (NASDAQ:) will report its fourth quarter, FY2022 earnings on Wednesday, Feb. 16 after the market close. Analysts expect the chipmaker to produce an EPS of $1.22 on revenues of $7.41 billion.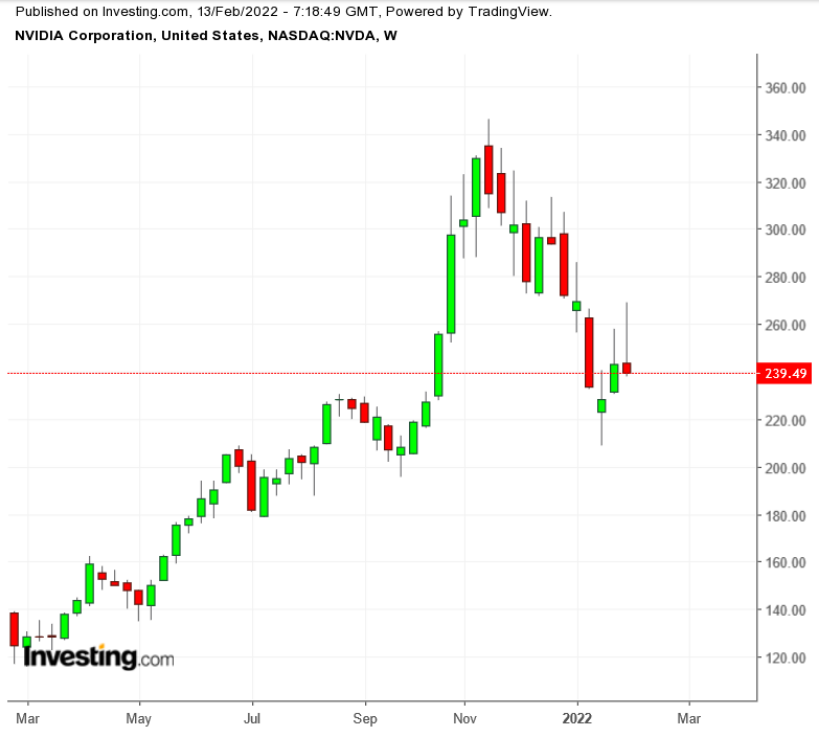 The Santa Clara, California-based chip manufacturer is the biggest producer of graphics chips used in personal computers and gaming. Over the past few years, NVDA has successfully adapted its technology for the Artificial Intelligence market, creating an additional, new, multi-billion-dollar .
Due to swelling demand from these sectors, the price of NVDA stock has soared, gaining more than 200% during the past two years, making it one of the biggest tech giants in the world. The stock, however, failed to keep its upward momentum this year as investors sold-off growth-oriented stocks on fears of higher interest rates.
The stock closed on Friday at $239.49, after falling more than 7% amid a broad-based market sell-off.
2. Cisco Systems
Cisco (NASDAQ:) will report its fiscal 2022, second quarter earnings on Wednesday after the market closes as well. The San Jose-based networking giant will likely report $0.81 a share profit on sales of $12.66 billion, according to analysts' consensus forecast.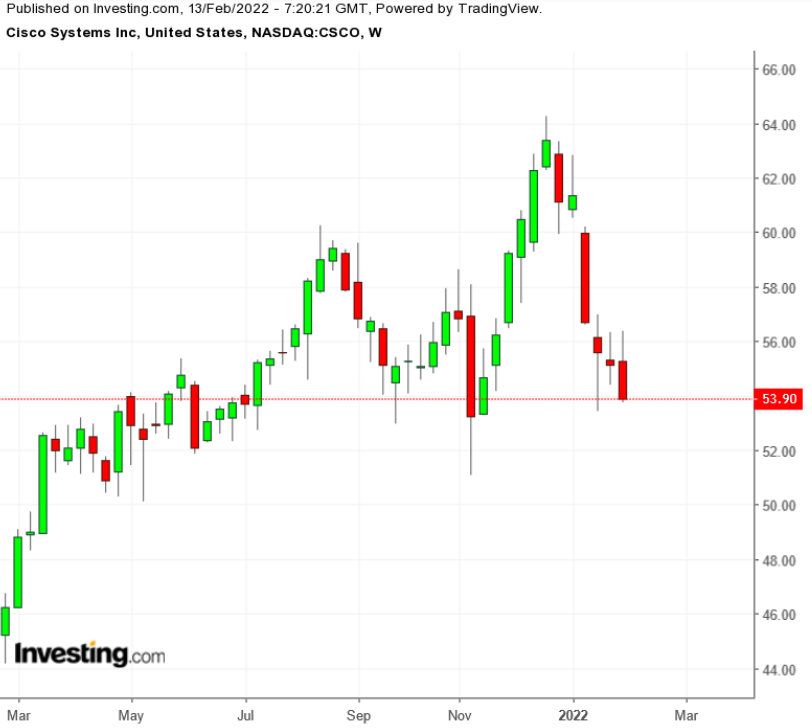 Under Chief Executive Officer Chuck Robbins, the Silicon Valley stalwart is being transformed into a provider of networking services delivered over the internet as well as a seller of software. from subscriptions will reach 50% of Cisco's total earnings by fiscal 2025, the company told analysts in September. 
The revamped business unit structure includes the Networks unit, Internet for the Future, which encompasses optical networking and 5G-related products, and Hybrid Work, which includes Webex and other collaboration tools.
Cisco stock closed on Friday at $53.90, down about 15% so far this year.
3. Airbnb
The stays and experiences travel services platform Airbnb (NASDAQ:) will report Q4 2021 earnings on Tuesday, Feb. 15, after the market close. Analysts forecast a profit of $0.044 a share for the period on sales of $1.46 billion.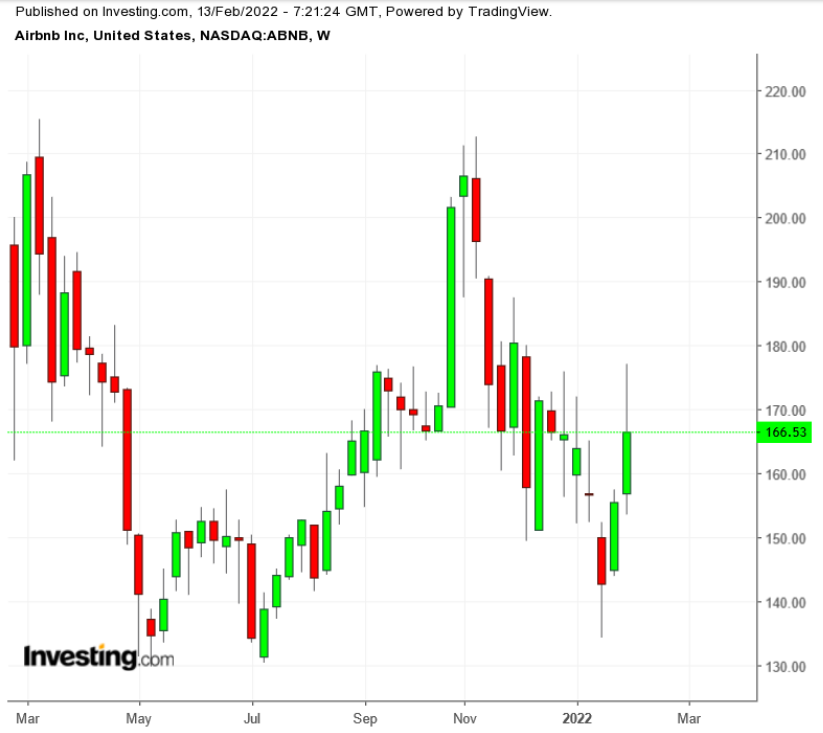 The San Francisco-based company has the pandemic-triggered slump in travel much better than its rivals, benefiting from people opting to travel closer to home and often booking for longer periods or more frequent stays to take advantage of flexible remote work policies. In September, Airbnb announced it had welcomed its billionth guest. 
As travel restrictions ease globally after the latest surge in COVID infections, chances are the company will have a rosier forecast for its upcoming spring and summer quarters. Airbnb stock closed on Friday at $166.53, little changed so far this year.