 2 Travel-Related Stocks To Buy As Countries Begin Lifting COVID Restrictions
The fast and furious spread of Omicron this winter disrupted the budding recovery that the travel and tourism industry was hoping for in 2022. This after two years of pandemic-related lockdowns and travel restrictions.
Still, as more countries recognize the endemic nature of COVID-19, global tourism is on its way to a long-term, sustainable recovery. Major tourist destinations are removing travel restrictions, encouraged by the mildness of the Omicron variant and the proliferation of vaccinations which are keeping fatalities low.
The European Union is lifting the pandemic-related travel restrictions, allowing member countries to do away with quarantine and testing for vaccinated fliers traveling inside the bloc. The UK, following the success of booster programs and vaccinations, has removed all testing requirements for eligible fully vaccinated from Feb. 11.
As this trend grows, it's bound to help top travel-related companies to improve their revenue and recover from the worst of the pandemic-related slump. Below, we have short-listed 2 stocks which could see a sustainable turnaround this year.
1. Airbnb
Airbnb (NASDAQ:), the tech platform for booking alternative accommodation, is one of our favorite travel stocks to own over the long-run. Its shares are now perfectly positioned to benefit from pent-up travel demand, with consumers more than ready to pack their bags and roam free.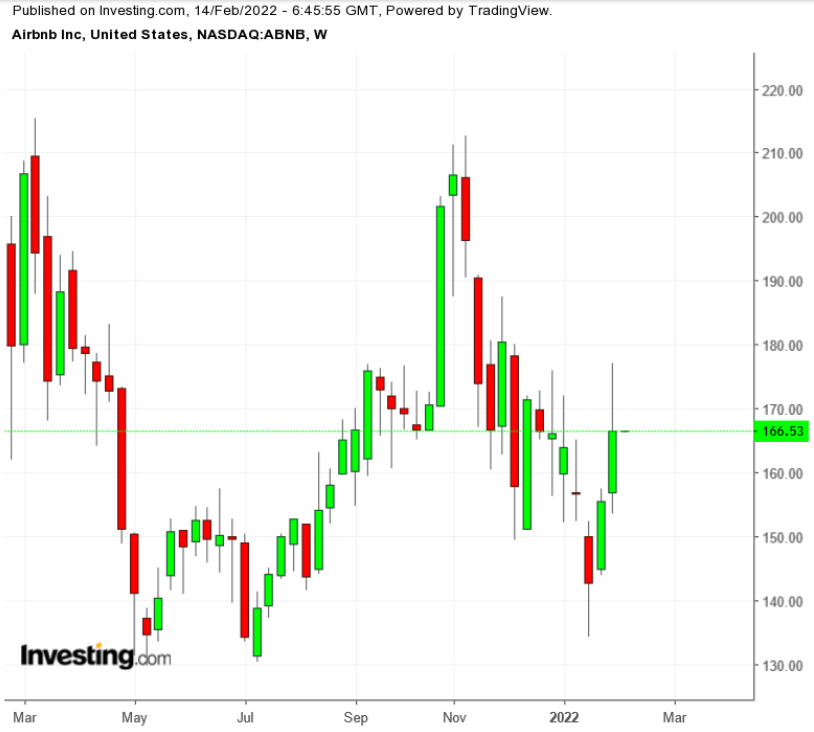 The market continues to underestimate this online travel-service company's brand advantage and the strength of its long-term-stay business. According to analysis from Bloomberg, ABNB bookings analysts' expectations by $2 billion to $4 billion (3% to 7%) in 2022, as the San Francisco-based company's unmatched direct site traffic and superiority vis-à-vis repeat customers will allow it to boost profits by cutting back marketing outlays.
Still, Airbnb stock lacks momentum. Shares have fallen 21% during the past one year, as the recovery in travel remains elusive. However, the stock has held up better than other growth-oriented companies this year and the overall tech-heavy , which is down about 12% year-to-date. Airbnb, which reports Q4 2021 earnings after the close on Tuesday, finished trade on Friday at $166.53, hardly changed for the year.
CEO Brian Chesky told CNBC last month that he anticipated bookings will skyrocket once international travel restrictions loosen. He said:
"Before the pandemic, half our business was cross-border. As borders do reopen, that will be another tailwind for us."
2. Visa
The US payments behemoth Visa (NYSE:) is another stock with which to take advantage of a strong rebound in international travel as the world moves to the endemic phase of this virus.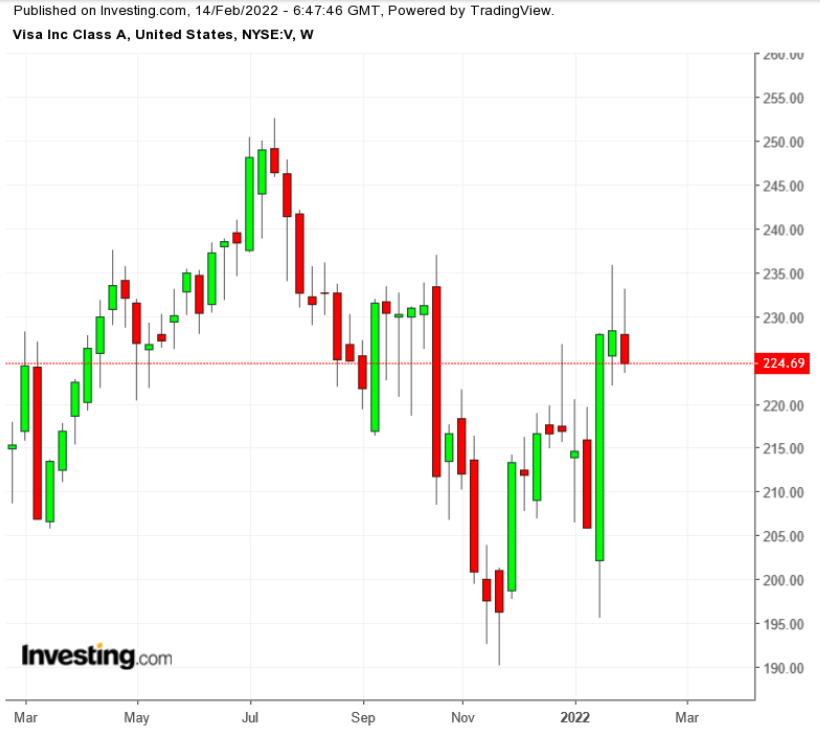 The world's largest payment network told investors last month that spending on its cards rose to a record in the final three months of 2021, even as the highly contagious Omicron variant disrupted travel.
Spending via Visa's network soared 20% to $2.97 trillion in its fiscal . Customers outside the US account for more than 50% of Visa's revenue.
Visa Chief Financial Officer Vasant Prabhu told Bloomberg that the impact of Omicron has been relatively mild from the company perspective and fairly quick to pass. He added:
"People are now learning to live their lives with the virus and we just don't see the same impact as you might have seen early in the pandemic."
Visa stock, after surging to $250 a share during the past summer, is down more than 10% from that level. It closed on Friday at $224.69.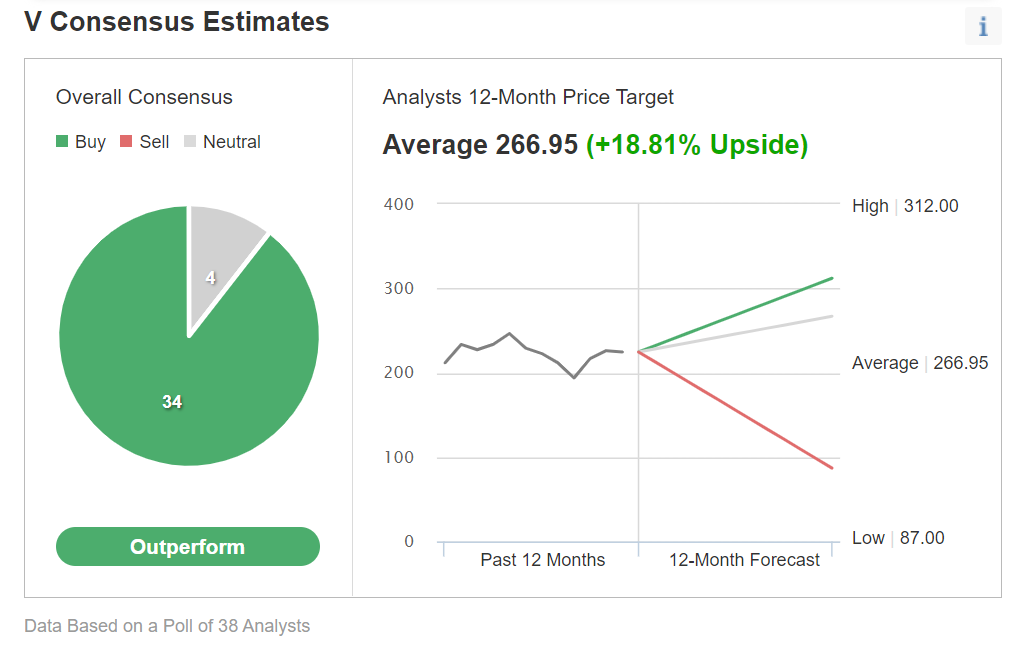 Chart: Investing.com
Of 38 analysts polled by Investing.com, 35 have an "outperform" rating on the stock. Their 12-month consensus price target is showing an almost 19% upside from the current price.