 E-mini Micro Double Top And Double Top With High
The has a micro double top over the past 2 days and a double top with the February 2 high.
The E-mini has been reversing up from a sell climax for 2 weeks. Yesterday rallied on the open, but then sold off to a new low after again testing the Feb. 2 high
While it closed near its low, it is still within an 8-day tight trading range. That means it is in Breakout Mode.
The bulls need a strong breakout above that Feb. 2 high before traders will be confident that the January 4 bottom will hold.
I said last week that the E-mini would test the Feb. 2 high, which it did Wednesday and again yesterday.
I also said that the January selloff was so strong that the rally should form a lower high and then test the January low.
If the E-mini reverses down from here, there will be a double top with the Feb. 2 high.
If it breaks above that high and then reverses down, there will be a wedge top where Jan. 26 was the first top and Feb. 2 was the second top.
A reversal down would also be a lower high major trend reversal and the right shoulder of a head and shoulders top (the Nov. 5 high as the left shoulder).
It is still more likely that the strong rally over the past 2 weeks will reverse down before breaking to a new high. The E-mini has been in a trading range for 7 months and strong legs up and down are more likely to reverse than lead to a trend.
Also, there are back to back OO patterns on the monthly chart. They are consecutive attempts to reverse the strong bull trend from the pandemic low. A second attempt has a higher probability of success.
At a minimum, traders should expect a break below the January low before a break above the January high. That would trigger the OO sell signal on the monthly chart. I have been saying that the selloff would probably last 2 to 3 months.
There is currently a 50% chance that the E-mini will test the 4,000 Big Round Number before making a new high.
There is only a 30% chance that a selloff will reach the pre-pandemic high.
But even if it does, there will still likely be at least one more new high before the monthly chart could selloff for more than a few months.
E-mini 5-minute chart and what to expect today
E-mini is up 8 points in the overnight Globex session.
Yesterday was a sell climax day. There is a 50% chance of some follow-through selling in the 1st hour.
There is also a 75% chance of at least a couple hours of sideways to up trading that starts by the end of the second hour.
Today is Friday so weekly support and resistance can be important, especially in the final hour.
The week closed near the open of the week. This week so far is a small doji bar on the weekly chart in the middle of last week's range.
Other nearby magnets are the December low, the open of the month and the Dec. 20 low.
If this week is a big bear bar on the weekly chart, next week will probably be lower.
If this week closes on the high of the week, next week will probably be higher.
If it closes around where it is, the week will be more neutral. That would increase the chance of more sideways trading next week.
Yesterday's E-mini setups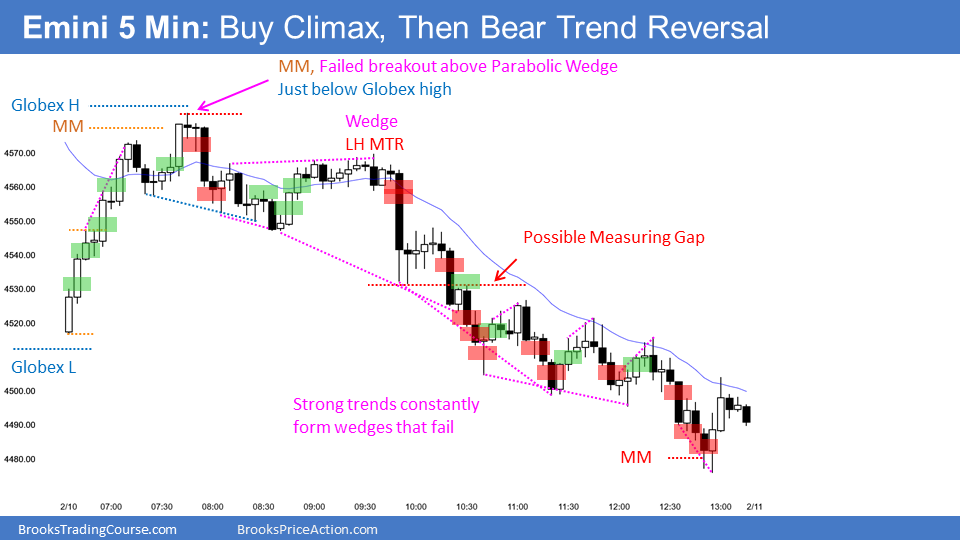 Above is the version that I post every day. Because I often get questions about what Daily Setups chart Encyclopedia members see, today I am including the example below of that version.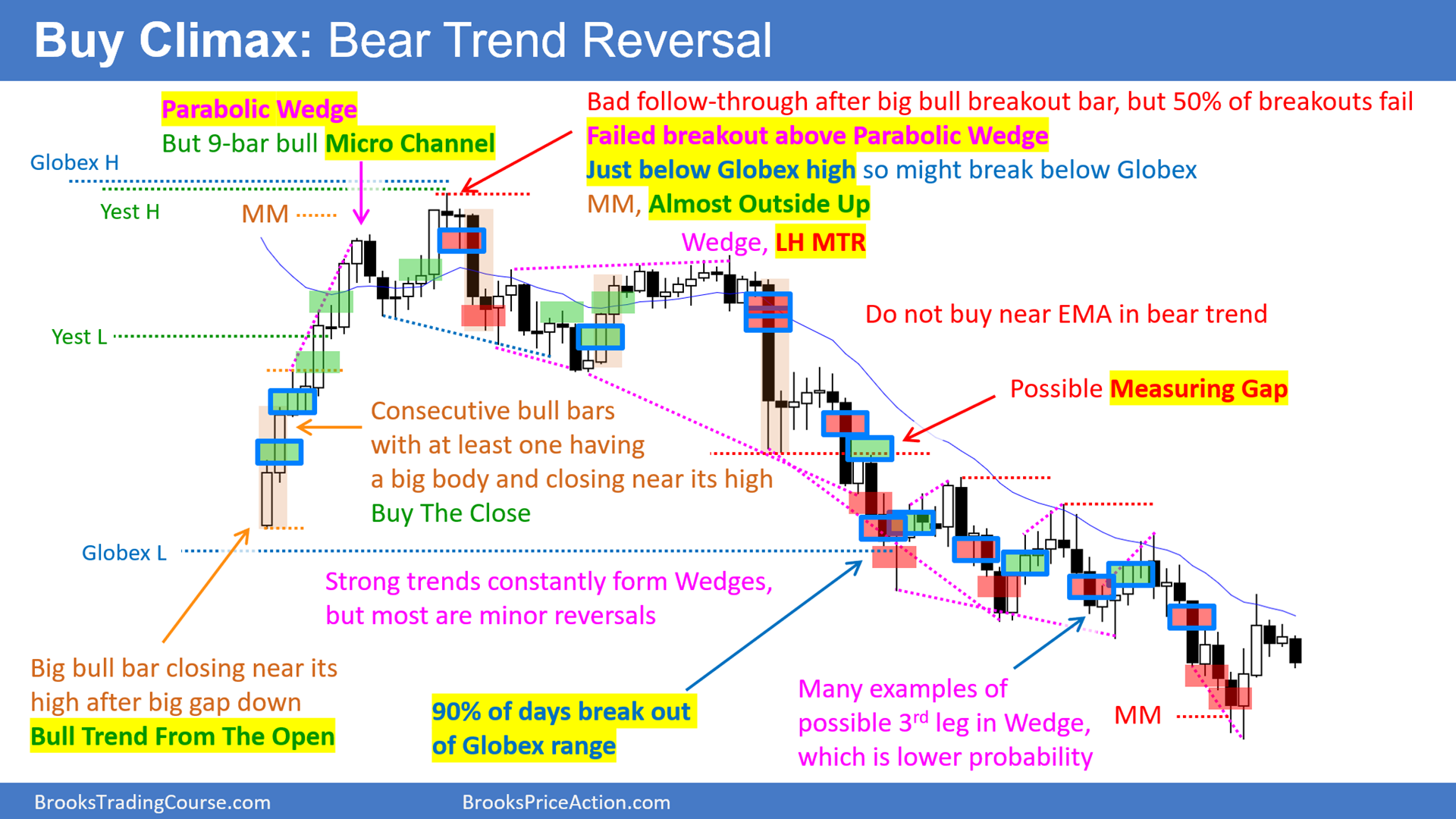 Here are several reasonable stop entry setups from yesterday. I show each buy entry with a green rectangle and each sell entry with a red rectangle. Buyers of both the Brooks Trading Course and Encyclopedia of Chart Patterns have access to a much more detailed explanation of the swing trades for each day (see Online Course/BTC Daily Setups).
My goal with these charts is to present an Always In perspective. If a trader was trying to be Always In or nearly Always In a position all day, and he was not currently in the market, these entries would be logical times for him to enter. These therefore are swing entries.
It is important to understand that most swing setups do not lead to swing trades. As soon as traders are disappointed, many exit. Those who exit prefer to get out with a small profit (scalp), but often have to exit with a small loss.
If the risk is too big for your account, you should wait for trades with less risk or trade an alternative market like the Micro E-mini.