 1 Stock To Buy, 1 To Dump When Markets Open: CVS Health, AT&T
Friday was a winning day for most Wall Street stocks. The benchmark index and tech-heavy notched their best week of 2022 so far, wrapping up a week in financial markets.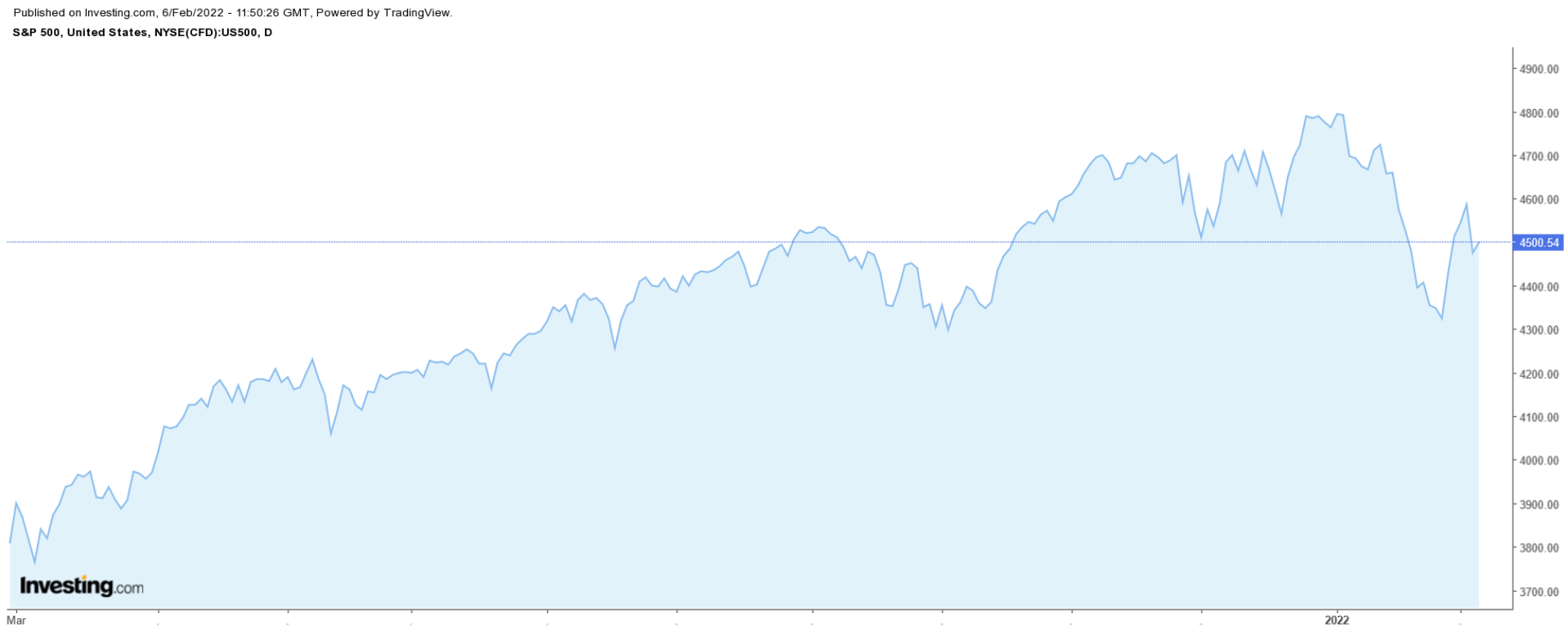 The coming week is expected to be another busy one amid more earnings from companies like Walt Disney (NYSE:), Coca-Cola (NYSE:), PepsiCo (NASDAQ:), Pfizer (NYSE:), and Amgen (NASDAQ:).
The earnings agenda also consists of notable tech names, such as Twitter (NYSE:), Peloton (NASDAQ:), Uber (NYSE:), Cloudflare (NYSE:), Twilio (NYSE:), and Datadog (NASDAQ:).
In addition to earnings, there is also important economic data, including the latest report for January, which could show the highest reading since 1981.
Regardless of which direction the market goes, below we highlight one stock likely to be in demand and another which could see further downside.
Remember though, our timeframe is just for the upcoming week.
Stock To Buy: CVS Health
Shares of CVS Health (NYSE:) could see increased buying activity in the coming week, as one of the largest U.S. healthcare companies is anticipated to deliver and revenue growth when it releases its latest financial results ahead of the opening bell on Wednesday, Feb. 9.
Consensus expectations call for the drugstore chain operator and pharmacy services provider to post fourth quarter earnings per share of $1.82, improving 40% from EPS of $1.30 in the year-ago period. The Woonsocket, Rhode Island-based corporation—whose shares recently touched their best levels since 2015—has either matched or topped Wall Street's profit estimates for 24 straight quarters, dating back to Q3 2015.
Meanwhile, revenue is forecast to climb roughly 9% year-over-year to $75.6 billion, benefiting from a continued surge in demand for COVID-19 tests and vaccines as well as growing orders for prescription refills. If confirmed, CVS Health's quarterly sales would mark the highest total on record.
As such, investors are hoping CVS' management will maintain its upbeat view regarding its full-year earnings outlook for fiscal 2022 as the healthcare juggernaut continues to benefit from favorable customer demand and consumer trends as COVID variants are still with us.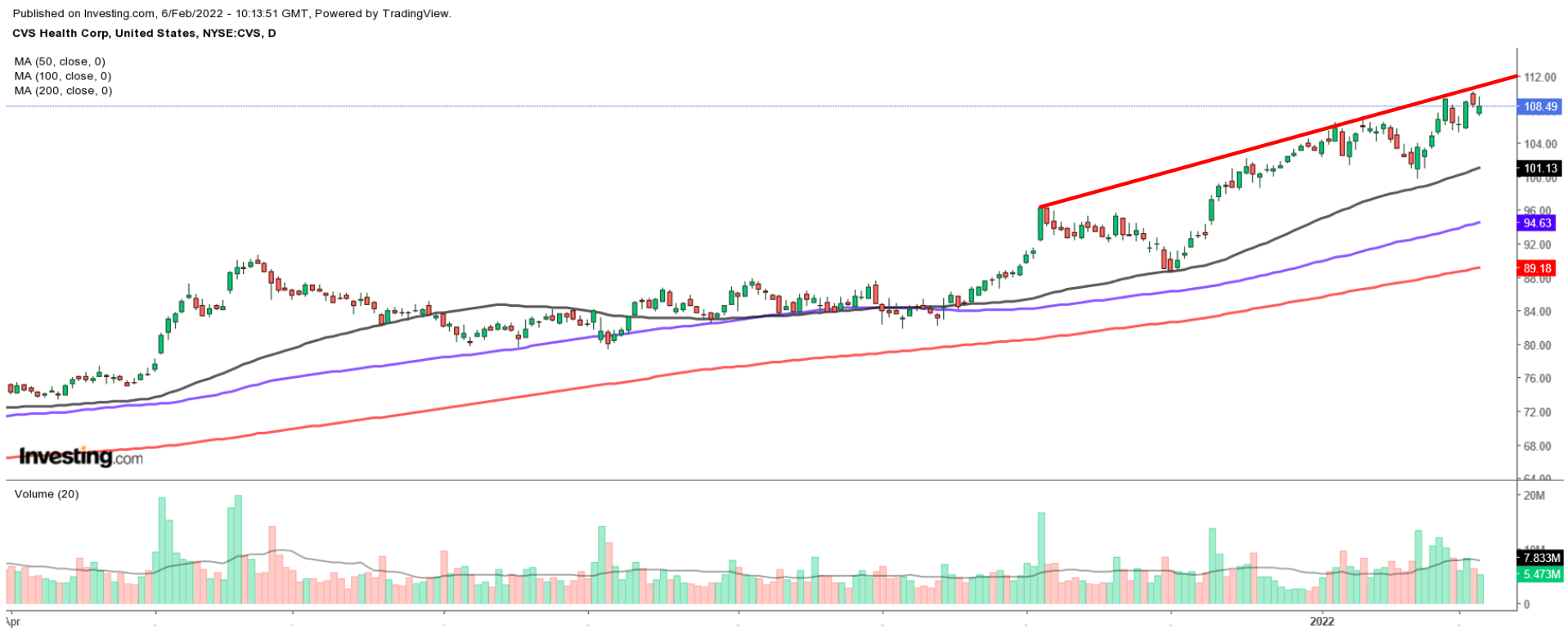 CVS climbed to a more than five-year peak of $110.15 on Thursday. It ended Friday's session at $108.49, earning the healthcare specialist a valuation of $143.3 billion. Year-to-date, CVS shares have climbed 5.1%, compared to the S&P 500's 5.5% decline over the same timeframe.
According to the InvestingPro model, CVS stock is undervalued at the moment and could see an upside of 39% from current levels over the next 12 months to a fair value of $150.84 per share.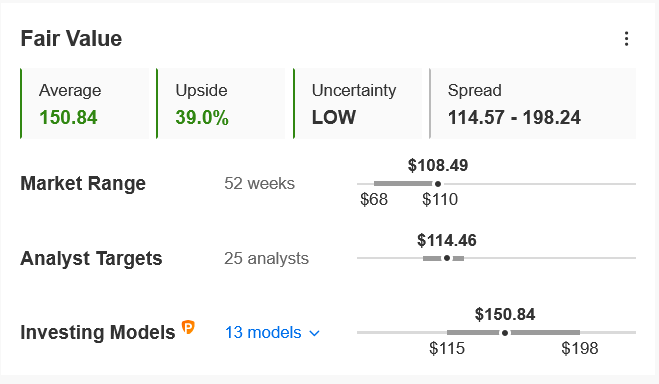 Source: InvestingPro
Stock To Dump: AT&T
AT&T (NYSE:) shares are expected to endure another challenging week, with a potential drop to fresh multi-year lows on the horizon, as investors react to a plethora of negative developments plaguing one of America's .
T stock, which is down 2.1% so far in 2022 and 16.8% in the last 12 months, closed Friday's session at $24.08, falling back towards its lowest level since July 2010 of $22.02 reached on Dec. 15. At current levels, the Dallas, Texas-based corporation has a market cap of roughly $172.0 billion.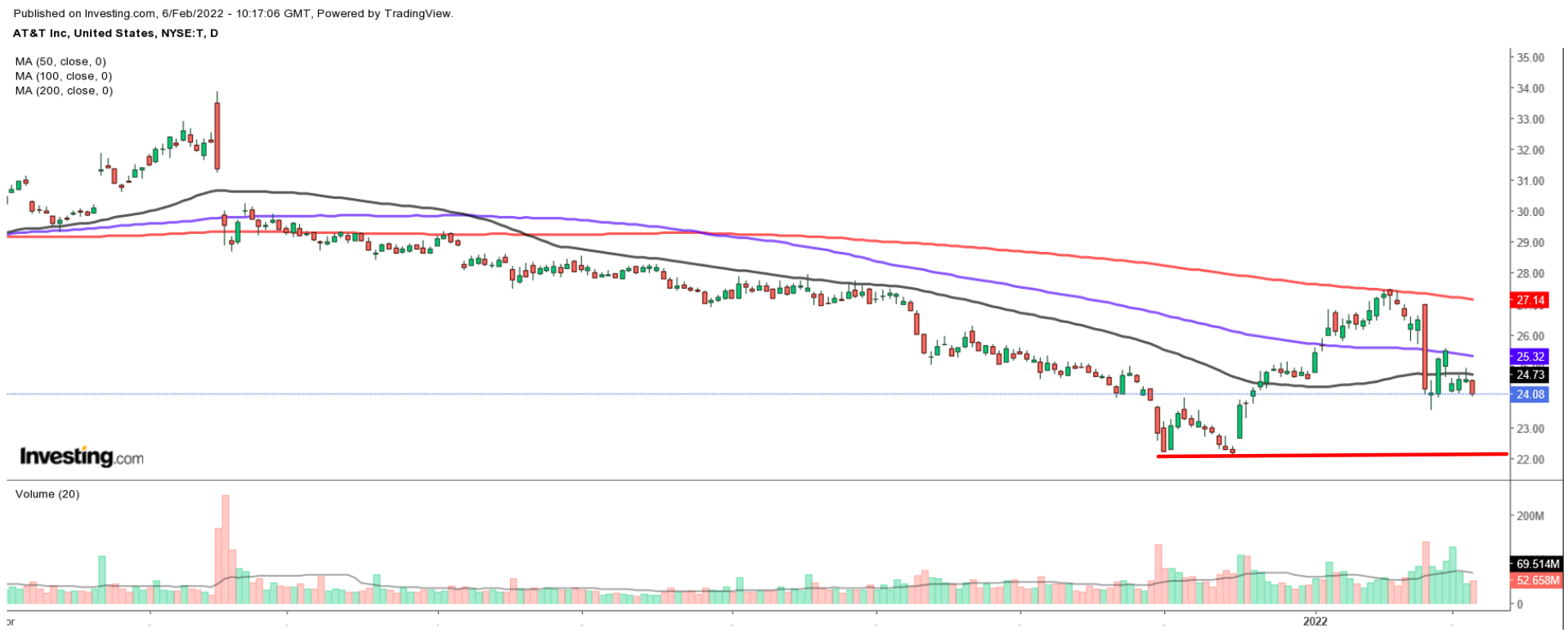 Sentiment on the out-of-favor name took a big hit last week when AT&T announced plans to cut its annual dividend by almost half to $1.11 a share, down 46% from a yearly payout of $2.08 in 2021. AT&T's rebooted yield would be about 6.2%, based on recent calculations, well off the near 8% yield under the current payout.
The sharp dividend cut came as AT&T said it would spin off—rather than split off—its stake in WarnerMedia as part of a $43 billion deal to merge its media business with Discovery (NASDAQ:) that is expected to be completed in the second quarter.
Under the terms of the all-stock deal, current AT&T shareholders will receive 0.24 shares of the new Warner Bros.-Discovery (WBD) company for each AT&T share they now own. A split-off would have permitted AT&T investors to retain 100% of their investment in AT&T.
The merger will combine AT&T-owned HBO, CNN, and the Warner Bros. studio, with Discovery's channels, including TLC, Animal Planet, and its namesake Discovery Channel.
Taking that into account, we expect the downtrend in AT&T stock to continue in the days ahead.