 3 Stocks To Watch In The Coming Week: Pfizer, Disney, Peloton 
Investors are bracing for another week in stock markets amid signs that inflation and supply chain disruptions are derailing growth plans at some of the largest US companies.
Trading in the past week saw major swings in some individual stocks after earnings releases either disappointed or beat, providing yet another challenge for investors in a market that's still struggling to find its direction.
Shares of Facebook- and Instagram-parent Meta Platforms (NASDAQ:), plunged more than 26% in a single day after the company's and outlook disappointed; PayPal (NASDAQ:) stock also lost a quarter of its value in a single session after issuing weak guidance.
On the other hand, the stock of e-commerce giant Amazon (NASDAQ:) jumped 13.5% on Friday after it analysts' expectations.
Amidst this confusing environment for stocks, here's our list of three companies set to report their latest earnings which could see significant price action in their stocks as a result.
1. Pfizer
Global healthcare giant Pfizer (NYSE:) will report fourth quarter earnings on Tuesday, Feb. 8, before the market opens. Analysts expect $0.87 a share profit on sales of $24.16 billion.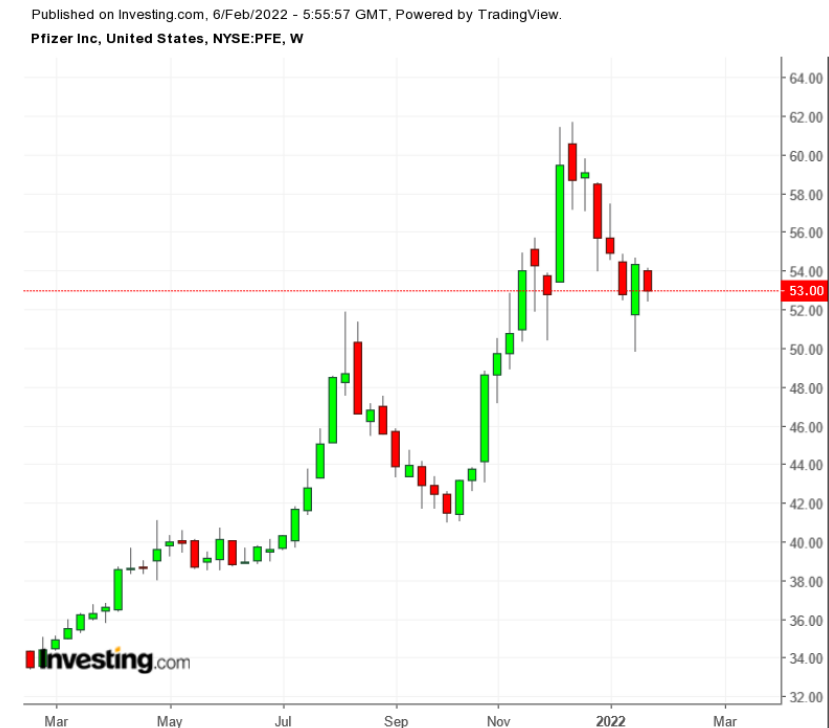 The New York City-based company finished 2021 on a strong note. It's stock had surged more than 60% as the raging pandemic boosted sales of its mRNA-based anti-COVID vaccine. With the success of Pfizer's highly effective immunization, the US and other jurisdictions also approved the company's COVID pill for emergency use, giving the pharma giant another avenue with which to boost .
The pill, Paxlovid, is expected to provide a strong weapon against the virus once production gears up, giving individuals with a high risk of severe complications from the disease a way to avoid hospitalization.
In November, the US government said it had ordered 10 million courses of the Pfizer pill for a price of nearly $5.3 billion—about $530 per treatment. Pfizer shares closed on Thursday at $53, down 10% so far this year.
2. Disney
The Walt Disney Company (NYSE:) reports earnings for its fiscal 2022 first quarter after the closing bell on Wednesday, Feb. 9. Analysts are expecting $20.27 billion in sales and $0.73 profit per share.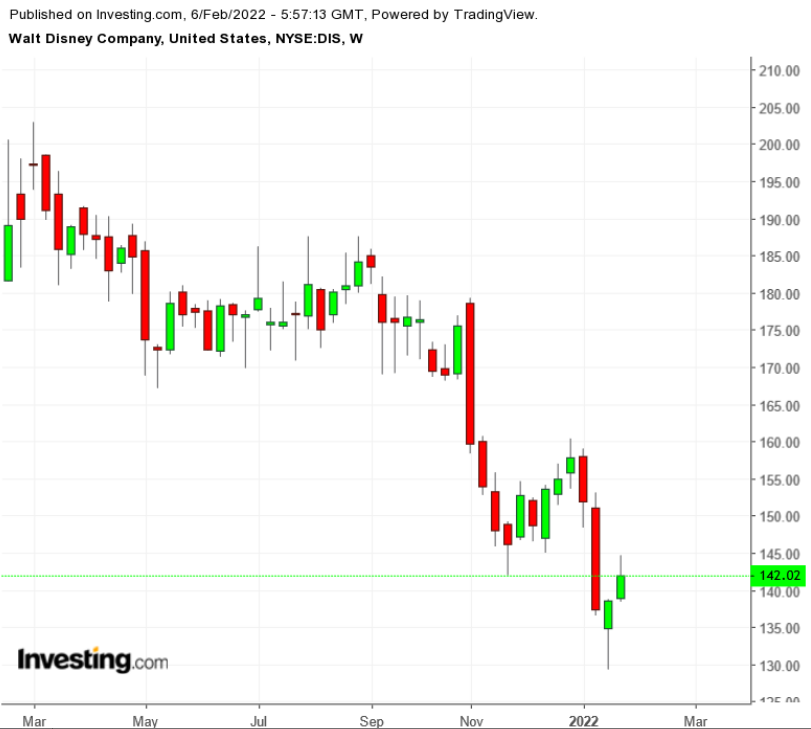 Shares of Disney have been under selling pressure for the past one year, as the House of Mouse faces a variety of obstacles to achieving full in the post pandemic environment.
In November, Disney reported a smaller-than-expected increase in streaming subscribers, raising concerns that growth is slowing after a meteoric two-year rise. Disney has made its streaming business the future driver of growth, targeting the addition of 260 million customers by 2024.
Chief Executive Officer Bob Chapek told investors in November that Disney+ won't return to faster subscriber growth until the third and fourth quarters of the current fiscal year. Shares of Disney have fallen more than 20% during the past one year, closing on Friday at $142.02.
3. Peloton
The stock of fitness bike maker Peloton Interactive (NASDAQ:) may experience hectic buying interest after the market opens on Monday based on media reports released late Friday that potential suitors, including Amazon and Nike (NYSE:), are considering .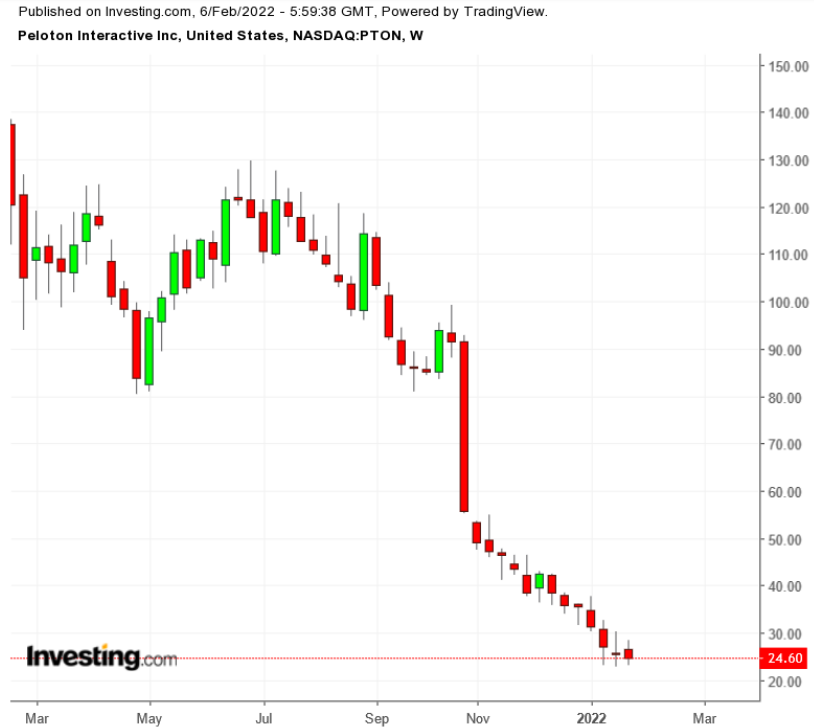 According to a report that first appeared in the Wall Street Journal, Amazon has been speaking to advisers about a potential deal that may or may not materialize. Peloton shares surged about 30% in after-hours trading on Friday after the WSJ's report.
Its stock closed Friday at $24.60, below its September 2019 IPO price of $29, following a in sales that had sky-rocketed during the COVID-19 pandemic, attracting subscribers who were stuck at home due to lockdowns. The WSJ report said, citing sources:
"Despite its woes, linking up with Peloton would give Amazon or another party access to its millions of well-heeled users and their data, and a big boost in the burgeoning market for health and wellness technology."
In addition to the news about Peloton becoming a potential acquisition target, the New York City-based company is expected to release its final fiscal Q2 2022 results and guidance on Tuesday, Feb. 8, after the close. Expectations are for an EPS of -$1.18 on revenue of $1.16 billion.