 3 Stocks To Watch In The Coming Week: Advanced Micro Devices, Alphabet, Amazon
Earnings releases in the coming week from some of the largest US companies may help provide direction for investors at a time when the Federal Reserve's shift to hiking rates is hurting sentiment, creating wild swings in major indices.
Central bank Chair Jerome Powell made markets nervous when he told the media that the Fed could move even more quickly than the four rate hikes markets had anticipated for this year, as the Federal Reserve tries to tame , which jumped to a four-decade high in 2021. As of Friday's close, the is 8% off its all-time high, down 7% for the month of January. The is 15% off its high, and down 12% for the month.
During this upcoming, crucial week for the Q4 earnings season, we will be focusing on three key mega-cap tech stocks whose earnings could help clarify whether they are still benefiting from the pandemic-driven demand surge that pushed their shares to record high prices in recent months:
1. Advanced Micro Devices
Advanced Micro Devices (NASDAQ:) will report its latest quarterly earnings on Tuesday, Feb. 1, after the market close. Analysts expect the Santa Clara, California-based chipmaker to report $0.75 a share profit on sales of $4.47 billion.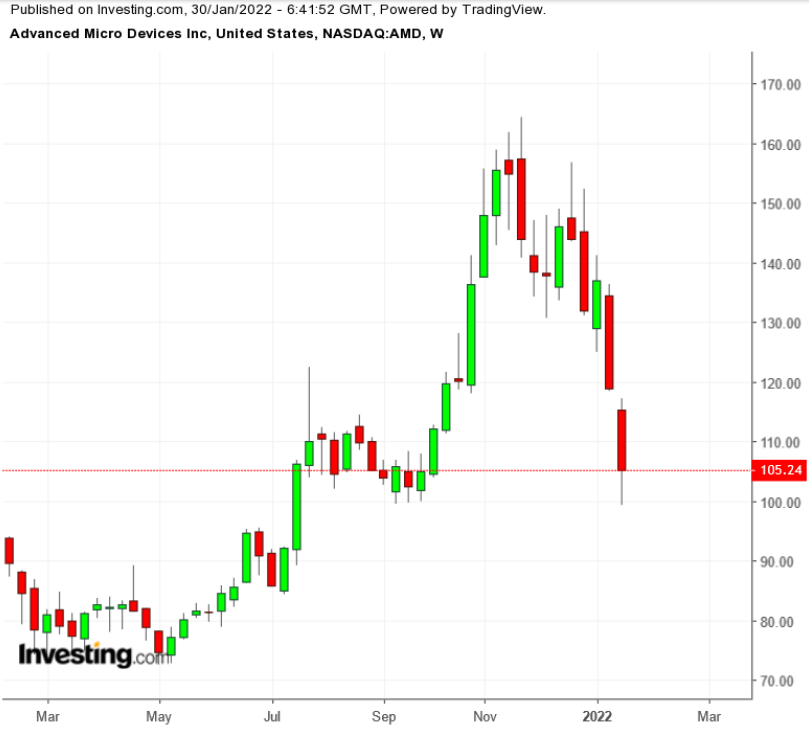 After the stock saw a powerful rally over the past year, AMD shares are now underperforming amid the widespread sell-off in growth names. The stock is down about 27% year-to-date, at a time when the benchmark has weakened by about 16%. Shares closed at $105.24 on Friday.
In October, AMD delivered another blockbuster , along with a strong forecast for the fourth quarter, suggesting the pandemic-driven boom for electronic products is far from over.
Consensus on AMD expects it to report $4.5 billion in sales during the past quarter, fueled by the company's computing and graphics segments. That represents 39% growth when compared with the same period a year ago. If the semiconductor company is able to deliver this expansion, sales for the current fiscal year will grow by more than 50%.
2. Alphabet 
Alphabet (NASDAQ:), parent company of Google, will be reporting fourth quarter 2021 earnings on Tuesday as well, after the market close. On average, expectations are for earnings per share of $27.80 on revenue of $72.23 billion.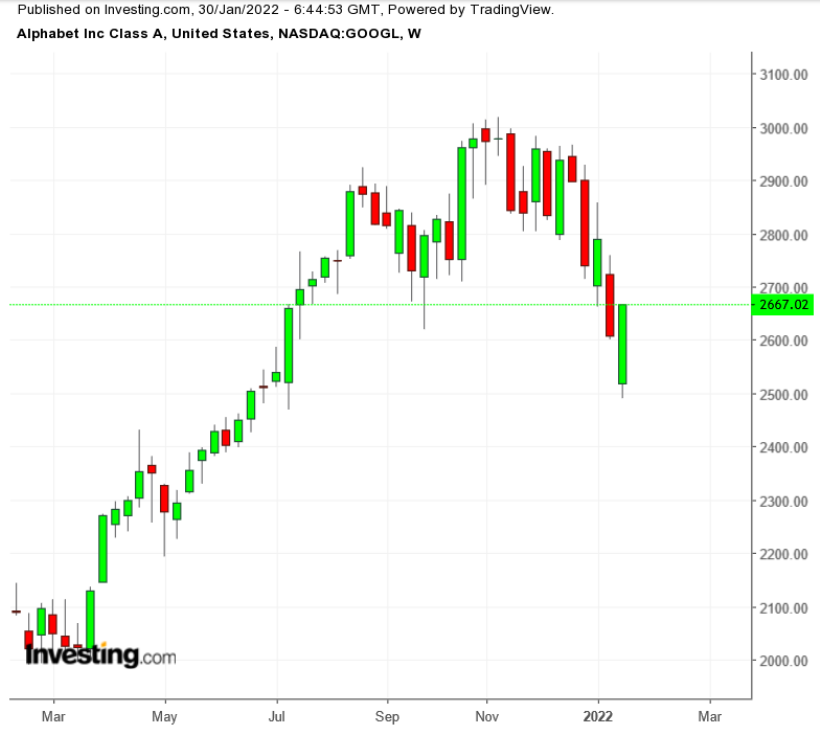 Shares of Google have performed much better than other tech giants in the current downturn. That's because investors believe the search-engine behemoth is on a , helped by advertiser spending.
In the most recent quarter, the retail, travel, and media and entertainment industries heavily advertised on Google's platforms, reflecting a strong rebound after the pandemic-driven slowdown two years ago.
Google's shares, which closed at $2,667.02 on Friday, have fallen just 8% this year after delivering 65% gains in the past year, making the company one of the best-performing tech stocks over the past 12 months.
3. Amazon
Online retail juggernaut Amazon (NASDAQ:) will report Q4 earnings after the market closes on Thursday, Feb. 3. The consensus is that the world's largest e-commerce company will report $137.73 billion in sales, producing per share profit of $3.72.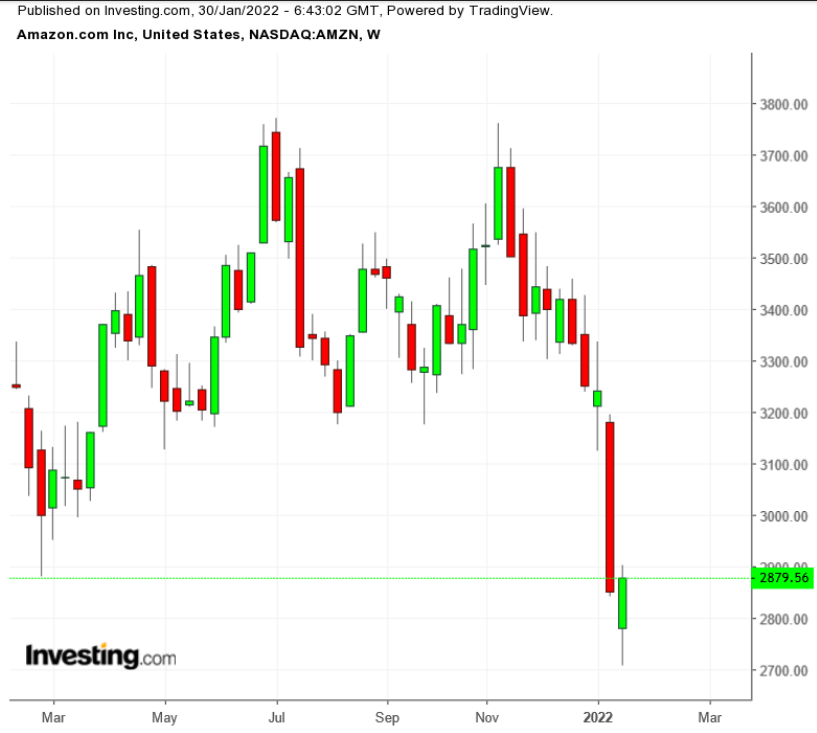 Amazon shares have been hurt by rising wage inflation and supply chain constraints during the past six months. The Seattle, Washington-based tech company has been trying to cope with these challenges by spending heavily on its fulfillment centers. 
Online sales have surged since the start of the COVID-19 pandemic, boosting Amazon's profit, but has slowed while labor and supply chain shortages make it harder to meet demand. The company warned investors in October that it could have sales of up to $140 billion in the busy holiday quarter without making any profit.
Amazon shares are down 14% this year, closing on Friday at $2,879.56.