 Q4 Earnings Halt Bank Stocks Rally
This week, earnings from Wall Street's largest banks showed that the rising cost pressures will likely hurt their margins in 2022, dimming hopes for another solid year for their stocks.
Investors have been selling bank stocks amid signs that the Wall Street financial powerhouses that have driven revenue to record highs have started to cool off. (NYSE:) told investors last week that compensation and other costs jumped in the fourth quarter.
Expenses at the largest US lender rose 11% from a year earlier, and the firm said it expects them to rise to about $77 billion this year, an 8.6% increase. Worse-than-expected trading results added pressure to the company's stock, which fell about 6.5% during the past five trading days.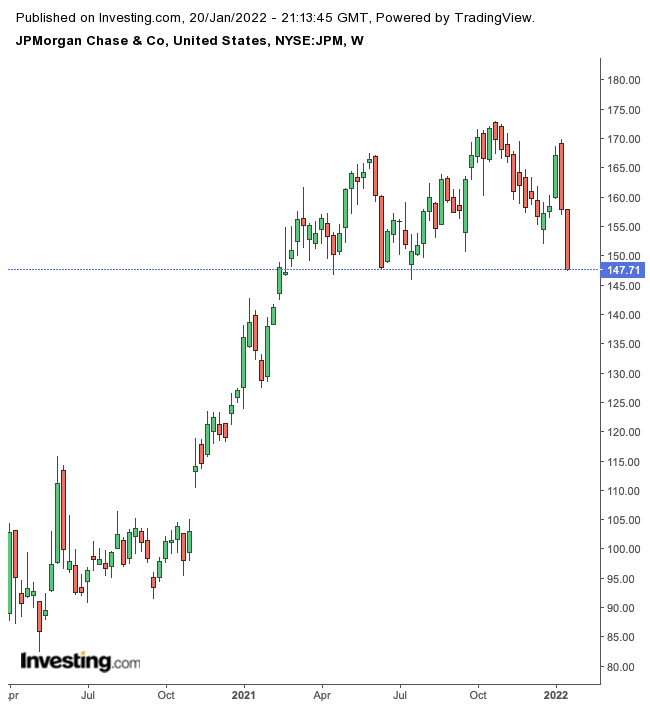 JPM Weekly Chart
Citing inflation and the amount JPMorgan plans to spend on investments, executives told investors that the bank is "in for a couple of years of sub-target returns."
(NYSE:) said Tuesday it spent an additional $4.4 billion in compensation last year, sending the bank to its only quarterly profit decline of the year. (NYSE:) also spent more on compensation in the year's final quarter, causing a 26% decline in its profit. Full-year compensation expenses at (NYSE:) rose 18% to $24.6 billion.
Banks increased salaries for junior bankers across Wall Street in 2021, and firms are also paying up to keep senior executives.
Banking Stocks Under Pressure
The shares of banking companies rallied strongly last year and this year amid signs that the Federal Reserve could begin raising interest rates soon—a move that will boost margins on their lending products.
Adding to the bullish sentiment about the sector was the anticipation that loan growth, which was mostly stalled during the past two years, may finally be coming back.
But after the latest earnings season, it seems that banks are also facing cost pressures just like the main street, and that trend may keep their earnings growth under check.
The of large lenders has shed almost half of its gains this year as investors avoided taking further exposure in one of the market's hottest segments where valuations had reached sky-high.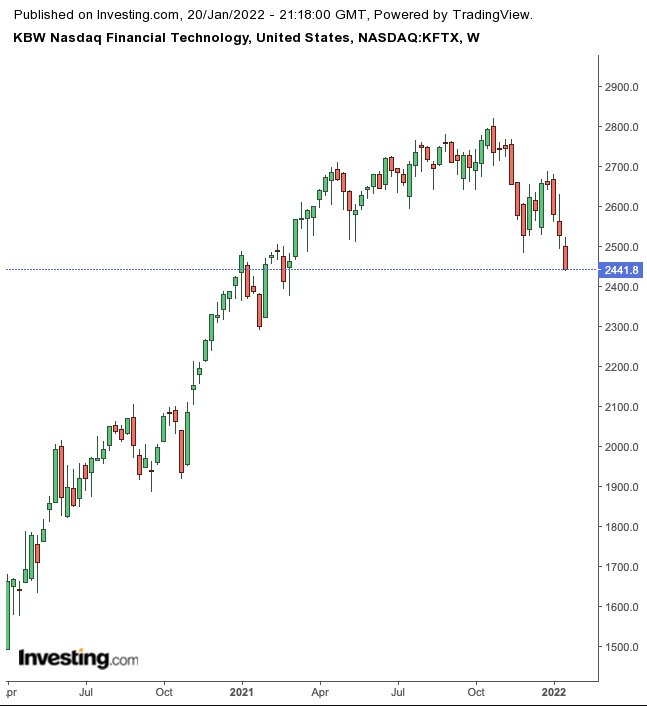 KWB Index Weekly Chart
Future Projections
Despite the latest sell-off, we don't think banks will be a dead investment for investors heading into 2022. Loan growth is accelerating both sooner and at a faster rate than analysts initially projected.
Federal Reserve data compiled by Bloomberg show that loans at the 25 largest banks were 3.5% higher at the end of December than they were a year earlier. That's a clear improvement from the end of the third quarter when the same comparison was flat.
The fast spread of Omicron may slow that expansion, but it seems the economy will resume its momentum after a brief lull, and infections will fall as quickly as they surged, according to the latest evidence from countries that are the first in experiencing the latest wave.
Banks are also in a sweet spot to earn easy money when interest rates begin to rise without having to boost expenses. For example, Bank of America (NYSE:) would expect to see a $6.5 billion benefit to net interest income over 12 months from a one percentage point jump in rates across the curve, according to a report in the Wall Street Journal.
Bottom Line
Banks latest earnings season was a mixed bag for investors. While rising spending hurt margins at some lenders, higher revenue from investment banking helped others. Overall, the environment remains supportive for lenders, especially when the Federal Reserve is about to hike rates, and there are signs that companies and consumers are ready to borrow again.