 Netflix's Decline Not Even Halfway Through
With today's additional 20% plunge in Netflix's (NASDAQ:) share prices, after it already had lost 28.5% from its all-time highs by yesterday (!), it is time to revisit what my Elliott Wave Principle (EWP) work has to say about NFLX.
For that, I first need to go back precisely nine months, see here, when I last showed by using the EWP, Netflix would:
"stay range bound and bottom around $440-$475 for (black) major wave-4 and then rally one last time for wave-5 to new all-time highs (targeting $600+). Once wave-5 of V is complete, I expect a long-lasting (think years) bear market bringing NFLX back to more sane levels of around $150-$250, depending on where it will exactly top (blue arrow and target zone)."
What has happened during these nine months?
NFLX bottomed on May 19, 2020, at $478.54.
NFLX topped on November 17, 2020, at $700.99.
NFLX is now trading at $390 and has lost over 43% of its value within only two months.
Thus, my EWP-based forecast from nine months ago (!) was as accurate and reliable as can be. It shows the Elliott Wave is primarily a fantastic forecasting tool for the intermediate- to long-term, as the shorter time frames are inherently more variable. No real surprise because the premise of the EWP is mass psychology, and that phenomenon does not express itself well in short time frames. Once again, establishing the EWP works (I really shouldn't have to do that anymore as it works. Period), the logical question is: what's next?
Figure 1 Netflix (NFLX) monthly candlestick chart with detailed EWP count and technical indicators.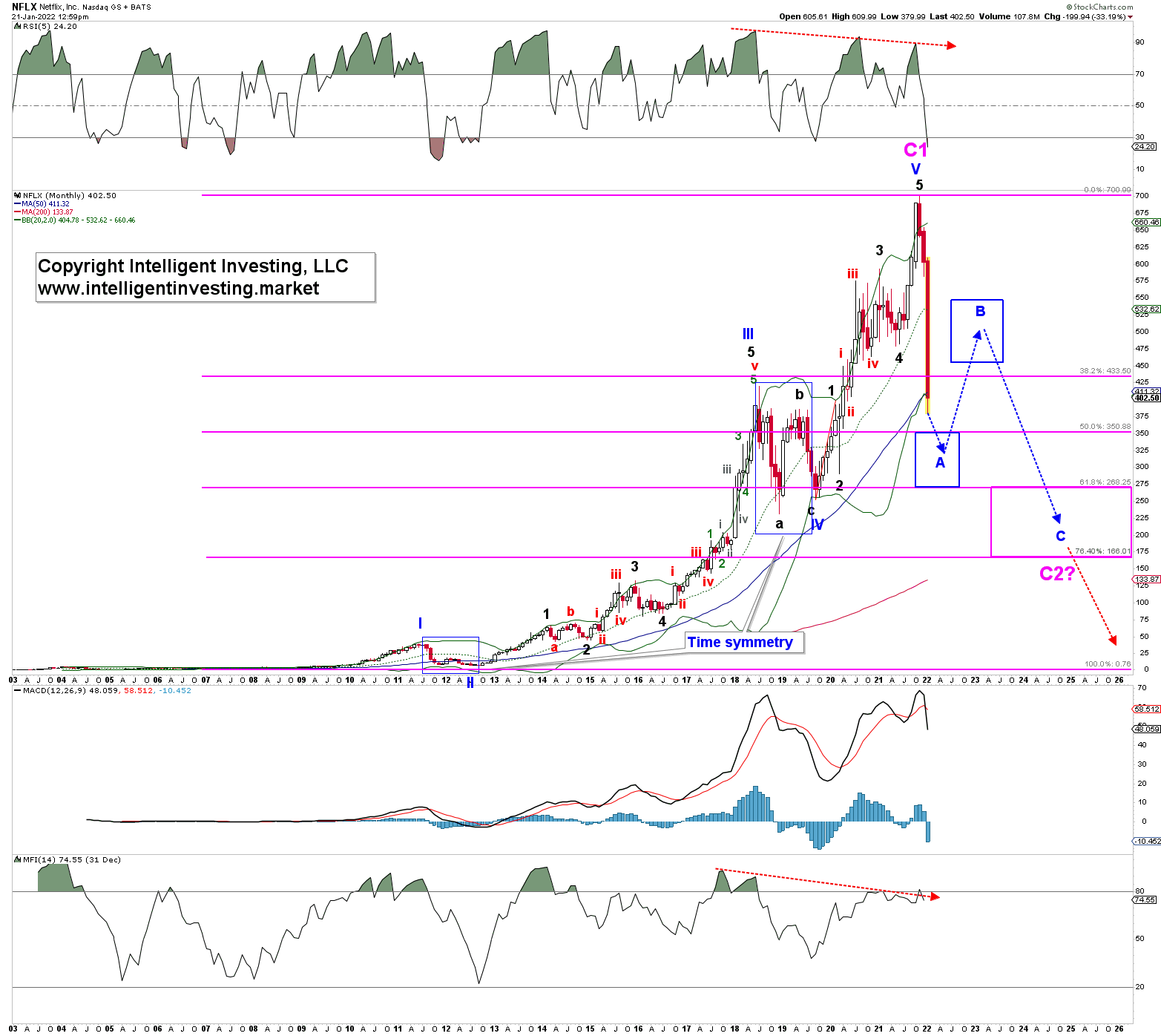 Simple. Corrections on all time frames and bear markets are essentially prolonged corrections, always traveling in at least three waves: A, B, and C. The current 40% decline is, therefore, only wave-A. I anticipate NFLX to decline and stall out around $330+/-30 for (blue) Primary wave-A. See figure 1 above. This decline will mean a complete retrace of the rally since the COVID-19 low (March 2020). From there, I anticipated the B-wave (B for Bounce) to materialize and target the prior "congestion zone," i.e., around where NFLX bottomed for (black) major wave-4 May last year.
But please remember, there's no indication yet wave-A has bottomed, and in Bear markets, upside disappoints. Hence, the B-wave target zone is, for now, an average-based educated guess founded on well-known Fibonacci-based price patterns. Once more price data becomes available, both wave-A and B can be specified.
Regardless, once wave-B tops, wave-C (C is for Crash) must take hold and should bring Netflix's share price down to around $175-200. But NFLX can revisit the double digits before Cycle wave-2 is done and dusted. At this stage, one is trying to look around multiple corners at once. Knowing that corrections are much more variable price structures than an impulse, one must be even more patient and open-minded.
However, we know from the EWP what to expect: three waves. And we know from the EWP how in general, each of these waves should behave and relate to each other. For now, we'll let the market dictate the exact numbers, but just like in April last year, the general road map has been laid out. Back then, it worked wonders, so I continue to expect it to work well.
Lastly, Netflix is the poster child of what IMHO will happen to all the other FANMAG stocks and many others, eventually. Make no mistake. So please stay alert, and please always have a solid exit strategy in place because that will prevent one from sitting through potentially further losses like today.