 NASDAQ 100 Update: 18,000 Still Attainable
Let's start with a quote today by finance executive Steven P. Greiner:
"Uncertainty is about our inability to calculate the risk accurately."
It embodies everything about the stock market and trading with three keywords: uncertainty, inability and risk.
Uncertainty: There are no guarantees in the markets, especially not during complex corrections.
Inability: Many cannot comprehend uncertainty and, thus, falsely assume certainties where there are none.
Risk: Because of the above, many assess risk inappropriately. For example, driving alone in one's car with a face mask on. Instead, the proper risk management tool would be to wear a helmet. Why? Because the risk of contracting COVID or any other (airborne) disease while driving alone in one's car is 0, getting into an accident at some point is statistically inevitable (100%). Or, have you ever seen a race car driver racing with a face mask on? Or a surgeon wearing a helmet?
However, the Elliott Wave Principle (EWP), captures all three aspects.
1) It recognizes markets are a game of "probabilities of possibilities."
2) It allows us to set price-based if/then scenarios, i.e.: a break above or below a certain price level helps tell us what will most likely unfold next based on a limited set of price patterns the markets have to follow.
3) Applying both takes care of that nagging inability.
That said, last week the had put enough moves in place to consider the (red) intermediate-iv wave I am tracking as complete, see Figure 1 below. But I recognized "the devil is in the detail, and the index can still try for one last stab lower, but if Monday's low holds, it is again time to look for an impulse move higher to $17400-18060."
Figure 1 NDX100 daily candlestick chart with detailed EWP count and technical indicators: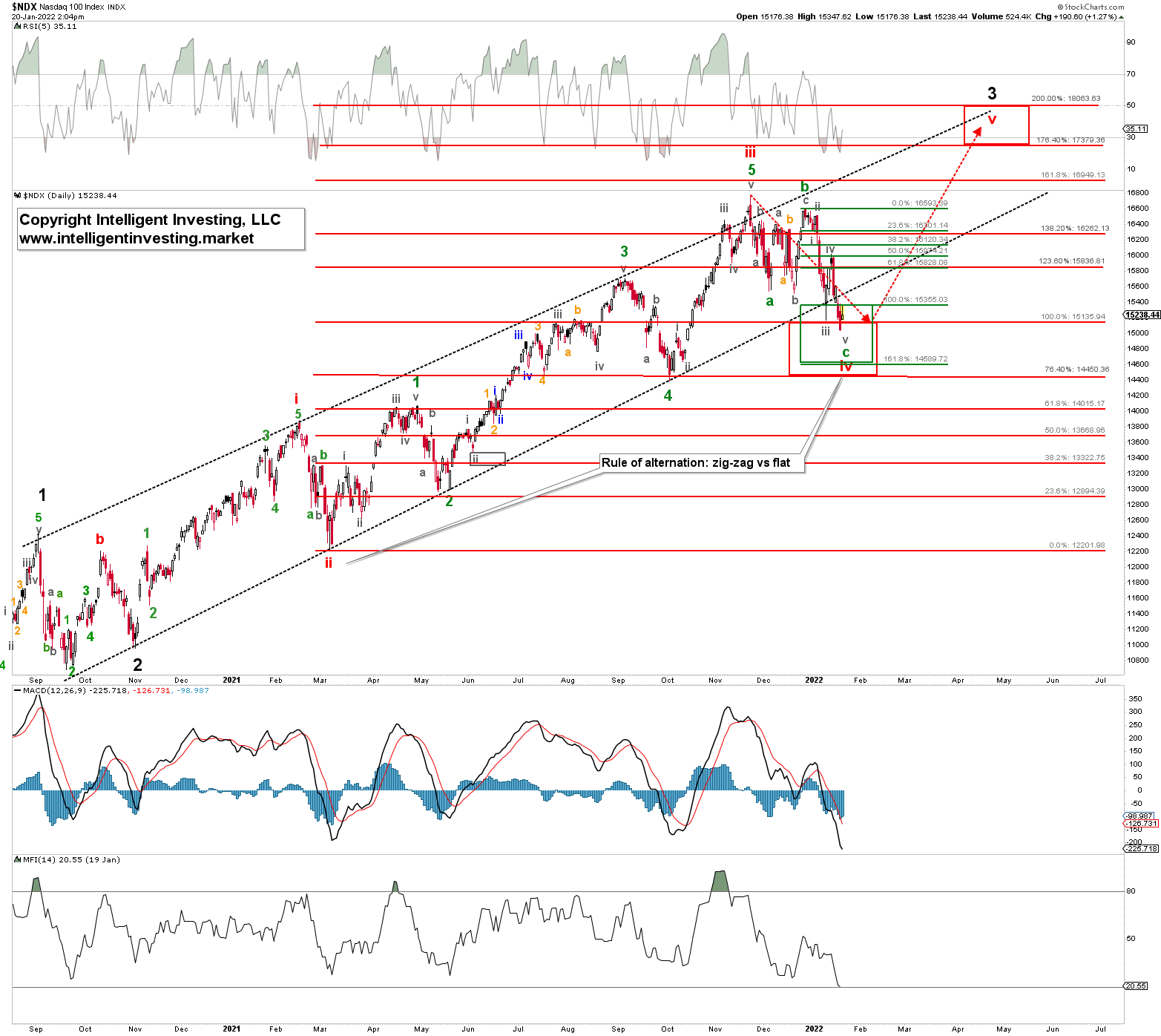 Again, I incorporated if/then scenarios using invalidation price levels to better understand where the index was in its correction. And with yesterday's move below last Monday's low, I can update the EWP count accordingly.
Namely, in my opinion, last week's rally was a smaller degree 4th wave (grey, minute-iv) and the index is now in minute-v of (green) minor-c of red intermediate-iv. It is simply moving deeper inside the ideal (red and green) target zones for these two respective waves. There is nothing out of the ordinary yet. The index will have to move below the 76.40% Fibonacci-extension at $14,450 to start to suggest something more bearish is afoot.
Bottom line: True to form, the intermediate wave-iv correction I am tracking continues to twist and turn, but has now reached the ideal target zone as already outlined over a month ago (see ). First the 4th wave took the index on a detour, as it subdivided further into an additional b-wave. Now, it is also subdividing its c-wave to allow for five minute-waves, with the 5th wave now preferably under way. Thus, I expect the index to finally be released from the grip of this complex, now two-month-long 4th wave soon, with one lower low to come ideally. From there it can start building its way to $17,380-$18,060. It will require a break below $14,450 to upgrade the EWP to a one-degree higher 4th wave.