 Emerging Markets Stocks Continued To Rebound Last Week
Shares in emerging markets led the winners in an otherwise mixed run of trading for the major asset classes last week, based on a set of ETFs through Friday's close (Jan. 14).
Vanguard Emerging Markets Index Fund ETF Shares (NYSE:)) rose 2.6%, lifting the fund for a third week in the past four. At Friday's close, VWO was close to its highest level in two months.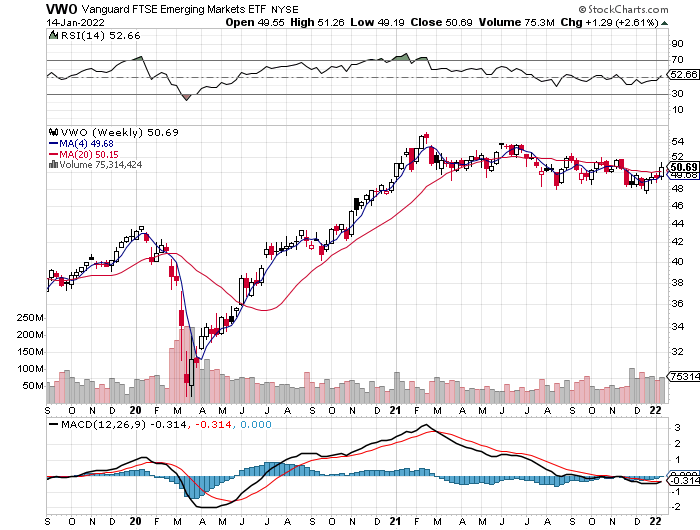 Despite the recent strength, VWO still looks caught in a trading range. Recent strength in commodities prices is helping lift EM shares – many countries in this space rely on exports of raw materials. But the outlook for these countries remains challenged for 2022, some analysts predict.
"Rising inequality and security challenges are particularly harmful for developing countries," advises World Bank President David Malpass.
Nonetheless, firmer commodities prices could be a boost for some emerging markets. The WisdomTree Continuous Commodity Index Fund (NYSE:) continued to push higher last week, rising 2.2%, raising the ETF to near its highest close in almost three months.
Rising tensions between Russia and Ukraine are reportedly a factor that's been lifting the commodities markets lately.
Said Paul Sheldon, chief geopolitical adviser for S&P Global Platts Analytics:
"Odds of a military action in Ukraine rose on Jan. 13 as Russia concluded a week of 'unsuccessful' talks by warning diplomacy could soon end."
Warren Patterson, head of commodities strategy at ING, explains that a Ukraine-Russia conflict could create disruptions to commodity flows. He adds that the U.S. and European Union may be drawn into any conflict and that new sanctions on Russia could trigger an "impact on the supply of a number of commodities to world markets."
These risks aren't currently priced into the market, he said.
Despite a number of winners last week, several slices of the major asset classes lost ground. The biggest loser: U.S. real estate investment trusts (REITs): Vanguard Real Estate Index Fund ETF Shares (NYSE:) fell for a second week, shedding 1.4%.
The Global Market Index (GMI.F) was fractionally lower last week. This unmanaged benchmark (maintained by CapitalSpectator.com) holds all the major asset classes (except cash) in market-value weights via ETF proxies.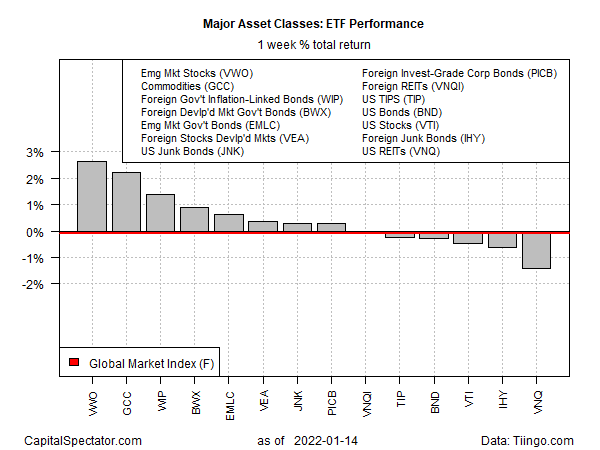 Major Asset Classes: ETF Performance – 1-Week.
Ranking the major asset classes based on the trailing one-year trend continues to put U.S. real estate at the head of the pack. VNQ is up nearly 35% over the past 12 months – well ahead of the rest of the field.
Foreign bonds are currently the weakest performers. The deepest loss at the moment among our proxy ETFs: SPDR® Bloomberg International Treasury Bond ETF (NYSE:), which is down 8.9% for the past year as of Friday's close.
GMI.F's one-year return is a solid 11.1% total return.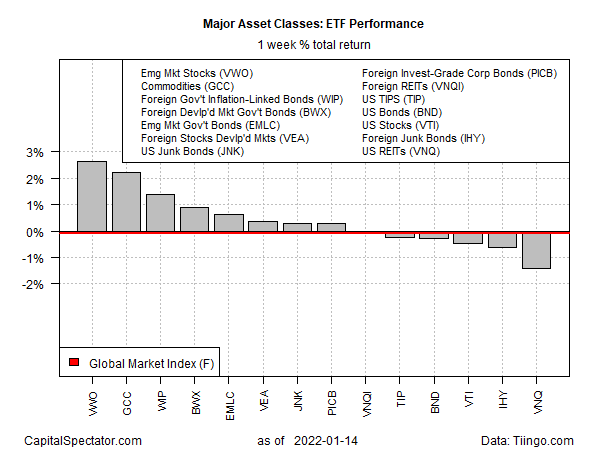 Major Asset Classes: ETF Performance – 1-Year..
Profiling markets based on current drawdown continues to show that most of the major asset classes are reporting peak-to-trough declines of 10% of less. The big downside outlier: commodities (GCC), which ended last week at 25% under its previous peak.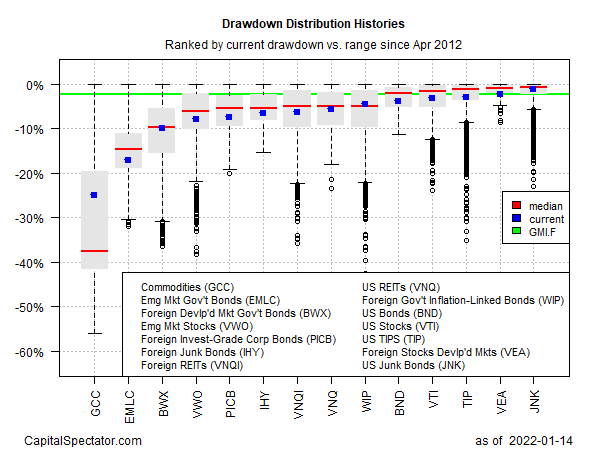 Drawdown Distribution Histories.